News
USA Wrestling
International
USAW
U.S. Greco-Roman stars Roberts, Jones, Tuma, Holmes, Cunningham win titles at Bill Farrell Memorial International
by Gary Abbott, USA Wrestling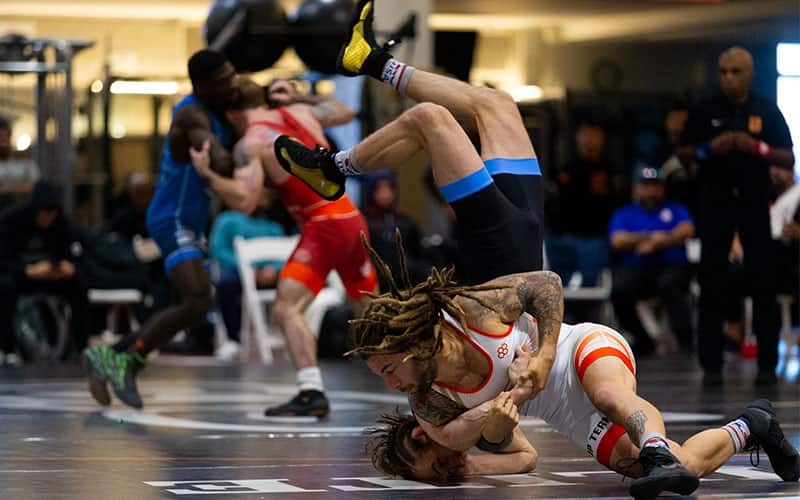 Sammy Jones (USA) tosses Dylan Gregerson (Brunson UVRTC) in the 63 kg finals at the Bill Farrell Memorial. Photo by Sandy Slater.
NEW YORK, New York – Five U.S. Greco-Roman wrestlers came home with gold medals at the Bill Farrell Memorial International held at the New York Athletic Club on Friday.
Individual champions from the USA were
Dalton Roberts
of Army WCAP (60 kg),
Sammy Jones
of Michigan (63 kg),
Hayden Tuma
of Suples WC (67 kg),
Britton Holmes
of Army WCAP (77 kg) and
Tyler Cunningham
of Nebraska (82 kg).
Roberts, a two-time Senior World Team member, won a four-athlete round robin, with a key win over eventual runner-up Randon Miranda of California, 5-0.
Jones, a two-time Senior World Team member, finished off his bracket with a 10-2 technical fall over Dylan Gregerson of Brunson UVRTC.
Roberts and Jones were repeat champions from the most recent Bill Farrell Memorial, which was held in March 2022 in Cedar Falls, Iowa.
Tuma, a past U.S. Open champion, was dominant in his finals with an 8-0 technical fall over Lenny Merkin of the New York AC.
In a back-and-forth battle between two of the nation's best young wrestlers, 2022 Final X runner-up Britton Holmes edged 2021 Senior World Team member Jesse Porter of the New York AC, 6-5. Holmes scored the final two points late in the bout to secure the victory.
Cunningham, a member of the 2022 U23 World Team, got his offense going in the finals, with an 8-0 technical fall victory of Ryan Epps of the Minnesota Storm.
The Outstanding Wrestler was
Ahmed Ahmed
of Egypt, who defeated American Richard Carlson of the Minnesota Storm in the 87 kg finals, 6-3.
The other international champions were Medeuov Abylay of Kazakhstan (55 kg), Mirzobek Rakhmatov of Uzbekistan (72 kg), Atabek Azisbekov of Kyrgyzstan (97 kg) and Muminjon Abdullaev of Uzbekistan (130 kg).
Also competing on Friday was the women's freestyle division, which completed earlier in the day.
Women's Freestyle results
.
The competition concludes on Saturday with the men's freestyle division. Action begins at 10:00 a.m. ET, and will be
live on FloWrestling
BILL FARRELL MEMORIAL INTERNATIONAL

At New York, N.Y., November 18


Greco-Roman results
55 kg
Gold - Medeuov Abylay (Kazakhstan)
60 kg
Gold - Dalton Roberts (Army WCAP)
Silver - Randon Miranda (California)
Bronze - Marat Garipov (Brazil)
4th - Mitchell Brown (Air Force Regional Training Center)
Garipov tech fall Brown, 8-0
Roberts dec. Miranda, 5-0
Roberts tech fall Brown, 10-0
Miranda tech fall Garipov, 10-1
Miranda tech fall Brown, 8-0
Roberts tech fall Garipov, 9-1
63 kg
Gold - Sammy Jones (Michigan) tech. fall Dylan Gregerson (Brunson UVRTC), 10-2 5:13
Bronze - Logan Savvy (New York Athletic Club) dec. Corbin Nirschl (Nebraska), 3-0
67 kg
Gold - Hayden Tuma (Suples Wrestling Club) tech. fall Lenny Merkin (New York Athletic Club), 8-0 4:51
Bronze - David Stepanian (New York Athletic Club) pin Colton Parduhn (Interior Grappling Academy), 1:27
72 kg
Gold - Mirzobek Rakhmatov (Uzbekistan) dec. Tynar Sharshenbekov (Kyrgyzstan), 5-4
Bronze - Peter Ogunsanya (West Point Wrestling Club) forfeit Corey Shie (West Point Wrestling Club)
77 kg
Gold - Britton Holmes (Army WCAP) dec. Jesse Porter NY (New York Athletic Club), 6-5
Bronze - Amirkhonzoda Loigi (Tajikistan) dec. Adrian Artsisheuskiy (New York), 7-5
82 kg
Gold - Tyler Cunningham (Nebraska) tech. fall Ryan Epps (Minnesota Storm), 8-0 1:39
Bronze - Fritz Schierl (Minnesota Storm) dec. Andrei Stashonak (New York), 5-1
87 kg
Gold - Ahmed Ahmed (Egypt) dec. Richard Carlson (Minnesota Storm), 6-3
Bronze - Asykeev Kalidin (Kyrgyzstan) tech fall Bakhtovar Khasanov (Tajikistan), 11-0 2:16
97 kg
Gold – Atabek Azisbekov (Kyrgyzstan) forfeit Melis Aitbekov (Kyrgyzstan)
Bronze - Christian Dulaney (Minnesota Storm) tech. fall Austin Craig (Washington), 8-0 2:28
130 kg
Gold - Muminjon Abdullaev (Uzbekistan) tech. fall Donny Longendyke (Minnesota Storm), 8-0 1:06
Bronze - Courtney Freeman (Marines) tech. fall Sammy Deseriere (Western Colorado Wrestling Club), 9-0 2:46