News
USA Wrestling
International
USAW
U.S. pushes all five men's freestyle wrestlers to semifinals on day one of U20 World Championships
by Richard Immel, USA Wrestling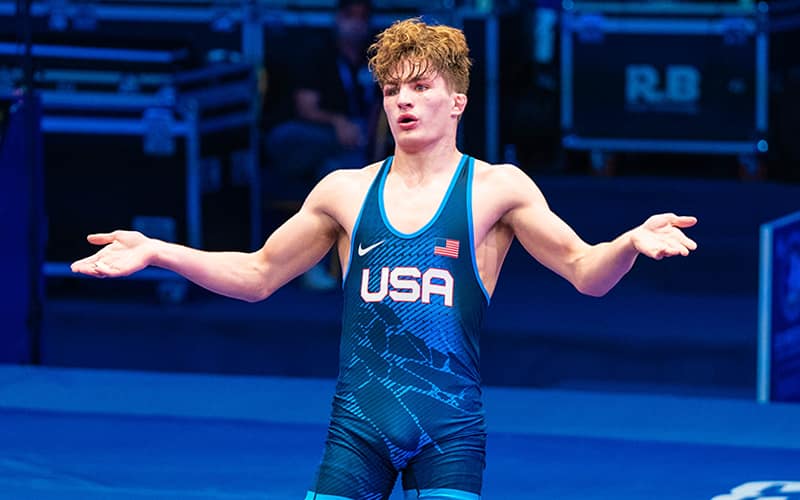 Photo: Meyer Shapiro celebrates after an 8-0 win over Individual Neutral Athlete Magomed Baitukaev in the 70 kg quarterfinals. (Richard Immel, USA Wrestling)
AMMAN, JORDAN – The U.S. men's freestyle team decided to make a grand entrance at the U20 World Championships, shipping all five athletes to this evening's semifinal round at Princess Sumaya Lounge with a perfect 14-0 record.
Two-time age-group World Team member Jesse Mendez got the ball rolling with a clutch 2-1 decision over two-time U20 European champion Mykyta Zubal of Ukraine. The NCAA All-American for Ohio State collected a step out point with four seconds remaining in the match to clinch it.
Mendez got stronger as the day continued, posting a five-point win over Aden Sakybaev of Kyrgyzstan and a nine-point decision over Ion Berghi of Moldova. He is up against Turkey's Abdullah Toprak in the 65 kg semifinals. Toprak has a strong Greco-Roman background, as evident by his back-to-back bronze medal wins at the U23 European Championships, creating a unique matchup for the Indiana native.
Past U17 World champions Luke Lilledahl and Meyer Shapiro came to Jordan in gold medal form. Both were dynamic and offensive throughout their six combined wins.
Lilledahl ran a European gauntlet to make the 57 kg semifinals. He opened the day with a dominant 9-2 win over Individual Neutral Athlete Lev Pavlov, previously of Russia, setting the tone with a four-point takedown early in the first period. Lilledahl followed with a pair of five-point victories over Tolga Ozbek of Turkey and Edik Harutyunyan of Armenia.
Standing opposite Lilledahl in the semifinals is reigning U20 European champion Ruslan Abdullayev of Azerbaijan. The U20 Pan-American champion and Wyoming Seminary product has been money with his mat awareness and counter single leg attacks so far in Jordan. If that trend continues, he has a great chance to qualify for his third consecutive World final.
In a clash of U17 World champions, Shapiro left no doubt. He was stout positionally throughout an 8-0 thumping of Magomed Baitukaev, a Russian competing under the Individual Neutral Athlete banner. In fact, the tougher test for the incoming Cornell freshman came in the second round against Mirjavad Nabiyev of Azerbaijan. Shapiro needed two second-period takedowns to come back from a 4-2 deficit against the stingy Azerbaijani.
Shapiro's 70 kg semifinal opponent is U20 Pan-American silver medalist Julian George of Puerto Rico, who was defeated 11-1 by American Antrell Taylor in the U20 Pan-American finals last month. Shapiro topped Taylor in the U20 World Team Trials best-of-three finals by scores of 8-0 and 11-0.
Big Camden McDanel was a force in his two matches at 97 kg. The future Nebraska Cornhusker dialed up 24 points and two technical falls, taking out Toyoki Hamada of Japan and Taron Shahinyan of Poland with apparent ease.
McDanel's competition will stiffen in the semifinals as he gets his hands on 2023 Yasar Dogu bronze medalist Abolfazl Babaloo of Iran. This will the first match between the two rival countries in Jordan and could prove a pivotal swing match in the team race. Iran has three wrestlers in the first batch of men's freestyle semifinals, second most behind the U.S.
Former Greco-Roman U20 World Team member Matthew Singleton was a revelation as he navigated the 79 kg bracket with precision and poise. His single leg conversions proved World class in two technical fall wins to open the tournament.
The crucial point on Singleton's road to the semifinals came in his quarterfinal bout against U20 European bronze medalist Narek Grigoryan of Armenia. Entering the second period down 3-0, Singleton poured on the pressure and the points, climbing to a 10-3 lead courtesy of a takedown-to-trapped-arm gutwrench sequence. He coasted to a 10-6 decision in the bout.
The game levels up for the N.C. State product in the semifinals. He will look for a finals berth against returning U20 World bronze medalist Sagar Jaglan of India. Jaglan was a fifth-place finisher at the Senior World Championships last summer.
The U20 World Championships continue at 6 p.m. local time with the first set of men's freestyle semifinals. Amman, Jordan, is in the GMT +3 time zone, which is seven hours ahead of U.S. Eastern Time.
Those in the U.S. market can catch all the action live on FloWrestling.com. Brackets and updated results will be provided by United World Wrestling on uww.org and the UWW mobile app.
2023 U20 World Championships
At Amman, Jordan, August 14-20
U.S. Men's Freestyle Results
57 kg – Luke Lilledahl (St. Charles, Missouri/X-Calibur Athletics WC)
WIN Lev Pavlov (Individual Neutral Athlete), 9-2
WIN Tolga Ozbek (Turkey), 6-1
WIN Edik Harutyunyan (Armenia), 8-3
VS Ruslan Abdullayev (Azerbaijan)
65 kg – Jesse Mendez (Crown Point, Indiana/Titan Mercury WC/Ohio RTC)
WIN Mykyta Zubal (Ukraine), 2-1
WIN Aden Sakybaev (Kyrgyzstan), 7-2
WIN Ion Berghi (Moldova), 13-4
VS Abdullah Toprak (Turkey)
70 kg – Meyer Shapiro (Woodbine, Maryland/Spartan Combat RTC)
WIN Yuma Tomiyama (Japan), 11-0
WIN Mirjavad Nabiyev (Azerbaijan), 6-4
WIN Magomed Baitukaev (Individual Neutral Athlete), 8-0
VS Julian George (Puerto Rico)
79 kg – Matthew Singleton (College Park, Georgia/Wolfpack WC)
WIN Denizbek Ulan Uulu (Kyrgyzstan), tech. fall, 12-2
WIN Nandor Hajduch (Hungary), tech. fall, 10-0
WIN Narek Grigoryan (Armenia), 10-6
VS Sagar Jaglan (India)
97 kg – Camden McDanel (Circleville, Ohio)
WIN Toyoki Hamada (Japan), tech. fall, 12-1
WIN Taron Shahinyan (Poland), tech. fall, 12-2
VS Abolfazl Babaloo (Iran)