News
USA Wrestling
International
USAW
Returning finalists Mesenbrink, Berge lead U.S. men's freestyle team at U20 World Championships
by Richard Immel, USA Wrestling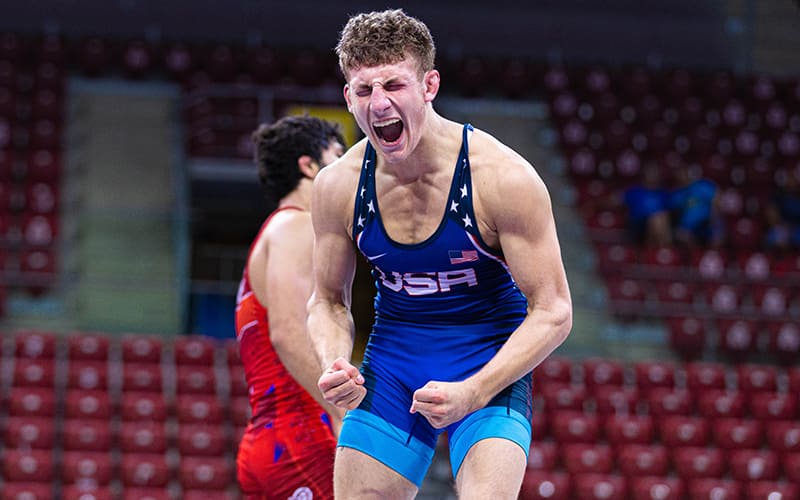 Photo: U20 World silver medalist Mitchell Mesenbrink at last year's U20 World Championships in Sofia, Bulgaria. (Kadir Caliskan, United World Wrestling)
The U.S. will send an experienced men's freestyle group to the 2023 U20 World Championships in Amman, Jordan, Aug. 14-20. Eight of the ten American athletes have competed at a prior age-group World Championships, with four possessing World medals.
Men's freestyle leads off the tournament next Monday at Princess Sumaya Lounge in Amman's Sports City. Athletes in the first five men's freestyle weight classes (57-65-70-79-97 kg) begin their tournaments on Aug. 14, with the second wave of weights (61-74-86-92-125 kg) kicking off on Aug. 15. Each bracket will be contested over a two-day stretch, running through semifinals on day one, followed by repechage and medal matches on day two.
The U.S. men's freestyle team for the U20 World Championships was determined at the U20 World Team Trials held in early June at Spire Academy in Geneva, Ohio. Each champion from the Trials earned a berth on the U20 World Team.
Three freestylers return from last year's U20 World Team—Mitchell Mesenbrink (74 kg), Bennett Berge (86 kg) and Nic Bouzakis (61 kg). Mesenbrink and Berge both navigated to the finals and wound up with silver medals. Bouzakis posted a valiant seventh place result with a 2-2 record. All three men are fresh off gold medal efforts at the U20 Pan-American Championships in Santiago, Chile, and are significant threats to top the podium in Jordan.
A duo of past U17 World champions has leveled up and entered the chat. 57 kg representative Luke Lilledahl, who will be a Senior at Wyoming Seminary (Pennsylvania), struck gold at the U17 Worlds in Rome, Italy, last summer. Fellow Wyoming Seminary product Meyer Shapiro earned his U17 World title in Budapest, Hungary, two years ago. Both men have aggressive, entertaining styles and appear poised to crack the U20 World medal stand.
To qualify for the U20 World Team, Lilledahl was forced to navigate a deep domestic bracket that included reigning 57 kg U20 World champion Jore Volk. Most recently, Lilledahl looked sharp throughout a gold medal performance at the U20 Pan-American Championships.
NCAA All-American Jesse Mendez is looking for his first World medal in a third attempt, now at 65 kg. The Indiana product finished in eighth place at the 2021 U20 World Championships and ninth place at the 2019 U17 World Championships. He is the college teammate of Bouzakis at Ohio State University.
Heavyweight Christian Carroll and 79 kg entrant Matthew Singleton hold valuable U20 World Championships experience, albeit on the Greco-Roman side of the fence. Carroll, the current No. 1 pound-for-pound high school wrestler according to FloWrestling, took the mats in Sofia, Bulgaria, last year. Singleton made the 2021 U20 World Team that competed in Ufa, Russia.
There are two first timers on the World stage for this bunch—Jack Darrah (92 kg) and Camden McDanel (97 kg). Both took top prize at the U20 Pan-American Championships last month.
All ten members of the team are tied to NCAA Div. I programs. In addition to the Ohio State duo of Bouzakis and Mendez, the Big Ten is strongly represented by Penn State transfer Mesenbrink and commit Lilledahl, as well as McDanel, who will be a freshman at Nebraska. Berge (South Dakota State), Singleton (North Carolina State) and Darrah (Stanford) completed their first seasons at the Div. I level last year. Shapiro (Cornell) and Carroll (Oklahoma State) are incoming freshman that expect to immediately contend for starting positions at respected programs.
The U.S. finished in second place as a team in the men's freestyle division at the 2022 U20 World Championships with 132 total team points and four medalists. The added depth to the 2023 group from the U17 ranks, and well-rounded international experience, gives the U.S. strong chances to contend for the team title once again.
The U20 World Championships will be live streamed on FloWrestling.com to the U.S. market. Brackets and updated results will be provided by United World Wrestling on uww.org and the UWW mobile app.
Those seeking to follow along in real time can reference the complete event schedule below. Amman, Jordan, is in the GMT +3 time zone, which is seven hours ahead of U.S. Eastern Time. USA Wrestling will provide regular updates on TheMat.com and its social media platforms throughout the event.
2023 U20 World Championships
At Amman, Jordan, August 14-20
Quick Links
· U.S. men's freestyle athlete bios
· Event entry list provided by UWW
· Live stream on FloWrestling.com
Event Schedule
Monday, August 14
10 a.m. – Qualification Rounds (MFS 57-65-70-79-97 kg)
5:15 p.m. – Opening Ceremony
6 p.m. – Semifinals (MFS 57-65-70-79-97 kg)
Tuesday, August 15
10 a.m. – Qualification Rounds (MFS 61-74-86-92-125 kg)
4:45 p.m. – Semifinals (MFS 61-74-86-92-125 kg)
6 p.m. – Medal Matches and Awards (MFS 57-65-70-79-97 kg)
Wednesday, August 16
10 a.m. – Qualification Rounds (WFS 50-55-59-68-76 kg) and Repechage (MFS 61-74-86-92-125 kg)
4:45 p.m. – Semifinals (WFS 50-55-59-68-76 kg)
6 p.m. – Medal Matches and Awards (MFS 61-74-86-92-125 kg)
Thursday, August 17
10 a.m. – Qualification Rounds (WFS 53-57-62-65-72 kg) and Repechage (WFS 50-55-59-68-76 kg)
4:45 p.m. – Semifinals (WFS 53-57-62-65-72 kg)
6 p.m. – Medal Matches and Awards (WFS 50-55-59-68-76 kg)
Friday, August 18
10 a.m. – Qualification Rounds (GR 55-63-77-87-130 kg) and Repechage (WFS 53-57-62-65-72 kg)
4:45 p.m. – Semifinals (GR 55-63-77-87-130 kg)
6 p.m. – Medal Matches and Awards (WFS 53-57-62-65-72 kg)
Saturday, August 19
10 a.m. – Qualification Rounds (GR 60-67-72-82-97 kg) and Repechage (GR 55-63-77-87-130 kg)
4:45 p.m. – Semifinals (GR 60-67-72-82-97 kg)
6 p.m. – Medal Matches and Awards (GR 55-63-77-87-130 kg)
Sunday, August 20
4 p.m. – Repechage (GR 60-67-72-82-97 kg)
6 p.m. – Medal Matches and Awards (GR 60-67-72-82-97 kg)
*Listed times reflect local time in Amman, Jordan, which is seven hours ahead of U.S. Eastern Time
U.S. Men's Freestyle Roster
57 kg – Luke Lilledahl (St. Charles, Missouri/X-Calibur Athletics WC)
61 kg – Nic Bouzakis (Dallas, Pennsylvania/X-Calibur Athletics WC/Ohio RTC)
65 kg – Jesse Mendez (Crown Point, Indiana/Titan Mercury WC/Ohio RTC)
70 kg – Meyer Shapiro (Woodbine, Maryland/Spartan Combat RTC)
74 kg – Mitchell Mesenbrink (Hartland, Wisconsin/Askren Wrestling Academy)
79 kg – Matthew Singleton (College Park, Georgia/Wolfpack WC)
86 kg – Bennett Berge (Mantorville, Minnesota/Jackrabbit WC)
92 kg – Jack Darrah (Washington, Missouri/California RTC)
97 kg – Camden McDanel (Circleville, Ohio)
125 kg – Christian Carroll (Stillwater, Oklahoma/Cowboy RTC)
U.S. Men's Freestyle Delegation
National Developmental Coach – James Green
USA Wrestling Assigned Coach – John Stutzman
USA Wrestling Assigned Coach – Abdur Nimeri
Personal Coach – Brady Berge
Personal Coach – Cornell Robinson
Personal Coach – Casey Cunningham
Personal Coach – Mike Grey
Personal Coach – Logan Stieber
Personal Coach – J Jaggers
Personal Coach – Chris Perry
Personal Coach – Adam Hall
Personal Coach – Tervel Dlagnev
Training Partner – Yianni Diakomihalis
ATC – Carrie Moore
MD – Vermon Esplin
Official – Brock Zollinger
Official – Nick Mancini
Official – Kevin Maxwell
Official – Robyn Van Houten
Team Leader – Paul Kieblesz
Team Leader – Meredith Suess
NF Official – Darryl Colbert
NF Official – Cliff Fretwell
USA Wrestling, Executive Director – Richard Bender
USA Wrestling, Sr. Manager, Communications – Richard Immel