News
USA Wrestling
International
Women
High School & Youth
USAW
Bouzakis, Jaffe, Robinson to go for women's freestyle bronze at U17 World Championships, Brooks back in repechage
by Gary Abbott, USA Wrestling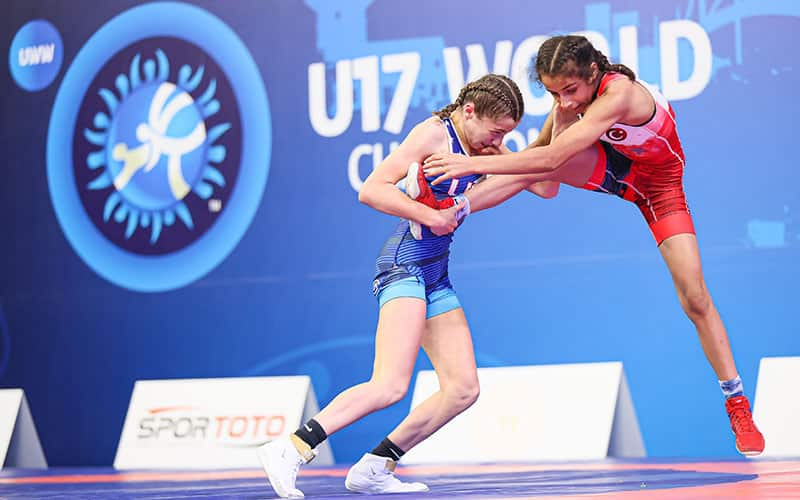 Jaclyn Bouzakis (USA) has high single leg on Fatma Yildiz (TUR) in U17 World semifinals at 40 kg. Photo by Ulug Bugra Han, United World Wrestling
.
ISTANBUL, Turkey – The USA lost all three of its Group Two semifinals matches in women's freestyle at the
2023 U17 World Championships
on Thursday night, with each of the American athletes now qualified for bronze-medal matches on Friday night.
Going for the bronze will be
Jaclyn Bouzakis
of Pennsylvania (40 kg),
Haylie Jaffe
of Pennsylvania (61 kg) and
Jasmine Robinson
of Texas (69 kg). All three lost to opponents from India.
Bouzakis lost a heartbreaking 5-4 match in the semifinals in an even battle with 2023 Asian U17 champion Rachana of India. The match was tied at 2-2 at the break. Bouzakis took a 4-2 lead in the second period with a takedown and was reversed to make it 4-3. Rachana scored two points late in the period for the victory.
Bouzakis will face the winner of the repechage match between Ainaz Abduykadyrova of Kyrgyzstan and Nurana Asadli, an Independent Neutral Athlete.
Jaffe was unable to keep up with 2021 U17 World champion and two-time U17 Asian champion Savita of India, losing by a 10-0 technical fall. Savita dominated on the feet, scoring three takedowns in the first period and two in the second period.
Jaffe will wrestle the winner of the repechage bout between Byza Nur Akkus of Turkey and Sofya Zmazneva of Kazakhstan.
Robinson came from behind against 2023 U17 Asian champion Sristhti of India but was defeated late in the bout by an 8-5 margin. Sristhti led 4-0 at the break after a four-point move. Robinson answered with a four-pointer of her own in the second period to tie it at 4-4 then added a step out to lead 5-4. Srishti took a 6-5 lead on a takedown and added a late counter takedown when Robinson tried to get a big move at the end.
Robinson, the only member of the 2023 U.S. U17 Women's World Team who also competed at this event last year, will seek her first medal. She will battle the winner of the repechage battle between Victorija Irkle of Latvia and Elif Kurt of Turkey.
Karlee Brooks
of Arizona was pulled back in repechage at 53 kg, when Sakura Onishi, who defeated her in the morning session, won her semifinal match. Brooks could become the fourth U.S. wrestler in Group Two to have a bronze-medal match. She will wait for the winner of the repechage match between Liliana Kapuvari of Hungary and Byasgalan Mongolkhuu of Mongolia. If Brooks beats that athlete, she advances to Friday night's bronze-medal match against Fabiana Rinella of Italy.
Both Japan and India have pushed four wrestlers into the finals in Group Two after strong semifinals rounds. Also in the finals is an athlete from Croatia and an Individual Neutral Athlete.
The Women's Freestyle Group Two repechage matches are set at 10:00 a.m., and the medal matches at 6:00 p.m. Men's freestyle also hosts its first day with five weight classes on Friday, with preliminary and semifinal action.
All of the action is
live on FloWrestling
.
U17 WORLD CHAMPIONSHIPS

At Istanbul, Turkey


Women's Freestyle Group Two Finals pairings
40 kg - Koharu Akutsu (Japan) vs. Rachana (India)
46 kg - Muskan (India) vs. Natsumi Masuda (Japan)
53 kg - Sakura Onishi (Japan) vs. Olga Ovchinnikova (Individual Neutral Athlete)
61 kg - Savita (India) vs. Konami Ono (Japan)
69 kg - Srishti (India) vs. Veronika Vilk (Croatia)
Women's Freestyle Group Two Semifinal results
40 kg
Koharu Akutsu (Japan) dec. Klara Winkler (Germany),4-1
Rachana (India) dec. Jaclyn Bouzakis (USA), 5-4
46kg
Muskan (India) pin Meiramgul Akhmetzhan (Kazakhstan), 0:22
Natsumi Masuda (Japan) tech fall Daniella Tara Hossein Beky (Norway), 12-2
53 kg
Sakura Onishi (Japan) tech fall Fabiana Rinella (Italy), 11-0
Olga Ovchinnikova (Individual Neutral Athlete) pin Sakibjamal Esbosynova (Uzbekistan), 1:48
61 kg
Savita (India) tech fall Haylie Jaffe (United States), 10-0
Konami Ono (Japan) pin Leah Samsonsen (Norway), 1:11
69 kg
Srishti (India) dec. Jasmine Robinson (United States), 8-5
Veronika Vilk (Croatia) dec. Evelin Ujhelji (Serbia), 6-2
U.S. Women's Freestyle Group Two results
40 kg: Jaclyn Bouzakis, Shaverstown, Pennsylvania (Team Pennsylvania), in bronze bout
WIN Fatma Yilmaz (Turkey), 9-6
LOSS Rachana (India), 5-4
Bronze Bout – Ainaz Abduykadyrova (Kyrgyzstan) and Nurana Asadli (Independent Neutral Athlete)
46 kg: Rianne Murphy, Crown Point, Indiana (Region Wrestling Academy), eliminated
LOSS Valeryia Tsitova (Individual Neutral Athlete), pin 1:05
53 kg: Karlee Brooks, Phoenix, Arizona (Arizona Girls Wrestling), in repechage
WIN Elmira Saparvekova (Kazakhstan), tech fall, 12-1
LOSS Sakura Onishi (Japan), 6-0
Repechage – Vs. winner of Liliana Kapuvari (Hungary) and Byasgalan Mongolkhuu (Mongolia)
61 kg: Haylie Jaffe, Avondale, Pennsylvania (Team Pennsylvania), in bronze bout
WIN Emilia Swierczewska (Poland), tech fall 11-1
WIN Elaterina Radysheva (Individual Neutral Athlete), 7-0
LOSS Savita (India), tech fall, 10-0
Bronze Bout – Vs. winner of Byza Nur Akkus (Turkey) and Sofya Zmazneva (Kazakhstan)
69 kg: Jasmine Robinson, Allen, Texas (Allen High School Wrestling), in bronze bout
WIN Ai Sakai (Japan), tech fall 12-0
WIN Nigina Rajabova (Uzbekistan), pin 1:31
LOSS Sristhti (India), 8-5
Bronze Bout – Vs. winner of Victorija Irkle (Latvia) and Elif Kurt (Turkey)