News
USA Wrestling
Women
International
College
USAW
U.S. stars Golston, Chavez, Hedrick, Beck, Schlabach win women's freestyle titles at Bill Farrell Memorial International
by Gary Abbott, USA Wrestling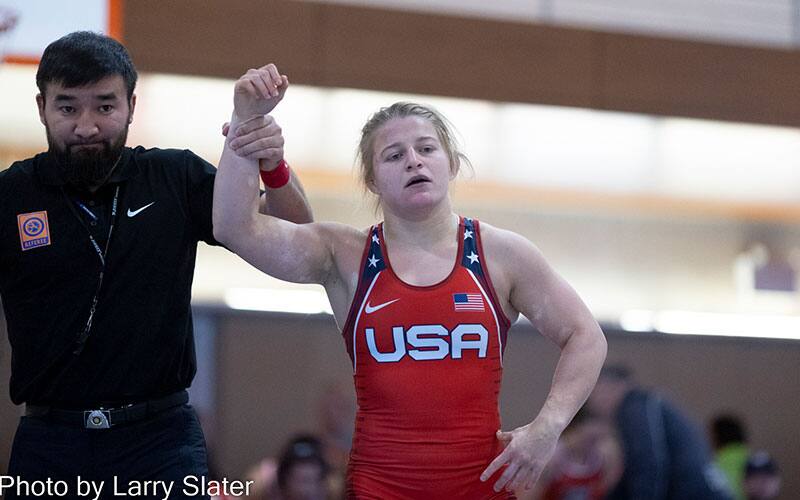 Michaela Beck of the Sunkist Kids, the 59 kg champion. Photo by Larry Slater.
NEW YORK, New York – Five U.S. women's freestyle wrestler claimed individual gold medals at the Bill Farrell Memorial International on Friday at the New York Athletic Club.
Individual champions for Team USA were
Erin Golston
of the NYAC (50 kg),
Samara Chavez
of Team Tornado WC (53 kg),
Alexandra Hedrick
of Titan Mercury WC (57 kg),
Michaela Beck
of the Sunkist Kids (59 kg) and
Andrea Schlabach
of Ohio (62 kg).
Golston, a three-time Junior World medalist and multiple-time National Team member, won the roundrobin in her weight class with a 4-0 record, winning every match by technical fall and outscoring her opponents, 41-0.
Chavez, who competes for King University and is currently ranked No. 2 at 116 pounds in the NCAA, went 3-0 for the day, outscoring her opposition, 28-0.
Hedrick won a round robin of four athletes, in which none of the wrestlers finished unbeaten. Hedrick lost an early match to Ana Luiza Pereira Frana of Brazil, but won her other two bouts. A last second throw in her final match where she defeated Marina Sedneva of Kazakhstan, 5-2 gave her the title. Hedrick, a National Team member, recently won a bronze medal at the U23 World Championships.
Beck had a perfect 3-0 record, winning two bouts by technical fall and defeating runner-up Amanda Martinez, 3-2. Beck grew up in New York City, and trained at the New York Athletic Club often as a youth.
Schlabach, a star for Grand View University, is the only repeat champion from the last Bill Farrell Memorial, which was held in Cedar Falls, Iowa in March 2022. Schlabach claimed a pair of decisions, stopping Marisol Nugent, 10-6, and Canada's Miki Rowbottom, 6-6.
The Outstanding Wrestler was
Dalma Caneva
of Italy, the champion at 72 kg. Caneva won a four-athlete round robin with a perfect 3-0 record.
The other individual champion from other nations were Samantha Stewart of Canada (55 kg), Purevdorj Orkam of Mongolia (65 kg), Madina Bakbergenova of Kazakhstan (68 kg) and Zhamila Bakbergenova of Kazakhstan (76 kg).
Previously known as the New York Athletic Club International, the tournament is named in honor of the late Hall of Famer
Bill Farrell
, a giant in international wrestling, who was involved with the NYAC for decades as an athlete, coach and leader.
BILL FARRELL MEMORIAL INTERNATIONAL
At New York, N.Y.

Women's freestyle results
50 kg
Gold - Erin Golston (New York Athletic Club)
Silver - Sage Mortimer (Titan Mercury Wrestling Club (TMWC))
Bronze - Alexia Seal (Canada)
4th - Katie Dutchak (Canada)
5th – Diana Holmes (Georgia)
Seal dec. Holmes, 9-3
Dutchak dec. Mortimer, 8-8
Golston tech. fall Seal, 10-0
Dutchak tech. fall Holmes, 12-2
Golston tech. fall Dutchak, 10-0
Mortimer pin Holmes, 0:12
Golston tech. fall Mortimer, 11-0
Seal dec. Dutchak, 5-5
Golston tech. fall Holmes, 10-0
Mortimer tech fall Seal, 10-0
53 kg
Gold - Samara Chavez (Team Tornado Wrestling Club)
Silver - Virginia Foard (Wyoming Seminary Wrestling Club)
Bronze - Chloe Ayres (New Jersey RTC)
4th - Arelys Valles (Florida)
Chavez dec. Valles, 8-0
Foard dec Ayres, 8-4
Ayres dec. Valles, 8-2
Chavez tech. fall Foard, 10-0
Foard tech. fall Valles, 12-2
Chavez tech fall Ayres, 10-0
55 kg
Gold - Samantha Stewart (Canada) dec. Marissa Gallegos (Colorado), 7-1
Bronze - Altyn Shagayeva (Kazakhstan) dec. Alisha Howk (Sunkist Kids Wrestling Club), 3-1
57 kg
Gold - Alexandra Hedrick (Titan Mercury Wrestling Club (TMWC))
Silver - Marina Sedneva (Kazakhstan)
Bronze - Melanie Mendoza (Team Tornado Wrestling Club)
4th - Ana Luiza Pereira Frana (Brazil)
Pereira dec. Hedrick, 4-3
Sedneva pin Mendoza, 2:33
Hedrick tech fall Mendoza, 11-1
Sedneva pin Pereira, 0:57
Hedrick dec. Sedneva, 5-2
Mendoza dec. Pereira, 2-2
59 kg
Gold - Michaela Beck (Sunkist Kids Wrestling Club)
Silver - Amanda Martinez (Illinois)
Bronze - Montana DeLawder (Team Tornado Wrestling Club)
4th - Charlotte Kouyoumtjian (Victory School of Wrestling)
DeLawder pin Kouyoumtjian, 5:10
Beck dec. Martinez, 3-2
Beck tech fall Kouyoumtjian, 10-0
Martinez tech fall DeLawder, 10-0
Martinez tech. fall Kouyoumtjian, 11-1
Beck tech fall DeLawder, 10-0
62 kg
Gold - Andrea Schlabach (Ohio)
Silver - Miki Rowbottom (Canada)
Bronze - Marisol Nugent (Sunkist Kids Wrestling)
Rowbottom tech fall Nugent, 11-0
Schlabach dec. Nugent, 10-6
Schlabach dec. Rowbottom, 6-6
65 kg
Gold - Purevdorj Orkam (Mongolia) tech. fall Skylar Hattendorf (New Hampshire), 11-1 1:10
Bronze - Amanda Hendey (Titan Mercury Wrestling Club) tech. fall Maya Letona (New York City RTC), 10-0 5:42
68 kg
Gold - Madina Bakbergenova (Kazakhstan)
Silver - Chloe Ogden (Tar Heel Wrestling Club)
Bronze - Love Daley (Wyoming Seminary Wrestling)
Bakbergenova pin Ogden, 3:46
Ogden tech fall Daley, 18-7
Bakgergenova tech fall Daley, 10-0
72 kg
Gold - Dalma Caneva (Italy)
Silver - Mei Shindo (Japan)
Bronze - Cheyenne Bowman (California)
4th - Tiffani Baublitz (Pennsylvania)
Shindo dec. Bowman, 6-0
Caneva dec. Baublitz, 2-1
Bowman dec. Baublitz, 5-0
Caneva dec. Shindo, 3-2
Caneva dec. Bowman, 4-2
Shindo tech fall Baublitz, 10-0
76 kg
Gold - Zhamila Bakbergenova (Kazakhstan)
Silver - Justina Di Stasio (Canada)
Bakbergenova pin Di Stasio, 5:58
Bakbergenova dec. Di Stasio, 4-0