News
USA Wrestling
International
High School & Youth
USAW
Kenny & Blaze go for gold, Mantanona & Ryder to seek bronze at U17 Worlds in men's freestyle
by Gary Abbott, USA Wrestling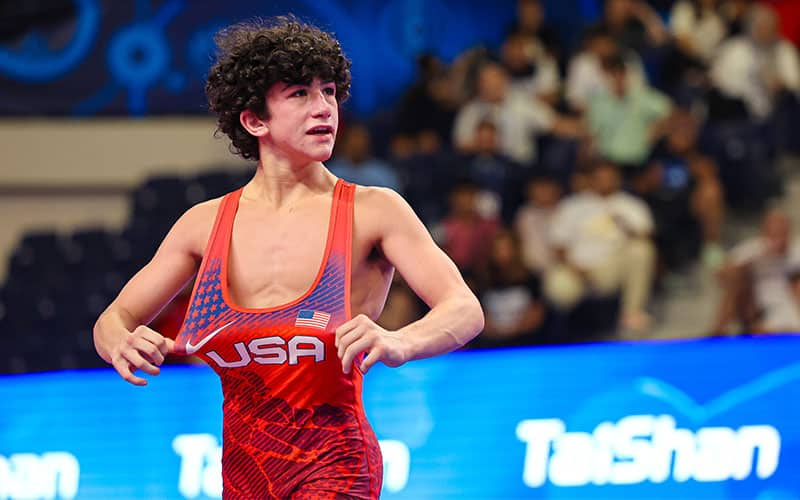 Paul Kenny (USA) celebrates his victory in the semifinals at the U17 World Championships. Photo by Kadir Caliskan, United World Wrestling
.
ISTANBUL, Turkey – The United States pushed two athletes in the gold-medal finals and two other athletes in bronze-medal matches on the first day of men's freestyle at the 2023 U17 World Championships on Friday.
Qualifying for gold medal matches are
Paul Kenny
of New Jersey (48 kg) and
Marcus Blaz
e of Ohio (55 kg).
Kenny won a wild 8-8 semifinal match against 2023 Asian champion Sam Sayar of Iran, in which there were two U.S. challenges which were favorable for Kenny and the USA. Sayar led the match in the early going, but Kenny kept coming hard, and getting them into some crazy positions. After the first challenge, the score was 6-6 with Kenny having criteria. At the end, Sayar made an apparent score that would give him the bout, but the challenge came back with the score at 8-8 with Kenny winning criteria.
Kenny will face 2022 Asian U15 champion Yamato Furusawa of Japan in the finals
There was no doubt in Blaze's semifinal an 11-0 technical fall which completed in the first period over 2023 European U17 silver medalist Samvel Gevorgyan of Armenia. Leading 3-0, Blaze got a takedown then turned Gevorgyan multiple times to finish the match.
Blaze will face 2023 Asian U17 champion Ankush of India in the finals.
Dropping their semifinal matches and competing in bronze-medal matches on Saturday are
Brock Mantanona
of California at 65 kg and
Zack Ryder
of New York at 80 kg.
Mantanona was beaten by talented Magomed Alibakharchiev, an Individual Neutral Athlete, in a 14-2 technical fall. Mantanona got into numerous active exchanges with Alibakharchiev, who came out with the points. After he fell behind, Mantanona increased his risk trying to score, which led to additional scores for his opponent.
In his bronze-medal bout, Mantanona will face one of three wrestlers in his repechage chain, either Fares Elsawy of Egypt, Keyvan Gharedhaghi of Japan or Khizir Daciev of France.
Ryder, who was a 2022 U17 World bronze medalist, fell in his semifinals match to Alexandru Bors of Moldova, 4-1. Ryder led 1-0 after one period. In the second period, Ryder was put on the shot clock. Bors was able to score a takedown and also got the point from the shot clock to lead. At the end of the match, Ryder got behind Bors and did not get him to the mat as time ran out. The USA challenged, which was denied, giving Bors his final point.
In the bronze-medal bout, Ryder will face one of three wrestlers in his repechage chain, Adam Mizsei of Hungary, Daniel Simonian of Israel or Ismayil Asadli of Azerbaijan.
The other U.S. athlete in Group One, Sampson Stillwell of Missouri, was eliminated when the athlete who defeated him, Henrik Haykyan of Armenia, was defeated in the semifinals. Only losers to finalists can advance to repechage.
The Group A repechage is set for 11:00 a.m. on Saturday, with the medal match finals set for 6:00 p.m. The five U.S. wrestlers in Group B will begin their competition on Saturday, and wrestle through the semifinals: Ignacio Villasenor of Colorado (45 kg), Christian Castillo of Arizona (51 kg), Ben Davino of Illinois (60 kg), Ladarion Lockett of Oklahoma (71 kg) and Aeoden Sinclair of Wisconsin (92 kg).
The USA is the defending team champion in men's freestyle at the U17 World Championships.
All of the action is
live on FloWrestling
.
U17 WORLD CHAMPIONSHIPS
At Istanbul, Turkey,

Men's Freestyle Group One Finals pairings
48 kg - Yamato Furusawa (Japan) vs. Paul Kenny (United States)
55 kg - Ankush (India) vs. Marcus Blaze (United States)
65 kg - Magomed Alibakharchiev (Individual Neutral Athlete) vs. Sina Khalili (Iran)
80 kg - Alexandru Bors (Moldova) vs. Magomed Idrisov (Individual Neutral Athlete)
110 kg - Yedige Kassimbek (Kazakhstan) vs. Yusif Dursunov (Azerbaijan)
Men's Freestyle Group One Semifinals results
48 kg
Yamato Furusawa (Japan) dec. Joseph Bachmann (Puerto Rico), 4-2
Paul Kenny (United States) dec. Sam Sayar (Iran), 8-8
55 kg
Ankush (India) tech fall Arshak Lulukyan (Georgia), 10-0 3:57
Marcus Blaze (United States) tech fall Samvel Gevorgyan (Armenia), 11-0 2:56
65 kg
Magomed Alibakharchiev (Individual Neutral Athlete) tech fall Brock Mantanona (United States), 14-2 4:00
Sina Khalili (Iran) dec. Manuel Wagin (Germany), 8-2
80 kg
Alexandru Bors (Moldova) dec. Zackary Ryder (United States), 4-1
Magomed Idrisov (Individual Neutral Athlete) dec. Konstantine Petriashvili (Georgia), 5-1
110 kg
Yedige Kassimbek (Kazakhstan) pin Rakhman Malakhmedov (Individual Neutral Athlete), 1:41
Yusif Dursunov (Azerbaijan) dec. Henrik Haykyan (Armenia), 6-2
U.S. Men's Freestyle Group One results
48 kg: Paul Kenny, Bayville, New Jersey, in finals
WIN Oliwier Orzechowski (Poland), tech fall 11-0
WIN Azymberdi Ashyrgulyyev (Turkmenistan), 4-2
WIN Yeraly Zhetpissov (Kazakhstan), pin 3:38
WIN Sam Reza Sayar (Iran)
Gold Medal – vs. Yamato Furusawa (Japan)
55 kg: Marcus Blaze, Perrysburg, Ohio (Perrysburg WC), in finals
WIN Amirreza Ali Teymorizad (Iran), 2-1
WIN Azatberdi Ashyrgulyyev (Turkmenistan), tech fall 12-1
WIN Oubayda Itaev (France), tech fall 10-0
WIN Samvel Gevorgyan (Armenia), tech fall 10-0
Gold Medal – vs. Ankush (India)
65 kg: Brock Mantanona, Bermuda Dunes, California (Coachella Valley WC), in bronze bout
WIN Almas Sabyr (Kazakhstan), 14-6
WIN Ankh Erdene Altangerel (Mongolia), tech fall 16-5
WIN Zafarbek Kamalov (Uzbekistan), tech fall 12-2
LOSS Magomed Alibakharchiev (Individual Neutral Athlete), tech fall 14-2
Bronze Bout – Vs. Fares Elsawy (Egypt), Keyvan Gharedhaghi (Japan) or Khizir Daciev (France)
80 kg: Zack Ryder, Westtown, New York (M2 Training Center), in bronze bout
WIN Askhab Khajiyev (Kazakhstan), 2-1
WIN Saurabh Yadav (India), pin 0:59
LOSS Alexandru Borz (Moldova), 4-1
Bronze Bout - Vs.Adam Mizsei of Hungary, Daniel Simonian of Israel or Ismayil Asadli of Azerbaijan
110 kg: Sampson Stillwell, Centerview, Missouri (Kobra Kai Training), eliminated
LOSS Henrik Haykyan (Armenia), tech fall 13-3