News
USA Wrestling
International
USAW
Jimenez earns pin in U20 World semifinals, Kelly to wrestle for bronze
by Taylor Gregorio, USA Wrestling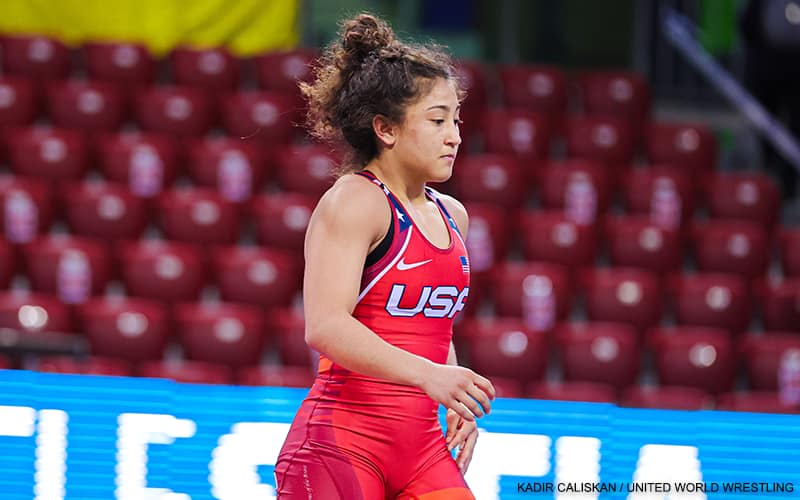 Photo of Audrey Jimenez by Kadir Caliskan, United World Wrestling.
SOFIA, Bulgaria – After a 0-1 finish at the U17 World Championships just weeks ago, Audrey Jimenez bounced back magnificently, advancing to the U20 World women's freestyle finals at 50 kg on Wednesday in Sofia, Bulgaria.
Medal matches are set for Thursday at 6 p.m. local time (11 a.m. U.S. ET) live on FloWrestling.
Fresh off two technical fall victories in the morning session, Jimenez faced 2022 U20 European silver medalist Natalia Wazclak of Poland, who jumped out to an early 4-0 lead. With less than 20 seconds left in the period, Jimenez scored on a single and put Wazclak to her back for a pin in 2:48.
For gold, the American will face 2017 U17 World champion Umi Ito from Japan.
Tristan Kelly is also in the hunt for a medal at 76 kg. Earlier in the day, she lost to Ayano Moro of Japan, who cruised to the finals, which pulled Kelly back into the tournament. Because the bracket is small, Kelly advances directly to the bronze bout. There she will face 2021 U20 World bronze medalist Daniella Tkachuk of Poland.
Three Americans have been eliminated from the tournament, including Adriana Dorado-Marin (55kg), SaVannah Cosme (59 kg) and Destiny Rodriguez (68 kg).
The tournament continues Thursday, with five more U.S. women beginning their tournaments at 11 a.m. local time (4 a.m. ET). Semifinals are set for 4:45 pm (9:45 a.m. ET), followed by medal matches at 6 p.m. (11 a.m. ET). Fans can watch all the action live on FloWrestling and get live updates on Twitter @USAWrestling.
U20 WORLD CHAMPIONSHIPS

Aug. 15-21, 2022 | Sofia, Bulgaria
U.S. women's freestyle results
50 kg – Audrey Jimenez (Tucson, Ariz./Sunkist Kids) – GOLD MATCH

WIN Gultakin Shirinova (Azerbaijan), 13-2

WIN Gabija Dilyte (Lithuania), 11-0

WIN Natalia Walczak (Poland), fall 2:48

vs. Umi Ito (Japan)
55 kg – Adriana Dorado Marin (Denver, Colo./Army WCAP) – ELIMINATED

LOSS Roza Szenttamasi (Hungary), 12-2
59 kg – SaVannah Cosme (Denver, Colo./Sunkist Kids) – ELIMINATED

LOSS Ebru Dagbasi (Turkey), 1-1
68 kg – Destiny Rodriguez (West Linn, Ore./All-Phase WC) - ELIMINATED

LOSS Laura Godino (Italy), 12-1
76 kg – Tristan Kelly (Erie, Colo./Army WCAP) – BRONZE MATCH

WIN Ana Julia Dos Santos (Brazil), 9-0

LOSS Ayano Moro (Japan), fall 4:28

vs. Daniella Tkachuk (Poland)
Schedule (local time 7 hours ahead of U.S. ET)
Thursday, Aug. 18
11 a.m. – Qualification rounds (WFS 53, 57, 62, 65, 72 kg)

11 a.m. – Repechage (WFS 50, 55, 59, 68, 76 kg)

4:45 p.m. – Semifinals (WFS 53, 57, 62, 65, 72 kg)

6 p.m. – Medal matches (WFS 50, 55, 59, 68, 76 kg)
Friday, Aug. 19
11 a.m. – Qualification rounds (GR 55, 63, 77, 87, 130 kg)

11 a.m. – Repechage (WFS 53, 57, 62, 65, 72 kg)

4:45 p.m. – Semifinals (GR 55, 63, 77, 87, 130 kg)

6 p.m. – Medal matches (WFS 53, 57, 62, 65, 72 kg)
Saturday, Aug. 20
11 a.m. – Qualification rounds (GR 60, 67, 72, 82, 97 kg)

11 a.m. – Repechage (GR 55, 63, 77, 87, 130 kg)

4:45 p.m. – Semifinals (GR 60, 67, 72, 82, 97 kg)

6 p.m. – Medal matches (GR 55, 63, 77, 87, 130 kg)
Sunday, Aug. 21
4 p.m. – Repechage (GR 60, 67, 72, 82, 97 kg)

6 p.m. – Medal matches (GR 60, 67, 72, 82, 97 kg)