News
USA Wrestling
International
USAW
U.S. men's freestyle draws set at U20 World Championships
by Richard Immel, USA Wrestling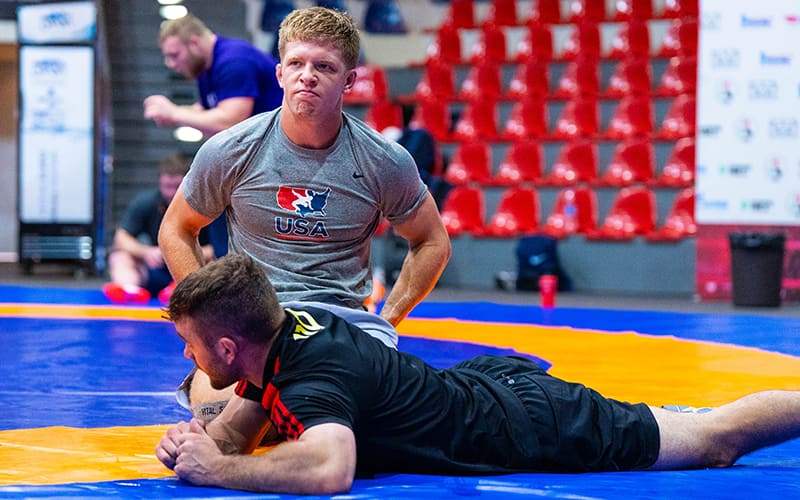 Photo: U20 World silver medalist Bennett Berge during men's freestyle practice in Amman, Jordan. (Richard Immel, USA Wrestling)
The 10 U.S. men's freestyle athletes have received their draws for the 2023 U20 World Championships, as announced by United World Wrestling on Sunday in Amman, Jordan.
The Buckeye twosome of Jesse Mendez and Nic Bouzakis have each drawn a multiple-time continental champion to start the tournament—the stiffest first-round tests for the U.S. group on paper. Mendez will open his run at 65 kg in the round-of-32 against two-time U20 European champion Mykyta Zubal of Ukraine. Standing in front of Bouzakis during the round-of-32 at 61 kg will be Egypt's Shehabeldin Mohamed, who is a two-time U20 African champion.
Returning U20 World silver medalists Mitchell Mesenbrink and Bennett Berge will have to be ready on the first whistle as they seek a repeat run to the U20 World finals. Mesenbrink squares off against 2023 U20 European bronze medalist Ion Marcu of Moldova in the round-of-32 at 74 kg. Already placed in the round-of-16 at 86 kg, Berge awaits the winner between Gabriele Niccolini of Italy, who was fifth in 2021 U17 World Championships, and 2023 U20 European bronze medalist Ivan Chornohuz of Ukraine. Either European competitor will be a tough out.
Past U17 World champions Luke Lilledahl and Meyer Shapiro have drawn relatively unknown international opponents. Lilledahl has Individual Neutral Athlete Lev Pavlov, who previously competed for Russia, in his first bout at 57 kg. Shapiro is paired against Japan's Yuma Tomiyama in the round-of-32 at 70 kg. Neither Pavlov nor Tomiyama have significant international credentials to speak of.
It's a similar story for Matthew Singleton, who has drawn Denizbek Ulan Uulu of Kyrgyzstan in the round-of-32 at 79 kg. The only international tournament of note for Ulan Uulu is the 2022 U17 World Championships where he finished in 20th place out of 25 athletes. Singleton was a member of the 2021 U.S. U20 World Team on the Greco-Roman side.
Heavyweight Christian Carroll, who was a member of the U.S. U20 World Team in Greco-Roman last year, kicks off his tournament in the round-of-16 against Ksawery Kaminski of Poland. Kaminski was fifth in 2023 U20 European Championships and will be a solid first test.
First-time U.S. World Teamers Jack Darrah and Camden McDanel have drawn opponents holding decent performances at prior age-group World Championships. Darrah will take on Giorgi Romelashvili of Georgia, who was eighth in 2022 U17 World Championships, to open his day at 92 kg. For McDanel, it'll be Japan's Toyoki Hamada, who came in 13th overall at the 2022 U20 World Championships, in the round-of-16 at 97 kg.
Men's freestyle leads off the week at Princess Sumaya Lounge in Amman's Sports City. Athletes in the first five men's freestyle weight classes (57-65-70-79-97 kg) begin their tournaments on Aug. 14, with the second wave of weights (61-74-86-92-125 kg) kicking off on Aug. 15. Each bracket will be contested over a two-day stretch, running through semifinals on day one, followed by repechage and medal matches on day two.
The U20 World Championships will be live streamed on FloWrestling.com to the U.S. market. Brackets and updated results will be provided by United World Wrestling on uww.org and the UWW mobile app.
Those seeking to follow along in real time can reference the complete event schedule below. Amman, Jordan, is in the GMT +3 time zone, which is seven hours ahead of U.S. Eastern Time. USA Wrestling will provide regular updates on TheMat.com and its social media platforms throughout the event.
2023 U20 World Championships
At Amman, Jordan, August 14-20
Quick Links
· U20 World Championships Special Section
· Live stream on FloWrestling.com
· U.S. men's freestyle athlete bios
Men's Freestyle Event Schedule
Monday, August 14
10 a.m. – Qualification Rounds (MFS 57-65-70-79-97 kg)
5:15 p.m. – Opening Ceremony
6 p.m. – Semifinals (MFS 57-65-70-79-97 kg)
Tuesday, August 15
10 a.m. – Qualification Rounds (MFS 61-74-86-92-125 kg)
4:45 p.m. – Semifinals (MFS 61-74-86-92-125 kg)
6 p.m. – Medal Matches and Awards (MFS 57-65-70-79-97 kg)
Wednesday, August 16
10 a.m. – Repechage (MFS 61-74-86-92-125 kg)
6 p.m. – Medal Matches and Awards (MFS 61-74-86-92-125 kg)
*Listed times reflect local time in Amman, Jordan, which is seven hours ahead of U.S. Eastern Time
U.S. Men's Freestyle Draws
57 kg – Luke Lilledahl (St. Charles, Missouri/X-Calibur Athletics WC)
VS Lev Pavlov (Individual Neutral Athlete)
61 kg – Nic Bouzakis (Dallas, Pennsylvania/X-Calibur Athletics WC/Ohio RTC)
VS Shehabeldin Mohamed (Egypt), two-time U20 African champion, 10th in 2022 U20 World Championships
65 kg – Jesse Mendez (Crown Point, Indiana/Titan Mercury WC/Ohio RTC)
VS Mykyta Zubal (Ukraine), two-time U20 European champion, fifth in 2022 U20 World Championships
70 kg – Meyer Shapiro (Woodbine, Maryland/Spartan Combat RTC)
VS Yuma Tomiyama (Japan)
74 kg – Mitchell Mesenbrink (Hartland, Wisconsin/Askren Wrestling Academy)
VS Ion Marcu (Moldova), 2023 U20 European bronze medalist
79 kg – Matthew Singleton (College Park, Georgia/Wolfpack WC)
VS Denizbek Ulan Uulu (Kyrgyzstan)
86 kg – Bennett Berge (Mantorville, Minnesota/Jackrabbit WC)
VS Gabriele Niccolini (Italy), fifth in 2021 U17 World Championships, or Ivan Chornohuz (Ukraine), 2023 U20 European bronze medalist
92 kg – Jack Darrah (Washington, Missouri/California RTC)
VS Giorgi Romelashvili (Georgia), eighth in 2022 U17 World Championships
97 kg – Camden McDanel (Circleville, Ohio)
VS Toyoki Hamada (Japan), 13th in 2022 U20 World Championships
125 kg – Christian Carroll (Stillwater, Oklahoma/Cowboy RTC)
VS Ksawery Kaminski (Poland), fifth in 2023 U20 European Championships