News
USA Wrestling
International
Women
USAW
World champion Elor heads dynamite U.S. women's team at U20 World Championships
by Richard Immel, USA Wrestling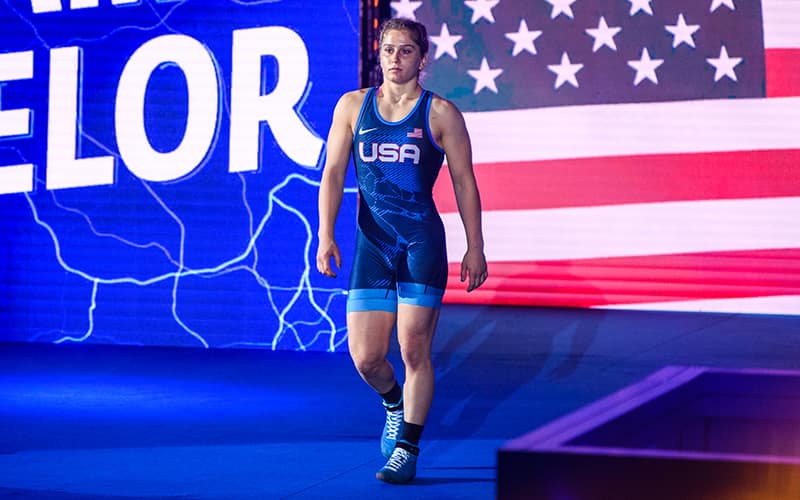 Photo: Amit Elor at the 2022 Senior World Championships in Belgrade, Serbia. (Tony Rotundo, wrestlersarewarriors.com)
Senior World champion Amit Elor headlines an exceptional crew that includes six past age-group World medalists taking the mats in women's freestyle for the U.S. at the 2023 U20 World Championships, Aug.14-20 in Amman, Jordan.
Women's freestyle will be the second style to compete at Princess Sumaya Lounge in Amman's Sports City, following men's freestyle who will lead things off next Monday. Athletes in the first five women's freestyle weight classes (50-55-59-68-76 kg) begin their tournaments on Aug. 16, with the second wave of weights (53-57-62-65-72 kg) kicking off on Aug. 17. Each bracket will be contested over a two-day stretch, running through semifinals on day one, followed by repechage and medal matches on day two.
The U.S. women's team for the U20 World Championships was determined at the USMC Women's National Championships held in April at The Podium in Spokane, Washington. Each champion in the U20 division earned a berth on the U20 World Team.
Elor is coming off one of the elite years in the history of international wrestling having earned gold medals at the Senior, U23 and U20 World Championships as an 18-year-old. She is back for more this summer with a chance repeat the feat, starting with the event in Jordan. Most recently, Elor secured her Senior World Team berth with an immaculate performance at Final X in Newark, N.J., shortly after earning a gold medal at the Pan-American Championships in Buenos Aires. She is without question the 72 kg favorite next week.
Four Final X runners-up, each of whom owns at least one age-group World medal, are among the talented team members heading to Jordan—Kennedy Blades (76 kg), Audrey Jimenez (50 kg), Katie Gomez (53 kg) and Adaugo Nwachukwu (62 kg). All four women were U.S. Open champions at the Senior level in April, speaking to the generational depth building stateside in the women's ranks.
Blades won her U20 World title back in 2021 in Ufa, Russia. She topped the podium at the Ibrahim Moustafa Senior Ranking Series earlier this year and was a U.S. Olympic Team Trials runner-up in 2020. Many consider Blades the heir apparent at 76 kg for the U.S., taking the baton from six-time World champion and Olympic silver medalist Adeline Gray in the coming years.
Jimenez, Gomez and Nwachukwu were each on the U20 World Team last year that competed in Sofia, Bulgaria. Jimenez navigated her way to the finals as she earned a silver medal at 50 kg. Gomez and Nwachukwu came through with bronze medals at 53 kg and 62 kg, respectively.
The sixth and final returning World medalist for the U.S. women is California product Cristelle Rodriguez, who owns the 57 kg spot in Jordan. Rodriguez was a silver medalist at the 2019 U17 World Championships held in Sofia, Bulgaria.
Four upstart American competitors take a crack at their first World Championships next week—Amani Jones (55 kg), Alexis Janiak (59 kg), Maddie Kubicki (65 kg) and Isabella Mir (68 kg). All four are expected to be serious medal threats in Jordan.
Six members of this impressive women's group are products of the rapidly growing college women's wrestling scene. Nwachukwu is a two-time NAIA for Iowa Wesleyan University. Rodriguez earned third place at the NAIA Championships as a freshman for Doane University this year. Jones and Janiak were runners-up at this year's NCWWC National Championships for North Central College and Aurora University, respectively. Kubicki is committed to compete for Presbyterian College starting this fall. Mir is a member of the University of Iowa's inaugural women's wrestling team that makes its much-anticipated debut in the upcoming season.
The U.S. finished in third place as a team in the women's freestyle division at the 2022 U20 World Championships with 124 total team points and six medalists. The 2023 bunch has the potential to meet or exceed last year's mark.
The U20 World Championships will be live streamed on FloWrestling.com to the U.S. market. Brackets and updated results will be provided by United World Wrestling on uww.org and the UWW mobile app.
Those seeking to follow along in real time can reference the complete event schedule below. Amman, Jordan, is in the GMT +3 time zone, which is seven hours ahead of U.S. Eastern Time. USA Wrestling will provide regular updates on TheMat.com and its social media platforms throughout the event.
2023 U20 World Championships
At Amman, Jordan, August 14-20
Quick Links
· U.S. women's freestyle athlete bios
· Event entry list provided by UWW
· Live stream on FloWrestling.com
Event Schedule
Monday, August 14
10 a.m. – Qualification Rounds (MFS 57-65-70-79-97 kg)
5:15 p.m. – Opening Ceremony
6 p.m. – Semifinals (MFS 57-65-70-79-97 kg)
Tuesday, August 15
10 a.m. – Qualification Rounds (MFS 61-74-86-92-125 kg)
4:45 p.m. – Semifinals (MFS 61-74-86-92-125 kg)
6 p.m. – Medal Matches and Awards (MFS 57-65-70-79-97 kg)
Wednesday, August 16
10 a.m. – Qualification Rounds (WFS 50-55-59-68-76 kg) and Repechage (MFS 61-74-86-92-125 kg)
4:45 p.m. – Semifinals (WFS 50-55-59-68-76 kg)
6 p.m. – Medal Matches and Awards (MFS 61-74-86-92-125 kg)
Thursday, August 17
10 a.m. – Qualification Rounds (WFS 53-57-62-65-72 kg) and Repechage (WFS 50-55-59-68-76 kg)
4:45 p.m. – Semifinals (WFS 53-57-62-65-72 kg)
6 p.m. – Medal Matches and Awards (WFS 50-55-59-68-76 kg)
Friday, August 18
10 a.m. – Qualification Rounds (GR 55-63-77-87-130 kg) and Repechage (WFS 53-57-62-65-72 kg)
4:45 p.m. – Semifinals (GR 55-63-77-87-130 kg)
6 p.m. – Medal Matches and Awards (WFS 53-57-62-65-72 kg)
Saturday, August 19
10 a.m. – Qualification Rounds (GR 60-67-72-82-97 kg) and Repechage (GR 55-63-77-87-130 kg)
4:45 p.m. – Semifinals (GR 60-67-72-82-97 kg)
6 p.m. – Medal Matches and Awards (GR 55-63-77-87-130 kg)
Sunday, August 20
4 p.m. – Repechage (GR 60-67-72-82-97 kg)
6 p.m. – Medal Matches and Awards (GR 60-67-72-82-97 kg)
*Listed times reflect local time in Amman, Jordan, which is seven hours ahead of U.S. Eastern Time
U.S. Women's Freestyle Roster
50 kg – Audrey Jimenez (Tucson, Arizona/Sunkist Kids WC)
53 kg – Katie Gomez (Van Nuys, California/Sunkist Kids WC)
55 kg – Amani Jones (Jonesboro, Georgia/Cardinal WC)
57 kg – Cristelle Rodriguez (Fresno, California/Titan Mercury WC)
59 kg – Alexis Janiak (Plainfield, Illinois/SPAR Wrestling Academy)
62 kg – Adaugo Nwachukwu (San Jose, California/Titan Mercury WC)
65 kg – Maddie Kubicki (Kansas City, Missouri/Victory Wrestling)
68 kg – Isabella Mir (Las Vegas, Nevada/Iowa Women's WC)
72 kg – Amit Elor (Walnut Creek, California/Titan Mercury WC)
76 kg – Kennedy Blades (Chicago, Illinois/Sunkist Kids WC)
U.S. Women's Freestyle Delegation
National Assistant Coach – Jessica Medina
USA Wrestling Assigned Coach – Julia Salata
USA Wrestling Assigned Coach – Sara McMann
Personal Coach – Anthony Leon
Personal Coach – Martin Berberyan
Personal Coach – Joe Norton
Personal Coach – Dana Vote
Personal Coach – Justin Pearch
Personal Coach – Jake Kadel
Personal Coach – Clarissa Chun
Personal Coach – Mark Perry
ATC – Carrie Moore
MD – Vermon Esplin
Official – Brock Zollinger
Official – Nick Mancini
Official – Kevin Maxwell
Official – Robyn Van Houten
Team Leader – Paul Kieblesz
Team Leader – Meredith Suess
USA Wrestling, Executive Director – Richard Bender
USA Wrestling, Sr. Manager, Communications – Richard Immel