News
USA Wrestling
International
USAW
Jimenez advances to women's freestyle semis, Smith to wrestle for men's freestyle bronze at U20 Worlds
by Taylor Gregorio, USA Wrestling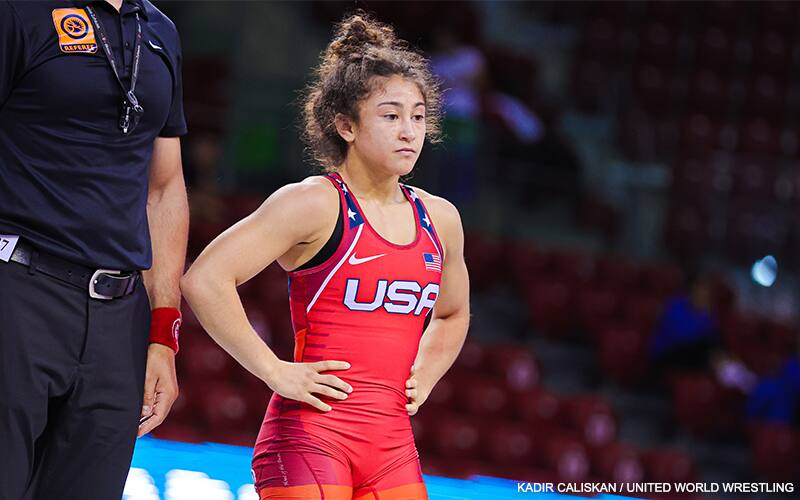 SOFIA, Bulgaria – In the start of women's freestyle competition, Team USA earned one semifinalist in Audrey Jimenez at the U20 World Championships in Sofia, Bulgaria, on Wednesday. Men's freestyler Jaxon Smith also won his repechage match to earn a shot at a bronze medal later today.
The semifinals will take place Wednesday at 4:45 p.m. local time (9:45 a.m. ET) followed by medal matches at 6 p.m. (11 a.m. ET) live on FloWrestling.
Women's freestyle
Competing at 50 kg, Audrey Jimenez, a 2021 U17 World bronze medalist, opened her tournament in dominant fashion with back-to-back technical falls over Gultakin Shirinova of Azerbaijan and 2022 U20 European bronze medalist Gabija Dilyte of Lithuania, respectively.
In the semis, Jimenez will go head-to-head with this year's U20 European runner-up Natalia Walczak from Poland.
This is Jimenez's second World Championships of the summer as she also competed in the U17 World Championships in July.
Three athletes hope to be pulled into repechage: Adriana Dorado-Marin (55 kg), SaVannah Cosme (59 kg) and Tristan Kelly (76 kg).
Dorado-Marin and Cosme lost their first matches, while Kelly registered a 9-0 win over U20 Pan Am silver medalist Ana Julia Dos Santos of Brazil before falling to two-time U15 Asian champion Ayano Moro of Japan late in the second period.
At 68 kg, Destiny Rodriguez dropped a 12-2 match to Laura Godino of Italy. Godino lost in the quarterfinals, eliminating Rodriguez from the tournament.
Men's freestyle

Jaxon Smith gets another shot at a medal later today after winning this morning's repechage match at 92 kg. He defeated Germany's Kiril Kildau, a 2022 U20 European fifth-place finisher, with a 10-0 technical fall in the first period. For bronze, Smith will take on 2021 U17 European bronze medalist Sergey Sargsyan of Armenia.
Also competing in repechage, Nic Bouzakis was eliminated from the competition after suffering a 16-15 loss to Mykyta Abramov of Ukraine. Bouzakis was down by eight points but rallied to keep himself in the match, nearly winning in the final seconds of the bout.
In addition to Smith, two other Americans will compete for medals tonight with Bennett Berge (86 kg) going for gold and Nick Feldman (125 kg) wrestling for bronze.
Semifinals begins at 4:45 p.m. local time (9:45 a.m. ET) followed by medal matches at 6 p.m. (11 a.m. ET) live on FloWrestling. Follow along for live updates on Twitter @USAWrestling.
For more information on the U20 World Championships, visit USA Wrestling's Special Section.
U20 WORLD CHAMPIONSHIPS

Aug. 15-21, 2022 | Sofia, Bulgaria
U.S. men's freestyle results
61 kg – Nic Bouzakis (Shavertown, Pa./Ohio RTC) – ELIMINATED

WIN Arslan Rakhimov (Uzbekistan), fall 1:26

WIN Abdullah Toprak (Turkey), fall 1:59

LOSS Armin Habibzadehsaroukolaei (Iran), 13-11

LOSS Mykyta Abramov (Ukraine), 16-15
92 kg – Jaxon Smith (Acworth, Ga./DMV RTC) – BRONZE MATCH

WIN Ion Demian (Moldova), 8-1

LOSS Andro Margishvili (Georgia), 12-2

WIN Kiril Kildau (Germany), 10-0

vs. Sergey Sargsyan (Armenia)
U.S. women's freestyle results
50 kg – Audrey Jimenez (Tucson, Ariz./Sunkist Kids) - SEMIFINALS

WIN Gultakin Shirinova (Azerbaijan), 13-2

WIN Gabija Dilyte (Lithuania), 11-0

vs. Natalia Walczak (Poland)
55 kg – Adriana Dorado Marin (Denver, Colo./Army WCAP) – AWAITING REPECHAGE

LOSS Roza Szenttamasi (Hungary), 12-2
59 kg – SaVannah Cosme (Denver, Colo./Sunkist Kids) – AWAITING REPECHAGE

LOSS Ebru Dagbasi (Turkey), 1-1
68 kg – Destiny Rodriguez (West Linn, Ore./All-Phase WC) - ELIMINATED

LOSS Laura Godino (Italy), 12-1
76 kg – Tristan Kelly (Erie, Colo./Army WCAP) – AWAITING REPECHAGE

WIN Ana Julia Dos Santos (Brazil), 9-0

LOSS Ayano Moro (Japan), fall 4:28
Schedule (local time 7 hours ahead of U.S. ET)
Wednesday, Aug. 17
11 a.m. – Qualification rounds (WFS 50, 55, 59, 68, 76 kg)

11 a.m. – Repechage (MFS 61, 74, 86, 92, 125 kg)

4:45 p.m. – Semifinals (WFS 50, 55, 59, 68, 76 kg)

6 p.m. – Medal matches (MFS 61, 74, 86, 92, 125 kg)
Thursday, Aug. 18
11 a.m. – Qualification rounds (WFS 53, 57, 62, 65, 72 kg)

11 a.m. – Repechage (WFS 50, 55, 59, 68, 76 kg)

4:45 p.m. – Semifinals (WFS 53, 57, 62, 65, 72 kg)

6 p.m. – Medal matches (WFS 50, 55, 59, 68, 76 kg)
Friday, Aug. 19
11 a.m. – Qualification rounds (GR 55, 63, 77, 87, 130 kg)

11 a.m. – Repechage (WFS 53, 57, 62, 65, 72 kg)

4:45 p.m. – Semifinals (GR 55, 63, 77, 87, 130 kg)

6 p.m. – Medal matches (WFS 53, 57, 62, 65, 72 kg)
Saturday, Aug. 20
11 a.m. – Qualification rounds (GR 60, 67, 72, 82, 97 kg)

11 a.m. – Repechage (GR 55, 63, 77, 87, 130 kg)

4:45 p.m. – Semifinals (GR 60, 67, 72, 82, 97 kg)

6 p.m. – Medal matches (GR 55, 63, 77, 87, 130 kg)
Sunday, Aug. 21
4 p.m. – Repechage (GR 60, 67, 72, 82, 97 kg)

6 p.m. – Medal matches (GR 60, 67, 72, 82, 97 kg)