News
USA Wrestling
International
High School & Youth
USAW
Villasenor, Lockett advance to semifinals in men's freestyle at U17 World Championships
by Gary Abbott, USA Wrestling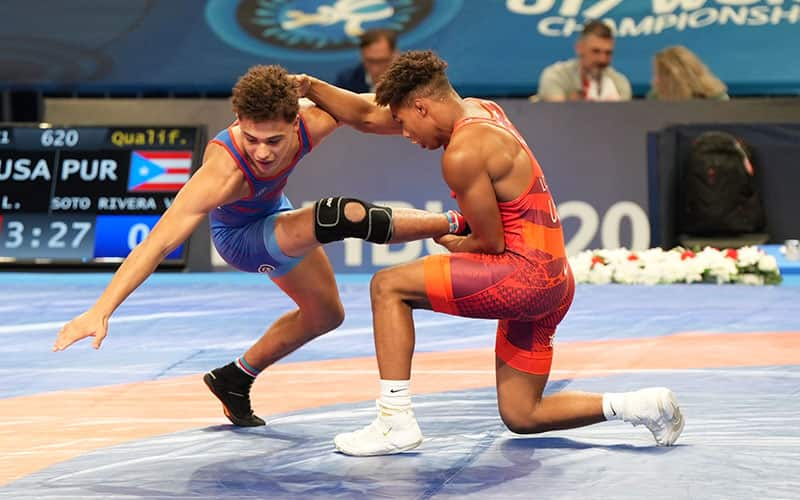 Ladarion Lockett (USA) gets ankle pick takedown against Victor Soto Rivera (Puerto Rico) at the 2023 U17 World Championships
ISTANBUL, Turkey – Two U.S. men's freestyle wrestlers from Group Two have advanced to the semifinals at the U17 World Championships on Saturday. The Americans reaching the semifinals tonight are
Ignacio Villasenor
of Colorado (45 kg) and
Ladarion Lockett
of Oklahoma (71 kg).
In his first match, Villasenor defeated Frederick Bachmann, Jr. of Puerto Rico, 6-0. He scored a takedown in the first period and two takedowns in the second period.
In the quarterfinals, Villasenor dominated 2023 Asian U17 silver medalist Danraj Shirke of India by technical fall 10-0. Villasenor had three first-period takedowns, then a takedown and turn in the second.
Villasenor will wrestle Khateri of Iran in the semifinals. Khateri was second in the 2023 Asian U17 Championships.
Lockett quickly won his first match over Victor Soto Rivera of Puerto Rico by technical fall, getting three takedowns and two turns in the first period.
In round two, Lockett nailed down another 10-0 technical fall over Felix Schmitt of Germany, with two first-period takedowns and three more takedowns in the second period.
In the quarterfinals, Lockett shut out 2022 Asian U17 silver medalist Nurdaulet Seilbekov of Kazakhstan, 8-0. He scored on a shot clock point, a takedown, a step out and two more takedowns.
He will battle Narender of India in the semifinals. Narender was fifth in the 2022 U17 World Championships and a 2021 U17 Asian Championships runner-up.
Falling in their first matches were Christian Castillo of Arizona (51 kg) and Ben Davino of Illinois (60 kg). Both are still alive in the tournament, pending the results of the semifinals.
Castillo, a 2022 U17 World silver medalist, lost to Rohit of India, 5-4. Castillo led 3-0 at the break (shot clock point & takedown). In the second, Castillo got a step out, while Rohit got two step outs, 4-2. With 15 seconds left, Rohit took down Castillo to tie it at 4-4 with criteria. Rohit added a step out for the final point with seven seconds to go.
Rohit has reached the semifinals, which means Castillo would become eligible for repechage if Castillo wins his semifinal atch.
Davino lost to two-time European U17 champion Jamal Abbasov of Azerbaijan, 5-0. Abbasov led 3-0 at the break on a step out with a caution and one and a shot clock point. In the second, Abbasov was put on the shot clock but scored a takedown for two more points.
Abbasov is also in the semifinals, which means Davino would be eligible for the repechage if Abbasov advances to the semifinals.
Aeoden Sinclair of Wisconsin opened with a win at 92 kg, but was defeated in the second round and eliminated
In his opening bout, Sinclair quickly took down Bence Veress of Hungary and drove him to his back. Veress fought it for an extended time, but Sinclair adjusted and got the fall in 1:02.
In the second round, Sinclair lost to Toohid Amirali Noory of Iran, 5-3. Sinclair fell behind in the first period and was not able to make up the difference at the end. When Noory was defeated in the quarterfinals, Sinclair was eliminated from the tournament,
The bronze medal match opponents for U.S. Group One wrestlers
Brock Mantanona
of California (65 kg) and
Zack Ryder
of New York (80 kg) were determined in Saturday morning repechage rounds.
Mantanona will face Khizir Daciev of France, who was fifth in the 2021 European U17 Championships, Ryder will battle Ismayil Asadli of Azerbaijan, who was second in the 2021 World School Combat Games.
In addition to the bronze-medal bouts for Ryder and Mantanona, Saturday night's finals will include gold medal matches for Americans
Paul Kenny
of New Jersey (48 kg) and
Marcus Blaze
of Ohio (55 kg).
The Group Two semifinals are at 5:00 p.m., followed by the Group One finals at 6:00 p.m. All of the action is
live on FloWrestling.
2023 U17 WORLD CHAMPIONSHIPS
At Istanbul, Turkey

U.S. Men's Freestyle Group Two results
45 kg: Ignacio Villasenor, Longmont, Colorado (Pomona Elite WC), in semifinals
WIN Fredrick Bachmann, Jr. (Puerto Rico), 6-0
WIN Danraj Shirke (India), tech fall 10-0
Semifinals – Khateri (Iran)
51 kg: Christian Castillo, Glendale, Arizona (Thorobred WC), status pending
LOSS Rohit (India), 5-4
60 kg: Ben Davino, South Elgin, Illinois (St. Charles WC), status pending
LOSS Jamal Abbasov (Azerbaijan), 5-0
71 kg: Ladarion Lockett, Stillwater, Oklahoma (Cowboy WC), in semifinals
WIN Victor Soto Rivera (Puerto Rico), tech. fall, 10-0
WIN Felix Schmitt (Germany), tech fall, 10-0
WIN Nurdaulet Seilbekov (Kazakhstan), 8-0
Semifinals – Narender (India)
92 kg: Aeoden Sinclair, Edgerton, Wisconsin (Askren Wrestling Academy), eliminated
WIN Bence Veress (Hungary), pin 1:02
LOSS Toohid Amirali Noory (Iran), 5-3
U.S. Men's Freestyle Group One result
s
48 kg: Paul Kenny, Bayville, New Jersey, in finals
WIN Oliwier Orzechowski (Poland), tech fall 11-0
WIN Azymberdi Ashyrgulyyev (Turkmenistan), 4-2
WIN Yeraly Zhetpissov (Kazakhstan), pin 3:38
WIN Sam Reza Sayar (Iran)
Gold Medal – vs. Yamato Furusawa (Japan)
55 kg: Marcus Blaze, Perrysburg, Ohio (Perrysburg WC), in finals
WIN Amirreza Ali Teymorizad (Iran), 2-1
WIN Azatberdi Ashyrgulyyev (Turkmenistan), tech fall 12-1
WIN Oubayda Itaev (France), tech fall 10-0
WIN Samvel Gevorgyan (Armenia), tech fall 10-0
Gold Medal – vs. Ankush (India)
65 kg: Brock Mantanona, Bermuda Dunes, California (Coachella Valley WC), in bronze bout
WIN Almas Sabyr (Kazakhstan), 14-6
WIN Ankh Erdene Altangerel (Mongolia), tech fall 16-5
WIN Zafarbek Kamalov (Uzbekistan), tech fall 12-2
LOSS Magomed Alibakharchiev (Individual Neutral Athlete), tech fall 14-2
Bronze Bout – Khizir Daciev (France)
80 kg: Zack Ryder, Westtown, New York (M2 Training Center), in bronze bout
WIN Askhab Khajiyev (Kazakhstan), 2-1
WIN Saurabh Yadav (India), pin 0:59
LOSS Alexandru Borz (Moldova), 4-1
Bronze Bout - Ismayil Asadli (Azerbaijan)
110 kg: Sampson Stillwell, Centerview, Missouri (Kobra Kai Training), eliminated
LOSS Henrik Haykyan (Armenia), tech fall 13-3