News
USA Wrestling
International
USAW
Mesenbrink, Berge move to U20 World semifinals in Jordan
by Richard Immel, USA Wrestling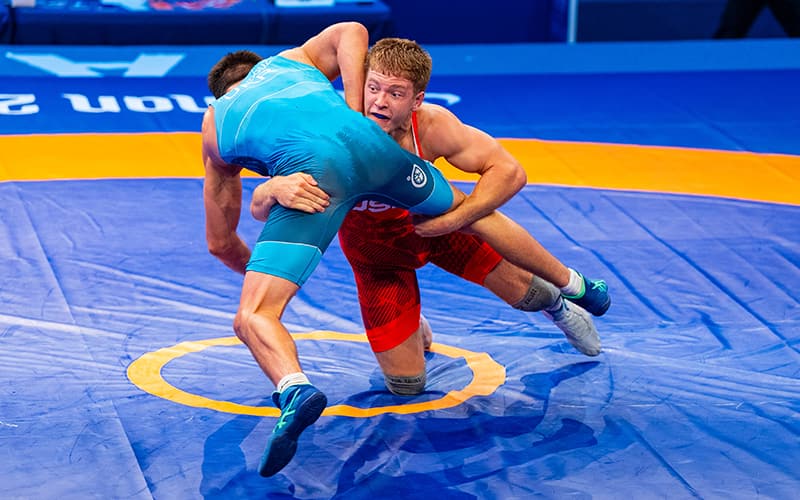 Photo: Bennett Berge drives through a takedown against Ivan Chornohuz of Ukraine at the U20 World Championships. (Richard Immel, USA Wrestling)
AMMAN, JORDAN – Returning U20 World finalists Mitchell Mesenbrink and Bennett Berge are one step away from getting a second chance at the gold medal match as the morning session came to a close at the U20 World Championships on Tuesday.
No competitor came close to matching Mesenbrink's level in three matches at 74 kg. He secured three technical falls against credentialed opponents while only giving up a single point. Most notably, Mesenbrink went 10-0 over U20 European bronze medalist Ion Marcu of Moldova and 11-0 over U20 Asian silver medalist Jaideep of India. The dynamic movements, sophisticated attack angles and constant forward pressure are what has Mesenbrink standing out from his peers.
Mesenbrink will meet Kyrgyzstan's Zhakshylyk Baitashov in the semifinals this afternoon. Baitashov's only international credential of note is an eighth-place finish at the 2022 U17 Asian Championships.
Berge opened his run in Jordan against U20 European bronze medalist Ivan Chornohuz of Ukraine, and it proved to be a gritty 9-5 win to start the day for the South Dakota State product. The pivotal sequence came in the second period with Berge tactfully countering a Chornohuz shot attempt by rolling through a cradle multiple times. He went on to ice the match with a bruising takedown to the back, riding out to the end.
Match two for Berge was less of a challenge as he popped Slavi Stamenov of Bulgaria with a couple of takedowns and a gutwrench sequence to win it, 11-0. The win pushed Berge to a rematch of last year's 86 kg U20 World final against Rakhim Magamadov of France, won 10-5 by Magamadov.
Two-time U20 World Team member Nic Bouzakis slugged through three matches and came up one score short of the 61 kg semifinals. India's Kumar Mohit outlasted Bouzakis, 12-11, in the quarterfinals, with the key differentiator being par terre. Mohit was able to convert multiple times with his gutwrench, while Bouzakis solely relied on takedowns to score the bulk of his points. The American was awarded a try from top position in the final 20 seconds of the match but couldn't push a turn through to win it.
Incoming Oklahoma State Freshman Christian Carroll came out strong at 125 kg with a 14-2 technical fall against Ksawery Kaminski of Poland. Carroll hit some stylish superduck takedowns and converted on multiple leg laces to get the win. Unfortunately, he ran into three-time age-group World champion Amirreza Masoumi Valadi of Iran the next round and was ousted, 10-0.
U20 Pan-American champion Jack Darrah dropped a razor-thin 4-3 decision to Georgia's Giorgi Romelashvili at 92 kg. The match came down to a challenge of a step out point after time expired that went in the Georgian's favor.
Bouzakis, Carroll and Darrah are all still eligible to make the repechage rounds and battle back for a shot at bronze. Their fates will be determined in the upcoming semifinal round.
The U20 World Championships continues at 4:15 p.m. local time at Princess Sumaya Lounge with men's freestyle semifinals and the first set of medal matches, where the U.S. will have five athletes in the medal hunt. Amman, Jordan, is in the GMT +3 time zone, which is seven hours ahead of U.S. Eastern Time.
Those in the U.S. can watch all the action live on FloWrestling.com. Brackets and updated results will be provided by United World Wrestling on uww.org and the UWW mobile app.
2023 U20 World Championships
At Amman, Jordan, August 14-20
U.S. Men's Freestyle Results
61 kg – Nic Bouzakis (Dallas, Pennsylvania/X-Calibur Athletics WC/Ohio RTC)
WIN Shehabeldin Mohamed (Egypt), 4-2
WIN Yahor Rudauski (Individual Neutral Athlete), 9-6
LOSS Kumar Mohit (India), 12-11
74 kg – Mitchell Mesenbrink (Hartland, Wisconsin/Askren Wrestling Academy)
WIN Ion Marcu (Moldova), tech. fall, 10-0
WIN Elkhan Garayev (Azerbaijan), tech. fall, 12-1
WIN Jaideep Jaideep (India), tech. fall, 11-0
VS Zhakshylyk Baitashov (Kyrgyzstan)
86 kg – Bennett Berge (Mantorville, Minnesota/Jackrabbit WC)
WIN Ivan Chornohuz (Ukraine), 9-5
WIN Slavi Stamenov (Bulgaria), tech. fall, 11-0
VS Rakhim Magamadov (France)
92 kg – Jack Darrah (Washington, Missouri/California RTC)
LOSS Giorgi Romelashvili (Georgia), 4-3
125 kg – Christian Carroll (Stillwater, Oklahoma/Cowboy RTC)
WIN Ksawery Kaminski (Poland), tech. fall, 14-2
LOSS Amirreza Masoumi Valadi (Iran), tech. fall, 10-0