News
USA Wrestling
International
High School & Youth
USAW
Kueter pins, Volk impresses for U20 World gold in Bulgaria
by Taylor Gregorio, USA Wrestling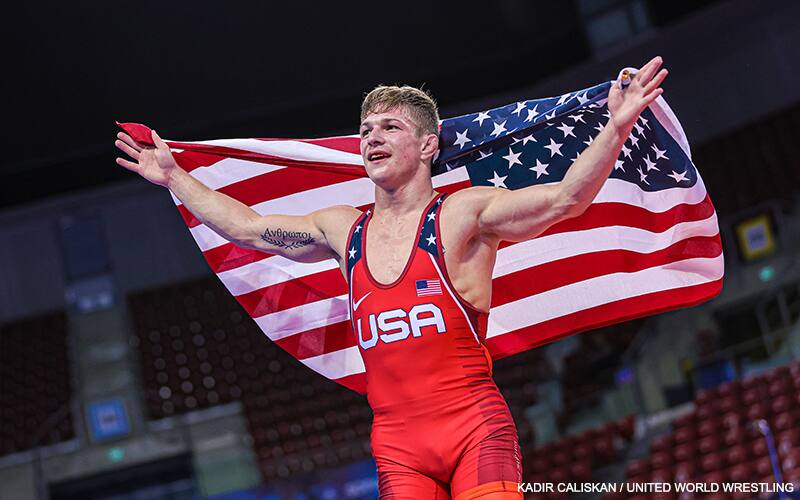 Photo of Jore Volk by Kadir Caliskan/United World Wrestling.
SOFIA, Bulgaria – The USA earned three medals on Tuesday at the U20 World Championships in Sofia, Bulgaria, including golds from Jore Volk and Ben Kueter and silver from Mitchell Mesenbrink.
Jore Volk completed an impressive run at the U20 World Championships with 3-2 win over 2022 U20 Asian champion Merey Bazarbayev of Kazakhstan in the 57 kg finals. Volk scored all his points in the first period, collecting a step out and a takedown for a 3-0 lead at the break. Bazarbayev was awarded a point on the passivity clock and a singlet pull, but it wasn't enough and Volk secured the belt to give the U.S. a great start to the night.
Best in the World pic.twitter.com/rIAig9DePL


— Brandon Paulson (@lovethefight) August 16, 2022
Ben Kueter wrapped up the night for USA Wrestling with a massive win in the 97 kg finals over 2021 U17 World champion Rifat Gidak from Turkey. Gidak scored first on exposure, but Kueter responded with exposure of his own, working his way on top, where he scored four gut wrenches before securing the pin. Kueter needed only 1:40 to win a World gold medal.
World champ tingz @Benkueter1 pic.twitter.com/6lurw0EHVQ


— USA Wrestling (@USAWrestling) August 16, 2022
At 70 kg, Mitchell Mesenbrink comes away with silver at his first World Championships. Facing last year's U20 European champion Kanan Heybatov of Azerbaijan in the finals, Mesenbrink was down 7-2 at the break. The two exchanged points in the second period, but Heybatov's lead was too much for the American to overcome for a 13-7 win.
World Silver Medalist🥈 pic.twitter.com/M1sl5GounR


— Mitchell Mesenbrink (@Mitch_Mes) August 17, 2022
Vince Cornella lost a heartbreaker in his 65 kg bronze-medal match to Yoshinosuke Aoyagi of Japan. With Cornella leading 3-0 at the break Aoyagi score four-straight points. With seconds remaining, the two scrambled until the final seconds. After a review of the action, the final score was 6-6 for Aoyagi, who held criteria on value of points.
Five Americans will begin competition in women's freestyle on Wednesday, including Audrey Jimenez (50 kg), Adriana Dorado-Marin (55 kg), SaVannah Cosme (59 kg), Destiny Rodriguez (68 kg) and Tristan Kelly (76 kg).
The tournament continues Wednesday, starting at 11 a.m. local time (4 a.m. ET), with semifinals scheduled for 4:45 p.m. (9:45 a.m. ET) followed by medal matches at 6 p.m. (11 a.m. ET). Fans can watch all the action live on FloWrestling and get live updates on Twitter @USAWrestling.
Find all of this week's coverage in the USA Wrestling Special Section.
U20 WORLD CHAMPIONSHIPS

Aug. 15-21, 2022 | Sofia, Bulgaria
U.S. men's freestyle results – first group
57 kg – Jore Volk (Lakeville, Minn./Pinnacle WC.) – GOLD

WIN Ahmad Mohammadnezhadjavan (Iran), 7-5

WIN Azizbek Naimov (Uzbekistan), 7-2

WIN Luka Gvinjilia (Georgia), 13-6

WIN Merey Bazarbayev (Kazakhstan), 3-2
65 kg – Vince Cornella (Lafayette, Colo./Spartan Combat RTC) – FIFTH

WIN Olzhas Olzhakanov (Kazakhstan), 8-0

WIN Ismail Pomakov (Bulgaria), 10-0

WIN Mohammad Shakeri (Iran), 6-5

LOSS Umidjon Jalolov (Uzbekistan), 4-0

LOSS Yoshinosuke Aoyagi (Japan), 6-6
70 kg – Mitchell Mesenbrink (Hartland, Wisc./Askren Wrestling Academy) – SILVER

WIN Muhammad Abdurachmanov (Belgium), 12-0

WIN Kanat Kerimbekov (Kyrgyzstan), 10-0

WIN Hossein Mohammad Aghaei (Iran), 9-7

WIN Hayk Papikyan (Armenia), 6-3

LOSS Kanan Heybatov (Azerbaijan), 13-7
79 kg – Brayden Thompson (Lockport, Ill./Izzy Style WC) – NINTH

LOSS Sobhan Yari (Iran), 6-1

LOSS Bekir Ovec (Turkey), 2-1
97 kg – Ben Kueter (Iowa City, Iowa/Sebolt Wrestling Academy) – GOLD

WIN Dmitri Duscov (Moldova), 10-0

WIN Niraj Niraj (India), 8-1

WIN Luka Khutchua (Georgia), 17-14

WIN Rifat Gidak (Turkey), fall 1:40
Medal match results
57 kg

GOLD – Jore VOLK (USA)

SILVER – Merey BAZARBAYEV (KAZ)

BRONZE – Abhishek DHAKA (IND)

BRONZE – Ahmad MOHAMMADNEZHADJAVAN (IRI)
65 kg

GOLD – Umidjon JALOLOV (UZB)

SILVER – Ziraddin BAYRAMOV (AZE)

BRONZE – Yoshinosuke AOYAGI (JPN)

BRONZE – Sujeet SUJEET (IND)
70 kg

GOLD – Kanan HEYBATOV (AZE)

SILVER – Mitchell MESENBRINK (USA)

BRONZE – Hossein MOHAMMAD AGHAEI (IRI)

BRONZE – Mulaym YADAV (IND)
79 kg

GOLD – Sobhan YARI (IRI)

SILVER – Mushegh MKRTCHYAN (ARM)

BRONZE – Otari ADEISHVILI (GEO)

BRONZE – Mukhammad ABDULLAEV (KGZ)
97 kg

GOLD – Ben KUETER (USA)

SILVER – Rifat GIDAK (TUR)

BRONZE – Amirali AZARPIRA (IRI)

BRONZE – Niraj NIRAJ (IND)
Schedule (local time 7 hours ahead of U.S. ET)
Wednesday, Aug. 17
11 a.m. – Qualification rounds (WFS 50, 55, 59, 68, 76 kg)

11 a.m. – Repechage (MFS 61, 74, 86, 92, 125 kg)

4:45 p.m. – Semifinals (WFS 50, 55, 59, 68, 76 kg)

6 p.m. – Medal matches (MFS 61, 74, 86, 92, 125 kg)
Thursday, Aug. 18
11 a.m. – Qualification rounds (WFS 53, 57, 62, 65, 72 kg)

11 a.m. – Repechage (WFS 50, 55, 59, 68, 76 kg)

4:45 p.m. – Semifinals (WFS 53, 57, 62, 65, 72 kg)

6 p.m. – Medal matches (WFS 50, 55, 59, 68, 76 kg)
Friday, Aug. 19
11 a.m. – Qualification rounds (GR 55, 63, 77, 87, 130 kg)

11 a.m. – Repechage (WFS 53, 57, 62, 65, 72 kg)

4:45 p.m. – Semifinals (GR 55, 63, 77, 87, 130 kg)

6 p.m. – Medal matches (WFS 53, 57, 62, 65, 72 kg)
Saturday, Aug. 20
11 a.m. – Qualification rounds (GR 60, 67, 72, 82, 97 kg)

11 a.m. – Repechage (GR 55, 63, 77, 87, 130 kg)

4:45 p.m. – Semifinals (GR 60, 67, 72, 82, 97 kg)

6 p.m. – Medal matches (GR 55, 63, 77, 87, 130 kg)
Sunday, Aug. 21
4 p.m. – Repechage (GR 60, 67, 72, 82, 97 kg)

6 p.m. – Medal matches (GR 60, 67, 72, 82, 97 kg)