News
USA Wrestling
International
High School & Youth
Women
USAW
Five World medalists lead U.S. team at U20 Pan-American Championships in Santiago, Chile
by Richard Immel, USA Wrestling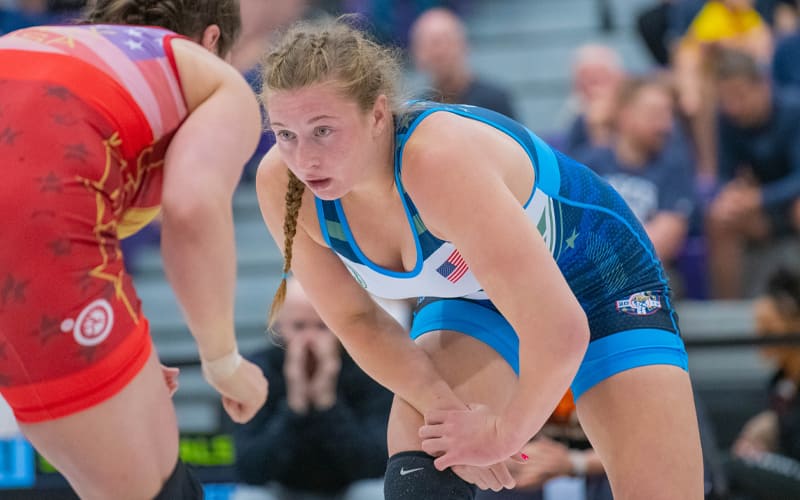 Photo: Kylie Welker, pictured at the 2023 World Team Trials Challenge Tournament, will represent the U.S. at the 2023 U20 Pan-American Championships in Santiago, Chile. (Photo: Richard Immel, USA Wrestling)
A talented group of U.S. wrestlers head down to Santiago, Chile, next week to compete at the 2023 U20 Pan-American Championships—an event that features elite talent from North and South America in the under-20 age category duking it out for continental supremacy.
Five past age-group World medalists and 13 current age-group World Team members are among the 30-athlete delegation representing USA Wrestling across the three-day event. The Greco-Roman squad kicks off the event on July 6, followed by women's freestyle on July 7 and men's freestyle on July 8.
The most decorated American expected to take the mats in Chile is women's freestyle standout Kylie Welker, who will compete at 76 kg. Welker has three age-group World medals to her credit, most notably a gold medal from 2021 U20 World Championships held in Ufa, Russia. She was a member of the U.S. Senior World Team in 2021 and sits at No. 3 on the U.S. National Team ladder this year. Welker competes collegiately for the University of Iowa.
On the men's freestyle side, 57 kg representative Luke Lilledahl leads the charge with two U17 World medals to his credit, plus a pair of U17 Pan-American titles to boot. Lilledahl was anointed the U17 World champion at 51 kg last summer in Rome, Italy. He gets his first crack at the U20 international scene at the Pan-Ams, followed by a trip to the U20 World Championships in Warsaw, Poland, next month.
The men's freestyle team tacks on a duo of reigning U20 World silver medalists in the form of Mitchell Mesenbrink and Bennett Berge. Mesenbrink will man the 74 kg spot for the U.S. while Berge holds down 86 kg. Both men earned silver medals at last year's U20 World Championships held in Sofia, Bulgaria, and have once again qualified to compete on the U20 World Team this cycle.
Both Lilledahl and Mesenbrink have committed to wrestle collegiately at NCAA Div. I powerhouse Penn State University. Berge already has a redshirt year under his belt at South Dakota State University.
Chief among the Greco-Roman athletes is heavyweight Aden Attao, who won a U20 World bronze medal in Bulgaria, last year and is the defending U20 Pan-American champion at 130 kg. An Oregon State University commit, Attao recently cemented a return trip to the U20 World Championships in Greco-Roman and is the first alternate in men's freestyle.
Six members of the men's freestyle crew and seven members of the Greco-Roman lineup are U.S. World Team representatives at either the U17 or U20 level. The experience in Chile will serve as an important international tune-up for the elite group of World Teamers as each prepares for a World medal run.
Nic Bouzakis (61 kg), Jack Darrah (92 kg) and Camden McDanel (97 kg) join Lilledahl, Mesenbrink and Berge with the U20 U.S. World Team member distinction in men's freestyle. Similarly, the Greco-Roman side features U20 U.S. World Team members Landon Drury (63 kg), Derek Matthews (77 kg), Michael Altomer (82 kg), Wyatt Voelker (87 kg), Sawyer Bartelt (97 kg) and Attao, plus U17 U.S. World Team member Arvin Khosravy. Altomer will also compete on the U23 U.S. World Team.
The women's freestyle bunch doesn't count a current U.S. World Team member on its roster, but it does bring significant experience to the table as it aims for a Pan-American team title. Welker, Alexandra Szkotnicki (53 kg), Shelby Moore (57 kg) and SaVannah Cosme (62 kg) have each been a part of at least one age-group U.S. World Team. Moreover, seven of the ten wrestlers earned All-America status at the U.S. Senior Open by placing in the top eight of their respective brackets, speaking to the quality depth the across the country at the U20 age level.
Zan Fugitt (60 kg) and Jadon Skellenger (67 kg) have also represented the U.S. at a previous age-group World Championships on the Greco-Roman side.
The U20 Pan-American Championships will take place at Centro Nacional de Entrenamiento Olímpico with the action starting at 10 a.m. local time each day. Santiago is situated in the U.S. Eastern Time, making this event a convenient watch for those in the States. Brackets, real-time results and a live stream of the event will be provided by United World Wrestling at uww.org.
2023 U20 Pan-American Championships
At Santiago, Chile, June 6-8
Event schedule
Thursday, July 6
10 a.m. – Greco-Roman qualification rounds and repechage
4:15 p.m. – Opening Ceremony
5 p.m. – Greco-Roman finals and award ceremonies
Friday, July 7
10 a.m. – Women's freestyle qualification rounds and repechage
5 p.m. – Women's freestyle finals and award ceremonies
Saturday, July 8
10 a.m. – Men's freestyle qualification rounds and repechage
5 p.m. – Men's freestyle finals and award ceremonies
U.S. delegation
Greco-Roman roster
55 kg – Roberto Estrada (Keenesburg, Colo./Western Colorado WC)
60 kg – Zan Fugitt (Nixa, Mo./Nixa High School Wrestling)
63 kg – Landon Drury (Colorado Springs, Colo./Betterman Elite Wrestling)
67 kg – Jadon Skellenger (Meridian, Id./Team Idaho)
72 kg – Arvin Khosravy, (Woodland Hills, Calif./Team California)
77 kg – Derek Matthews (Burley, Id./Northern Colorado WC)
82 kg – Michael Altomer (Stuyvesant, N.Y./Curby 3-Style WC)
87 kg – Wyatt Voelker (Manchester, Iowa/Big Game WC)
97 kg – Sawyer Bartelt (Coral Gables, Fla./Gladiator Wrestling)
130 kg – Aden Attao (Boise, Id./Suples WC)
Women's freestyle roster
50 kg – Mia Palumbo (Oak Lawn, Ill./ Team Illinois)
53 kg – Alexandra Szkotnicki (Riva, Md./ Belvidere Bandits WC)
55 kg – Virginia Foard (Reva, Va./Wyoming Seminary WC/New York AC)
57 kg – Shelby Moore (Buckley, Wash./White River Hornets WC)
59 kg – Sarah Savidge (Colorado Springs, Colo./Betterman Elite Wrestling)
62 kg – SaVannah Cosme (Tempe, Ariz./Sunkist Kids WC)
65 kg –Ella Schmit (Bettendorf, Iowa/Iowa Women's WC)
68 kg – London Houston (Federal Way, Wash./Cardinal WC)
72 kg – Haley Ward (Buckner, Mo./Iowa Women's WC)
76 kg – Kylie Welker (Franksville, Wis./Iowa Women's WC)
Men's freestyle roster
57 kg – Luke Lilledahl (St. Charles, Mo./X-Calibur Athletics WC)
61 kg – Nic Bouzakis (Dallas, Pa./ X-Calibur Athletics WC)
65 kg – Kannon Webster (Washington, Ill./Super Soldiers WC)
70 kg – Antrell Taylor (Omaha, Neb./MWC Wrestling Academy)
74 kg – Mitchell Mesenbrink (Hartland, Wis./Askren Wrestling Academy)
79 kg – Gabriel Arnold (Iowa City, Iowa/Sebolt Wrestling Academy)
86 kg – Bennett Berge (Mantorville, Minn./Jackrabbit WC)
92 kg – Jack Darrah (Washington, Mo./California RTC)
97 kg – Camden McDanel (Circleville, Ohio/Team Ohio)
125 kg – Bradley Hill (Bettendorf, Iowa/Hawkeye WC)
NGB staff
Greco-Roman coach – Robby Smith (Concord, Calif.)
Women's freestyle coach – Whitney Cox (Ypsilanti, Mich.)
Women's freestyle coach – Juan Nunez (Yakima, Wash.)
Men's freestyle coach – B.J. Futrell (Drexel Hill, Pa.)
Medical – Elizabeth Del Re (Allentown, Pa.)
Official – Susanna Sylstad (Graham, Wash.)
NF official – Tim Hess (Beaverton, Ore.)
Team leader – Richard Immel (Colorado Springs, Colo.)