News
USA Wrestling
International
High School & Youth
Women
USAW
Erie Sports Center adds International Wrestling Academy; Chad Vandiver named Director of International Wrestling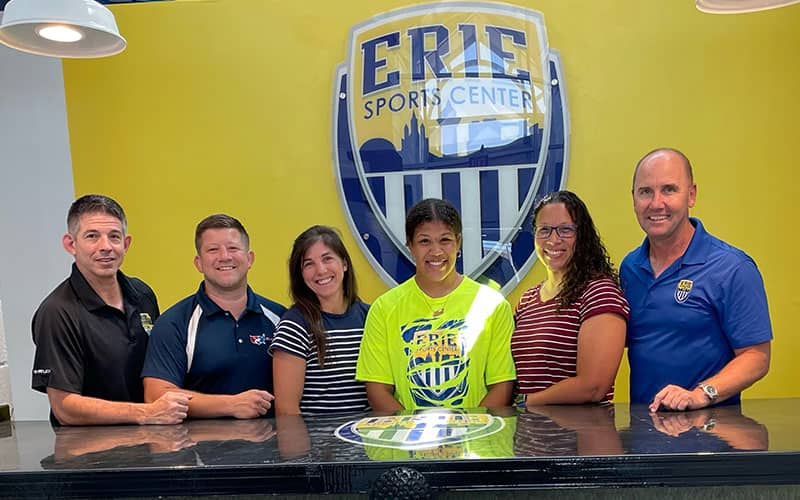 Alex Alli commits to International Wrestling Academy and will attend Erie Prep Academy. Photo courtesy of International Wrestling Academy/Erie Sports Center
- Chad Vandiver named Director of International Wrestling, Alex Alli signs as first Academy member.
The
Erie Sports Center
is excited to announce the International Wrestling Academy, owner
Troy Bingham
announced Monday. Bingham and Tom Tomeo have named
Chad Vandiver
as Director of International Wrestling. Vandiver will lead the Erie Sports Center International Wrestling Academy and oversee Greco-Roman and Freestyle operations.
"Our vision from the start has been to provide individual athlete development, pathways and opportunities for athletes from the region, nationally and internationally. The team that has been assembled now to lead our International Wrestling Academy under Chad's leadership is world class and will set our wrestling program apart and make the Erie Sports Center a Mecca for wrestling development. The international tournaments, camps and matches will again put Erie on the international stage and drive further economic and social development for the region," Troy Bingham, Erie Sports Center owner.
In his previous role at #1 nationally ranked high school program Wyoming Seminary, Vandiver, a U.S. Open finalist, and his wife Erin, led delegations to Russia, Japan, Estonia, and Austria, while hosting teams from a dozen nations.
Erin Vandiver
(Tomeo) is a two-time Olympic team coach and has recently been named head women's coach at Gannon University. She will serve as Director of Women's Wrestling at Erie Sports Center.
Tom Tomeo,
an All-American at Clarion University and 2004 Olympic team coach and Erin's brother, is the Director of Wrestling at Erie Sports Center.
"I am honored to be a part of the Erie Sports Center. Troy Bingham has applied his vision to create a world class sports center with an incredible culture. I will work to provide unique opportunities for young men and women to not only develop their wrestling skills, but to see the world through a global lens via cultural exchange and international travel opportunities," Vandiver said.
The Erie Sports Center International Wrestling Academy will offer male and female high school aged wrestlers an opportunity to train and compete in Greco-Roman and Freestyle wrestling and will be in line with the USA Wrestling National Team program, philosophy, and schedule. Athletes in the program will compete on a national and international schedule, and the ESC will host international teams on its campus.
The International Wrestling Academy will have several world class international coaches as part of its staff.
Two nationally ranked girls wrestlers, Alex Alli and Charlotte Gilfoil, have committed to the program.
The resident members of the Erie IWA will attend Erie Prep Academy, an accredited international boarding school located on the campus of the Erie Sports Center, which caters to students in grades 9-12 as well as post graduate students.
"The Erie Sports Center is perfectly positioned to provide opportunities for wrestlers with Olympic, World, and collegiate level goals to develop. We are excited to host teams from around the world in Erie, Pennsylvania. We are particularly excited to serve the Greco-Roman and Women's Freestyle communities, as more opportunities continue to expand in the two disciplines. I would like to thank Troy Bingham, Tom Tomeo, and Phil Gernovich for this opportunity," said Vandiver
Erie Prep Academy's mission is to equip students through Biblical Discipleship and authentic education for life. Students at EPA can choose from five academic tracks including Business, Sports, Ministry, Fine Arts, and College Prep, while taking dual enrollment classes at local universities including Gannon University, Penn State -Behrend, and Mercyhurst, as well as honors and AP courses.
EPA will utilize a four day school week, which has been shown to have many benefits including increased graduation rate, a 31% decrease in fighting and 39% decrease in bullying, increased student morale, no negative effect on test scores or attendance, improved work balance, built in training time, and has been enormously popular at institutions who have adopted the model.
Erie Sports Center currently partners with elite global sports brands including Villarreal CF, a professional Spanish soccer team, and the Cleveland Cavaliers. The facility hosts ten soccer fields, an indoor FIFA approved dome, wrestling room, eight baseball/softball fields, an indoor arena with four basketball/volleyball courts, two hockey rinks, a strength and conditioning facility, 108 dorm rooms, clubhouse, and fun park including mini golf, batting cages, concert stage, go karts, and beach arena.
A 20,000 square foot high performance and sports medicine facility is currently under construction through an eleven million dollar partnership with Allegheny Health Systems. Plans are being crafted for a new Wrestling Center, pool and recovery center.
The sports programs currently offered at Erie Sports Center include soccer, wrestling, lacrosse, football, baseball, softball, ice hockey, volleyball, basketball, pickleball, cheer, and jiu jitsu.
Apply to the ESC IWA by contacting Academy@eriesportscenter.com
Apply to Erie Prep Academy at
EriePrepAcademy.org/admissions
For more information on the Erie Sports Center, visit
ErieSportsCenter.com