News
USA Wrestling
International
College
High School & Youth
USAW
USA wins U20 Pan American Greco-Roman title with eight champions and two runners-up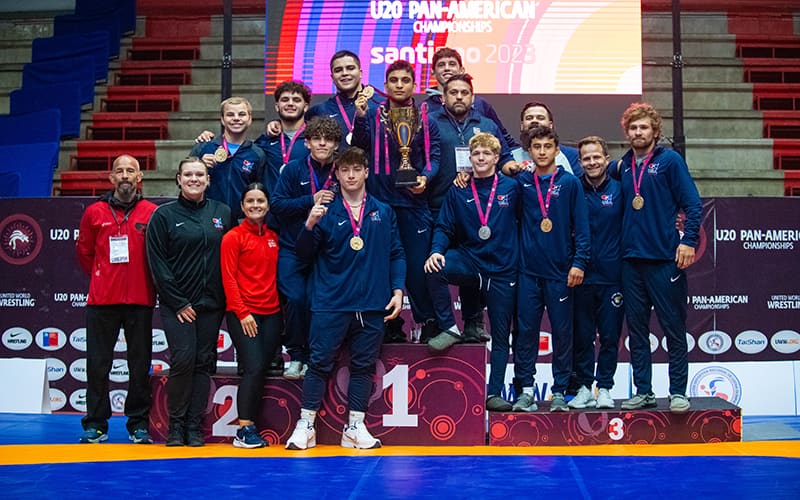 Photo: The U.S. Greco-Roman team after earning first place at the 2023 U20 Pan-American Championships with eight gold medalists and two silver medalists. (Richard Immel, USA Wrestling)

🎥 Watch: Team USA athlete and coach interviews from Chile
SANTIAGO, Chile – The United States had a dominant performance on the first day of the U20 Pan American Greco-Roman Championships on Thursday, winning the team title while crowning eight individual champions and two runners-up.

Team USA scored a whopping 240 points in the team standings, a full 142 points ahead of second place Ecuador, which had 98 points. Third place went to Mexico with 94 points.

Individual champions for the USA were Roberto Estrada (55 kg), Landon Drury (63 kg), Jadon Skellinger (67 kg), Arvin Khosravy (72 kg), Derek Matthews (77 kg), Michael Altomer (82 kg), Wyatt Voelker (87 kg) and Aden Attao (130 kg). Claiming silver medals for Team USA were Zan Fugitt (60 kg) and Sawyer Bartelt (97 kg).

U.S. Greco-Roman head coach for the tour, Robby Smith, was pumped with the team's effort noting, "They had a mission. They had a goal. And, it was to come in and do exactly what we did. We wanted 10 golds. We ended with eight golds, two silvers. It's not a bad day for U.S.A. Greco. Really proud of our boys."

While none of the eight American champions were awarded the Golden Boot as Outstanding Wrestler of the event, an honor presented to 60 kg champion Jeremy Peralta Gonzalez of Ecuador, there were elite performances across the board from each.
Overall, the United States had a 30-2 record for the day, with 23 of the wins by either fall or technical fall. Seven members of the U20 Pan American U20 Greco-Roman team are either current or past U.S. age-group World Team members.

Attao, a 2022 U20 World bronze medalist, won his four-athlete round robin with two technical falls and a pin. His presence was punishing as he thoroughly dominated every opponent he faced in Chile, including a bone breaking headlock that punctuated his gold medal match with a pin in just over one minute. Attao has qualified to compete in his second U20 World Championships next month in Warsaw, Poland, and is eager at another chance at gold.

"I like to go big. That's what I do. It was go big, be aggressive, and let it fly.That's how I've got to approach everything...I learned a lot in these three matches I had today," Attao said following his powerful performance."Strategy and patience are the two biggest things I've learned from Worlds and that's what is going to help me this year."

The other U.S. champions who won all of their matches by either technical fall or pin were Estrada, Drury and Altomer. Drury was particularly impressive as he posted big move after big move to wow the Santiago crowd repeatedly with his picturesque parterre lift and rock-solid neutral positioning. He has emerged as one of the more exciting U.S. Greco-Roman wrestlers to watch this Summer.

The action from Santiago will continue at 10 a.m. (ET) tomorrow with the preliminary rounds of women's freestyle competition. The medal matches will follow at 5 p.m. (ET).

A live stream of the tournament is available to the U.S. audience on FloWrestling.com. Complete brackets and up-to-date results will be provided by United World Wrestling at uww.org.

U20 PAN AMERICAN CHAMPIONSHIPS

At Santiago, Chile, July 6, 2023


Greco-Roman medalists

55 kg
Gold - Roberto Estrada (USA)
Silver - Abel Sanches Juarez (Peru)

Gold – Estrada tech fall Sanchez Juarez, 9-0 1:36

60 kg
Gold - Jeremy Peralta Gonzalez (Ecuador)
Silver - Zan Fugitt (USA)
Bronze - Edwin Allain Miranda (Peru)

Gold – Peralta Gonzalez tech fall Fugitt, 10-0 1:10
Bronze – Miranda dec. Diego Terriquez Ibarra (Mexico), 4-3

63 kg
Gold - Landon Drury (USA)
Silver - Arnoldo Priboste (Argentina)
Bronze - Patrick Rodriguez Quinto (Ecuador)

Gold – Drury tech fall Proboste, 10-0, 3:15
Bronze – Rodriguez Quinto tech fall Jaider Brinez Solano (Colombia), 8-0, 0:54

67 kg
Gold - Jadon Skellinger (USA)
Silver - Alonso Parra Garcia (Colombia)
Bronze - Marco Fernandez Cubas (Peru)

Gold – Skellinger tech fall Parra Garcia, 9-1, 4:12
Bronze – Fernandez Cubas tech fall Gregory Wila Corozo (Ecuador), 11-2, 4:26

72 kg
Gold - Arvin Khosravy (USA)
Silver - Nilson Sinisterra Angulo (Colombia)
Bronze - Alexis Vargas Ramirez (Mexico)
Bronze - Franco Gonzalez Palma (Chile)

Gold – Khosravy dec. Sinisterra Angulo, 5-0
Bronze – Vargas Ramirez forfeit Oscar Barrios Rochez (Honduras)

77 kg
Gold - Derek Matthews (USA)
Silver - Darfel Parada Camarcaro (Venezuela)
Bronze - Darío Cubas Castillo (Peru)
Bronze - Raul Unzueta Torres (Mexico)

Gold – Matthews tech fall Parada Camacaro, 8-0 1:22
Bronze – Cubas Castillo tech. fall Adrian Maynard (Barbados), 12-2, 2:15
Bronze – Unzueta Torres tech fall Kauan Ferreria Gomes (Brazil), 8-0 0:59

82 kg
Gold - Michael Altomer (USA)
Silver - Christian Medina Nunez (Mexico)
Bronze - Samir Cabeza Vacilio (Ecuador)

87 kg
Gold - Wyatt Voelker (USA)
Silver - Brian Ruiz Marin (Venezuela)
Bronze - Max Franca Magalhaes de Almeida (Brazil)

97 kg
Gold - Juan Diaz Blanco (Venezuela)
Silver - Sawyer Bartlet (USA)
Bronze - Ricardo Gomez (Argentina)

130 kg
Gold - Aden Attao (USA)
Silver - Jose Ureta Valdivia (Mexico)
Bronze - Juan Calderon Molina (Ecuador)

Note: Weight classes without medal matches were round robin format.

U.S. Greco-Roman results

55 kg – Roberto Estrada (Keenesburg, Colo./Western Colorado WC), Gold medal
WIN Abel Sanchez Juarez (Peru), tech. fall, 9-0 1:36

60 kg – Zan Fugitt (Nixa, Mo./Nixa High School Wrestling). Silver medal
WIN Diego Terriquez Ibarra (Mexico), tech. fall 10-2, 2:23
WIN Andres Matamala Escobar (Chile), pin 0:31
WIN Eli Kirk (Puerto Rico), tech fall 8-0, 2:03
WIN Edwin Allain Mirnda (Peru), tech fall 8-0, 0:53
LOSS Jeremy Peralta Gonzalez (Ecuador), tech fall 10-9, 1:10

63 kg – Landon Drury (Colorado Springs, Colo./Betterman Elite Wrestling). Gold medal
WIN Jefferson Carrasco Torres (Peru), tech fall 8-0, 1:14
WIN Patrick Rodriguez Quinto (Ecuador), tech fall 8-0, 2:53
WIN Jaider Brinez Solano (Colombia), tech fall 11-0, 0:28
WIN Arnoldo Probste (Argentina), tech fall 10-0 3:15

67 kg – Jadon Skellenger (Meridian, Idaho/Team Idaho), Gold medal
WIN Marco Fernandez Cubas (Peru), 7-6
WIN Luciano Fiabane Diaz (Chile), pin 1:22
WIN Gregory WIla Corozo (Ecuador), tech fall 9-0, 0:27
WIN Alonso Parra Garcia (Colombia), tech fall, 9-1 4:12

72 kg – Arvin Khosravy, (Woodland Hills, Calif./Team California), Gold medal
WIN Oscar Barrios Rochez (Honduras), forfeit
WIN Alexis Vargas Ramirez (Mexico), 7-2
WIN Nilson Sinisterra Angulo (Colombia), 5-0

77 kg – Derek Matthews (Burley, Idaho/Northern Colorado WC), Gold medal
WIN Kauan Ferreira Gomes (Brazil), 7-1
WIN Raul Unzueta Torres (Mexico), pin 5:17
WIN Darfel Parada Camacaro (Venezuela), tech fall 8-0, 1:22

82 kg – Michael Altomer (Stuyvesant, N.Y./Curby 3-Style WC), Gold medal
WIN Samir Cabeza Vacilio (Ecuador), tech fall 8-0, 0:29
WIN Christian Medina Nunez (Mexico), tech fall 9-0, 1:47

87 kg – Wyatt Voelker (Manchester, Iowa/Big Game WC), Gold medal
WIN Dieter Von Helms Valenzuela (Chile), tech fall 8-0, 1:29
WIN Max Franca Magalhaes De Almeida (Brazil), tech fall 9-0, 1:11
WIN Carlos Salazar Gomez (Mexico), pin 1:38
WIN Brian Ruiz Marin (Venezuela), 8-3

97 kg – Sawyer Bartelt (Coral Gables, Fla./Gladiator Wrestling), Silver medal
WIN Ricardo Gomez (Argentina), 6-1
LOSS Juan Diaz Blanco (Venezuela), 6-1
WIN Kyle Santana Oliveira (Brazil), tech fall 8-0, 0:48

130 kg – Aden Attao (Boise, Idaho/Suples WC), Gold medal
WIN Wesley Barros Das Dores (Brazil), tech fall 9-0, 0:31
WIN Juan Calderon Molina (Ecuador), tech fall 8-0, 0:42
WIN Jose Ureta Valdivia (Mexico), pin 1:17

Team Standings
1 United States, 240
2 Ecuador, 98
3 Mexico, 94
4 Peru, 83
5 Brazil, 78
6 Venezuela, 65
7 Colombia, 58
8 Chile 42
9 Argentina, 35
10 Barbados, 10
10 Paraguay, 10
10 Puerto Rico, 10
13 Honduras, 0