News
USA Wrestling
International
High School & Youth
USAW
Kenny, Blaze, Mantanona, Ryder advance to men's freestyle semifinals at U17 Worlds
by Gary Abbott, USA Wrestling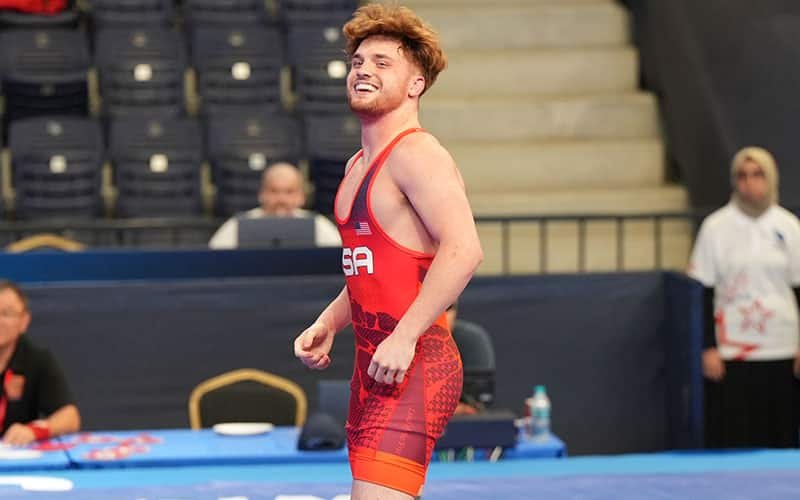 Zack Ryder (USA) is all smiles after getting pin in the quarterfinals at the U17 World Championships. Photo by Gary Abbott
.
ISTANBUL, Turkey – Four U.S. wrestlers powered into Friday night's men's freestyle semifinals after sweeping all of their semifinal bouts on Friday morning.
U.S. men's freestyle semifinalists are Paul Kenny of New Jersey (48 kg), Marcus Blaze of Ohio (55 kg), Brock Mantanona of California (65 kg) and Zack Ryder of New York (80 kg).
Ryder, a U17 World bronze medalist in 2022, opened with a tight 2-1 decision over Askhab Khajiyev of Kazakhstan. In the first period, Ryder got a step out point and scored when Khajiyev was on shot clock. In second period, Khajiyev scored with Ryder on shot clock.
In the semifinals, Ryder hit a hip toss and pinned Saurabh Yadav of India in 59 seconds. His semifinal opponent is Alexandru Borz of Moldova.
Mantanona opened with a win over Almas Sabyr of Kazakhstan, 14-6. He opened with a four-point takedown and led 4-2 at the break. A takedown and turn extended the lead. Although Sabyr scored a few takedowns, Manatona also scored late in the match to keep it out of reach.
Mantanona followed with a 16-5 technical fall over Ankh Erdene Altangerel of Mongolia. Mantanona opened the match up with takedowns and turns and won the key positions in an active match.
Mantanona scored a 12-2 technical fall in quarterfinals over Zafarbek Kamalov of Uzbekistan. He opened a 9-2 lead in the first period, and finished it with two more takedowns. In the semifinals he has Magomed Alibakharchiev an Individual Neutral Athlete.
Blaze got a big win out of the gate, stopping 2023 Asian U17 silver medalist Amirreza Ali Teymorizad of Iran, 2-1. All scoring was in the first period, with Teymorizad getting a step out and Blaze answering with a takedown.
In his second match, Blaze secured an impressive 12-1 technical fall over Azatberdi Ashyrgulyyev of Turkmenistan. Blaze scored a takedown and turn, followed by a step out forced by his opponent to lead 4-1. Another Blaze takedown was followed by three turns to end the match.
In his quarterfinals, Marcus Blaze scored a 10-0 technical fall over Oubayda Itaev of France in quarterfinals. Up 1-0 at the break, he got a takedown, a shot clock point and three turns to win. In the semifinals, he faces Samvel Gevorgyan of Armenia.
Paul Kenny opened with a dominant 11-0 technical fall over Oliwier Orzechowski of Poland. He started with a takedown, and followed with a five-point takedown. Add in more takedowns and an ankle lace to end it in the first period.
Next Kenny scored a 4-2 decision over Azymberdi Ashyrgulyyev of Turkmenistan. In the first period, Kenny scored on a step out, a point from the shot clock and a takedown to lead 4-0. Ashyrgulyyev got a counter exposure in the second period late.
In his semifinals, Kenny pinned Yeraly Zhetpissov of Kazakhstan in 3:38. Leading 4-2, he took Zhetpissov down to his back and got the fall. In the semifinals, he faces Sam Reza Sayar of Iran.
The only U.S. wrestler to lose this session was Sampson Stillwell of Missouri (110 kg), who was defeated by Henrik Haykyan of Armenia in a 13-3 technical fall. Haykyan had a first-period takedown, and two second period four-point moves.Haykyan has reached the semifinals, and if he wins that match, he pulls Stillwell back into repechage.
U17 WORLD CHAMPIONSHIPS

At Istanbul, Turkey


U.S. Men's Freestyle Group One results
48 kg: Paul Kenny, Bayville, New Jersey, in semifinals
WIN Oliwier Orzechowski (Poland), tech fall 11-0
WIN Azymberdi Ashyrgulyyev (Turkmenistan), 4-2
WIN Yeraly Zhetpissov (Kazakhstan), pin 3:38
Semifinals – Sam Reza Sayar (Iran)
55 kg: Marcus Blaze, Perrysburg, Ohio (Perrysburg WC), in semifinals
WIN Amirreza Ali Teymorizad (Iran), 2-1
WIN Azatberdi Ashyrgulyyev (Turkmenistan), tech fall 12-1
WIN Oubayda Itaev (France), tech fall 10-0
Semifinals – Samvel Gevorgyan (Armenia)
65 kg: Brock Mantanona, Bermuda Dunes, California (Coachella Valley WC), in semifinals
WIN Almas Sabyr (Kazakhstan), 14-6
WIN Ankh Erdene Altangerel (Mongolia), tech fall 16-5
WIN Zafarbek Kamalov (Uzbekistan), tech fall 12-2
Semifinals – Magomed Alibakharchiev (Individual Neutral Athlete)
80 kg: Zack Ryder, Westtown, New York (M2 Training Center), in semifinals
WIN Askhab Khajiyev (Kazakhstan), 2-1
WIN Saurabh Yadav (India), pin 0:59
Semifinals – Alexandru Borz (Moldova)
110 kg: Sampson Stillwell, Centerview, Missouri (Kobra Kai Training), status pending
LOSS Henrik Haykyan (Armenia), tech fall 13-3