Women's freestyle team receives draws for U20 World Championships in Sofia
by Taylor Gregorio, USA Wrestling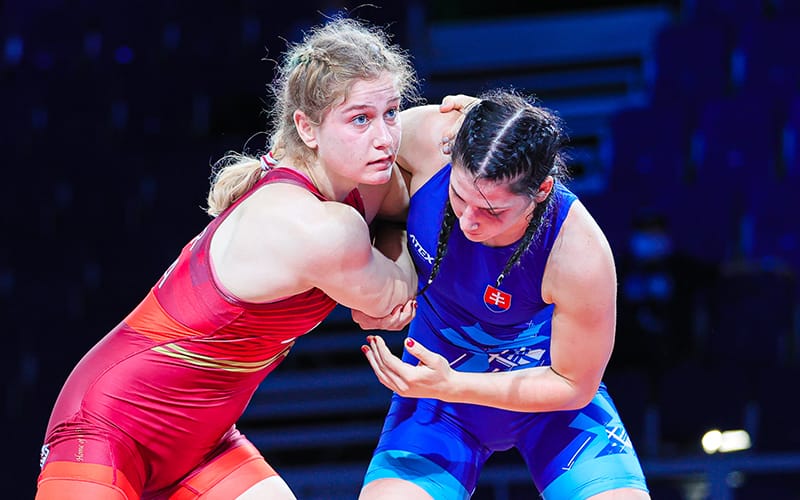 Photo of Amit Elor by Kadir Caliskan/United World Wrestling.
SOFIA, Bulgaria – The U.S. women's freestyle team received its draws for the U20 World Championships in Sofia, Bulgaria.
Women's freestyle action takes place Aug. 17-19. Representing the USA on Wednesday is Audrey Jimenez (50 kg), Adriana Dorado-Marin (55 kg), SaVannah Cosme (59 kg), Destiny Rodriguez (68 kg) and Tristan Kelly (76 kg).
Beginning their tournaments on Thursday are Katie Gomez (53 kg), Sofia Macaluso (57 kg), Adaugo Nwachukwu (62 kg), Reese Larramendy (65 kg) and Amit Elor (72 kg).
Wrestling begins at 11 a.m. local time (4 a.m. U.S. ET) each day with semifinals set for 6:45 p.m. (11:45 a.m. ET). Fans can watch all the action live on FloWrestling and follow along on Twitter @USAWrestling.
Below are the draws for each U.S. women's freestyle athlete. Complete brackets can be found on UWW's website.
U20 WORLD CHAMPIONSHIPS

Aug. 15-21, 2022 | Sofia, Bulgaria
U.S. women's freestyle draws
50 kg – Audrey Jimenez (Tucson, Ariz./Sunkist Kids)

vs. Gultakin Shirinova (Azerbaijan), 8th at 2021 U20 Worlds
53 kg – Katie Gomez (Van Nuys, Calif./Sunkist Kids)

vs. Emine Cakmak (Turkey), bronze at 2021 U20 Worlds
55 kg – Adriana Dorado Marin (Denver, Colo./Army WCAP)

vs. Robbie Pingal (Canada), bronze at 2022 U20 Pan Ams

-OR- Roza Szenttamasi (Hungary), silver at 2021 U20 European Championships
57 kg – Sofia Macaluso (Otisville, N.Y./Team New York)
vs. Sito Sito (India), bronze at 2021 U20 Worlds
59 kg – SaVannah Cosme (Denver, Colo./Sunkist Kids)

vs. Kara Le Roux (South Africa), bronze at 2022 U20 African Championships

-OR- Ebru Dagbasi (Turkey), silver at 2022 U20 European Championships
62 kg – Adaugo Nwachukwu (San Jose, Calif./Swamp Monsters WC)

vs. Iris Thiebaux (France), fifth at 2022 U20 European Championships
65 kg – Reese Larramendy (Reno, Nev./Nevada Elite Wrestling/Hawkeye WC)

vs. Zofia Polowczyk (Poland), bronze at 2022 U20 European Championships
68 kg – Destiny Rodriguez (West Linn, Ore./All-Phase WC)

vs. Laura Godino (Italy), fifth at 2022 U20 European Championships
72 kg – Amit Elor (Walnut Creek, Calif./NYC RTC/ Titan Mercury WC)

vs. Zaineb Sghaier (Tunisia), silver at 2022 Senior African Championships, gold at U20 African Championships
76 kg – Tristan Kelly (Erie, Colo./Army WCAP)

vs. Ana Julia Dos Santos (Brazil), silver at 2022 U20 Pan Ams
Schedule (local time 7 hours ahead of U.S. ET)
Wednesday, Aug. 17
11 a.m. – Qualification rounds (WFS 50, 55, 59, 68, 76 kg)

11 a.m. – Repechage (MFS 61, 74, 86, 92, 125 kg)

4:45 p.m. – Semifinals (WFS 50, 55, 59, 68, 76 kg)

6 p.m. – Medal matches (MFS 61, 74, 86, 92, 125 kg)
Thursday, Aug. 18
11 a.m. – Qualification rounds (WFS 53, 57, 62, 65, 72 kg)

11 a.m. – Repechage (WFS 50, 55, 59, 68, 76 kg)

4:45 p.m. – Semifinals (WFS 53, 57, 62, 65, 72 kg)

6 p.m. – Medal matches (WFS 50, 55, 59, 68, 76 kg)
Friday, Aug. 19
11 a.m. – Qualification rounds (GR 55, 63, 77, 87, 130 kg)

11 a.m. – Repechage (WFS 53, 57, 62, 65, 72 kg)

4:45 p.m. – Semifinals (GR 55, 63, 77, 87, 130 kg)

6 p.m. – Medal matches (WFS 53, 57, 62, 65, 72 kg)
Saturday, Aug. 20
11 a.m. – Qualification rounds (GR 60, 67, 72, 82, 97 kg)

11 a.m. – Repechage (GR 55, 63, 77, 87, 130 kg)

4:45 p.m. – Semifinals (GR 60, 67, 72, 82, 97 kg)

6 p.m. – Medal matches (GR 55, 63, 77, 87, 130 kg)
Sunday, Aug. 21
4 p.m. – Repechage (GR 60, 67, 72, 82, 97 kg)

6 p.m. – Medal matches (GR 60, 67, 72, 82, 97 kg)