News
USA Wrestling
International
High School & Youth
USAW
Three No. 1 seeds advance to U17 Greco-Roman World Team Trials, 2022 U17 World Team member Khosravy looks to repeat
by Adam Engel, Special to TheMat.com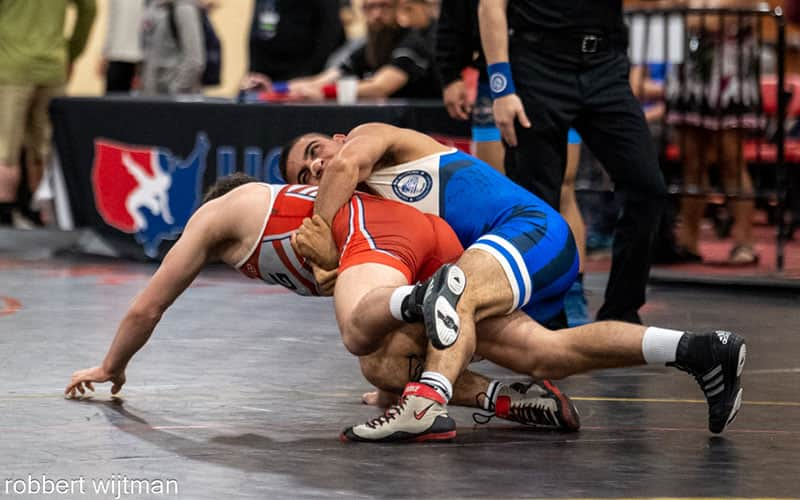 2022 U17 Greco-Roman World Team member Arvin Khosravy works a gut wrench. Photo by Robbert Wijtman.
LAS VEGAS, Nev. — Odds didn't favor many of the top seeded wrestlers.
Seven of 10 No. 1 seeds bounced to the consolation bracket in the first session of the U17 Greco-Roman World Team Trials at the 2023 Pritchard Companies U.S. Open, presented by FloWrestling on Thursday in Las Vegas.
No. 5 Arvin Khosravy of California, the lone 2022 U17 Greco-Roman World Team member in the field, found the finals at 71 kg as he teched No. 1 Vince Bouzakis of Pennsylvania, 9-0, in the semifinals.
Top seeds Hudson Loges of MWC Wrestling Academy in Nebraska at 51 kg, De'alcapon Veazy of Legends of Gold Wrestling in Indiana at 80 kg and Dreshaun Ross of Sebolt Wrestling Academy in Iowa at 92 dominated toward a finals appearance. The trio combined for seven technical falls in 10 bouts.
No. 16 Jackson Heslin of KT Kidz Wrestling Club scored a technical fall over No. 1 Bo Basset of Bishop McCort High School, 10-0, at 55 kg. Basset won the 2021 U17 World Championship in freestyle and also made the Greco-Roman World Team.
Three No. 1 seeds who also became 2022 16U Greco-Roman Nationals champions didn't make the finals — Caleb Noble of Toss Em Up Wrestling Academy at 45 kg, Thomas Verrette of Colorado Top Team Wrestling Club at 60 kg and Gabriel Bouyssou of Mayo Quanchi Wrestling Club at 65 kg.
Five 2022 16U Greco-Roman Nationals champions reached the finals. No. 2 Haakon Peterson of Dodgeville High School wrestling in Wisconsin at 45 kg, No. 2 Lincoln Sledzianowski of McCort High School in Pennsylvania at 48 kg, No. 4 Jordyn Raney of Union County High School wrestling in Kentucky at 55 kg, No. 3 Billy Greenwood of GRIT Athletics Wrestling Club in Colorado at 65 kg and No. 3 Nicholas Sahakian of Sunkist Kids/Monster Garage in California at 110 kg.
The finals will be contested in a best two of three format and the winner will represent the USA at the 2023 U17 World Championships in Instanbul, Turkey, July 31-August 6.
Those bouts and the medal matches begin at 3 p.m. Wednesday. View every match live on FloWrestling.
U.S. U17 Greco-Roman World Team Trials
At Las Vegas, Nev., April 27
Final pairings (Best two of three series)
45 kg: Henry Aslikyan CA (Birmingham Community Charter High School Wrestling) vs No. 2 Haakon Peterson WI (Dodgeville High School Wrestling)
48 kg: No. 4 Ezekiel Witt KS (Junction City High School Wrestling) vs No. 2 Lincoln Sledzianowski PA (McCort High School)
51 kg: No. 1 Hudson Loges NE (MWC Wrestling Academy) vs No. 2 Czar Quintanilla WA (Inland Northwest Wrestling Training Center)
55 kg: No. 7 Elijah Cortez CA (Gilroy High School Wrestling) vs No. 4 Jordyn Raney KY (Union County High School Wrestling
60 kg: No. 4 Sam Herring PA (Bishop McCort High School Wrestling) vs No. 3 Matthew Martino ID (Team Idaho Wrestling Club)
65 kg: No. 3 Billy Greenwood CO (GRIT Athletics Wrestling Club) vs No. 4 Garrett Reece CO (Black Fox Wrestling Academy)
71 kg: No. 5 Arvin Khosravy CA (California) vs Leister Bowling IV CO (Colorado Top Team Wrestling Club)
80 kg: No. 3 Adam Waters PA (Steller Trained Wrestling) vs No. 1 De'Alcapon Veazy IN (Legends of Gold Wrestling)
92 kg: No. 1 Dreshaun Ross IA (Sebolt Wrestling Academy) vs No. 2 Aiden Cooley TX (Allen High School Wrestling)
110 kg: No. 5 Trayvn Boger UT (Sanderson Wrestling Academy) vs No. 3 Nicholas Sahakian CA (Sunkist Kids/Monster Garage)
Semifinal results
45 kg
Henry Aslikyan CA (Birmingham Community Charter High School Wrestling) dec. No. 4 Cameron Sontz NJ (Edge Wrestling), 7-3
No. 2 Haakon Peterson WI (Dodgeville High School Wrestling) dec. No. 3 Liam Collins MN (Pinnacle Wrestling Club), 8-7
48 kg
No. 4 Ezekiel Witt KS (Junction City High School Wrestling) dec.No. 8 Isaiah Harrison CO (Bear Cave Wrestling Club), 14-6 2:29
No. 2 Lincoln Sledzianowski PA (McCort High School) tech fall No. 3 Saxton Scott ID (Idaho), 12-2 2:28
51 kg
No. 2 Czar Quintanilla WA (Inland Northwest Wrestling Training Center) dec. No. 6 Boden Banta ID (Team Idaho Wrestling Club), 10-3
No. 1 Hudson Loges NE (MWC Wrestling Academy) dec. No. 4 Kody Tanimoto TX (Spartan Mat Club), 9-5
55 kg
No. 7 Elijah Cortez CA (Gilroy High School Wrestling) dec. No. 14 Isaac Hampton OR (Newberg High School Wrestling), 10-3
No. 4 Jordyn Raney KY (Union County High School Wrestling) fall No. 16 Jackson Heslin CT (KT Kidz Wrestling Club), 6-3 3:11
60 kg
No. 4 Sam Herring PA (Bishop McCort High School Wrestling) fall No. 1 Thomas Verrette CO (Colorado Top Team Wrestling Club), 2-0 1:22
No. 3 Matthew Martino ID (Team Idaho Wrestling Club) dec. No. 2 Derek Barrows CO (Bear Cave Wrestling Club), 10-5
65 kg
No. 3 Billy Greenwood CO (GRIT Athletics Wrestling Club) dec. No. 7 Emil Necula GA (Level Up Wrestling Center), 9-3
No. 4 Garrett Reece CO (Black Fox Wrestling Academy) tech fall No. 1 Gabriel Bouyssou RI (Mayo Quanchi Wrestling Club), 8-0 1:34
71 kg
No. 5 Arvin Khosravy CA (California) tech fall No. 1 Vince Bouzakis PA (Pennsylvania), 9-0 1:15
Leister Bowling IV CO (Colorado Top Team Wrestling Club) dec. No. 7 Aliaksandr Kikiniou CA (Poway High School Wrestling), 3-1
80 kg
No. 3 Adam Waters PA (Steller Trained Wrestling) fall No. 2 Hudson Rogers ID (Team Idaho Wrestling Club), 7-0 1:47
No. 1 De'alcapon Veazy IN (Legends of Gold Wrestling) dec. No. 4 Bryce Burkett MN (Pinnacle Wrestling Club), 2-1
92 kg
No. 1 Dreshaun Ross IA (Sebolt Wrestling Academy) tech fall No. 4 Cittadino Tuttle MN (Pinnacle Wrestling Club), 11-0 1:32
No. 2 Aiden Cooley TX (Allen High School Wrestling) tech fall Mason Ellis AL (Alabama Takedown Academy), 8-0 1:00
110 kg
No. 5 Trayvn Boger UT (Sanderson Wrestling Academy) fall No. 1 Kai Calcutt IL (Izzy Style Wrestling), 4-0 0:37
No. 3 Nicholas Sahakian CA (Sunkist Kids/Monster Garage) dec. No. 2 Sampson Stillwell MO (Kobra Kai Training), 9-6