News
USA Wrestling
College
USAW
3-point takedown approved in NCAA wrestling, starting in 2023-24 season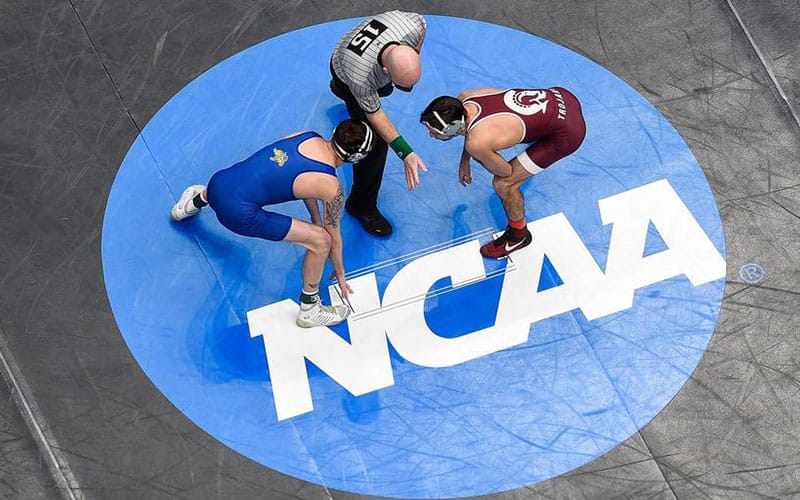 The NCAA Playing Rules Oversight Panel on Thursday approved making all takedowns in wrestling worth 3 points, effective with the 2023-24 season.
Members of the Wrestling Rules Committee, which proposed the change, agreed that
increasing the scoring for takedowns by an additional point
will enhance the sport by rewarding offensive actions and risk-taking.
The committee also agreed there was a need to create a more appropriate point differential between takedowns and escapes and incentivize offense when competitors are in the neutral position.
Eliminating the hand-touch takedown also was approved by the panel. Rules committee members think demonstrating control is an important component of college wrestling, so it made sense to eliminate the hand-touch takedown in favor of a single requirement for all takedowns.
To help balance the new takedown scoring rule, there also are new requirements for the top wrestler to work toward a near fall or pin. A 3-point near-fall scoring component was added.
Previously, officials could award 2 or 4 points for near falls. The rationale for the rule change includes giving wrestlers a chance to be more creative in attempting to earn points.
Video review
Panel members also approved a change to the coach's video review request.
The rule change provides the referee with the authority to confirm or overturn all calls or missed calls during a video review challenged sequence. For coach's challenges, the sequence is described as the time from the alleged error until the match is, or should have been, stopped by the referee.
Other rule changes
* The first medical forfeit of a tournament will count as a loss on the wrestler's record. An exception will be if the medical forfeit occurs immediately after an injury default in a tournament.
* The penalty for a delayed coach's video review challenge request will be changed to a loss of the video review. Previously, it was a control-of-mat violation and 1-point deduction from the team total.
* Any true placement matches conducted in an event will not alter the final team score.
* Officials can let action continue after penalizing an illegal hold and not require a stoppage after imminent scoring finishes when the safety of wrestlers is not in danger.
* The current mandatory five-second count for the waist and ankle ride will be expanded to include all situations in which the top wrestler grasps the bottom wrestler's ankle.
* Weigh-in times across all competition types will be standardized to two hours or sooner before the start of competition. Previously, tournament weigh-ins were two hours or sooner, but dual meet weigh-ins were permitted only one hour or sooner before the start of competition.
* Weight certification for all schools will be permitted to start Sept. 1.
* The rule limiting facial hair to no longer than half an inch has been eliminated.