News
USA Wrestling
International
Women
College
High School & Youth
USAW
Beat the Streets New York raises $1.3 million with Annual Benefit, Final X
by Brandon Cain, Beat the Streets New York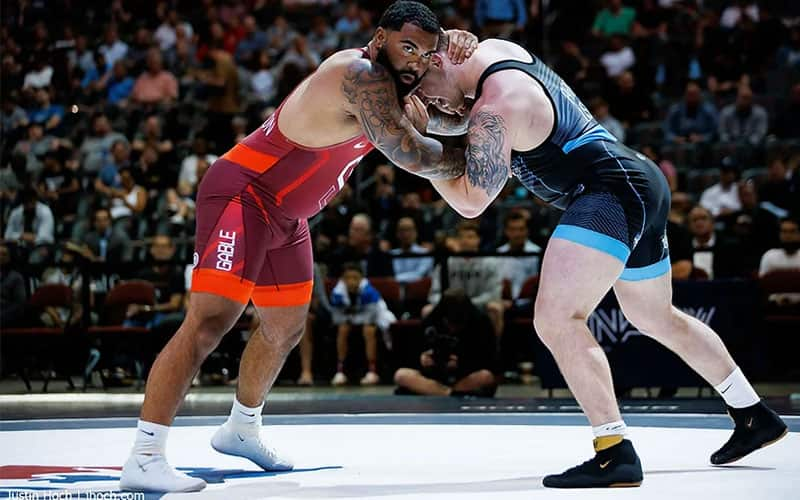 Gable Steveson battles Mason Parris during Final X in Newark. Photo by Justin Hoch
.
A record 8,000-plus fans see 29 athletes make USA World Championship Team.Beat the Streets New York
raised $1.3 million with its
13th Annual Benefit
on Saturday at Prudential Center in Newark, New Jersey. BTSNY also set an attendance record for its Annual Benefit and
Final X
with more than 8,000 fans.
For a second straight year, Final X served as BTSNY's benefit with 29 athletes claiming a spot on
Team USA
for the 2023 Senior World Championships in Belgrade, Serbia, Sept. 16-24.
Among the men's freestyle winners were 2016 Olympic champion Kyle Snyder (97 kg), and 2020 Olympic champions Gable Steveson (125 kg) and David Taylor (86 kg), and 2020 Olympic bronze medalist and four-time World champion Kyle Dake (74 kg). Two notable upsets occurred as Zane Richards (57 kg) topped 2021 World champion and 2020 Olympic bronze medalist Thomas Gilman, and Chance Marsteller (79 kg) dethroned 2016 Olympic champion and six-time World champion Jordan Burroughs.
In women's freestyle, 2020 Olympic silver medalist and six-time World champion Adeline Gray (76 kg) won just 10 months after giving birth to twins. World champions Jacarra Winchester (55 kg), Dominique Parrish (53 kg) and Amit Elor (72 kg) also claimed victories.
Two 2020 Olympians led the 10 Greco-Roman winners, as Ildar Hafizov (60 kg) and Alejandro Sancho (67 kg) emerged victorious.
"Moving our benefit to Prudential Center was a big factor in making this our largest event, with $1.3 million raised," said Brendan Buckley, Executive Director of Beat the Streets New York. "The funds raised during this event enable our programs to operate year-round and continue to make a lifelong impact through wrestling on New York City student-athletes."
It is the second time the benefit has been held in New Jersey after a virtual event in 2020 in Hoboken. BTSNY held its Annual Benefit at the Theater at Madison Square Garden in 2019 and 2022, and previously at other historic New York locations. The benefit events help BTSNY raise at least $1 million each year to support youth wrestling programs that empower young people in New York City. To provide contributions to BTSNY, visit btsny.org/donate.
BTS Final X Men's Freestyle Summary
BTS Final X Women's Freestyle Summary
BTS Final X Greco-Roman Summary
Since being founded in 2005, Beat the Streets has pioneered a movement that now includes 150 individual wrestling programs, a youth league and the first girls high school league.
Beat the Streets works to develop the full human and athletic potential of the urban youth and strengthen the NYC wrestling culture. We aim to make a lifelong impact on student-athletes through the lessons learned on the wrestling mat -- discipline, perseverance, self-reliance, humility and a strong work ethic.