News
USA Wrestling
College
USAW
Penn State names NCAA champion wrestler Carter Starocci as its Male Athlete of the Year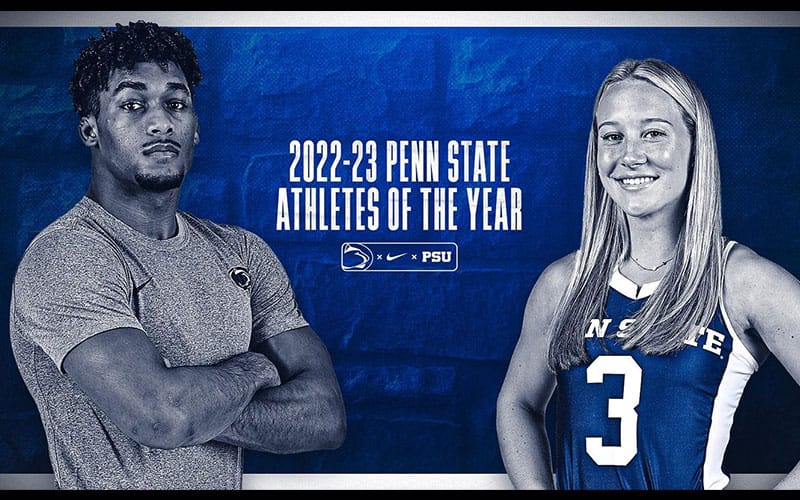 UNIVERSITY PARK, Pa. –
Penn State Athletics
has announced that wrestler
Carter Starocci
and field hockey player Sophia Gladieux have been selected as the 2022-23 Female and Male Athletes of the Year. Gladieux and Starocci will now move on as Penn State's nominees for Big Ten Athletes of the Year, joining honorees from the other 13 conference schools.
Starocci, a junior, stood alone amongst the nation's wrestlers at the conclusion of the 2022-23 season and he joins a group of ten Nittany Lion wrestlers who have been named Penn State's Male Athlete of the Year a total of 12 times. Two of those wrestlers (David Taylor in 2013-14 and Bo Nickal in 2018-19) went on to win Big Ten Male Athlete of the Year.
This past season, Starocci was the only wrestler in the nation to accomplish the following feats together: Win an NCAA individual title (his third straight), his conference individual title (his second Big Ten crown), go unbeaten over the course of the campaign, and led his school to both conference and NCAA team championships. Starocci was also the only wrestler this year to win his NCAA Finals bout by fall.
Starocci capped off a second-straight unbeaten season by pinning his opponent in the NCAA Championship bout at 174 pounds. Starocci ended the campaign with a perfect 24-0 record, nine major decisions, three technical falls and four majors. His performance helped lead head coach Cael Sanderson's wrestlers to yet another NCAA Championship, the team's 10th title over the last 12 championship events. Starocci has not lost a bout since March of 2021 and has won 52-straight matches over the last three seasons.
Starocci is now a three-time first team All-American (2021, 2022, 2023), a three-time NCAA National Champion (2021, 2022, 2023), a two-time Big Ten Champion (2021, 2023) and a two-time first team All-Big Ten honoree (2021, 2023). He was the 2021 Big Ten Freshman of the Year as well.
Gladieux, a junior and the first field hockey player to win Penn State's Female Athlete of the Year award, capped off yet another superb season by leading the Penn State field hockey team to the NCAA national semifinals. Gladieux led Penn State to a 17-4 overall record, a 7-1 Big Ten mark, and a share of the 2022 Big Ten Championship in legendary head coach Char Morett-Curtiss' final year at the helm of the program.
She led Penn State with 49 points off 23 goals and three assists. She earned her second straight first-team All-America honor from the National Field Hockey Coaches Association and was the NFHCA's Mideast Region Player of the Year for the second straight season. Gladieux was named 2022 Big Ten Player of the Year, 2022 Big Ten Offensive Player of the Year and First Team All-Big Ten.
She was also the 2022 Honda Award Finalist for Field Hockey. In addition to leading the Nittany Lions to the NCAA semifinals, she helped the team secure its first NCAA tournament win since 2017. She was also named to the 2022 NCAA All-Tournament Team. The junior forward has played in and started all 55 games of her Nittany Lion career. She has 53 goals and seven assists for 113 points over three seasons as Penn State's leading offensive weapon. She also has 16 career game-winning goals.
She is a two-time member of the NFHCA National All-Academic Team and earned Academic All-Big Ten laurels twice. Gladieux is a three-time first team All-Region selection, two-time Region Player of the Year, and a three-time All-American (first team twice, second team once). She has won six weekly Big Ten awards during the course of the last three seasons as well.