News
USA Wrestling
High School & Youth
Women
USAW
Fargo Rosters: Alabama, New York, Tennessee, Texas
by Gary Abbott and Savannah Asmann, USA Wrestling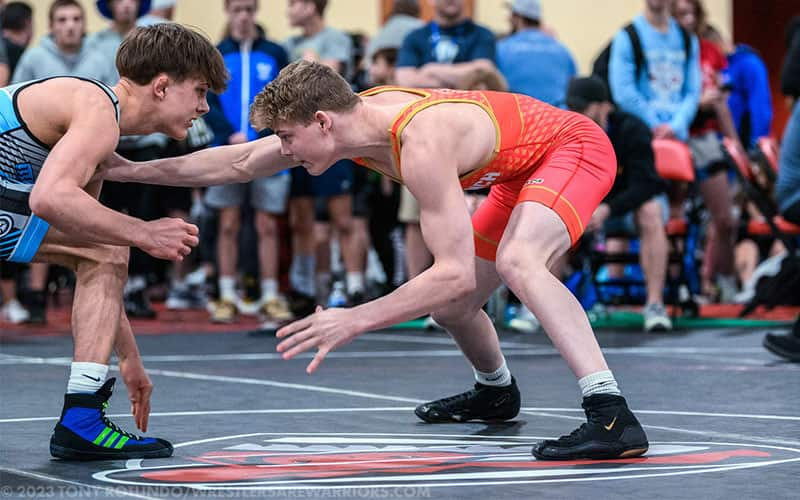 Cooper Hilton of Tennessee, competing at the 2023 U17 Nationals in Las Vegas, is among the top stars from his state. Photo by Tony Rotundo, Wrestlers Are Warriors
.
Starting on June 25, USA Wrestling began publishing the state team rosters for the 2023 USMC Junior and 16U Nationals set for Fargo, N.D. State teams will be posted whenever a final roster has been submitted and confirmed with the state association.
In addition to the list of athletes (by age-group, style and weight), boys who are included in the most recent FloWrestling rankings, as well as girls who are included in the most recent National Girls High School rankings, will be identified.
Previous roster stories
July 6 - Kansas, Oregon, Rhode Island, South Carolina
July 1 - Idaho, Minnesota, Virginia
June 30 - California, Hawaii, Massachusetts, New Jersey, New Mexico
June 29 - Arizona, Florida, Illinois, Kentucky
June 28 - Georgia, Indiana, Iowa, North Carolina, Wisconsin
June 27 – Colorado, Nebraska, Ohio, South Dakota, Utah
June 26 - Alaska, Missouri, Pennsylvania
June 25 – Arkansas, Connecticut, Maine, Nevada, Washington
We add the following rosters today: Alabama, New York, Tennessee and Texas. Each of these teams have a number of top contenders in the tournament..
ALABAMA
Junior Boys freestyle
113 – Brodie Christmas, Aiden Morris, Cale Tucker, Caleb Wright
120 – Preston Jones, Jake Thompson
132 – William Anderson, Yanik Simon
138 – Cruz Rainwater, Thomas VonEschenbach
145 – David Baradell, Daishun Powe
160 – Collin Burroughs, Christion Griggs
170 – Oliver Howard
182 – William Conlon
195 – Kalob Johnstone, Kyle Oliveira
220 – Cole Carter, Colton Rainer
285 – Zack Chatman
Junior Greco-Roman
113 – Brodie Christmas, Aiden Morris, Caleb Wright
120 – Preston Jones, Jake Thompson
132 – William Anderson, Yanik Simon
138 – Cruz Rainwater, Thomas VonEschenbach
145 – David Baradell, Daishun Powe
160 – Collin Burroughs, Christion Griggs, Clay Johnston
170 – Oliver Howard
195 – Kalob Johnstone, Kyle Oliveira
220 – Cole Carter, Colton Rainer
285 – Zack Chatman
Junior Girls freestyle
117 – Elizabeth Rosenstiel, Emily Smith
122 – Emily Hill, Kalyse Hill
144 – Tristin Robinson
180 – Aniyah Griffin
200 – Mallory Ladd
16U Boys freestyle
94 – Jameson Thomas
100 – Justin Harbin, Brooks Morton
106 – Wyatt Chavez
120 – Bradley Hastings
126 – Carson Burroughs
132 – Colyn Finley
152 – Cody Kirk, Zach Reynolds
285 – Bardon King
16U Greco-Roman
94 – Jameson Thomas
100 – Justin Harbin, Brooks Morton
106 – Wyatt Chavez
120 – Bradley Hastings
126 – Carson Burroughs
132 – Colyn Finleyc
152 – Cody Kirk, Zach Reynolds
285 – Bardon King
16U Girls freestyle
122 – Evelyn Holmes-Smith
138 – Haley Pate
152 – Abigail Pendergrass
164 – Teegan Robinson
Nationally ranked girls
: Evelyn Holmes-Smith (No. 15 at 122)
NEW YORK
Junior Boys freestyle
126 – Caden Barrientos, Anthony Clem
132 – Joseph Clem
138 – David Ensminger
182 – Aaron Johnson
220 – Vaughan Johnson
Junior Greco-Roman
100 – Vincent Graulau
126 – Nikolas Massaro
138 – David Ensminger, Caleb Jolly
145 – Casper Stewart
152 – Kevin Regan
170 – Luke Schirmacher
182 – Aaron Johnson
195 –Tymothey Murrell
220 – Rocky Files, Yiorgos Georgas
285 – Landon Crandall
Junior Girls freestyle
112 – Makayla Matson
132 – Gabrielle Baker, Emily Frost
138 –Meghan Edwards, Stephanie Li, Talia Robles
144 – Kaitlyn Carrion, Paityn Delong, Gwyneth Edwards, Alessandra Elliot
152 – America Figueras, Lauren Garcia, Sky Lewit, Zoey Lints, Selina Moore, Adriana Palumbo
180 - Sophie Pollack
200 – Doris Baker, Alexis Durdon, Tiarra Guan
16U Boys freestyle
94 – Eric Bocanegra, Jr., William Clanton, Declan McKee
100 –Peter Filli, Peyton Hubbard, AJ LaBella, Anthony LaGala Ryan
106 – Dario Guglielmo, Cooper Merli
113 – Ryan Ferrara, Brody Franklin, Braiden Salter, Dunia Sibomana
120 – Firdavs Ahmadzoda
126 – Jayden Duncanson, Gabe English, Jacob Hanlon, Trey LeChase, Luke Satriano
132 – Liam English, Kimoni Giles, Samson McKissick Staley
138 – Zach Gerby, Leo Mongiello, Luke Nieto
145 – Garrett Chase, Mason Ketcham, Jason Kwaak, Griff LaPlante
152 – Logan Alfalla, Casey Liess
170 – Ryan Brown
182 – Alex Berisha, Elijah Diakomihalis, Aidan LeStrange, JC Starowitz
195 – Jayden Kiell
220 – Dalton Danza
285 – Kamdyn Dorchester, William Wortkoetter
16U Greco-Roman
132 – Bilali Assoumanou
138 – Logan Frank
170 – Ryan Brown, Ryan Presume
182 – Joshua Holliman-Pollonais
285 – Christopher Belmonte
16U Girls freestyle
100 – Aislin Kellner, Gabrielle Severin
106 – Marielys Lugo Fernandez, Teegan Sibble
112 – Maia De La Cruz, Haley Gonzales
117 – Reese Adams, RaeAnn Craft, Sophia Torian
122 – Maya Hoke, Isabella Satalino
127 – Nadia Hawrylchak, Kenna Rolston
132 – Mia Collins
138 – Rebecca Brennan, Zoe Griffith, Gabriella Schechtman
144 – Madison Westerberg
152 – Alexandra Lubczenko, Brynn Shepardson, Elizabeth Williamson
164 – Elle Hutton, Brooke-Lynn Murray
200 – Naomi Gonzalez, Isabella Lorenzana
Nationally ranked girls
: Emily Frost (No. 2 at 132), Sophie Pollack (No. 6 at 180), Madison Westerberg (No. 13 at 144), Zoe Griffith (No. 21 at 132), Alessandra Elliott (No. 22 at 132), Teegan Sibble (No. 25 at 106), Adriana Palumbo (No. 27 at 164)
TENNESSEE
Junior Boys freestyle
120 – Chase Creque, Carson Dupill, Brody Gobbell, Mason Jakob, Ethan Uhorchuk
126 – Hunter Heflin
132 – Cooper Hilton, Jarvis Little, Alex Ropski
138 – Noah Creque
145 – Mason Butler
152 – Jacob Barlow, Logan Fowler, Hunter Sturgill, Alex Velazquez
160 – Drake Bowers, Wills Bronson, Seth Lindsay, Malachi Moore
170 – Austyn Johnson, Charles McTorry III, Jake Stacey
195 – Nicolas Jenkins, Catcher Miller, Jensen Schreiber
220 – Robert Atwood, Luke Early
285 – Peter Savarino
Junior Greco-Roman
120 – Chase Creque, Carson Dupill, Mason Jakob
126 – Brody Gobbell, Hunter Heflin
132 – Cooper Hilton, Jarvis Little, Alex Ropski
138 – Noah Creque
145 – Mason Butler
152 – Jacob Barlow, Hunter Sturgill, Alex Velazquez
160 – Drake Bowers, Wills Bronson, Finley Jameson, Seth Lindsay, Malachi Moore
170 – Charles McTorry III, Jake Stacey
195 – Nicolas Jenkins, Catcher Miller, Jensen Schreiber
220 – Robert Atwood, Luke Early
285 – Peter Savarino
Junior Girls freestyle
100 – Shyanne Michalki, Grace Von Loh
106 – Jenna Baines
112 – Autumn Sunderland
122 – Morgan Sacharczyk
127 – Evelin Ochoa
164 – Isabella Harris
180 – Ella Murphey
200 – Diamond Young
16U Boys freestyle
88 – Hudson Chittum
94 – Jose Cordero
100 – Shamus Regan, Tanner Tran
113 – Aidan Lindsay, William Phillips, Joseph Uhorchuk, Chase Walker, Cash Waymire
120 – Caeden Nelson, Kyle Nielsen
132 – Wilson Jamison
138 – Zachery Little
152 – Findley Smout
160 – Cy Fowler, Maximus Norman
195 – Standford Thompson
220 – Tyson Russell
285 – Seaton Tallent
16U Greco-Roman
88 –Hudson Chittum
94 – Jose Cordero
100 – Shamus Regan, Tanner Tran
113 – Aidan Lindsay, William Phillips, Chase Walker, Cash Waymire
120 – Caeden Nelson
132 – Wilson Jamison
138 – Zachery Little
152 – Brodie Melzoni, Findley Smout
160 – Maximus Norman
195 – Standford Thompson
220 – Tyson Russell
16U Girls freestyle
106 – Senna Grassman
112 – Ellie Underwood
117 – LilyAnn Blair
122 – Madyson Jones
138 – Trinity Roberts
164 – Piper Fowler
180 – Ellysia Jennings, Irelynn Laurin
FloWrestling nationally ranked boys
: Cooper Hilton (No. 13 at 132), Joseph Uhorchuk (No. 18 at 113),
Nationally ranked girls
: Piper Fowler (No. 1 at 164), Ella Murphey (No. 14 at 180), Diamond Young (No. 27 at 200)  
TEXAS

Junior Boys freestyle
113 – Carson Ota, Kody Tanimoto
120 – Isaac Gibbs, Tristan Rios
126 – Caio Aron, Christopher Foster
132 – Ty Annoura, Gavin Garcia
138 – Joel Aguilar, Garrett McChesney
145 – Jake Moon
160 – Kaiden Antonacci, Efren Arizmendez, Rex Jacops, Jeremy Manibog
170 – Nicolas Lozano, Matteo Nikolov, Alec Robeson
182 – Isaac Zapata
195 – Karson Tompkins
220 – Iyanu Akingbolagun, Jarrett Stoner
285 – Jacob Henry, Wilbert Martin
Junior Greco-Roman
113 – Carson Ota, Kody Tanimoto
120 – Isaac Gibbs, Tristan Rios
126 – Caio Aron, Christopher Foster
132 – Ty Annoura, Gavin Garcia
138 – Joel Aguilar, Garrett McChesney
145 – Jake Moon
152 – Jimmy Benne
160 – Kaiden Antonacci, Efren Arizmendez, Rex Jacops, Jeremy Manibog
170 – Boede Gibson, Nicolas Lozano, Matteo Nikolov, Alec Robeson
182 – Isaac Zapata
195 – Karson Tompkins
220 – Iyanu Akingbolagun, Logan Latham, Jarrett Stoner
285 – Jacob Henry, Wilbert Martin
Junior Girls freestyle
100 – Alexa Rodriguez Lopez, Zurri Zamora
106 – Naima Rodriguez Boles
112 – Akeelah Moore, Riley Rayome
117 – Fernanda Lopez
122 – Olivia Moreno, Alyssa Ruiz, Mariah Smith
127 – Madison Canales, Sarah Conner, Emily Pedro
132 – Anna Vogt, London Woods
144 – Brijatte Garcia, Chloe Overgaag, Jalynn Patino
164 – Madeline Hodges, Camryn Strohman
16U Boys freestyle
100 – Dylan Ota, Jackson Shipley, Charlie Trujillo
113 – Maddox Preskitt
120 – Luca Rios, Aidan Rodriguez, Keagan Sieracki
126 – Jaden Montez, Zayn Navarrete
132 – Luke Burgar, Bryce Palmer, Dominic Wilson
138 – Logan Milsaps
145 – Brodie Bedford, Will Deutschlander
152 – Owen Vaught
160 – Jared Remington, Logan Soileau
170 – Thomas 'TC' Wills
195 – Joseph Brunson, Kane Rosario
220 – Grant Bahnsen, Cael Barber
16U Greco-Roman
100 – Dylan Ota, Jackson Shipley, Charlie Trujillo
113 – Maddox Preskitt
120 – Luca Rios, Aidan Rodriguez, Keagan Sieracki
126 – Jaden Montez, Zayn Navarrete
132 – Luke Burgar, Bryce Palmer, Dominic Wilson
138 – Logan Milsaps
145 – Brodie Bedford, Will Deutschlander
152 – Owen Vaught
160 – Jared Remington, Logan Soileau
170 – Thomas 'TC' Wills
195 – Joseph Brunson, Kane Rosario
220 – Grant Bahnsen, Cael Barber
16U Girls freestyle
94 – Abigail Mendoza
100 – Carly Rodriguez
117 – Maritza Martinez
122 – Kailin Sebert, Sandrine Tuttle
127 – Ava Milliner
132 – Jessica Cope
138 – Zoe Bennett, Jayda Fulp
144 – Taylin Silco
152 – Emily Perkins
180 – Juliana LeFort, Jaidin Perkowsky-Green
FloWrestling nationally ranked boys
: Caio Aron (No. 14 at 120), Karson Tompkins (No. 14 at 195)
Nationally ranked girls
: Fernanda Lopez (No. 7 at 112), Madison Canales (No. 10 at 127), Olivia Moreno (No. 15 at 122), Emily Pedro (No. 17 at 127), Anna Vogt (No. 19 at 132), Riley Rayome (No. 23 at 106), Alyssa Ruiz (No. 23 at 122)