News
USA Wrestling
High School & Youth
Women
USAW
Fargo Rosters: Kansas, Oregon, Rhode Island, South Carolina
by Gary Abbott and Savannah Asmann, USA Wrestling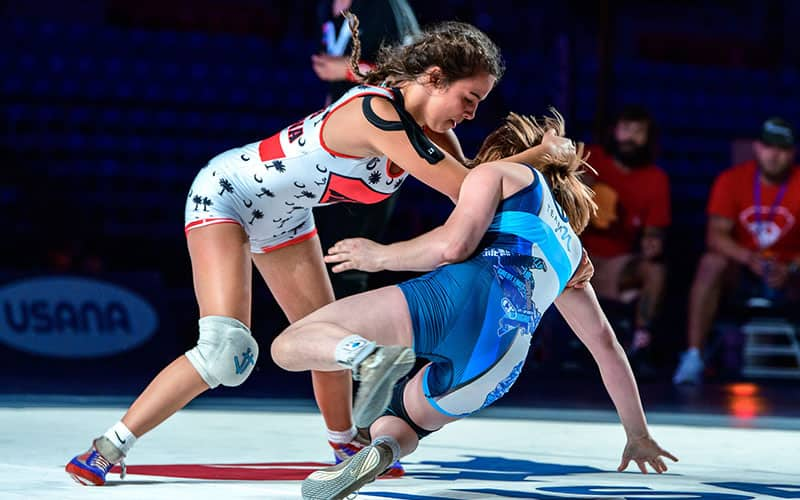 Zao Estrada (SC) hits a trip during the 2021 16U Nationals. Photo by Tony Rotundo, Wrestlers Are Warriors
.
Starting on June 25, USA Wrestling began publishing the state team rosters for the 2023
USMC Junior and 16U Nationals
set for Fargo, N.D. State teams will be posted whenever a final roster has been submitted and confirmed with the state association.
In addition to the list of athletes (by age-group, style and weight), boys who are included in the most recent FloWrestling rankings, as well as girls who are included in the most recent National Girls High School rankings, will be identified.
Previous roster stories
July 1 - Idaho, Minnesota, Virginia
June 30 - California, Hawaii, Massachusetts, New Jersey, New Mexico
June 29 - Arizona, Florida, Illinois, Kentucky
June 28 - Georgia, Indiana, Iowa, North Carolina, Wisconsin
June 27 – Colorado, Nebraska, Ohio, South Dakota, Utah
June 26 - Alaska, Missouri, Pennsylvania
June 25 – Arkansas, Connecticut, Maine, Nevada, Washington
After taking an Independence Day break, we resume by adding the following rosters today:
Kansas
,
Oregon
,
Rhode Island
and
South Carolina
. Kansas and Oregon have large roster sizes and their share of talented contenders. South Carolina and Rhode Island both have ranked girls and boys. South Carolina star Zao Estrada is competing in the Junior girls division, and also is entered against boys in the Junior Greco-Roman division.
KANSAS
Junior Boys freestyle
106 – Trenton Richwine, Ezekiel Witt
120 – Lucas Kaufman, Kaiden Powell, Seth Tumbleson
132 – Dillon Cooper, Damon Ingram
138 – Jameal Agnew, Hagen Blanck, Braeden Moore, Nikaylen Shabazz
145 – Trey Dillow, Logan Lagerman, Brady Mason, Koehn Wright
152 – Owen Eck, Braxton Frey, Camden Padgett, Xerarch Tungjaroenkul
160 – Braiden Frey
170 – Luke Hancock, Augustus Johns, Derek Johnson
182 – Cooper McCloy, Connor Padgett, Samuel Watkins
195 – Sean Carroll, Nathan Fury
220 – Pierce Cunningham, Torin Forsyth, Draven Pipkin
285 – Clayton Frehn, Jaxson Thomas
Junior Greco-Roman
106 – Trenton Richwine, Ezekiel Witt
120 – Lucas Kaufman, Kaiden Powell, Seth Tumbleson
132 – Dillon Cooper
138 – Jameal Agnew, Hagen Blanck, Braeden Moore, Nikaylen Shabazz
145 – Trey Dillow, Logan Lagerman, Brady Mason
152 – Owen Eck, Braxton Frey, Camden Padgett, Xerarch Tungjaroenkul
160 – Braiden Frey, Skyler Geer
170 – Luke Hancock, Augustus Johns, Derek Johnson
182 – Micah Cauthers, Cooper McCloy, Connor Padgett, Samuel Watkins
195 – Sean Carroll, Nathan Fury
220 – Pierce Cunningham, Torin Forsyth, Draven Pipkin, Bronx Wood
285 – Clayton Frehn
Junior Girls freestyle
100 – Jaidyn Alvarado
106 – Payton Burton, Molly Spader
112 – Alissa Cowing, Carrigan Dellinger, Ryleigh Page, Holly Thacher, Sarah Zimmerman
117 – Josiah Ortiz
122 – Leiannah Landreth
127 – Hanna Bailey, Jill High, Nicole Redmond, Addison Saporito
132 – Reese Clements, Amanda Jaeger, Isabella Keesee, Leighanna Patz, Caxton Smyth
138 – Lexi Burton, AshLynn Goodwin, Olivia Stean
144 – Kammie Schanz, Katelyn Schmidt, Jailynn Taylor
152 – Avari Johnson, Justice Thomas
164 – Alyssia Brown, Grace Johns
180 – Karla Martinez, Kara Pope
200 – Druzzla Johnson, Morgan Miller, Payton Sholander
225 – Hailey Conley
16U Boys freestyle
100 – Xzephren Donner, Jeredy Nilges
106 – Jayden Grijalva, Jeremy Welch
113 – Caeleb Hutchinson, Brock Johnson, Johnny Leck, Storm Rieck, Jaxson Scott
120 – Adam Bilby, Tristen Cox, Brogan Monty, Bryson Rockers
126 – Cameron Coonrod, Henry White
132 – Brody Latto, Kaden Markley, Spencer Mosier
138 – William Burchard, Julian Glover, Shane Todd
145 – Grayson Hagen, Abram Owings, Zach Thomas
152 – Tyren Emberson, Grant Herman, Lane Vogel
160 – Everett Joyce, Otto Lepley, Brady Martin, Nate Poss, Ender Rider
170 – Tad Forsyth, Leven Jones
182 – Ange Badji, Cooper Reves
195 – Joaquin Capra
285 – Milan Colvin, Brayden Hill, Duncan Pinkham, Jonathan Romo
16U Greco-Roman
100 – Xzephren Donner, Jeredy Nilges
106 – Jayden Grijalva, Jeremy Welch
113 – Caeleb Hutchinson, Brock Johnson, Johnny Leck, Storm Rieck, Jaxson Scott
120 – Adam Bilby, Tristen Cox, Brogan Monty, Bryson Rockers
126 – Cameron Coonrod, Henry White
132 – Brody Latto, Kaden Markley, Spencer Mosier
138 – William Burchard, Julian Glover, Shane Todd
145 – Grayson Hagen, Abram Owings, Zach Thomas
152 – Tyren Emberson, Grant Herman, Lane Vogel
160 – Everett Joyce, Otto Lepley, Brady Martin, Nate Poss, Ender Rider
170 – Tad Forsyth, Leven Jones
182 – Ange Badji, Cooper Reves
195 – Joaquin Capra
285 – Milan Colvin, Brayden Hill, Duncan Pinkham, Jonathan Romo
16U Girls freestyle
112 – Alexis Haeusler
117 – Connie Burns, Stella Segura
122 – Kaylan Hitchcock
127 – Brooklyn Burenheide
132 – Karoline Kendall, Koti Best
138 – Alexis Means
152 – Kaylen McAtee
164 – Brandie Brown, Kiley Dillow
180 – Sienna Martinez
FloWrestling nationally ranked boys
: Ezekiel Witt (No. 7 at 106)
Nationally ranked girls:
Druzzla Johnson (No. 9 at 200), Josiah Ortiz (No. 12 at 117), Leiannah Landreth (No. 13 at 117), Olivia Stean (No. 13 at 164), Sarah Zimmerman (No. 16 at 112), AshLynn Goodwin (No. 18 at 138), Nicole Redmond (No. 21 at 132), Grace Johns (No. 21 at 164), Kaylan Hitchcock (No. 23 at 122),
OREGON
Junior Boys freestyle
100 – Bobby Gulzow
113 – Garrett Head, Carson Jackson
120 – Isaac Hampton, Ashton Lewis, Gage Singleton
126 – Elijah Bayne, Dylan Clark, Colby Cook, Khtrell Preston-Kurney, Scout Santos, Kyle Sieminski
132 – Joseph Hutchins, Eric Larwin, Mateo Rockwell
138 – Ethan Flood, Zachary Keinonen, Jacob Sieminski
145 – Matix Cooklin, Riis Hinrichs
152 – Carson Alvarez, Henry Dillingham, Skyler Salzman, Michael Smith
160 – Trae Frederick
170 – DeMario Gonzales, Benjamin Rintoul, Demarcus Scott
182 – Caleb Dalke, Abe Dejesus, Justin Rademacher, Ronan Schmidt, Lane Shaffer, Logan Sunnell
195 – Preston Echeverria, Seth Gallego, Ryan Gaskin, Jaxson Gribskov
220 – Dayne Muller, Amin Qouchbane
285 – Aj Wedge
Junior Greco-Roman
100 – Bobby Gulzo
113 – Garrett Head, Carson Jackson
120 – Isaac Hampton, Ashton Lewis, Gage Singleton
126 – Elijah Bayne, Dylan Clark, Colby Cook, Khtrell Preston-Kurney, Scout Santos, Kyle Sieminski
132 – Joseph Hutchins, Eric Larwin, Mateo Rockwell
138 – Ethan Flood, Zachary Keinonen, Jacob Sieminski
145 – Matix Cooklin, Riis Hinrichs
152 – Carson Alvarez, Henry Dillingham, Skyler Salzman, Michael Smith
160 – Trae Frederick
170 – DeMario Gonzales, Benjamin Rintoul, Demarcus Scott
182 – Caleb Dalke, Abe Dejesus, Justin Rademacher, Lane Shaffer, Logan Sunnell
195 – Preston Echeverria, Ryan Gaskin, Jaxson Gribskov
220 – Seth Gallego, Dayne Muller, Amin Qouchbane
285 – Aj Wedge
Junior Girls freestyle
100 – Elyssa Diego, Janessa Sitowski, Rubie Winterburn
106 – Eilyahna Asher, Nina De Leon, Dezire Solis
112 – Macali Lade, Katelynn Leonard, Ilse Sanchez
117 – Isabella Karsseboom, Gracianna Strickland, Destiny Weaver
122 – Natalie De Leon
127 – Delia Gulzow, Summer McKeen, Marilyn Mentado-Hernandez
132 – Nelly Lozano
138 – Hannah Hernandez, Maya Kruger, Jazlin Tavares
144 – Elena Flores, Isabella Prinslow
152 – Maxine Burton, Mia Chacon, Isabella Jaime, Laura Meyers
164 – Jasmine Brown, Hannah Henderson, Alixia Hernandez, Isabel Herring
180 – Lalaine Chan, Summer Schellinger
200 – Reagan Alvernaz
225 – Breanna Meek, Stephanie Romero
16U Boys freestyle
100 – Drew Dawson, Hezekiah Worthington
106 – Carter Dawson, Vaughn Graff, Aiden Nelmes, Isaiah Snyder
113 – Dillan Davis, Jorge De La Rosa, Kingston Meadors
120 – Nico Farinola, Albert Flores, Trayton Forbes, Colton Hankey, Aidan Larson
126 – Tytus Hardee, Jacoby Jones, Gavin Rangel, Ryder Sprague
132 – Jaxon Harada, Sully Hill, Ryland Walters, Thomas Wippel, Matthew Young
138 – Colton Annis, Thomas Belding, Gannon McNulty, Sean Regas
145 – Maclain Culp, Jaden Ellis, Jaret Hickey, Titus Rodela
152 – Jaxson Godley, Ethan Holstein, Owen Hull, Gavin Pogue, Mason Stucky
160 – Brody Buzzard, Tais Hull
170 – Bridger Foss, Leif Larwin, Aryan Wright
182 – Brandon Cook, Travis Ege, Isaiah Parsons, Isaac Reynoso
195 – Luke Havniear, Lusiano Lopez, Camden Roofener
220 – Isandre De La Torre, Reagan Gowen, Hunter Langham, Luke Turenhout
285 – Arik Brecht Crabtree, Dominic Echeverria, David Finch, Noah Minor, CJ Orchard
16U Greco-Roman
100 – Drew Dawson, Hezekiah Worthington
106 – Carter Dawson, Vaughn Graff, Aiden Nelmes, Isaiah Parsons, Isaiah Snyder
113 – Dillan Davis, Jorge De La Rosa, Kingston Meadors
120 – Nico Farinola, Albert Flores, Trayton Forbes, Colton Hankey, Aidan Larson
126 – Tytus Hardee, Jacoby Jones, Gavin Rangel, Ryder Sprague
132 – Jaxon Harada, Sully Hill, Ryland Walters, Thomas Wippel, Matthew Young
138 – Thomas Belding, Gannon McNulty, Sean Regas
145 – Maclain Culp, Jaden Ellis, Jaret Hickey, Titus Rodela
152 – Jaxon Godley, Ethan Holstein, Owen Hull, Gavin Pogue, Mason Stucky
160 – Brody Buzzard, Travis Hull
170 – Bridger Foss, Leif Larwin, Aryan Wright
182 – Brandon Cook, Travis Ege, Isaac Reynoso
195 – Luke Havniear, Lusiano Lopez, Camden Roofener
220 – Isandre De La Torre, Reagan Gowen, Hunter Langham, Luke Turenhout
285 – Arik Brecht Crabtree, Dominic Echeverria, David Finch, Noah Minor, CJ Orchard
16U Girls freestyle
94 – Chaya Palomo
100 – Liliana Ponce, Maria Siquina Can, Kierstyn Azure
106 – Skyler Hall
117 – Alexis Penney, Vielka Zuniga
122 – Layla Morris
127 – Emma Lee, Sadie Hall, Abby Richard, Arianna Flores, Renae Cook, Kiera Deleon, Bailey Chafin
132 – JaydaRae Nance, Natalia Flores, Kaydence Johnson
138 – Lexie Newman, Danica Kirkwood, Rubi Marroquin, Kennedy Blanton
144 – Chantell Noffsinger, Hailey Holgate
152 – Rowan Hampton, Megan Haase, Kassandra Barber
164 – Leilarose Calva, Leticia Martinez
180 – McKenzie Mills, Ylyana Sandoval
200 – Mariana Velasquez
FloWrestling nationally ranked boys
: Justin Rademacher (No. 10 at 182)
Nationally ranked girls
: Bailey Chafin (No. 13 at 127),
RHODE ISLAND
Junior Boys freestyle
120 – Maximillian Connell
132 – Ben White
138 – Sebastian Armstrong, Matthew Dimen
145 – Gabriel Bouyssou
152 – Aziz Mian
160 – Ryan Currier
170 – Isael Perez
Junior Greco-Roman
120 – Maximillian Connell
132 – Ben White
138 – Sebastian Armstrong, Matthew Dimen
145 – Gabriel Bouyssou
152 – Aziz Mian
160 – Ryan Currier
182 – Isael Perez
Junior Girls freestyle
117 – Norah Swaim
138 – Kryssceah Ravenelle
164 – Maura Pendergast
16U Boys freestyle
106 – Robby Newton
113 – Denzel Monterio
126 – Aidan Baker, David Perez
145 – Jayden Soy
182 – Preston Marchesseault
16U Greco-Roman
106 – Robby Newton
120 – Denzel Monterio
126 – Aidan Baker
132 – David Perez
145 – Jayden Soy
182 – Preston Marchesseault
FloWrestling nationally ranked boys
: Gabriel Bouyssou (No. 14 at 138)
Nationally ranked girls:
Cece Ravanelle (No. 11 at 132)
SOUTH CAROLINA
Junior Boys freestyle
100 - William Jakeway
120 - Corey Dye, Jermaine Peace, Teague Strobel
138 - Luke Martin, Joseph Morris
145 - Yannis Charles
152 - Gavin Wilson
170 - Mason Parsons
182 - Oscar Dircio, Riley Hucks
195 - Toler Hornick
285 - Brad Denmark, Rylan Madison
Junior Greco-Roman
100 - William Jakeway
113 - Zao Estrada
120 - Corey Dye, Jermaine Peace, Teague Strobel
138 - Joseph Morris
145 - Yannis Charles
152 - Gavin Wilson
170 - Mason Parsons
182 - Oscar Dircio, Riley Hucks
195 - Toler Hornick
285 - Brad Denmark, Rylan Madison
Junior Girls freestyle
112 - Zao Estrada
127 - Kalliscya Gardner
138 - Caroline Gilstrap, Tykala Pruitt
180 - Emily Riopel
16U Boys freestyle
113 - AJ DeLaCruz, Morrison Murphy, Jackson Stocker, Sy Strobel
120 - Richard Springs
126 - Darren Haney, Houston Rudisill
152 - William Tripp
182 - Malachi Bynum, Cason Howle
16U Greco-Roman
94 - Gunner Mease
113 - AJ DeLaCruz, Morrison Murphy, Jackson Stocker
120 - Richard Springs
126 - Darren Haney, Houston Rudisill
152 - William Tripp
182 - Malachi Bynum, Cason Howle
16U Girls freestyle
100 - Rachel Hayes
112 - Vivian Urriola
122 - Cruz Costilla
FloWrestling nationally ranked boys
: JJ Peace (No. 12 at 113)
Nationally ranked girls:
Zao Estrada (No. 2 at 112, No. 23 P4P) , Caroline Gilstrap (No. 30 at 138)