News
USA Wrestling
High School & Youth
Women
USAW
Fargo Rosters: California, Hawaii, Massachusetts, New Jersey, New Mexico
by Gary Abbott and Savannah Asmann, USA Wrestling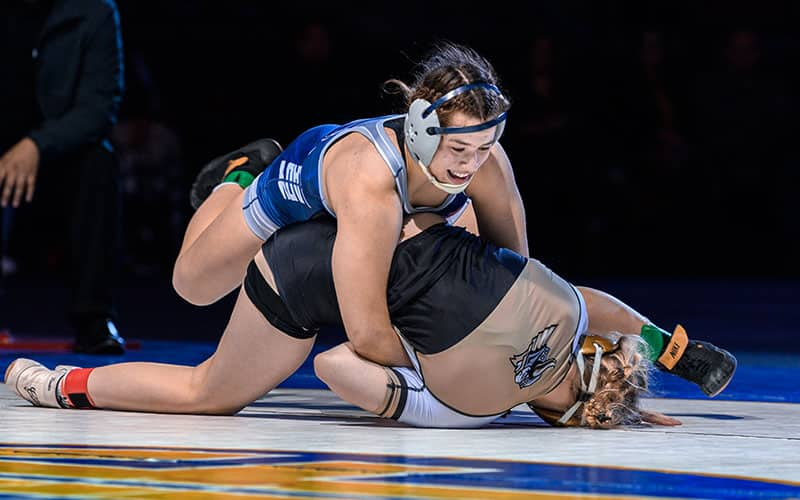 Eduarda Rodrigues of California, is a top star on California's loaded Junior women's team in Fargo. Photo by Tony Rotundo, Wrestlers Are Warriors.
Starting on June 25, USA Wrestling began publishing the state team rosters for the 2023
USMC Junior and 16U Nationals
set for Fargo, N.D. State teams will be posted whenever a final roster has been submitted and confirmed with the state association.
In addition to the list of athletes (by age-group, style and weight), boys who are included in the most recent FloWrestling rankings, as well as girls who are included in the most recent National Girls High School rankings, will be identified.
Previous roster stories
June 29 - Arizona, Florida, Illinois, Kentucky
June 28 - Georgia, Indiana, Iowa, North Carolina, Wisconsin
June 27 – Colorado, Nebraska, Ohio, South Dakota, Utah
June 26 - Alaska, Missouri, Pennsylvania
June 25 – Arkansas, Connecticut, Maine, Nevada, Washington
We add the following rosters today: California, Hawaii, Massachusetts, New Jersey and New Mexico. California has one of the largest roster states, and is a perennial power in girls wrestling, and highly competitive on the boys side in both disciplines. New Jersey has traditionally challenged for team titles in freestyle, and has strong individuals in all styles. Hawaii, Massachusetts and New Mexico have some tough individuals to watch.
CALIFORNIA
.
Junior Boys freestyle
100 - Elias Briones, Cade Johnston , Garen Keshishian, Alex Salas
106 - Benjamin Cervantes, Ryan Garcia, Elijah Poe, Aiden Salas
113 - Anthony Ayon, Tanner Bartonico, Devin Bobzien, Abram Cline, Zack Hoover, Robert Jones
120 – Carlo Arreola, Isaiah Cortez, Yousef Jubrail, Manuel Martir, Moses Mendoza, Edwin Sierra
126 - Hayden Tyler Ancheta, Elijah Cortez, Jose Limones, Mateo Ochoa, Tanner Stone, Billy Townson
132 - Christian Herrera, Nicholas Brandon Jimenez, Bryce Luna, Leo Macias, Elias Navida, Jacob Perez, Giancarlo Plaza
138 - Qusai Ashraf Marini, Gavin Bauder, Jagger French, Draven Lukata, Moses Mirabal, Jayson Suetos, Daniel Zepeda
145 - Casey Jackson, Paul Kelly, Sonny Lora-torres, Matthew Luna, Braden Priest, Thomas Thongseng, Ryder Yoshitake
152 - Nathaniel Carrillo, Grigor Cholakyan, EJ Parco, Laird Root, Anthony Vargas, Jayson Victoria
160 - Antonio Aramburu, Daniel Bomberger, Christian Diaz, Gavin Fernandez, Collin Guffey, Carson Howell
170 - David Alonso, Ryan Clink, Ryder Dearborn, Jake Honey, Erik McCown, Khale McDonnell, Arjun Nagra, Juan Carlos Puga
182 - Grant Anderson, Levi Bussey, Diego Costa, Keagen Kroeger, Angelo Posada, Thomas Sandoval
195 - Ben Bomberger, Daniel Gurovich, Dylan Kiel, Ryland Whitworth
220 - Quentin Artis, Adam Farha, Jose Guerrero, Makoa McCreadie, Coby Merrill, Robert Platt Jr., Andre Saravia, Jayden Tadeo-Gosal, Michael Turk
285 - David Faatoalia, Declan Follette, Cody Merrill, Dib Sawaya
Junior Greco-Roman
100 - Elias Briones, Cade Johnston , Alex Salas
106 - Ryan Garcia, Aiden Salas
113 - Anthony Ayon, Tanner Bartonico, Devin Bobzien, Robert Jones
120 - Manuel Martir, Moses Mendoza, Edwin Sierra
126 - Hayden Tyler Ancheta, Isaiah Cortez, Jose Limones, Mateo Ochoa, Tanner Stone, Billy Townson
132 - Elijah Cortez, Elias Navida, Jacob Perez, Giancarlo Plaza
138 - Qusai Ashraf Marini, Moses Mirabal, Jayson Suetos, Daniel Zepeda
145 - Paul Kelly, Sonny Lora-torres, Braden Priest, Ryder Yoshitake
152 - Nathaniel Carrillo, EJ Parco, Laird Root
160 - Daniel Bomberger, Christian Diaz, Gavin Fernandez, Collin Guffey
170 - Ryan Clink, Ryder Dearborn, Carson Howell, Erik McCown, Arjun Nagra, Juan Carlos Puga
182 - Levi Bussey, Keagen Kroeger, Angelo Posada, Thomas Sandoval
195 - Ben Bomberger, Daniel Gurovich, Dylan Kiel, Ryland Whitworth
220 - Quentin Artis, Angel Cervantes, Adam Farha, Jose Guerrero, Makoa McCreadie, Coby Merrill, Andre Saravia, Jayden Tadeo-Gosal, Michael Turk
285 - David Faatoalia, Declan Follette, Cody Merrill, Dib Sawaya
Junior Girls freestyle
100 - Abigail Alvarado, Celia Esquivel, Megan Valdez
106 - Xiomara Gallego, Madison Heinzer, Kylia Mease, Lauren Nguyen, Isabel Valenzuela
112 - Taryn Evans, Diana Gonzalez, Birta McCaskill, Jasmine Ortega, Avy Perez, Beraly Rodas, Devin Silva, Abigail Trujillo, Shayna Ward
117 - Kameelah Hameed, Eden Hernandez
122 - Melina Lopez, Breanna Packheiser, Mary Jane Porter, Chloe Solla, Alejandra Valdiviezo, Myia Weiler
127 - Kaydence Boyd, Kayla Edwards, Mackenzie English, Alyssa Jones, Alondra Juarez, Mikayla Marquez , Adriana Rebar
132 - Addison Ellis, Sophia Hejnal, Makynna Loepp, Zitlali Sarmiento
138 - Nevaeh Avina-Barajas, Gianna DiBenedetto, Sophia Gomez, Raeanna Halvorson, Kyli Stanley, Maci Stemmons
144 - Hannah Mae Catungal, Berlyn Davis, Hana Duus, Kaiulani Garcia, Skyler Gassel, Joselin Hernandez, Ariana Mercado, Kaylin Montano
152 - Angellina Caro, Alexandra Castro, Andrea Mateo, Eduarda Rodrigues
164 - Jailyn Camacho, Steffany Castro, Mikayla Lancaster, Cynthia Rosales-Perez
180 - Kathryn Hingano
200 - Skyler Bruno
225 - Fernanda Canedo, Alysse Phillips, Gemma Templeman
16U Boys freestyle
88 – Eli Mendoza
94 – Jacob Deguzman, Connor Griffin, Gavin Pongsai
100 – Jayren Chan, Emilio Escobar, Cameron Jackson
106 – Gabriel Dela Rosa, Landon Salindong
113 – Eli Almarinez, Dominic Bozanic, Aaron Klein, Dylan V Nguyen, Ricardo Ortiz, Siraj Sidhu, Sean Willcox
120 – Daniel Benavides, Jayden Dela Rosa, Slater Hicks, Michael Romero, Tas Storer, Nicolas Trujillo, Arno Vardanyan
126 – Aiden Chur, Jesse Grajeda, Leo Maestas, Caleb McElroy, Kekoa Ogawa, Matthew Orbeta, Caleb Rivas, Carlos Valdiviezo, Nikade Zinkin
132 – Daniel Axtle Jr., Isaias Carranza, Jeff Lopez, Joshua Requena, Evan Velez
138 – Jacob Bell, Mario Carini, Sergio Gomez, Ames-Michael Hoevker, Isaac Judson, Jack Malinconico, Tyler Salas
145 – Layronz Fraser, Tigran Greyan, Richard Halvorson, Ryan Rios, Slava Shahbazyan
152 – Fabius Carrillo, Adrian De Leon, Kaleo Garcia, Nicholas Hernandez, Bailey Holman, Gunnar Neal
160 – Christian Acosta, Oren Frieson, Brian Haran
170 – Dominic Dotson, Jackson Naven, Lucas Owczarczak, Adrien Reyes, Brady Wight
182 – Junior Bumanglag, Darius De Asis, Ashton Lassig, Rolando Lira, Dylan Natceli, Colton Schaad
195 – Adam Avila, David Calkins, Enrique Segura
220 – Asa Goff, Fabian Martinez, Akeem Newsom, Jacob Ruacho
285 – Justice El-Sayad, Ryan George, Oliver Uniza, Hung Vo
16U Greco-Roman
88 – Eli Mendoza
94 – Jacob Deguzman, Connor Griffin, Gavin Pongsai
100 – Ethan Busby, Jayren Chan, Mason Deguzman, Emilio Escobar, Cameron Jackson, Alex Salas
106 – Gabriel Dela Rosa, Landon Salindong
113 – Eli Almarinez, Dominic Bozanic, Aaron Klein, Dylan V Nguyen, Ricardo Ortiz, Siraj Sidhu, Sean Willcox
120 – Daniel Benavides, Jayden Dela Rosa, William Gilmore, Michael Romero, Tas Storer, Nicolas Trujillo, Arno Vardanyan
126 – Aiden Chur, Zaydrein Hernandez, Leo Maestas, Kekoa Ogawa, Matthew Orbeta, Wyatt Sandoval, Carlos Valdiviezo, Nikade Zinkin
132 – Daniel Axtle Jr., Isaias Carranza, Sergio Gomez, Joshua Requena
138 – Mario Carini, Ames-Michael Hoevker, Jack Malinconico, Tyler Salas
145 – Layronz Fraser, Tigran Greyan, Richard Halvorson, Isaac Padilla, Slava Shahbazyan
152 – Fabius Carrillo, Adrian De Leon, Kaleo Garcia, Nicholas Hernandez, Bailey Holman, Gunnar Neal
160 – Oren Frieson, Brian Haran, Ashton Lassig
170 – Dominic Dotson, Jackson Naven, Lucas Owczarczak, Brady Wight
182 – Junior Bumanglag, Darius De Asis, Rolando Lira, Dylan Natceli, Carter Vannest
195 – Adam Avila, David Calkins, Enrique Segura
220 – Asa Goff, Jacob Ruacho
285 – Justice El-Sayad, Ryan George, Hung Vo
16U Girls freestyle
94 – Nayele Castro, Mia Navarro, Ann Porter, Lyla Stafford
100 – Ava Fodera, Dalylah Mora, Navjot Waraich
106 – Leah Lopez, Kaiya Maggini, Yocelyn Sandoval, Savannah Talmadge, Jazmine Turner
112 – Abbi Cooper, Ajalynn Jimenez, Stevie Joyce Martin, Cheyenne Sandoval
117 – Lauren Aguilar, Rianna Bernal, Isabel Garcia, Isabella Marie Gonzales
122 – Isabel Navarro, Samantha Rivera, Lauren Zaragoza
127 – Ruby Dominguez, Ava Ebrahimi, Victoria Espinoza, Mia Hooper, Mekala James, Gwendolyn Jewell, Samantha Sachs
132 – Tammy Grace, Tuongvi Le
138 – Olivia Davis, Aila Duus, Delarie Juarez, Alex Maday
144 – Lucia Ledezma, Yanni Sanchez
152 – Rosalynn Diaz, Natalin Hout, Gurneet Sanghera, Audrey Segura
164 – Camilla Granado, Angelina Jiang
180 – Katianna Martinez, Mikayla-June Mendoza, Alexandria Perez, Olivia Ruacho
200 – Natalia Cervantes
FloWrestling nationally ranked boys
: Cody Merrill (No. 20 P4P), Isaiah Cortez (No. 1 at 120), Daniel Zepeda (No. 10 at 138), Elijah Cortez (No. 11 at 126), Laird Root (No. 11 at 152), Ethan Parco (No. 15 at 145), Grigor Cholakyan (No. 16 at 145), Collin Guffey (No. 16 at 160), Edwin Sierra (No. 17 at 120), Siraj Sidhu (No. 20 at 106), Paul Kelly (No. 20 at 138)
Nationally ranked girls
: Isabella Marie Gonzales (No. 3 at 117), Eduarda Rodrigues (No. 3 at 152), Alysse Phillips (No. 5 at 225), Diana Gonzalez (No. 8 at 106), Samantha Sachs (No. 9 at 122), Alejandra Valdiviezo (No. 11 at 122), Gianna DiBenedetto (No. 19 at 138), Mikayla Lancaster (No. 21 at 152), Kaiulani Garcia (No. 23 at 152), Avy Perez (No. 28 at 106), Kathryn Hingano (No. 29 at 180),
HAWAII
Junior Boys freestyle
106 – Styles Camp-Madijanon
120 – Yuki Uchishiba
138 – Joseph Lathwood, Mayhem Woolsey
145 – Kaihikapukalaimoku Cobb-Adams
152 – Boyd Durand, Justyce Dale Mercado
170 – Raphael Dela Cruz III, Kai Simmons
Junior Greco-Roman
106 – Styles Camp-Madijanon
120 – Yuki Uchishiba
138 – Joseph Lathwood, Mayhem Woolsey
145 – Kaihikapukalaimoku Cobb-Adams
152 – Justyce Dale Mercado
170 – Raphael Dela Cruz III, Kai Simmons
Junior Girls freestyle
100- Tristan Nitta
112 – Jaylisha Deveraturda
132 – Aubrie Molina
144 – Kaui Lee-Tynan, Jahlia Miguel, Skyelynn Ripley
200 – Maia Esera
16U Boys freestyle
100 – Troy Almeida
113 – Rev Baptista
126 – Isaiah Torres
138 – Mikah Labuanan
16U Greco-Roman
100 – Troy Almeida
113 – Rev Baptista
126 – Isaiah Torres
138 – Mikah Labuanan
16U Girls freestyle
122 – Taimane Benemerito
132 – Eloise Woolsey
144 – Jahlia Miguel
Nationally ranked girls
: Maia Esera (No. 13 at 225), Jahlia Miguel (No. 27 at 144)
MASSACHUSSETS
Junior Boys freestyle
113 – Dominic Gangi
120 – Elias Hajali, Musa Tamaradze
126 – Miles Darling
132 – Matthew Botello, Noah Daily, Jonah Paulino
145 – Michael Harrington, Aydin Hodjat, Ilya Shlemanov
152 – Aidin Bina, Jayden Dambrosio, Tyler Fromm, Hunter Gormally
160 – Brent Nicolosi, Reese Spiro
170 – Rafael Knapp
182 – Haden Bottiglieri, Matt Walsh
195 – Mark Ayala
220 – Dylan Greenstein
Junior Greco-Roman
120 – Musa Tamaradze
126 – Miles Darling
145 – Michael Harrington, Aydin Hodjat, Ilya Shlemanov
152 – Aidin Bina, Jayden Dambrosio, Tyler Fromm, Hunter Gormally
160 – Reese Spiro
170 – Rafael Knapp
Junior Girls freestyle
117 – Angelina Berry
122 – Abigail Alicandro, Jaclyn Dehney, Madeline Li
127 – Gianna Daniele
132 – Emily Angelo
138 – Shelby Galex, Nora Quitt
144 – Ashley Dehney, Daniella Nugent, Tayla Tildsley
164 – Lindsay Laws
200 – Zoe Waters
16U Boys freestyle
106 – Julian Rios
113 – Isaac Novod
120 – Jaxon Perkins
126 – Kai Ly, Ryan Meier
132 – Aidan Baum, James Lally, Lincoln Stiles
138 – Nicholas Varvak
145 – Nate Consigli
152 – Declan Bligh
195 – Elijah Josey, Adam Loebl
220 – Matthew Harrold
16U Greco-Roman
120 – Jaxon Perkins
126 – Kai Ly
132 – James Lally, Lincoln Stiles
152 – Declan Bligh
195 – Elijah Josey, Adam Loebl
16U Girls freestyle
94 – Samantha Bertini
100 – Olivia Polansky
112 – Liz Donovan
117 – Sara McLaughlin
127 – Corynne McNulty
164 – Emma Leonido
Nationally ranked girls
: Daniella Nugent (No. 22 at 144), Sara McLaughlin (No. 29 at 112)
NEW JERSEY
Junior Boys freestyle
100 - Ryan Haynes, Hunter Mullarkey
106 - Alex Esposito
113 - Beniamino DiCocco, Tyler Thomas
120 - Leo DeLuca, Vincent Paino, Anthony Rossi, Devin Ryan
126 - Jaydin Barreto, Mikey Bautista, Adrian DeJesus, Max Elton, Jacob Taylor
132 - William Dekraker, Trey Friedman, Matthew Lopes, Patrick O'Keefe, Sebastian Ortega, Chase Quenault, Giovanni Scafidi
138 - Donny Almeyda, Noah Kochman, Nicholas Villani, Jackson Young, Jake Zaltsman
145 - Jackson Bush, Robert Connelley, August Hibler, Cross Wasilewski, Mikey Williams
152 - Matthew Gauthier, Gavin Hawk, Logan Rozynski, Jake Wacha
160 - Nicholas Campagna, Austin Craft, Frank DiBella, William Henckel, John Saraiva
170 - Ryan Burton, Jordan Chapman, Ian Flanagan, Max Nevlin, Jasiah Queen, Jacob Zearfoss
182 - Max Borton, George Rhodes, Alexander Uryniak, Kaleb Wright
195 - Justin Griffith, JP Hangey, Nazareth Pina
220 - Aidan Schlett, Hudson Skove, Rocco Dellagatta, John Vinciguerra
Junior Greco-Roman
113 - Tyler Thomas
126 - Jaydin Barreto, Adrian DeJesus, Angelo Di Pol
132 - William Dekraker, Jimmie Jones III, Giovanni Scafidi, Evan Thompson
138 - Noah Kochman, Matthew Roche
145 - Jackson Bush, August Hibler
152 - Matthew Gauthier
160 - Austin Craft, John Quinonez
170 - Jasiah Queen, Jacob Zearfoss
182 - Bailey Cuomo, Aidan Squier
285 - John Vinciguerra
Junior Girls freestyle
100 - Mandy Gavares
106 - Leeana Mercado
117 - Jackeline Ramos, Ava Rose, Annemarie Thompson, Julianna Van Ness
122 - Caitlin O'Reilly, Kira Pipkins, Rebecca Royer
132 - Kayla Vazquez
138 - Julia Fongaro, Paisley Fox, Alexandria Graffius, Layla Soto, Maura White
152 - Samira Kupa, Atiyana Williams
164 - Hillary Jones
16U Boys freestyle
88 - Edward George
94 - Julian Zargo, Chase Dubuque
100 - Cameron Sontz, Jordan Segal, PJ Terranova, David DeFilippis
106 - Killian Coluccio, Michael Daly, Eddie Hufnagel, Michael Batista
113 - Lazarus Joyce, Dominic Lucian, Raffaele Fonte
120 - Brian Little, III, Ryan DeGeorge, Dalton Weber, Myles Burroughs, Gage Summers, Bobby Duffy, Rivers Addison
126 - Gino Schinina, Jaden Perez, Seach Hibler
132 - Sammy Spaulding, Jayden James, Eric Swanson, Nate Keller
138 - Jackson Weller, Luke Scholz, Gabriel Logan, Joseph Schinder, Jimmy Jakub, Abraham Zaretsky
145 - Trevor Jones, Aidan Cross, Luke Geleta, AJ Falcone
152 - Michael Craft, Eoghan O'Hara, Joey Canova, Brendan Boyer, Cole Stangle
160 - Brandon Dean, Tanner Hodgins, Koray Kage Jones, Barry Norman Jr, Carl J Betz III
170 - Joseph Ruiz, Frank Romeo III
182 - Salvatore Marchese, Guy Oelsner, Cael Mielnik
195 - David Thomson
220 - Nathan Faxon, Mateo Vinciguerra
16U Greco-Roman
100 - David DeFilippis, Cameron Sontz
106 - Eddie Hufnagel
113 - Dominic Lucian
120 - Myles Burroughs
126 - Seach Hibler, Jaden Perez
132 - Jake Gujski
138 - Gabriel Logan
152 - Michael Craft, Daniel A Skinner
160 - Brandon Dean, Koray Kage Jones
182 - Guy Oelsner
220 - Mateo Vinciguerra
16U Girls freestyle
94 - Emma Acampora
106 - Princessstorm Woody, Charlie Wylie
112 - Paige Weiss
117 - Savannah Arroyo
122 - Reagan Roxas
127 - Taina McGowan, Jada Pichardo
132 - Eva Altamirano
138 - Sonia Balwas, Ella Poalillo
144 - Thea Rowland
FloWrestling nationally ranked boys
: William Henckel (No. 2 at 160), Leo DeLuca (No. 3 at 120), George Rhodes (No. 9 at 182),Matty Lopes (No. 15 at 138), Jasia Queen (No. 17 at 160)
Nationally ranked girls
: Taina McGowan (No. 8 at 127), Ava Rose (No. 11 at 112), Charlie Wylie (No. 12 at 100), Kira Pipkins (No. 21 at 127), Leena Mercado (No. 23 at 100)
NEW MEXICO
Junior Boys freestyle
106 – Gunner Samora, Damian Trujillo
113 – Isaiah Flores
120 – Anthony Lopez, Hunter Samora
126 – Adan Benavidez, Ryan Clement, Anastacio Martinez
132 – Jonathan Pacheco
152 – Joe Coon, Tatum Garcia, Landon Sandoval
160 – Hayden Goodluck
170 – Jackson Blair
285 – Tyler Finey
Junior Greco-Roman
106 – Gunner Samora, Damian Trujillo
113 – Isaiah Flores
120 – Hunter Samora
126 – Ryan Clement, Anastacio Martinez
132 – Jonathan Pacheco
152 – Joe Coon
160 – Hayden Goodluck
170 – Jackson Blair
285 – Tyler Finey
Junior Girls freestyle
112 – Lorianna Piestewa
144 – Makayla Munoz
152 – Breanna Samora
164 – Chelsea Rivera
16U Boys freestyle
113 – Roman Luttrell
126 – Hagan Crockett, Valentine Popadiuc
138 – Lorenzo Gallegos
160 – Cash Bachicha
182 – Amiri Mumba
16U Greco-Roman
113 – Roman Luttrell
126 – Valentine Popadiuc, Hagan Crockett
160 – Cash Bachicha
182 – Amiri Mumba
16U Girls freestyle
112 – Ariana Martinez
127 – Ashley Smith
144 – Jade Blackhart
Nationally ranked girls
: Lorianna Piestewa (No.4 at 112), Makayla Munoz (No. 17 at 144)