News
USA Wrestling
Women
Beach
High School & Youth
USAW
Beach Wrestling events grow in year two held alongside USMC Junior/16U Nationals on "Fargo Beach"
by Gary Abbott, USA Wrestling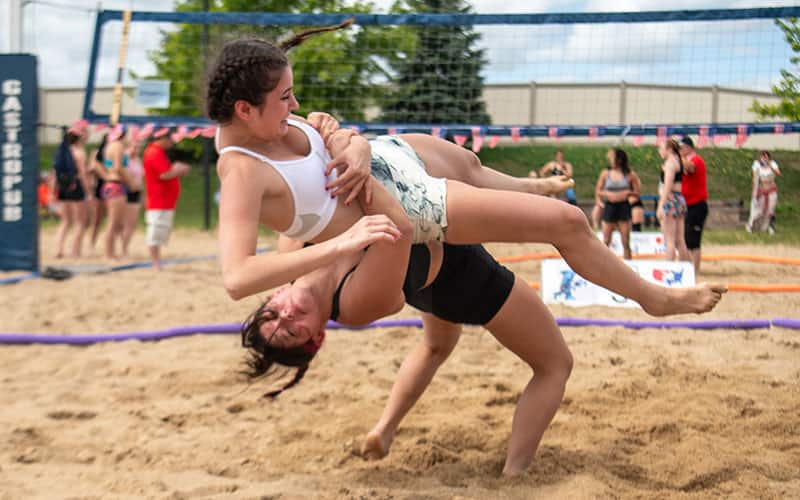 Action from the women's tournament of the 2023 Fargo Summer Showcase and Junior/16U Beach Nationals. Photo by Robbert Wijtman.
The old saying goes that there is 'no such thing as a bad day at the beach."
Such was the case in Fargo, N.D. this year, as over 7,000 wrestlers showed up to compete at the 2023 USMC Junior/16U Nationals Championships, and an increasing number of them tried out
Beach Wrestling
as part of their week.
Three days of Beach wrestling was held at what organizers called "Fargo Beach," which is actually the sand volleyball courts at
Gastropub Volleyball
in suburban Fargo. The
2023 Fargo Summer Showcase and Junior/16U Beach Nationals
had three days of competition, with youth and adult wrestlers on Friday, July 14, Junior and 16U women on Sunday, July 16 and Junior and 16U men on Thursday, July 20.
Ed Duncan
, who spearheads the Beach Tour of America, and long-time wrestling event promoter and innovator
Frank Lipoli,
teamed with pairing official Kelli Shuffler and others to organize and conduct the Beach Wrestling events.
"We are having a great time out here," said Duncan. "The boys had three-times the number of entries as last year. The girls killed it out there on Sunday. There were over 100 ladies here for that event. We had a great turnout for the Seniors and Masters and the little guys who came out on Friday and kicked it off for the week. We have had perfect weather. It has been a great, relaxed atmosphere, a great place to get away from the Dome, have fun, and still be doing some wrestling."
The wrestlers who did choose to enter the Beach competition had a chance to get numerous matches on the sand. There were separate brackets for 16U and Junior entries, and then, when time allowed, combined age-groups in a second round of "wave" brackets.
Athletes were able to get more competition by doing exhibition challenges. A referee was stationed in an empty ring, and wrestlers of all ages and sizes were able to wrestle others looking for more action. The
U.S. Marine Corps King of the Ring
contest was held as a takedown challenge. The idea was to see how many consecutive takedowns a person could get before getting taken down. The "winner" was able to take home some cool Nike gear from the Nike booth at the event. One wrestler on Thursday was able to rack up over 10 straight takedowns against all comers.
In addition to individual medals, team standings were kept all three days of the Beach Wrestling in Fargo.
Team Tech
won the title during the Sunior/Masters/Youth action on Friday.
Arizona
won the girls competition on Sunday.
North Carolina
won the boys competition on Thursday.
Those who tried Beach Wrestling in Fargo should be able to find more Beach Wrestling opportunities in their home regions.
"People are starting to fall in love with Beach Wrestling. We have kids from all over the country here. The word is getting out. We are heading all across the country with the Beach Tour of America. Everywhere we go, people ask if they can do Beach Wrestling. Everywhere you look, it is popping up," said Duncan.
The
Beach Tour of America
still has a number of competitions ahead this summer and fall, with events in Lake of the Ozarks, Mo. (August 6), Virginia Beach, Va. (Aug. 25-27, Sept. 9 and October 7-8), Huntington Beach, Calif. (October 7) and Pacifica Beach, Calif. (October 15). Other events are expected in Loveland, Ohio, Biloxi, Miss. and Nashville, Tenn.
For more information, visit the
Beach Tour of America website
.
2023 FARGO SUMMER SHOWCASE AND JUNIOR/16U BEACH NATIONALS
At Fargo, N.D.

Women's Competition, Sunday, July 16

16U Girls
94
1st Place - Khyla Lipumano of Arizona Girls Wrestling
2nd Place - Halle Wassenberg of Oklahoma
Khyla Lipumano (Arizona Girls Wrestling) won by decision over Halle Wassenberg (Oklahoma) (Dec 3-0)
Khyla Lipumano (Arizona Girls Wrestling) won by decision over Halle Wassenberg (Oklahoma) (Dec 3-0)
100
1st Place - Dalani Hornbuckle of Arkansas
2nd Place - Ella Kavanagh of Nevada
3rd Place - Emily Shoemaker of Utah
Dalani Hornbuckle (Arkansas) won by decision over Emily Shoemaker (Utah) (Dec 3-0)
Dalani Hornbuckle (Arkansas) won by decision over Ella Kavanagh (Nevada) (Dec 1-0)
Ella Kavanagh (Nevada) won by decision over Emily Shoemaker (Utah) (Dec 3-0)
106
1st Place - Athea Valenzuela of Arizona Girls Wrestling
2nd Place - Jacianna Beltran of Arizona Girls Wrestling
3rd Place - Isabella Coronado of Nevada
Jacianna Beltran (Arizona Girls Wrestling) won by decision over Isabella Coronado (Nevada) (Dec 4-1)
Isabella Coronado (Nevada) won by decision over Athea Valenzuela (Arizona Girls Wrestling) (Dec 3-2)
Athea Valenzuela (Arizona Girls Wrestling) won by decision over Jacianna Beltran (Arizona Girls Wrestling) (Dec 3-0)
112
1st Place Match - Madeline Mench (Arizona Girls Wrestling) won by decision over Madison Worden (Nevada) (Dec 3-0)
3rd Place Match - Iliana Castaneda (Arizona Girls Wrestling) won by decision over Sevanna Aguirre (Arizona Girls Wrestling) (Dec 3-1)
117
1st Place - Averyana Pasinski of Virginia
2nd Place - Madalyn Deiter of Montana
3rd Place - Sarah Perez of Arizona Girls Wrestling
4th Place - Ella Greiner of Arizona Girls Wrestling
5th Place - Andi Stephensen of Utah
Madalyn Deiter (Montana) won by decision over Ella Greiner (Arizona Girls Wrestling) (Dec 3-0)
Averyana Pasinski (Virginia) won by decision over Sarah Perez (Arizona Girls Wrestling) (Dec 3-0)
Sarah Perez (Arizona Girls Wrestling) won by fall over Andi Stephensen (Utah) (Fall 0:55)
Averyana Pasinski (Virginia) won by fall over Madalyn Deiter (Montana) (Fall 0:44)
Averyana Pasinski (Virginia) won by fall over Andi Stephensen (Utah) (Fall 0:43)
Sarah Perez (Arizona Girls Wrestling) won by fall over Ella Greiner (Arizona Girls Wrestling) (Fall 0:25)
Ella Greiner (Arizona Girls Wrestling) won by decision over Andi Stephensen (Utah) (Dec 3-1)
Madalyn Deiter (Montana) won by decision over Sarah Perez (Arizona Girls Wrestling) (Dec 3-1)
Madalyn Deiter (Montana) won by decision over Andi Stephensen (Utah) (Dec 3-0)
Averyana Pasinski (Virginia) won by decision over Ella Greiner (Arizona Girls Wrestling) (Dec 3-0)
122
1st Place Match - Mika Yoffee (Nevada) won by fall over Danica Torres (Arizona Girls Wrestling) (Fall 2:38)
3rd Place Match - Pallas Andersen (Utah) won by fall over Izzy LeVine (Arizona Girls Wrestling) (Fall 1:08)
127
1st Place - Kennedy Hsu of Nevada
2nd Place - Martynique Davis of Arizona Girls Wrestling
3rd Place - Sophia Slaughter of Virginia
Martynique Davis (Arizona Girls Wrestling) won by fall over Sophia Slaughter (Virginia) (Fall 1:03)
Kennedy Hsu (Nevada) won by fall over Sophia Slaughter (Virginia) (Fall 1:11)
Kennedy Hsu (Nevada) won by fall over Martynique Davis (Arizona Girls Wrestling) (Fall 0:30)
132-138
1st Place - Vanessa Aguirre of Arizona Girls Wrestling
2nd Place - Taylor Dawson of Illinois
3rd Place - Lilly Reese of North Carolina
4th Place - Josephine Dollman of Pennsylvania
Vanessa Aguirre (Arizona Girls Wrestling) won by fall over Lilly Reese (North Carolina) (Fall 0:57)
Taylor Dawson (Illinois) won by fall over Josephine Dollman (Pennsylvania) (Fall 2:00)
Taylor Dawson (Illinois) won by fall over Lilly Reese (North Carolina) (Fall 1:50)
Vanessa Aguirre (Arizona Girls Wrestling) won by fall over Josephine Dollman (Pennsylvania) (Fall 0:52)
Lilly Reese (North Carolina) won by fall over Josephine Dollman (Pennsylvania) (Fall 1:24)
Vanessa Aguirre (Arizona Girls Wrestling) won by fall over Taylor Dawson (Illinois) (Fall 0:13)
144-152
1st Place - Elenor Dean of Virginia
2nd Place - Kaitlyn Thorn of Montana
3rd Place - Bianca Cluff of Utah
4th Place - McKenna Jones of Montana
Elenor Dean (Virginia) won by fall over Bianca Cluff (Utah) (Fall 0:35)
Kaitlyn Thorn (Montana) won by fall over McKenna Jones (Montana) (Fall 0:48)
Elenor Dean (Virginia) won by fall over McKenna Jones (Montana) (Fall 0:28)
Kaitlyn Thorn (Montana) won by fall over Bianca Cluff (Utah) (Fall 0:25)
Elenor Dean (Virginia) won by forfeit over Kaitlyn Thorn (Montana) (FF)
Bianca Cluff (Utah) won by forfeit over McKenna Jones (Montana) (FF)
164
1st Place - Billie Bonwell of Nevada
2nd Place - Jasmine Morales of Nevada
Billie Bonwell (Nevada) won by fall over Jasmine Morales (Nevada) (Fall 0:34)
Billie Bonwell (Nevada) won by fall over Jasmine Morales (Nevada) (Fall 0:28)
180
1st Place - Macee Ercanbrack of Utah
2nd Place - Rylie Smith of Utah
3rd Place - Juliana LeFort of Texas
Macee Ercanbrack (Utah) won by fall over Rylie Smith (Utah) (Fall 1:00)
Rylie Smith (Utah) won by forfeit over Juliana LeFort (Texas) (FF)
Macee Ercanbrack (Utah) won by forfeit over Juliana LeFort (Texas) (FF)
Junior Girls
100-106
1st Place - Mia Siqueiros of Arizona Girls Wrestling
2nd Place - Emma Wissman of Oklahoma
3rd Place - Ryah Christen of Utah
4th Place - Emily Shoemaker of Utah
Mia Siqueiros (Arizona Girls Wrestling) won by fall over Ryah Christen (Utah) (Fall 0:06)
Emma Wissman (Oklahoma) won by fall over Emily Shoemaker (Utah) (Fall 2:00)
Ryah Christen (Utah) won by decision over Emily Shoemaker (Utah) (Dec 3-2)
Mia Siqueiros (Arizona Girls Wrestling) won by fall over Emma Wissman (Oklahoma) (Fall 0:09)
Emma Wissman (Oklahoma) won by fall over Ryah Christen (Utah) (Fall 1:04)
Mia Siqueiros (Arizona Girls Wrestling) won by fall over Emily Shoemaker (Utah) (Fall 0:09)
112
1st Place - Mia Godwin of Virginia
2nd Place - Andrea Garcia of Florida
3rd Place - Sophia Renteria of Arizona Girls Wrestling
4th Place - Isabella Crandall of North Carolina
5th Place - Akeelah Moore of Michigan
Mia Godwin (Virginia) won by forfeit over Akeelah Moore (Michigan) (FF)
Andrea Garcia (Florida) won by fall over Isabella Crandall (North Carolina) (Fall 0:31)
Sophia Renteria (Arizona Girls Wrestling) won by fall over Isabella Crandall (North Carolina) (Fall 0:54)
Mia Godwin (Virginia) won by fall over Andrea Garcia (Florida) (Fall 1:15)
Andrea Garcia (Florida) won by decision over Sophia Renteria (Arizona Girls Wrestling) (Dec 3-0)
Isabella Crandall (North Carolina) received a bye () (Bye)
Sophia Renteria (Arizona Girls Wrestling) received a bye () (Bye)
Mia Godwin (Virginia) won by fall over Isabella Crandall (North Carolina) (Fall 0:52)
Mia Godwin (Virginia) won by fall over Sophia Renteria (Arizona Girls Wrestling) (Fall 1:48)
Andrea Garcia (Florida) received a bye () (Bye)
117
1st Place - Adacelli Salaiz-Noriega of Arizona Girls Wrestling
2nd Place - Teresa Canady of North Carolina
3rd Place - Alexa Garcia of Arizona Girls Wrestling
Adacelli Salaiz-Noriega (Arizona Girls Wrestling) won by fall over Teresa Canady (North Carolina) (Fall 0:17)
Adacelli Salaiz-Noriega (Arizona Girls Wrestling) won by fall over Alexa Garcia (Arizona Girls Wrestling) (Fall 0:45)
Teresa Canady (North Carolina) won by fall over Alexa Garcia (Arizona Girls Wrestling) (Fall 1:57)
122
1st Place - Janyla Anderson of Virginia
2nd Place - Meredith Nash of Nevada
3rd Place - Natalie Davis of Louisiana
4th Place - Tatiana Soto of Florida
Janyla Anderson (Virginia) won by fall over Meredith Nash (Nevada) (Fall 0:54)
Natalie Davis (Louisiana) won by fall over Tatiana Soto (Florida) (Fall 1:05)
Meredith Nash (Nevada) won by decision over Natalie Davis (Louisiana) (Dec 3-1)
Janyla Anderson (Virginia) won by fall over Tatiana Soto (Florida) (Fall 0:29)
Meredith Nash (Nevada) won by fall over Tatiana Soto (Florida) (Fall 1:20)
Janyla Anderson (Virginia) won by fall over Natalie Davis (Louisiana) (Fall 0:54)
127
1st Place - Jamie Laswell of Arizona Girls Wrestling
2nd Place - Sarah Conner of Michigan
Jamie Laswell (Arizona Girls Wrestling) won by forfeit over Sarah Conner (Michigan) (FF)
132
1st Place Match - Kassey Daugherty (Virginia) won by fall over Jamie Laswell (Arizona Girls Wrestling) (Fall 2:21)
3rd Place Match - Taylor Colangelo (Arizona Girls Wrestling) won by fall over Brianna Deleon (North Carolina) (Fall 1:26)
138
1st Place Match - Maura White (New Jersey) won by fall over Gretchen Donally (Montana) (Fall 1:57)
3rd Place Match - Bridgette Sotomayer (Arizona Girls Wrestling) won by fall over Paisley Fox (New Jersey) (Fall 1:11)
144
1st Place - Abigail Trayhorn of Oregon
2nd Place - Teagan Moss of Montana
3rd Place - Maclayne Justus of Arizona Girls Wrestling
Abigail Trayhorn (Oregon) won by fall over Maclayne Justus (Arizona Girls Wrestling) (Fall 0:29)
Teagan Moss (Montana) won by fall over Maclayne Justus (Arizona Girls Wrestling) (Fall 2:06)
Abigail Trayhorn (Oregon) and Teagan Moss (Montana) (DDQ)
152
1st Place - Lillian Gradillas-Flores of Arizona Girls Wrestling
2nd Place - Isabella Harris of Tennessee
3rd Place - Haven Ferguson of Montana
Lillian Gradillas-Flores (Arizona Girls Wrestling) won by fall over Haven Ferguson (Montana) (Fall 0:41)
Lillian Gradillas-Flores (Arizona Girls Wrestling) won by fall over Isabella Harris (Tennessee) (Fall 2:45)
Isabella Harris (Tennessee) won by forfeit over Haven Ferguson (Montana) (FF)
164
1st Place - Aime Hernandez Perez of Arizona Girls Wrestling
2nd Place - Hailey Romero of Missouri
3rd Place - Kate Bird of Utah
4th Place - KyLee Lindsley of Montana
5th Place - Tyler Richter of Utah
Kate Bird (Utah) won by fall over Tyler Richter (Utah) (Fall 0:59)
Aime Hernandez Perez (Arizona Girls Wrestling) won by fall over KyLee Lindsley (Montana) (Fall 1:21)
Aime Hernandez Perez (Arizona Girls Wrestling) won by forfeit over Hailey Romero (Missouri) (FF)
KyLee Lindsley (Montana) won by fall over Tyler Richter (Utah) (Fall 0:58)
Hailey Romero (Missouri) won by fall over KyLee Lindsley (Montana) (Fall 0:32)
Aime Hernandez Perez (Arizona Girls Wrestling) won by fall over Kate Bird (Utah) (Fall 0:44)
Hailey Romero (Misouri) won by fall over Kate Bird (Utah) (Fall 0:42)
Aime Hernandez Perez (Arizona Girls Wrestling) won by fall over Tyler Richter (Utah) (Fall 1:14)
Hailey Romero (Misouri) won by fall over Tyler Richter (Utah) (Fall 0:29)
Kate Bird (Utah) won by forfeit over KyLee Lindsley (Montana) (FF)
180
1st Place - Nylease Yzagere of Arizona Girls Wrestling
2nd Place - Izzy Strickert of Iowa
Nylease Yzagere (Arizona Girls Wrestling) won by fall over Izzy Strickert (Iowa) (Fall 1:10)
Nylease Yzagere (Arizona Girls Wrestling) won by fall over Izzy Strickert (Iowa) (Fall 2:04)
Men's Competition
Thursday, July 21, 2023

16U Boys
120-126
1st Place - Bryson Mcfalls of North Carolina
2nd Place - Noah Burke of North Carolina
3rd Place - Cesar Cruz of North Dakota
Bryson Mcfalls (North Carolina) won by fall over Noah Burke (North Carolina) (Fall 1:35)
Noah Burke (North Carolina) won by decision over Cesar Cruz (North Dakota) (Dec 3-2)
Cesar Cruz (North Dakota) won by decision over Bryson Mcfalls (North Carolina) (Dec 3-0)
138-145
1st Place - Sean Price of Washington
2nd Place - Julian Glover of Kansas
Sean Price (Washington) won by fall over Julian Glover (Kansas) (Fall 1:20)
Sean Price (Washington) won by decision over Julian Glover (Kansas) (Dec 3-1)
145-152
1st Place - Abram Owings of Kansas
2nd Place - Christian Curva of North Carolina
Abram Owings (Kansas) won by fall over Christian Curva (North Carolina) (Fall 0:08)
Abram Owings (Kansas) won by fall over Christian Curva (North Carolina) (Fall 1:12)
170-182
1st Place - Cooper Reves of Kansas
2nd Place - Garrett Lees of Washington
Cooper Reves (Kansas) won by fall over Garrett Lees (Washington) (Fall 0:52)
Cooper Reves (Kansas) won by decision over Garrett Lees (Washington) (Dec 3-1)
220-285
1st Place - Hayden Haynes of North Carolina
2nd Place - Michael Sisk of Illinois
Hayden Haynes (North Carolina) won by fall over Michael Sisk (Illinois) (Fall 1:42)
Hayden Haynes (North Carolina) won by fall over Michael Sisk (Illinois) (Fall 0:17)
Junior Boys
106-113
1st Place - Roderick Brown of Florida
2nd Place - Vaughn Graff of Oregon
3rd Place - Xaiden Wynn of Virginia
4th Place - Leduar Sanchez of Arizona
Vaughn Graff (Oregon) won by decision over Xaiden Wynn (Virginia) (Dec 3-1)
Roderick Brown (Florida) won by forfeit over Leduar Sanchez (Arizona) (FF)
Xaiden Wynn (Virginia) won by forfeit over Leduar Sanchez (Arizona) (FF)
Roderick Brown (Florida) won by decision over Vaughn Graff (Oregon) (Dec 3-1)
Roderick Brown (Florida) won by decision over Xaiden Wynn (Virginia) (Dec 3-1)
Vaughn Graff (Oregon) won by forfeit over Leduar Sanchez (Arizona) (FF)
138
1st Place - Anthony Lucchiani of Virginia
2nd Place - Caden Bayer of Michigan
Anthony Lucchiani (Virginia) won by decision over Caden Bayer (Michigan) (Dec 3-0)
Anthony Lucchiani (Virginia) won by decision over Caden Bayer (Michigan) (Dec 3-0)
145
1st Place - Colman Barth of North Dakota
2nd Place - Jesse Olson of North Dakota
Colman Barth (North Dakota) won by decision over Jesse Olson (North Dakota) (Dec 4-2)
Colman Barth (North Dakota) won by decision over Jesse Olson (North Dakota) (Dec 3-1)
152
1st Place - Cristopher Salgado Mejia of North Carolina
2nd Place - Carson Alvarez of Oregon
Cristopher Salgado Mejia (North Carolina) won by fall over Carson Alvarez (Oregon) (Fall 0:14)
Cristopher Salgado Mejia (North Carolina) won by fall over Carson Alvarez (Oregon) (Fall 1:11)
160
1st Place - Cameron Curva of North Carolina
2nd Place - Kane Foley of North Carolina
3rd Place - Palmer Smith of North Carolina
Cameron Curva (North Carolina) won by fall over Kane Foley (North Carolina) (Fall 1:18)
Cameron Curva (North Carolina) won by fall over Palmer Smith (North Carolina) (Fall 0:36)
Kane Foley (North Carolina) won by fall over Palmer Smith (North Carolina) (Fall 0:43)
170-182
1st Place - Kaleb Wright of New Jersey
2nd Place - Troy Shannon of North Carolina
3rd Place - Chase Bisel of Georgia
Kaleb Wright (New Jersey) won by fall over Chase Bisel (Georgia) (Fall 0:52)
Troy Shannon (North Carolina) won by fall over Chase Bisel (Georgia) (Fall 2:19)
Kaleb Wright (New Jersey) won by fall over Troy Shannon (North Carolina) (Fall 2:29)
195
1st Place - Timothy Peoples of Florida
2nd Place - Kingsley Menifee of Virginia
3rd Place - Carter Paulson of Alaska
Timothy Peoples (Florida) won by fall over Kingsley Menifee (Virginia) (Fall 0:09)
Carter Paulson (Alaska) won by fall over Timothy Peoples (Florida) (Fall 1:37)
Kingsley Menifee (Virginia) won by fall over Carter Paulson (Alaska) (Fall 0:44)
220-285
1st Place - Cary Weymouth of North Carolina
2nd Place - Joseph Lubinskas of Virginia
3rd Place - Tori Smith of Maryland
Joseph Lubinskas (Virginia) won by fall over Tori Smith (Maryland) (Fall 0:41)
Cary Weymouth (North Carolina) won by fall over Joseph Lubinskas (Virginia) (Fall 0:55)
Cary Weymouth (North Carolina) won by fall over Tori Smith (Maryland) (Fall 0:36)
Wave Boys
A
1st Place - Roderick Brown of Florida
2nd Place - Noah Burke of North Carolina
3rd Place - Bryson Mcfalls of North Carolina
4th Place - Vaughn Graff of Oregon
1st Place Match- Roderick Brown (Florida) won by decision over Noah Burke (North Carolina) (Dec 3-1)
3rd Place Match - Bryson Mcfalls (North Carolina) won by forfeit over Vaughn Graff (Oregon) (FF)
B
1st Place - Anthony Lucchiani of Virginia
2nd Place - Caden Bayer of Michigan
3rd Place - Abram Owings of Kansas
4th Place - Julian Glover of Kansas
1st Place Match - Anthony Lucchiani (Virginia) won by decision over Caden Bayer (Michigan) (Dec 3-1)
3rd Place Match - Abram Owings (Kansas) won by fall over Julian Glover (Kansas) (Fall 0:34)
C
1st Place - Cameron Curva of North Carolina
2nd Place - Christian Curva of North Carolina
3rd Place - Carson Alvarez of Oregon
4th Place - Kane Foley of North Carolina
1st Place Match - Cameron Curva (North Carolina) won by fall over Christian Curva (North Carolina) (Fall 1:24)
3rd Place Match - Carson Alvarez (Oregon) won by fall over Kane Foley (North Carolina) (Fall 1:38)
D
1st Place - Kingsley Menifee of Virginia
2nd Place - Troy Shannon of North Carolina
3rd Place - Carter Paulson of Alaska
4th Place - Kaleb Wright of New Jersey
1st Place Match - Kingsley Menifee (Virginia) won by fall over Troy Shannon (North Carolina) (Fall 1:30)
3rd Place Match - Carter Paulson (Alaska) won by fall over Kaleb Wright (New Jersey) (Fall 2:50)
E
1st Place - Cary Weymouth of North Carolina
2nd Place - Joseph Lubinskas of Virginia
3rd Place - Hayden Haynes of North Carolina
4th Place - Michael Sisk of Illinois
1st Place Match - Cary Weymouth (North Carolina) won by fall over Joseph Lubinskas (Virginia) (Fall 1:37)
3rd Place Match - Hayden Haynes (North Carolina) won by fall over Michael Sisk (Illinois) (Fall 0:24)
Youth/Senior/Masters competition, Friday, July 14
Youth Group A
1st Place - Genevieve Burger of Tech Team Wrestling Club
2nd Place - Moses Smith of Bison Wrestling Club
Genevieve Burger (Tech Team Wrestling Club) won by decision over Moses Smith (Bison Wrestling Club) (Dec 3-0)
Genevieve Burger (Tech Team Wrestling Club) won by decision over Moses Smith (Bison Wrestling Club) (Dec 3-0)
Youth Group B
1st Place - Jacob Parman of North Dakota
2nd Place - Beaudyn Nelson of Tech Team Wrestling Club
Jacob Parman (North Dakota) won by fall over Beaudyn Nelson (Tech Team Wrestling Club) (Fall 0:16)
Jacob Parman (North Dakota) won by fall over Beaudyn Nelson (Tech Team Wrestling Club) (Fall 0:08)
Youth Group C
1st Place - Corbin Jordahl of Tech Team Wrestling Club
2nd Place - Asher Vickers of Tech Team Wrestling Club
Corbin Jordahl (Tech Team Wrestling Club) won by decision over Asher Vickers (Tech Team Wrestling Club) (Dec 3-1)
Corbin Jordahl (Tech Team Wrestling Club) won by decision over Asher Vickers (Tech Team Wrestling Club) (Dec 3-0)
Youth Group D
1st Place - Brooklyn Moran of Tech Team Wrestling Club
2nd Place - Caleb Parman of Bison Wrestling Club
Brooklyn Moran (Tech Team Wrestling Club) won by decision over Caleb Parman (Bison Wrestling Club) (Dec 3-0)
Brooklyn Moran (Tech Team Wrestling Club) won by decision over Caleb Parman (Bison Wrestling Club) (Dec 3-1)
Youth Group E
1st Place - Oliver Davidson of Tech Team Wrestling Club
2nd Place - Kellen Vickers of Tech Team Wrestling Club
3rd Place - Logan Burger of Tech Team Wrestling Club
Oliver Davidson (Tech Team Wrestling Club) won by decision over Logan Burger (Tech Team Wrestling Club) (Dec 3-0)
Kellen Vickers (Tech Team Wrestling Club) won by decision over Logan Burger (Tech Team Wrestling Club) (Dec 3-2)
Oliver Davidson (Tech Team Wrestling Club) won by fall over Kellen Vickers (Tech Team Wrestling Club) (Fall 0:25)
Youth Group F
1st Place - Jayden Matter-Badillo of Bison Wrestling Club
2nd Place - Mason Smith of Bison Wrestling Club
Jayden Matter-Badillo (Bison Wrestling Club) won by fall over Mason Smith (Bison Wrestling Club) (Fall 0:09)
Jayden Matter-Badillo (Bison Wrestling Club) won by decision over Mason Smith (Bison Wrestling Club) (Dec 3-0)
Youth Group G
1st Place - Landon Rinke of Bison Wrestling Club
2nd Place - Jayden Davidson of Cougars Wrestling Club
Landon Rinke (Bison Wrestling Club) won by decision over Jayden Davidson (Cougars Wrestling Club) (Dec 3-1)
Jayden Davidson (Cougars Wrestling Club) won by fall over Landon Rinke (Bison Wrestling Club) (Fall 1:01)
Landon Rinke (Bison Wrestling Club) won by decision over Jayden Davidson (Cougars Wrestling Club) (Dec 3-0)
Youth Wave Round - 1
1st Place - Corbin Jordahl of Tech Team Wrestling Club
2nd Place - Asher Vickers of Tech Team Wrestling Club
4th Place - Jacob Parman of North Dakota
4th Place - Brooklyn Moran of Tech Team Wrestling Club
1st Place Match
Corbin Jordahl (Tech Team Wrestling Club) won by fall over Asher Vickers (Tech Team Wrestling Club) (Fall 0:34)
Youth Wave Round - 2
1st Place - Landon Rinke of Bison Wrestling Club
2nd Place - Jayden Davidson of Cougars Wrestling Club
1st Place Match - Landon Rinke (Bison Wrestling Club) won by fall over Jayden Davidson (Cougars Wrestling Club) (Fall 0:05)
3rd Place Match
Senior Men
70kg
1st Place - Amir Murad of North Dakota
2nd Place - Danny Monatukwa of Garlington Training Center
Danny Monatukwa (Garlington Training Center) won by decision over Amir Murad (North Dakota) (Dec 3-1)
Amir Murad (North Dakota) won by decision over Danny Monatukwa (Garlington Training Center) (Dec 3-2)
Amir Murad (North Dakota) won by decision over Danny Monatukwa (Garlington Training Center) (Dec 3-0)
80kg
1st Place - Kellen Schauer of Tech Team Wrestling Club
88kg
1st Place - Blake Kaercher of North Dakota
2nd Place - Raymond Favaza of LA Wrestling Academy
3rd Place - Alexander Clifton of Tech Team Wrestling Club
Raymond Favaza (LA Wrestling Academy) won by fall over Alexander Clifton (Tech Team Wrestling Club) (Fall 0:17)
Blake Kaercher (North Dakota) won by fall over Raymond Favaza (LA Wrestling Academy) (Fall 1:01)
Blake Kaercher (North Dakota) won by fall over Alexander Clifton (Tech Team Wrestling Club) (Fall 0:18)