News
USA Wrestling
Women
High School & Youth
USAW
Brooks earns U17 World bronze bout with repechage win, giving USA four women going for bronze tonight
by Gary Abbott, USA Wrestling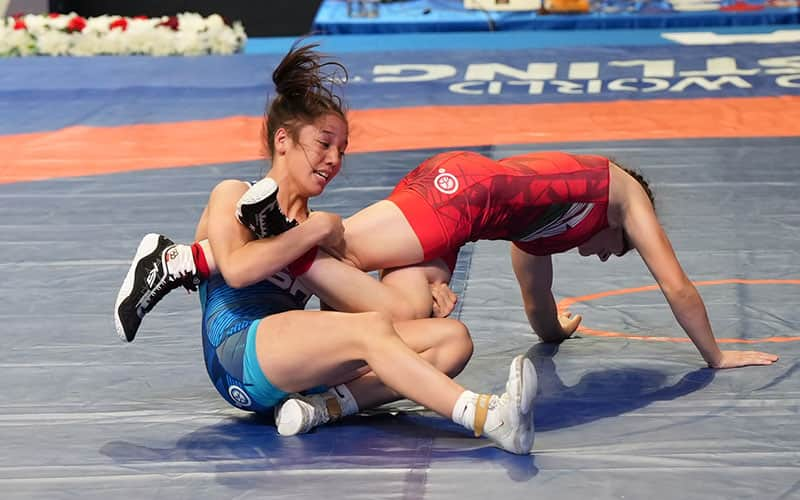 Karlee Brooks (USA) works an ankle lace in her repechage match. Photo by Gary Abbott, USA Wrestling
ISTANBUL, Turkey - Karlee Brooks of Arizona became the fourth U.S. wrestler in Group Two to have a bronze-medal match on Friday at the U17 World Championships.
Brooks drew 2021 U17 World bronze medalist Liliana Kapuvari of Hungary in her 53 kg repechage match, who had won an earlier repechage match before advancing to face Brooks.
Brooks took care of business with a 10-0 technical fall over Kapuvari. She first scored a takedown then ankle lace to lead 4-0, then followed by takedown and two ankle laces.
With the win, she advanced to Friday night's bronze-medal match against Fabiana Rinella of Italy.
Brooks was pulled back in repechage at 53 kg, when Sakura Onishi, who defeated her in the morning session, won her semifinal match.
Brooks joins U.S. teammates Jaclyn Bouzakis of Pennsylvania (40 kg), Haylie Jaffe of Pennsylvania (61 kg) and Jasmine Robinson of Texas (69 kg) in bronze-medal bouts tonight.
The Women's Freestyle Group Two medal matches at 6:00 p.m. Men's freestyle also hosts its first day with five weight classes on Friday, with preliminary and semifinal action.
All of the action is live on FloWrestling
.
U17 WORLD CHAMPIONSHIPS

At Istanbul, Turkey


U.S. Women's Freestyle Group Two results
40 kg: Jaclyn Bouzakis, Shaverstown, Pennsylvania (Team Pennsylvania), bronze bout
WIN Fatma Yilmaz (Turkey), 9-6
LOSS Rachana (India), 5-4
Bronze Bout –Vs. Nurana Asadli (Independent Neutral Athlete)
46 kg: Rianne Murphy, Crown Point, Indiana (Region Wrestling Academy), eliminated
LOSS Valeryia Tsitova (Individual Neutral Athlete), pin 1:05
53 kg: Karlee Brooks, Phoenix, Arizona (Arizona Girls Wrestling), bronze bout
WIN Elmira Saparvekova (Kazakhstan), tech fall, 12-1
LOSS Sakura Onishi (Japan), 6-0
WIN Liliana Kapuvari (Hungary), tech fall, 10-0
Bronze bout – Fabiana Rinella (Italy)
61 kg: Haylie Jaffe, Avondale, Pennsylvania (Team Pennsylvania), bronze bout
WIN Emilia Swierczewska (Poland), tech fall 11-1
WIN Elaterina Radysheva (Individual Neutral Athlete), 7-0
LOSS Savita (India), tech fall, 10-0
Bronze Bout – Vs. Byza Nur Akkus (Turkey)
69 kg: Jasmine Robinson, Allen, Texas (Allen High School Wrestling), bronze bout
WIN Ai Sakai (Japan), tech fall 12-0
WIN Nigina Rajabova (Uzbekistan), pin 1:31
LOSS Sristhti (India), 8-5
Bronze Bout – Vs. Elif Kurt (Turkey)