News
USA Wrestling
International
USAW
Moore wins gold, U.S. men's freestylers claim eight medals to claim Ibrahim Moustafa Ranking Event team title
by Adam Engel, Special to TheMat.com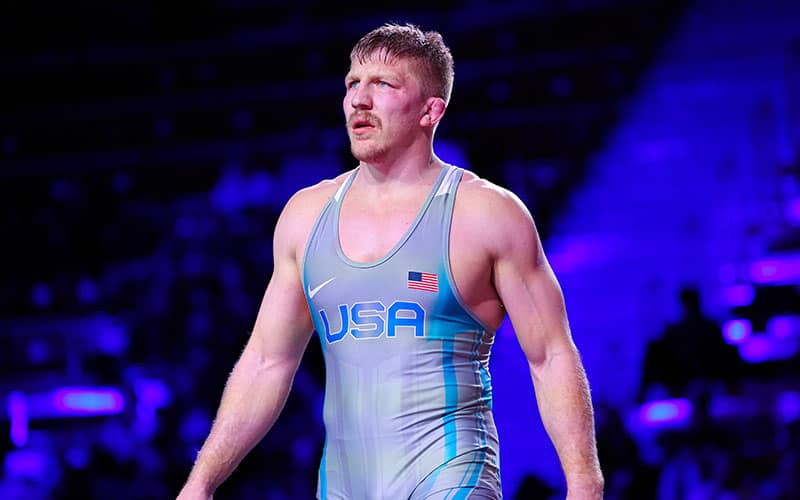 Kollin Moore (USA) competition portrait by Kostadin Andonov, United World Wrestling
ALEXANDRIA, Egpyt —
Kollin Moore
(TMWC/ORTC) won gold at 92 kg and U.S. men's freestylers hauled in eight total medals to win the team title at the Ibhrahim Moustafa Ranking Event on Sunday in Egypt.
Moore won via medical forfeit against fellow American
Nate Jackson
(NYAC/NJRTC). To reach the finals, Moore scored a pair of technical falls over opponents from Georgia and Egypt.
Cody Chittum
(Hawkeye Wrestling Club) became the first American to earn silver on Sunday after a 10-0 technical fall loss to Kyrgyzstan's Ernazar Akmataliev, a two-time Senior World medalist and U23 World champion at 70 kg. Akmataliev forced a pushout early in the first before he body locked and rolled Chittum for a four-point sequence. Chittum, an Iowa commit, trailed 5-0 at the break and Akmataliev added two takedowns and a pushout to end it early.
Armenia's Vazgen Tevanyan beat
Joey McKenna
(TMWC/PRTC), 8-2, in the 65 kg gold medal final.
McKenna pressured Tevanyan into a passivity call that held into the break. Tevanyan, a U23 World champion, quickly responded with a go-behind takedown before securing another one. He later added a gut wrench and another takedown. McKenna scored his second point on a caution.
At 74 kg,
Vincenzo Joseph
(Sunkist Kids) also earned silver. He lost by injury default and did not compete against Romania's Iakub Shikhdzhamalov in the finals.
Zahid Valencia
(Sunkist Kids) claimed silver at 86 kg after he lost 8-6 to Ukraine's Vasyl Mykhailov. Valencia trailed 4-2 within the first minute but quickly tied it with two pushouts. The two traded takedowns into the break before Mykhailov scored the winning takedown in the second period.
Austin DeSanto
(Hawkeye Wrestling Club) earned bronze at 61 kg with a second period pin over Georgia's Shota Phartenadze. DeSanto led 3-0 at the break thanks to a passivity point in the takedown. Later, DeSanto dumped Phartenadze for four and the pin. This is DeSanto's international medal of the year, as he won the Henri Deglane Grand Prix in late January.
Chance Marsteller
(TMWC/NYRTC) won bronze after he beat Kazakhstan's Bolat Sakayev, 2-1 at 79 kg. Marsteller trailed via passivity but scored the eventual winning takedown in the second period.
At 57 kg, Nick Suriano (Sunkist Kids) lost his bronze-medal bout, 2-1 to Rakhat Kalzhan of Kazakhstan. Suriano, who finished fifth, allowed two penalty points but scored on a pushout just before the break.
U.S. men's freestyle won the team race with eight medals and 155 points. Ukraine finished second with 117 points while Georgia took third at 98 points.
IBRAHIM MOUSTAFA RANKING EVENT
At Alexandria, Egypt, Feb. 26

U.S. MEN'S FREESTYLE RESULTS
57 kg
GOLD — Suleyman Atli (Turkey)
SILVER — Andrii Yatsenko (Ukraine)
BRONZE — Rakhat Kalzhan (Kazakhstan)
BRONZE — Bekzat Almaz Uulu (Kyrgyzstan)
61 kg
GOLD — Taiyrbek Zhumashbek Uulu (Kyrgyzstan)
SILVER — Taras Markovych (Ukraine)
BRONZE —Austin DeSanto (USA)
BRONZE — Arsen Harutyunyan (Armenia)
65 kg
GOLD — Vazgen Tevanyan (Armenia)
SILVER — Joey McKenna (USA)
BRONZE — Umidjon Jalolov (Uzbekistan)
BRONZE— Erik Arushanian (Ukraine)
70 kg
GOLD — Ernazar Akmataliev (Kyrgyzstan)
SILVER — Cody Chittum (USA)
BRONZE — Ihor Nykyforuk (Ukraine)
BRONZE — Giorgi Elbakidze (Georgia)
74 kg
GOLD — Iakub Shikhdzhamalov (Romania)
SILVER — Vincenzo Joseph (USA)
BRONZE — Soner Demirtas (Turkey)
BRONZE — Mitch Finesilver (Israel)
79 kg
GOLD — Avtandil Kentchadze (Georgia)
SILVER — Amirhossein Morteza Gholi Kavousi (Iran)
BRONZE — Bekzod Abdurakhmonov (Uzbekistan)
BRONZE— Chance Marsteller (USA)
86 kg
GOLD — Vasyl Mykhailov (Ukraine)
SILVER — Zahid Valencia (USA)
BRONZE — Tariel Gaphrindashvili (Georgia)
BRONZE — Sebastian Jerzierzanski (Poland)
92 kg
GOLD — Kollin Moore (USA)
SILVER — Nate Jackson (USA)
BRONZE ¬— Mirani Maisuradze (Georgia)
BRONZE — Feyzullah Akturk (Turkey)
U.S. MEN'S FREESTYLE PERFORMANCES
57 kg: Nick Suriano (Sunkist Kids), 5th
WIN Nodirjon Safarov (Uzbekistan), 10-4
WIN Liu Minghu (China), 2-1
WIN Beka Bujiashvili (Georgia), 2-1
LOSS Suleyman Atli (Turkey), 9-3
LOSS Rakhat Kalzhan (Kazakhstan), 2-1
61 kg: Austin DeSanto (HWC), BRONZE MEDAL
WIN Mahmoud Shorbaby (Egypt), 10-0, 0:48
WIN Ulukbek Zholdoshbekov (Kyrgyzstan), 17-1, 2:04
LOSS Taras Markovych (Ukraine), 10-0, 2:31
WIN Shota Phartenadze (Georgia), fall, 3:22
65 kg: Pat Lugo (HWC), DNP/7th
WIN Sanzhar Mukhtar (Kazakhstan), 10-3
WIN Eduard Grigorev (Poland), 5-1
LOSS Umidjon Jalolov (Uzbekistan), 5-2
65 kg: Anthony Ashnault (TMWC/NYCRTC), DNP/12th
WIN Shaohua Yuan (China), 8-7
LOSS Umidjon Jalolov (Uzbekistan), 2-0
65 kg: Joey McKenna (TMWC/PRTC), SILVER MEDAL
WIN Zohier Iftene (Algeria), fall, 0:52
WIN Timur Aitkulov (Kazakhstan), 11-0, 1:23
WIN Erik Arushanian (Ukraine), 8-2
WIN Sebastian Rivera (Puerto Rico), 10-2
LOSS Vazgen Tevanyan (Armenia), 8-2
70 kg: Cody Chittum (HWC), SILVER MEDAL
WIN Agudamu Agudamu (China), 11-0, 3:12
WIN Cuneyt Budak (Turkey), 6-3
WIN Ihor Nykyforuk (Ukraine), 14-9
LOSS Ernazar Akmataliev (Kyrgyzstan), 10-0, 4:57
70 kg: Tyler Berger (Sunkist Kids/PRTC), DNP/11th
LOSS Arman Andreasyan (Armenia), 3-2
74 kg: Vincenzo Joseph (Sunkist Kids), SILVER MEDAL
WIN Luis Isabel Barrios Rochez (Honduras), 12-0, 2:10
WIN Anthony Valencia Gomez (Mexico), 12-5
WIN Semen Radulov (Ukraine), 11-0, 5:58
WIN Mitch Finesilver (Israel), 8-3
LOSS Iakub Shikhdzhamalov (Romania), medical forfeit
74 kg: Josh Shields (Sunkist Kids), DNP/16th
LOSS Mitch Finesilver (Israel), 10-2
74 kg: Joey Lavallee (TMWC/LVWC), DNP/9th
WIN Nuerlanbieke Wurenibai (China), 10-0, 1:36
LOSS Sagar Jaglan (India), 26-14, 5:03
79 kg: Chance Marsteller (TMWC/NYRTC), BRONZE MEDAL
WIN Bibarys Nuryllauly (Kazakhstan), 10-0, 3:59
LOSS Amirhossein Morteza Gholi Kavousi (Iran), 5-2
WIN Chems Eddine Fetairia (Algeria), 11-0, 1:26
WIN Bolat Sakayev (Kazakhstan), 2-1
79 kg: David McFadden (TMWC/PRTC), DNP/8th
WIN Nasser Sayed (Egypt), 9-6
LOSS Bekzod Abdurakhmonov (Uzbekistan), 10-1
79 kg: Evan Wick (TMWC), DNP/8th
WIN Evsem Shvelidze (Georgia), 14-4, 4:46
WIN Sofiane Padiou Belmir (MAR), 11-0, 2:55
LOSS Bolat Sakayev (Kazakhstan), 8-6
86 kg: Zahid Valencia (Sunkist Kids), SILVER MEDAL
WIN Sebastian Jerzierzanski (Poland), 12-0, 0:54
WIN Bobur Islomov (Uzbekistan), 7-0
WIN Ethan Ramos (PUR), 10-0, 1:38
LOSS Vasyl Mykhailov (Ukraine), 8-6
92 kg: Kollin Moore (TMWC/ORTC), GOLD MEDAL
WIN Miriani Maisuradze (Georgia), 12-2, 1:09
WIN Khaled Masoud Ismail Elmoatamadawi (Egypt), 11-1, 2:51
WIN Nate Jackson (NYAC/NJRTC), medical forfeit
92 kg: Nate Jackson (NYAC/NJRTC), SILVER MEDAL
WIN Feyzullah Akturk (Turkey), 5-2
WIN Pruthviraj Babasaheb Patil (India), 10-0, 2:04
WIN Rizabek Aitmukhan (Kazakhstan), 8-2
LOSS Kollin Moore (TMWC/ORTC), medical forfeit
Men's freestyle final team standings
No. 1 United States 155
No. 2 Ukraine 117
No. 3 Georgia 98
No. 4 Turkey 90
No. 5 Kazakhstan 78
(Of 31 nations)