News
USA Wrestling
International
USAW
Five U.S. men's freestyle champions crowned on final day of Waclaw Ziolkowski Memorial
by Richard Immel, USA Wrestling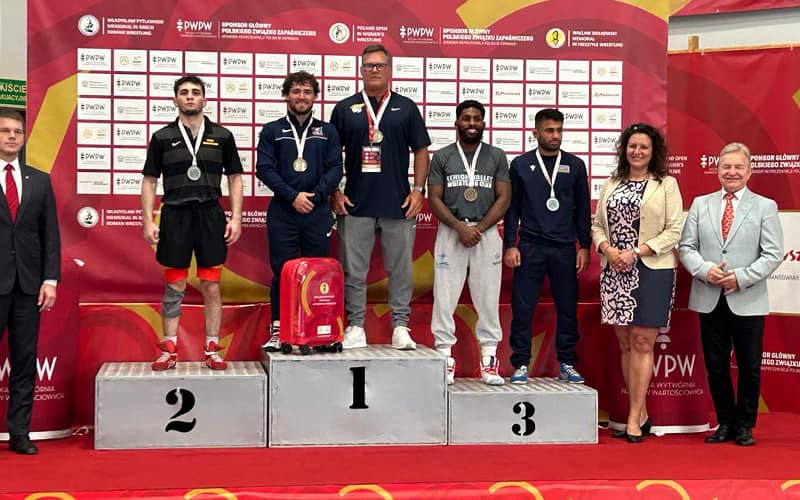 Photo: The 61 kg medal winners at the 2023 Waclaw Ziolkowski Memorial—Gold medalist Daton Fix, silver medalist Austin DeSanto and bronze medalist Nahshon Garrett representing the United States. (Joe Russell/USA Wrestling)
WARSAW, Poland – Eight men's freestyle athletes picked up medals for the U.S. on Sunday afternoon at the always-tough Waclaw Ziolkowski Memorial held in Warsaw, Poland. Cooper Flynn, Daton Fix, Andrew Alirez, Doug Zapf and David McFadden were all crowned champions at day's end.
The most anticipated final from an American standpoint came at 61 kg when Fix, a 2021 World silver medalist, took on countryman Austin DeSanto for the gold medal in a rematch of the Final X True Third wrestle-off from last month in Newark, N.J., won 9-0 by Fix.
DeSanto set his pace early, charging Fix out-of-bounds in the early moments of the match to take a 1-0 lead. Fix countered with a duckunder and gutwrench to steal the momentum and go into the break up 4-1. While on the shot clock in the second period, Fix countered a DeSanto low-level attempt for two to all but seal the match. DeSanto added a takedown of his own in the final minute of the contest, but fell short, 6-3.
Final X runner-up Nahshon Garrett, who beat both Fix and DeSanto at the World Team Trials Challenge Tournament in May, finished with a bronze medal at 61 kg to give the U.S. three of the four podium spots at the weight class. Garrett topped 2023 European bronze medalist Georgi Vangelov of Bulgaria, 14-5, in the bronze medal bout. He did not face Fix or DeSanto in Poland.
The most impressive win of the day came from 65 kg champion Andrew Alirez, who was a the 141-pound NCAA champion for Northern Colorado back in March. Alirez shut out three-time World champion and two-time Olympic medalist Haji Aliyev of Azerbaijan, 8-0, in his first match of the tournament. He navigated to the finals where he received a forfeit from European silver medalist Mikyay Naim of Bulgaria.
U23 Nationals champion Doug Zapf impressed mightily on his way to the 70 kg gold medal. After three decisive wins in the preliminary rounds, he took out current U23 European champion Magomed Khaniev of Azerbaijan with a controlled 6-2 effort in the finals.
Zapf scored the only points of the opening frame—a shot clock point and statement step out with 6-seconds left in the period to lead Khaniev at the break, 2-0. With slightly over two minutes remaining, Zapf struck on a double leg, transitioned to a slick low-ankle finish, to go up by four points. Khaniev did get on the board by countering a Zapf shot attempt, but the American quickly snuffed out any notion of a comeback. Zapf blasted a single leg takedown, nearly securing a cradle to the back, to close the match.
At 79 kg, Zapf's Pennsylvania RTC teammate and past U.S. Open champion David McFadden torched the field en route to the gold medal. He posted three dominant wins on the day, including a 12-1 technical fall against Bulgaria's Mihail Georgiev in the championship match.
McFadden controlled the first period against Georgiev, who was a U23 European bronze medalist in 2019. A shot clock point and single leg takedown gave the American a 3-0 lead at the intermission. McFadden returned to pick up three second period takedowns, including two in the final minute, to score the technical fall with five seconds left on the clock.
Also earning a medal at 79 kg was U23 World Team member Dustin Plott, a NCAA All-American for Oklahoma State. He posted a 10-0 technical fall against neutral athlete Iman Mahdavi in the bronze medal match.
Rounding out the U.S. medal effort was 57 kg champion Cooper Flynn, who is a U23 World Team representative alongside Plott. The Virginia Tech product gritted out a 4-1 win over past NCAA champion and three-time Pan-American medalist Darian Cruz of Puerto Rico in the championship bout.
Neither Flynn nor Cruz was able to seriously threaten the other from neutral throughout the contest. The paid traded shot clock points, two for Flynn and one for Cruz, until Flynn secured a crotch lift as time expired to seal a 4-1 decision.
The U.S. finished its trip to Poland in first place in the men's freestyle team standings with 121 points and 12 total medalists—six golds, one silver and five bronzes. Joining today's medal winners on the podium were Nick Gwiazdowski, who earned gold at 125 kg on Saturday, plus bronze medalists Dylan Fishback at 86 kg, Nikolas Stemmet at 92 kg and Michael Macchiavello at 92 kg.
An archived video stream of the tournament can be found on the SportZona YouTube channel. Complete results are available on SportZona.pl.
2023 Waclaw Ziolkowski Memorial
At Warsaw, Poland, July 30
Quick Links
Archived video stream: SportZona YouTube
Results: SportZona.pl
Men's Freestyle Results
Team Standings
1. United States, 121
2. Poland, 100
3. Azerbaijan, 71
4. Bulgaria, 60
5. Georgia, 54
6. Switzerland, 31
7. Hungary, 21
8. Germany, 12
T-9. Ukraine, 12
T-9. Israel, 12
T-9. Canada, 12
57 kg
Gold – Cooper Flynn (United States)
Silver – Darian Cruz (Puerto Rico)
Bronze – Ivaylo Tisov (Bulgaria)
Bronze – Vasyl Ilnytskyi (Poland)
5th – Dylan Bray (Canada)
5th – Treye Trotman (Canada)
7th – Thomas Epp (Switzerland)
8th – Suraj Singh (New Zealand)
9th – Guesseppe Ricardo Rea Villarroel (Ecuador)
Gold – Cooper Flynn (United States) dec. Darian Cruz (Puerto Rico), 4-1
Bronze – Vasyl Ilnytskyi (Poland) tech. fall Dylan Bray (Canada), 10-0
Bronze – Ivaylo Tisov (Bulgaria) dec. Treye Trotman (Canada), 7-5
61 kg
Gold – Daton Fix (United States)
Silver – Austin DeSanto (United States)
Bronze – Aliabbas Rzazade (Azerbaijan)
Bronze – Nahshon Garrett (United States)
5th – Ramaz Turmanidze (Georgia)
5th – Georgi Vangelov (Bulgaria)
7th – Herman Almendra (Argentina)
8th – Nils Leutert (Switzerland)
9th – Daviti Abdaladze (Georgia)
Gold – Daton Fix (United States) dec. Austin DeSanto (United States), 6-3
Bronze – Aliabbas Rzazade (Azerbaijan) fall Ramaz Turmanidze (Georgia)
Bronze – Nahshon Garrett (United States) dec. Georgi Vangelov (Bulgaria), 14-5
65 kg
Gold – Andrew Alirez (United States)
Silver – Mikyay Naim (Bulgaria)
Bronze – Krzysztof Bieńkowski (Poland)
Bronze – Haji Aliyev (Azerbaijan)
5th – Tornike Katamadze (Georgia)
5th – Joshua Finesilver (Israel)
7th – Luka Janezashvili (Georgia)
8th – Giorgi Shonia (Georgia)
9th – Gamzatgadzsi Halidov (Hungary)
10th – Nino Leutert (Switzerland)
Gold – Andrew Alirez (United States) forfeit Mikyay Naim (Bulgaria)
Bronze – Haji Aliyev (Azerbaijan) fall Joshua Finesilver (Israel)
Bronze – Krzysztof Bieńkowski (Poland) dec. Tornike Katamadze (Georgia), 5-0
70 kg
Gold – Doug Zapf (United States)
Silver – Magomed Khaniev (Azerbaijan)
Bronze – Daniel Antal (Hungary)
Bronze – Marc Dietsche (Switzerland)
5th – Sandro Sardanashvili (Georgia)
5th – Nika Bushelashvili (Georgia)
7th – Ibragim Veliev (Belgium)
8th – Ivan Stoyanov (Bulgaria)
9th – Giorgi Rigvava (Georgia)
10th – Patryk Olenczyn (Poland)
Gold – Doug Zapf (United States) dec. Magomed Khaniev (Azerbaijan), 6-2
Bronze – Daniel Antal (Hungary) fall Sandro Sardanashvili (Georgia)
Bronze – Marc Dietsche (Switzerland) dec. Nika Bushelashvili (Georgia), 4-1
74 kg
Gold – Turan Bayramov (Azerbaijan)
Silver – Dzhabrail Gadzhiev (Azerbaijan)
Bronze – Ramazan Ramazanov (Bulgaria)
Bronze – Khadzimurad Gadzhiev (Azerbaijan)
5th – Georgios Kougioumtsidis (Greece)
5th – Kamil Rybicki (Poland)
7th – Mitchell Finesilver (Israel)
8th – Tobias Portmann (Switzerland)
9th – Derek Gilcher (United States)
10th – Luka Chkhitunidze (Georgia)
Gold – Turan Bayramov (Azerbaijan) dec. Dzhabrail Gadzhiev (Azerbaijan), 2-2
Bronze – Ramazan Ramazanov (Bulgaria) dec. Kamil Rybicki (Poland), 10-4
Bronze – Khadzimurad Gadzhiev (Azerbaijan) forfeit Georgios Kougioumtsidis (Greece)
79 kg
Gold – David McFadden (United States)
Silver – Mihail Georgiev (Bulgaria)
Bronze – Dustin Plott (United States)
Bronze – Krisztian Biro (Romania)
5th – Iman Mahdavi (AIN)
5th – Denys Pavlov (Ukraine)
7th – DJ Washington (United States)
8th – Erik Reinbok (Estonia)
9th – Bartłomiej Słowak (Poland)
Gold – David McFadden (United States) tech. fall Mihail Georgiev (Bulgaria), 12-1
Bronze – Dustin Plott (United States) tech. fall Iman Mahdavi (AIN), 10-0
Bronze – Krisztian Biro (Romania) dec. Denys Pavlov (Ukraine), 10-4
U.S. Men's Freestyle Results
57 kg – Cooper Flynn (Seymour, Tenn./Southeast RTC/Titan Mercury WC), gold medal
WIN Thomas Epp (Switzerland), 2-0
WIN Ivaylo Tisov (Bulgaria), fall
WIN Darian Cruz (Puerto Rico), 4-1
61 kg – Daton Fix (Stillwater, Okla./Cowboy RTC/Titan Mercury WC), gold medal
WIN Ramaz Turmanidze (Georgia), tech. fall, 10-0
WIN Georgi Vangelov (Bulgaria), 5-1
WIN Austin DeSanto, 6-3
61 kg – Nahshon Garrett (Bethlehem, Pa./Titan Mercury WC/Lehigh Valley WC), bronze medal
LOSS Aliabbas Rzazade (Azerbaijan), 11-10
WIN Daviti Abdaladze (Georgia), tech. fall, 10-0
WIN Herman Almendra (Argentina), tech. fall, 10-0
WIN Georgi Vangelov (Bulgaria), 14-5
61 kg – Austin DeSanto (Reading, Pa./Hawkeye WC/Titan Mercury WC), silver medal
WIN Daviti Abdaladze (Georgia), tech. fall, 11-0
WIN Aliabbas Rzazade (Azerbaijan), 4-3
LOSS Daton Fix (United States), 6-3
65 kg – Pat Lugo (Homestead, Fla./Hawkeye WC), dnp
LOSS Joshua Finesilver (Israel), 8-2
LOSS Giorgi Shonia (Georgia), 11-9
65 kg – Andrew Alirez (Greeley, Colo./Northern Colorado WC), gold medal
WIN Haji Aliyev (Azerbaijan), 8-0
WIN Joshua Finesilver (Israel), tech. fall, 10-0
WIN Mikyay Naim (Bulgaria), forfeit
70 kg – Doug Zapf (Downingtown, Pa./Pennsylvania RTC), gold medal
WIN Mateusz Łuszczyński (Poland), tech. fall, 10-0
WIN Marc Dietsche (Switzerland), tech. fall, 10-0
WIN Nika Bushelashvili (Georgia), fall
WIN Magomed Khaniev (Azerbaijan), 6-2
74 kg – Derek Gilcher (West Bloomfield, Mich./Indiana RTC), 9th
WIN Cole Hawkins (New Zealand), tech. fall, 10-0
LOSS Ramazan Ramazanov (Bulgaria), 6-3
LOSS Kamil Rybicki (Poland), 6-3
79 kg – Dustin Plott (Tuttle, Okla./Cowboy RTC), bronze medal
WIN Denys Pavlov (Ukraine), 5-3
WIN DJ Washington (United States), tech. fall, 22-11
LOSS Mihail Georgiev (Bulgaria), 3-2
WIN Iman Mahdavi (AIN), tech. fall, 10-0
79 kg – DJ Washington (Portage, Ind./Indiana RTC), 7th
LOSS Dustin Plott (United States), tech. fall, 22-11
LOSS Denys Pavlov (Ukraine), tech. fall, 20-10
79 kg – David McFadden (Blacksburg, Va./Pennsylvania RTC/Titan Mercury WC), gold medal
WIN Bartlomiej Slowak (Poland), tech. fall, 10-0
WIN Krisztian Biro (Romania), 6-2
WIN Mihail Georgiev (Bulgaria), tech. fall, 12-1