News
USA Wrestling
International
Women
High School & Youth
USAW
U.S. women place second in U17 World Championships; Bouzakis, Jaffe and Robinson add bronzes on last day
by Gary Abbott, USA Wrestling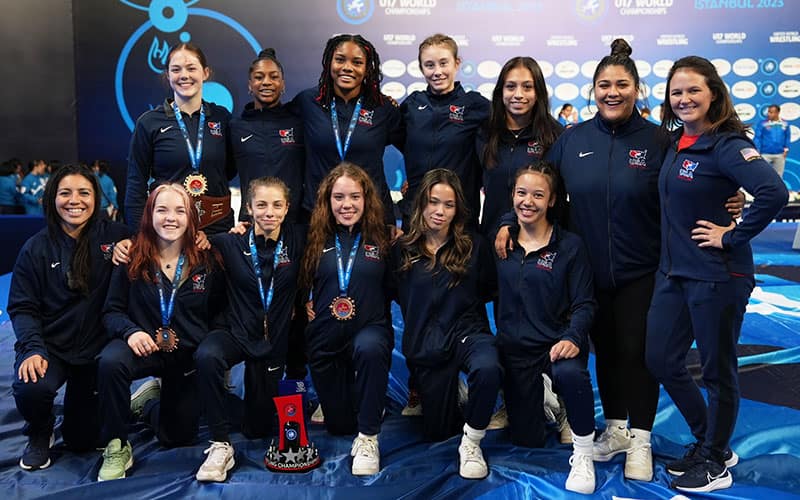 The 2023 U.S. U17 World Team in women's freestyle, second place trophy winners at the U17 World Championships. Photo by Gary Abbott.
ISTANBUL, Turkey – The United States, led by six medalists and two individual champions, placed second as a team in women's freestyle at the
2023 U17 World Championships
on Friday.
Group Two completed its competition on Friday, and the USA won three of its four bronze-medal matches in the evening session.
Japan
won the team title with 200 points, followed by the
United States
with 122 points and
India
with 118 points. The second place team placement was not determined until the medal matches were completed.
Jaclyn Bouzakis
of Pennsylvania (40 kg),
Haylie Jaffe
of Pennsylvania (61 kg) and
Jasmine Robinson
of Texas (69 kg) won bronze medals on Friday, and
Karlee Brooks
(53 kg) placed fifth, all scoring key points for the team effort.
Bouzakis poured it on to Nurana Asadli, an Independent Neutral Athlete, taking her down and turning her for enough points for a technical fall, yet finished off the pin in 1:20.
Jaffe scored a takedown in the first period, and added two takedowns in the second period to defeat Byza Nur Akkus of Turkey, 6-3.
Late in her bout, Robinson was losing by criteria in a 1-1 tie against Elif Kurt of Turkey, as both wrestlers had given up a point on the shot clock. With time running out, Robinson hit a four-point blast double leg for four points, the key to her 5-1 victory.
Brooks won a clutch match on Friday morning in repechage, stopping Liliana Kapuvari of Hungary by technical fall, 10-0. In her bronze-medal bout, Brooks fell to Fabiana Rinella of Italy, 7-4. Rinella jumped to a 6-0 lead and held off a Brooks comeback. Brooks hit a headlock for four points, but was not able to finish it.
The other athlete in Group Two,
Rianne Murphy
of Indiana, who was eliminated on Thursday at 46 kg, placed 10th, gaining the team two team points.
On Thursday,
Morgan Turner
of Illinois (43 kg) and
Piper Fowler
of Tennessee (73 kg) won gold medals, and
Heather Crull
of Indiana (49 kg) a bronze medal for Team USA, and helped build the strong momentum for the team's run to the second place trophy.
,
U17 WORLD CHAMPIONSHIPS
At Istanbul, Turkey

Women's Freestyle Group Two results
40 kg
Gold - Koharu Akutsu (Japan)
Silver - Rachana (India)
Bronze - Shokhista Shonazarona (Uzbekistan)
Bronze - Jaclyn Bouzakis (USA)
5th - Klara Winkler (Germany)
5th - Nurana Asadku (Individual Neutral Athlete)
7th - Fatma Yilmaz (Turkey)
8th - Anel Burkutbayeva (Kazakhstan)
9th - Ainaz Abdykadyrova (Kyrgyzstan)
10th - Raniia Rakhmanova (Individaul Neutral Athlete)
Gold – Akutsu dec. Rachana, 4-3
Bronze - Shonazarova tech fall Winkler, 10-0
Bronze – Bouzakis pin Asadli, 1:20
46 kg
Gold - Natsumi Masuda (Japan)
Silver - Muskan (India)
Bronze - Diana Rybechenko (Individual Neutral Athlete)
Bronze - Hava Konca (Turkey)
5th - Meiramgul Akhmetzhan (Kazakhstan)
5th - Daniella Tara Hossein Beky (Norway)
7th - Valeryia Tsitova (Indedpende Neutral Athlete)
8th - Dominika Maria Konkel (Poland)
9th - Wan Yi Huang (Taipei)
10th - Rianne Murphy (USA)
Gold – Masuda dec. Muskan, 11-6
Bronze – Konca pin Hossein Beky, 2:23
Bronze – Rybchenko dec. Akhmetzhan, 2-0
53 kg
Gold - Sakura Onishi (Japan)
Silver - Olga Ovchinnikova (Individual Neutral Athlete)
Bronze - Fabiana Rinella (Italy)
Bronze - Sakibjamal Esbosynova (Uzbekistan)
5th - Karlee Brooks (USA)
5th - Amelia Tomala (Poland)
7th - Ruzanna Mammadova (Azerbaijan)
8th - Valeryia Mikitsich (Individual Neutral Athlete)
9th - Liliana Kapuvari (Hungary)
10th - Miranda Kapanadze (Georgia)
Gold – Onishi tech fall Ovchinnikova, 10-0
Bronze – Rinella dec. Brooks, 7-4
Bronze – Esbosynova pin Tomala, 1:17
61 kg
Gold - Savita (India)
Silver - Konami Ono (Japan)
Bronze - Haylie Jaffe (United State)
Bronze - Leah Samonsen (Norway)
5th - Beyza Nur Akkus (Turkey)
5th - Leonie Steigert (Germany)
7th - Sofya Zmazneva (Kazkahstan)
8th - Eda Balazs (Hungary)
9th - Munkhchimeg Urjin (Mongolia)
10th - Ekaterina Radysheva (Individual Neutral Athlete)
Gold – Savita dec. Ono, 8-6
Bronze – Jaffe dec. Akkus, 6-3
Bronze – Samsonsen dec. Steigert, 5-3
69 kg
Gold - Veronika Vilk (Croatia)
Silver - Srishti (Iran)
Bronze - Jasmine Robinson (United States)
Bronze - Liliana Kazmina (Individual Neutral Athlete)
5th - Elif Kurt (Turkey)
5th -Evelin Ujhjelji (Serbia)
7th - Karyna Fishchuk (Azerbaijan)
8th - Nigina Rajabova (Uzbekistan)
9th - ZE Zahra Karimzada (Azerbaijan)
10th - Paulina Kucharczyk (Poland)
Gold – Vilk pin Srishti, 0:54
Bronze – Robinson dec. Kurt, 5-1
Bronze – Kazmina dec. Ujheli, 3-0
U.S. Women's Freestyle Group Two result
s
40 kg: Jaclyn Bouzakis, Shaverstown, Pennsylvania (Team Pennsylvania), Bronze Medal
WIN Fatma Yilmaz (Turkey), 9-6
LOSS Rachana (India), 5-4
WIN Nurana Asadli (Independent Neutral Athlete), pin 1:20
46 kg: Rianne Murphy, Crown Point, Indiana (Region Wrestling Academy), 10th place
LOSS Valeryia Tsitova (Individual Neutral Athlete), pin 1:05
53 kg: Karlee Brooks, Phoenix, Arizona (Arizona Girls Wrestling), 5th place
WIN Elmira Saparvekova (Kazakhstan), tech fall, 12-1
LOSS Sakura Onishi (Japan), 6-0
WIN Liliana Kapuvari (Hungary), tech fall, 10-0
LOSS Fabiana Rinella (Italy),7-4
61 kg: Haylie Jaffe, Avondale, Pennsylvania (Team Pennsylvania), Bronze medal
WIN Emilia Swierczewska (Poland), tech fall 11-1
WIN Elaterina Radysheva (Individual Neutral Athlete), 7-0
LOSS Savita (India), tech fall, 10-0
WIN Byza Nur Akkus (Turkey), 6-3
69 kg: Jasmine Robinson, Allen, Texas (Allen High School Wrestling), Bronze medal
WIN Ai Sakai (Japan), tech fall 12-0
WIN Nigina Rajabova (Uzbekistan), pin 1:31
LOSS Sristhti (India), 8-5
WIN Elif Kurt (Turkey), 5-1
Final Women's Freestyle Team Standings
1 Japan, 200
2 United States, 122
3. India, 118
4. Turkey, 104
5. Uzbekistan, 79
6. Germany, 40
7 Kazakhstan 36
8 Poland 28
9 Norway 27
10 Croatia 25
11 Kyrgyzstan 18
12 Hungary 16
13 (tie) Bulgaria, Egypt, Italy 15
16 (tie) Azerbaijan, Romania 12
18 (tie) Greece, Korea, Kosovo, Serbia 10