News
USA Wrestling
International
Women
High School & Youth
USAW
Bouzakis, Jaffe, Robinson advance to semifinals at U17 Worlds in women's freestyle in Istanbul
by Gary Abbott, USA Wrestling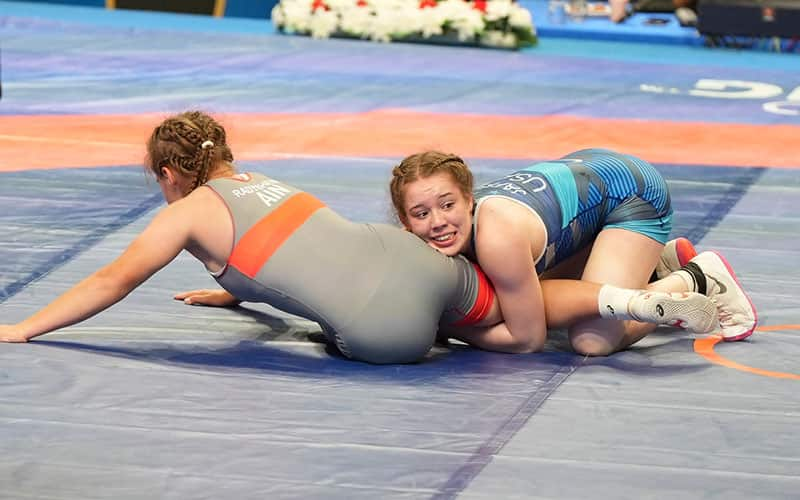 Haylie Jaffe (USA) scores a clutch takedown in her quarterfinals win over Elaterina Radysheva (AIN) at 2023 U17 Worlds. Photo by Gary Abbott
.
ISTANBUL, Turkey –Three U.S. women's freestyle stars won their quarterfinal matches and advanced to Thursday night's semifinal round at the
U17 World Championships
in women's freestyle wrestling.
The U.S. semifinalists today will be
Jaclyn Bouzakis
of Pennsylvania (40 kg),
Haylie Jaffe
of Pennsylvania (61 kg) and
Jasmine Robinson
of Texas (69 kg). Ironically, all three U.S. wrestlers will face opponents from India in their semifinals matches.
Bouzakis had one match, winning a highly-contested 9-6 quarterfinals bout against tough Fatma Yilmaz of Turkey, a 2023 European U17 silver medalist. Bouzakis jumped to 6-1 lead over fan favorite Fatma Yilmaz of Turkey and kept composure late in the match for a 9-6 win.
Bouzakis draws 2023 Asian U17 champion Rachana of India in the semifinals.
Jaffe was on fire in an 11-0 technical fall in her first match with Emilia Swierczewska of Poland. In the first period, there were three takedowns and a step out. She finished it off in the second period with a takedown and an ankle lace turn.
She showed great composure in her 7-0 quarterfinal win over 2023 European U17 champion Elaterina Radysheva, an Individual Neutral Athlete from Russia. Jaffe led 1-0 at the break and scored a clutch takedown early in the second period to change the momentum. She used great position to score two more takedowns to win 7-0.
Jaffe has 2021 U17 World champion and two-time U17 Asian champion Savita of India in semifinals.
Robinson, the only member of the U.S. team who competed at the 2022 U17 World Championships, was dominant in her two victories.
Robinson won a huge match in her opener, powering to a 12-0 technical fall over Ai Sakai of Japan. Robinson opened with a big four-point throw, then added three more points on a turn and a stepout. When Sakai went on attack, Robinson had a counter throw for four points to end it at 11-0. Japan challenged but it was denied, giving Robinson her 12th point.
Robinson dominated Nigina Rajabova of Uzbekistan in the quarterfinals, getting big points before pinning her in 1:31.
In the semifinals Robinson wrestles 2023 U17 Asian champion Sristhti of India in the semifinals.
Dropping her quarterfinal match, but still possible for repechage, was
Karlee Brooks
of Arizona at 53 kg.
Brooks was sharp in her first bout, a 12-1 technical fall over opened with a takedown and two turns for a 6-0 lead. After a takedown, Brooks turned Saparvekova, who got a reversal on the move, making it 10-1 at the break. Add in another takedown and Brooks wins 12-1 by technical fall.
Brooks battled hard in the quarterfinals, but was beaten by Sakura Onishi of Japan, 6-0 in the quarterfinals. Onishi got takedown and exposure points in the first period and did not allow Brooks back in the match. Brooks needs Onishi to win the semifinals to get back into repechage.
In her first round match at 46 kg, Rianne Murphy of Indiana took a shot on Valeryia Tsitova, an Individual Neutral Athlete, who countered the shot and locked up a cradle. Tsitova worked the cradle for a fall in 1:05. Murphy was eliminated when Tsitova was defeated in the quarterfinals.
The Group Two semifinals are scheduled for 5:00 p.m. local time in Istanbul, which is seven hours ahead of U.S. Eastern time zone. That is followed by the Group One finals in women's freestyle, where two U.S. wrestlers are going for the gold,
Morgan Turner
of Illinois (43 kg) and
Piper Fowler
of Tennessee (73 kg) and going for a bronze is
Heather Crull
of Indiana (49 kg).
All of the action is
live on FloWrestling
.
U17 WORLD CHAMPIONSHIPS
At Istanbul, Turkey

Semifinal pairings
40 kg
Koharu Akutsu (Japan) vs. Klara Winkler (Germany)
Jaclyn Bouzakis (United States) vs. Rachana (India)
46kg
Meiramgul Akhmetzhan (Kazakhstan) vs. Muskan (India)
Natsumi Masuda (Japan) vs. Daniella Tara Hossein Beky (Norway)
53 kg
Fabiana Rinella (Italy) vs. Sakura Onishi (Japan)
Olga Ovchinnikova (Individual Neutral Athlete) vs. Sakibjamal Esbosynova (Uzbekistan)
61 kg
Haylie Jaffe (United States) vs. Savita (India)
Konami Ono (Japan) vs. Leah Samsonsen (Norway)
69 kg
Srishti (India) vs. Jasmine Robinson (United States)
Veronika Vilk (Croatia) vs. Evelin Ujhelji (Serbia)
Quarterfinal results
40 kg
Koharu Akutsu (Japan) dec. Shokhista Shonazarova (Uzbekistan), 6-2
Klara Winkler (Germany) dec. Anel Burkutbayeva (Kazakhstan), 6-1
Jaclyn Bouzakis (United States) dec. Fatma Yilmaz (Turkey), 9-6
Rachana (India) tech fall Nurana Asadli (Individual Neutral Athlete), 10-0 2:36
46 kg
Meiramgul Akhmetzhan (Kazakhstan) pin Aidana Abdykerim (Kyrgyzstan), 0:43
Muskan (India) pin Dominika Maria Konkel (Poland), 3:23
Natsumi Masuda (Japan) dec. Josephine Wrensch (Germany), 7-0
Daniella Tara Hossein Beky (Norway) pin Valeryia Tsitova (Individual Neutral Athlete), 0:56
53 kg
Fabiana Rinella (Italy) dec. Ruzanna Mammadova (Azerbaijan), 4-1
Sakura Onishi (Japan) dec. Karlee Sayuri brooks (United States), 6-0
Olga Ovchinnikova (Individual Neutral Athlete) dec. Amelia Zofia Tomala (Poland), 5-0
Sakibjamal Esbosynova (Uzbekistan) pin Valeryia Mikitsich (Individual Neutral Athlete), 0:27
61 kg
Haylie Jaffe (United States) dec. Ekaterina Radysheva (Individual Neutral Athlete), 7-0
Savita (India) tech fall Sofya Zmazneva (Kazakhstan), 16-5 3:38
Konami Ono (Japan) tech fall Eda Balazs (Hungary), 10-0 1:09
Leah Samsonsen (Norway) dec. Akylai Chynybaeva (Kyrgyzstan), 6-1
69 kg
Srishti (India) dec. Elif Sevval kurt (Turkey), 3-0
Jasmine Robinson (United States) pin Nigina Rajabova (Uzbekistan), 1:34
Veronika Vilk (Croatia) pin Karyna Fishchuk (Individual Neutral Athlete), 1:13
Evelin Ujhelji (Serbia) pin Zahra Karimzada (Azerbaijan), 0:45
U.S. Women's Freestyle Group Two results
40 kg: Jaclyn Bouzakis, Shaverstown, Pennsylvania (Team Pennsylvania), in semifinals
WIN Fatma Yilmaz (Turkey), 9-6
Semifinals – Rachana (India)
46 kg: Rianne Murphy, Crown Point, Indiana (Region Wrestling Academy), eliminated
LOSS Valeryia Tsitova (Individual Neutral Athlete), pin 1:05
53 kg: Karlee Brooks, Phoenix, Arizona (Arizona Girls Wrestling), status pending
WIN Elmira Saparvekova (Kazakhstan), tech fall, 12-1
LOSS Sakura Onishi (Japan), 6-0
61 kg: Haylie Jaffe, Avondale, Pennsylvania (Team Pennsylvania), in semifinals
WIN Emilia Swierczewska (Poland), tech fall 11-1
WIN Elaterina Radysheva (Individual Neutral Athlete), 7-0
Semifinals – Savita (India)
69 kg: Jasmine Robinson, Allen, Texas (Allen High School Wrestling), in semifinals
WIN Ai Sakai (Japan), tech fall 12-0
WIN Nigina Rajabova (Uzbekistan), pin 1:31
Semifinals – Sristhti (India)