News
USA Wrestling
International
Women
USAW
Seven U.S. athletes at No. 1 in UWW Ranking Series standings after Zagreb Open, with 62 from USA ranked
by Gary Abbott, USA Wrestling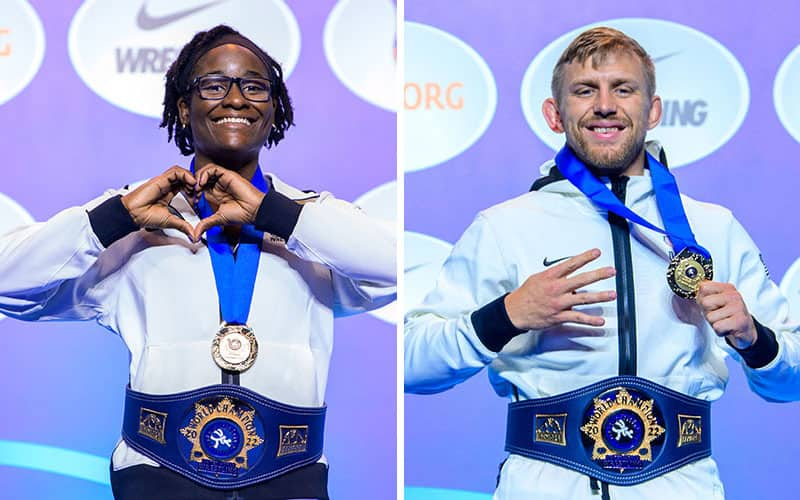 Tamyra Mensah Stock (USA) and Kyle Dake (USA) with their 2022 Senior World gold medals. Photos by Tony Rotundo, Wrestlers Are Warriors
United World Wrestling has updated the 2023 Ranking Series standings after the first of the Ranking Events, the Zagreb Open, which was held in Zagreb, Croatia last week.
The United States has strong representation in the rankings, with six No. 1 athletes and 62 total athletes in the rankings posted on the UWW website homepage. https://uww.org/
The six No. 1 wrestlers include four women's freestyle stars, Helen Maroulis (57 kg), Kayla Miracle (62 kg), Tamyra Mensah Stock (68 kg) and Amit Elor (72 kg), plus three men's freestyle stars, Kyle Dake (74 kg), Jordan Burroughs (79 kg) and Kyle Snyder (97 kg).
In total, there are 29 U.S. men's freestyle athletes, 21 U.S. women's freestyle athletes and 12 Greco-Roman athletes in the current ranking.
The UWW Ranking Series determine the seeds for the 2023 Senior World Championships, as well as prize money to athletes. UWW will provide 150,000 Swiss Francs to reward the top 10 wrestlers in each of the three disciplines. In addition, a pool of 390,000 Swiss Francs will be given to medalists at each Ranking Series tournament. The gold medal winners at the four Ranking Series tournaments in 2023 will receive 1500 Swiss Francs with the silver medalists getting 750 Swiss Francs. The two bronze medalists will receive 500 Swiss Francs each.
At the Zagreb Open, the United States won 14 medals, including six gold, two silver and six bronzes, for a combined payout of 12,500 Swiss Francs to U.S. wrestlers.
The ranking series events for the 2023 year are the 2022 Senior Worlds, the four Ranking Series events, the Continental Championships, plus two Continental Games (Asian, Pan American).
U.S. athletes in the 2023 UWW Ranking Series
U.S. men's freestyle in the rankings (29 athletes)
No. 1 at 74 kg MFS – Kyle Dake, 45,000 points
No. 1 at 79 kg MFS – Jordan Burroughs, 45,000 points
No. 1 at 97 kg MFS – Kyle Snyder, 56,000 points
No. 2 at 86 kg MFS – David Taylor, 45,000 points
No. 2 at 57 kg MFS – Thomas Gilman, 37,000 points
No. 2 at 70 kg MFS – Zain Retherford, 37,000 points
No. 3 at 65 kg MFS – Yianni Diakomihalis, 37,000 points
No. 3 at 92 kg MFS – J'den Cox, 37,000 points
No. 5 at 57 kg MFS – Seth Gross, 25,000 points
No. 8 at 125 kg MFS – Hayden Zillmer, 23,680 points
No. 11 at 74 kg MFS – Jason Nolf, 13,000 points
No. 13 at 65 kg MFS – Joey McKenna, 11,400 points
No. 13 at 92 kg MFS – Kollin Moore, 8,000 points
No. 14 at 70 kg MFS – Alec Pantaleo, 8,000 points
No. 15 at 65 kg MFS – Evan Henderson, 10,200 points
No. 15 at 74 kg MFS – Joseph LaVallee, 9,000 points
No. 15 at 86 kg MFS – Zahid Valencia, 8,200 points
No. 16 at 57 kg MFS – Zane Richards, 7,000 points
No. 16 at 86 kg MFS – Mark Hall, 8,200 points
No. 18 at 92 kg MFS – Jay Aiello, 4,000 points
No. 19 at 65 kg MFS – Nick Lee, 8.520 points
No. 19 at 79 kg MFS – Chance Marsteller, 5,200 points
No. 19 at 125 kg MFS – Ceron Francisco, 6.520 points
No. 21 at 61 kg MFS – Daniel DeShazer, 3,200 points
No. 22 at 70 kg MFS – Tyler Berger, 3,520 points
No. 22 at 125 kg MFS – Jordan Wood, 5,800 points
No. 23 at 70 kg MFS – Hayden Hidlay, 3,200 points
No. 24 at 97 kg MFS – Morgan Smith, 3,075 points
No. 30 at 74 kg MFS – Tommy Gantt, 5,013 points
U.S. women's freestyle athletes in the rankings (21 athletes)
No. 1 at 57 kg WFS – Helen Maroulis, 45,200 points
No. 1 at 62 kg WFS – Kayla Miracle, 47,200 points
No. 1 at 68 kg WFS – Tamyra Mensah Stock, 45,000 points
No. 1 at 72 kg WFS – Amit Elor, 43,000 points
No. 2 at 53 kg WFS – Dom Parrish, 45,000 points
No. 2 at 65 kg WFS – Mallory Velte, 35,4000 points
No. 4 at 50 kg WFS – Sarah Hildebrandt, 31,000 points
No. 6 at 55 kg WFS – Jacarra Winchester, 25,000 points
No. 10 at 59 kg WFS – Abigail Nette, 12,300 points
No. 11 at 76 kg WFS – Yelena Makoyed, 13,000 points
No. 12 at 72 kg WFS – Skylar Grote, 8,000 points
No. 13 at 76 kg WFS – Dymond Guilford, 10,200 points
No. 15 at 50 kg WFS – Erin Golston, 9,000 points
No. 15 at 76 kg WFS – Precious Bell, 9,000 points
No. 16 at 68 kg WFS – Solin Piearcy, 7,000 points
No. 18 at 57 kg WFS – Alex Hedrick, 8,520 points
No. 18 at 65 kg WFS – Emma Bruntil, 4,000 points
No. 20 at 53 kg WFS – Alisha Howk, 7,800 points
No. 21 at 68 kg WFS – Alex Glaude, 5,800 points
No. 25 at 68 kg WFS – Marilyn Garcia, 3,050 points
No. 29 at 53 kg WFS – Katie Gomez, 5,025 points
U.S. Greco-Roman athletes in the rankings (12 athletes)
No. 5 at 55 kg GR – Max Nowry, 25,000 points
No. 11 at 60 kg GR– Ildar Hafizov, 14,300 points
No. 11 at 67 kg GR– Alejandro Sancho, 14,800 points
No. 12 at 97 kg GR – Braxton Amos, 14,300 points
No. 18 at 60 kg GR – Dalton Roberts, 8,520 points
No. 20 at 55 kg GR– Dalton Duffield, 4,000 points
No. 20 at 82 kg GR– Spencer Woods, 4,000 points
No. 21 at 63 kg GR– Sammy Jones, 5,480 points
No. 22 at 130 kg GR – Cohlton Schultz, 5,800 points
No. 25 at 72 kg GR – Patrick Smith, 5,075 points
No. 25 at 130 kg GR – Tanner Farmer, 5,100 points
No. 26 at 72 kg GR – Britton Holmes, 5,050 points
Top ranked wrestlers in each weight class

Men's freestyle
57 kg – Zelimkhan Abakarov (Albania), 45,000 points
61 kg – Rei Higuchi (Japan), 45,000 points
65 kg – Rahman Amouzadkhalili, 45,000 points
70 kg – Taishi Narikuni (Japan), 45,000 points
74 kg – Kyle Dake (USA), 45,000 points
79 kg – Jordan Burroughs (USA), 45,000 points
86 kg – Hassan Yazdani Charati (Iran), 48,000 points
92 kg – Kamran Ghasempour (Iran), 45,000 points
97 kg – Kyle Snyder (USA), 56,000 points
125 kg – Taha Akgul (Turkey), 45,000 points
Women's freestyle
50 kg – Yui Susaki (Japan), 58,000 points
53 kg – Khulan Batkhuyag (Mongolia), 45,520 points
55 kg – Mayu Shidochi Mukaida (Japan), 45,000 points
57 kg – Helen Maroulis (USA), 45,200 points
59 kg – Anastasia Nichita (Moldova), 47,000 points
62 kg – Kayla Miracle (USA), 47,200 points
65 kg – Miwa Morikawa (Japan), 43,000 points
68 kg – Tamyra Mensah Stock (USA), 45,000 points
72 kg – Amit Elor (USA), 43,000 points
76 kg – Yasemin Adar Yigit (Turkey), 45,000 points
Greco-Roman
55 kg – Eldaniz Azizli (Azerbaijan), 45,000 points
60 kg – Zholaman Sharshenbekov (Kyrgyzstan), 45,000 points
63 kg – Sebastian Nad (Serbia), 45,000 points
67 kg – Mate Nemes (Serbia), 45,000 points
72 kg – Ali Feizollah Arsalan (Serbia), 45,000 points
77 kg – Akzhol Makhmudov (Kyrgyzstan), 45,000 points
82 kg – Burhan Akbudak (Turkey), 45,000 points
87 kg – Turpal Ali Bisultanov (Denmark), 47,200 points
97 kg – Kiril Milov (Bulgaria), 50,000 points
130 kg – Riza Kayaalp (Turkey), 45,000 points
U.S. athletes in the rankings (all three disciplines combined)
No. 1 at 57 kg WFS – Helen Maroulis, 45,200 points
No. 1 at 62 kg WFS – Kayla Miracle, 47,200 points
No. 1 at 68 kg WFS – Tamyra Mensah Stock, 45,000 points
No. 1 at 72 kg WFS – Amit Elor, 43,000 points
No. 1 at 74 kg MFS – Kyle Dake, 45,000 points
No. 1 at 79 kg MFS – Jordan Burroughs, 45,000 points
No. 1 at 97 kg MFS – Kyle Snyder, 56,000 points
No. 2 at 86 kg MFS – David Taylor, 45,000 points
No. 2 at 57 kg MFS – Thomas Gilman, 37,000 points
No. 2 at 70 kg MFS – Zain Retherford, 37,000 points
No. 2 at 53 kg WFS – Dom Parrish, 45,000 points
No. 2 at 65 kg WFS – Mallory Velte, 35,4000 points
No. 3 at 65 kg MFS – Yianni Diakomihalis, 37,000 points
No. 3 at 92 kg MFS – J'den Cox, 37,000 points
No. 4 at 50 kg WFS – Sarah Hildebrandt, 31,000 points
No. 5 at 57 kg MFS – Seth Gross, 25,000 points
No. 5 at 55 kg GR – Max Nowry, 25,000 points
No. 6 at 55 kg WFS – Jacarra Winchester, 25,000 points
No. 8 at 125 kg MFS – Hayden Zillmer, 23,680 points
No. 10 at 59 kg WFS – Abigail Nette, 12,300 points
No. 11 at 76 kg WFS – Yelena Makoyed, 13,000 points
No. 11 at 74 kg MFS – Jason Nolf, 13,000 points
No. 11 at 60 kg GR– Ildar Hafizov, 14,300 points
No. 11 at 67 kg GR– Alejandro Sancho, 14,800 points
No. 12 at 72 kg WFS – Skylar Grote, 8,000 points
No. 12 at 97 kg GR – Braxton Amos, 14,300 points
No. 13 at 65 kg MFS – Joey McKenna, 11,400 points
No. 13 at 92 kg MFS – Kollin Moore, 8,000 points
No. 13 at 76 kg WFS – Dymond Guilford, 10,200 points
No. 14 at 70 kg MFS – Alec Pantaleo, 8,000 points
No. 15 at 50 kg WFS – Erin Golston, 9,000 points
No. 15 at 76 kg WFS – Precious Bell, 9,000 points
No. 15 at 65 kg MFS – Evan Henderson, 10,200 points
No. 15 at 74 kg MFS – Joseph LaVallee, 9,000 points
No. 15 at 86 kg MFS – Zahid Valencia, 8,200 points
No. 16 at 57 kg MFS – Zane Richards, 7,000 points
No. 16 at 86 kg MFS – Mark Hall, 8,200 points
No. 16 at 68 kg WFS – Solin Piearcy, 7,000 points
No. 18 at 57 kg WFS – Alex Hedrick, 8,520 points
No. 18 at 65 kg WFS – Emma Bruntil, 4,000 points
No. 18 at 92 kg MFS – Jay Aiello, 4,000 points
No. 18 at 60 kg GR – Dalton Roberts, 8,520 points
No. 19 at 65 kg MFS – Nick Lee, 8.520 points
No. 19 at 79 kg MFS – Chance Marsteller, 5,200 points
No. 19 at 125 kg MFS – Ceron Francisco, 6.520 points
No. 20 at 53 kg WFS – Alisha Howk, 7,800 points
No. 20 at 55 kg GR– Dalton Duffield, 4,000 points
No. 20 at 82 kg GR– Spencer Woods, 4,000 points
No. 21 at 68 kg WFS – Alex Glaude, 5,800 points
No. 21 at 63 kg GR– Sammy Jones, 5,480 points
No. 21 at 61 kg MFS – Daniel DeShazer, 3,200 points
No. 22 at 130 kg GR – Cohlton Schultz, 5,800 points
No. 22 at 70 kg MFS – Tyler Berger, 3,520 points
No. 22 at 125 kg MFS – Jordan Wood, 5,800 points
No. 23 at 70 kg MFS – Hayden Hidlay, 3,200 points
No. 24 at 97 kg MFS – Morgan Smith, 3,075 points
No. 25 at 68 kg WFS – Marilyn Garcia, 3,050 points
No. 25 at 72 kg GR – Patrick Smith, 5,075 points
No. 25 at 130 kg GR – Tanner Farmer, 5,100 points
No. 26 at 72 kg GR – Britton Holmes, 5,050 points
No. 29 at 53 kg WFS – Katie Gomez, 5,025 points
No. 30 at 74 kg MFS – Tommy Gantt, 5,013 points