News
USA Wrestling
International
Women
USAW
Turner, Crull and Fowler advance to semifinals at U17 Worlds in women's freestyle; two others from USA eliminated
by Gary Abbott, USA Wrestling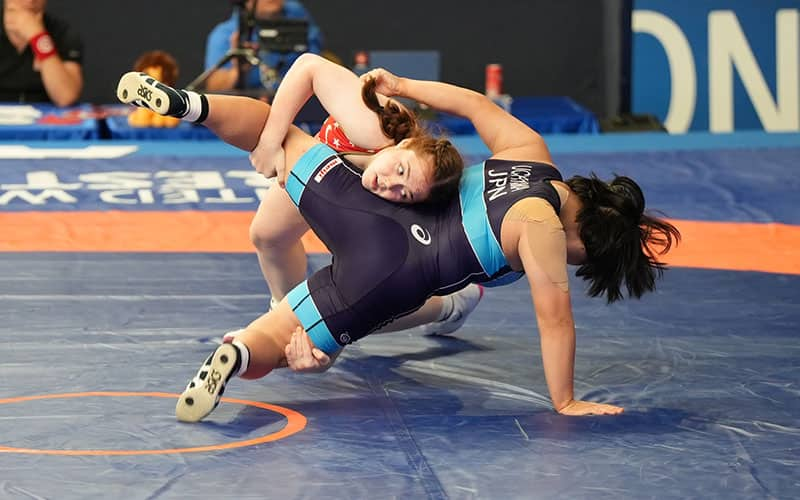 Piper Fowler (USA) takes down Ako Uchiyama (Japan) at 73 kg in 2023 U17 World Championships. Photo by Gary Abbott.


ISTANBUL, Turkey – Three U.S. women won their quarterfinals in the morning session and have advanced to Wednesday's semifinals at the U17 World Championships: Morgan Turner of Illinois (43 kg), Heather Crull of Indiana (49 kg), and Piper Fowler of Tennessee (73 kg).


Turner opened up the tournament with dominance, getting a pair of technical fall wins. She scored two takedowns and three turns in a first-period technical fall over Saadat Guliyeva of Azerbaijan, 10-0. In her quarterfinal match, Turner hit a pair of blast double legs for four points, then added an ankle lace turn, for a 10-0 technical fall over Alina Mazharouskaya, an Individual Neutral Athlete. Turner will battle Nilufar Nurmukhammadova of Uzbekistan in the semifinals.


Crull had little trouble in her opener, a 10-0 technical fall over European U17 bronze medalist Nil Aktas of host Turkey. She was the aggressor in her wide-open quarterfinals win over Lucja Korcz of Poland, 13-8. While Korcz was able to score on some counters, Crull took repeated shots during the match and finished many of them to secure the victory. She has drawn Individual Neutral Athlete Svitlana Katenka in the semifinals. Katenka was a 2023 European U17 champion.


Piper Fowler shut out Ako Uchiyama of Japan, 6-0 in her first match at 73 kg. She scored a takedown and two stepouts in the first period and added a counter takedown in the second period. In the quarterfinals, Fowler was dominant in a 13-0 technical fall over Laia Horta Gallardo of Spain, Fowler scored takedowns and turns in her dominant win. She has drawn Alikaksandra Kazlova, an Individual Neutral Athlete, in the semifinals. Kazlova was a silver medalist at the 2023 U17 European Championships.


Two U.S. wrestlers were defeated in their opening bouts: Everest Leydecker of Arizona (57 kg) and May Prado of Georgia (65 kg). Both were eliminated and not eligible for repechage when the wrestlers who beat them were defeated by opponents from Japan.


Leydecker of Arizona did not get an offense untracked, losing her opener at 57 kg to 2023 Asian U17 champion Neha of India. Neha had a takedown and turn in the first period and added a shot clock point in the second period. Neha lost in the quarterfinals to Sowaka Uchida of Japan , which means Leydecker is not eligible for the repechage.


Dropping her first match at 65 kg was May Prado of Georgia, who lost 8-0 to Mukhayyo Rakhimjonova of Uzbekistan, who was fifth in the 2013 Asian U17 Championships. Rakhimjonova had two takedowns and a stepout to lead 5-0 at the break and added a takedown and stepout in the second period. Rakhimijonova lost in the quarterfinals to Chisato Yoshida of Japan, knocking Prado out of the tournament.


Japan put four of their five wrestlers from Group One in the semifinals, with their only loss to Piper Fowler of the USA at 73 kg.


The semifinals will be held at 5:00 p.m. local time, which is seven hours ahead of U.S. Eastern time. All of the action is live on FloWrestling.
U17 WORLD CHAMPIONSHIPS

At Istanbul, Turkey, August 2


Women's Freestyle Group One competition


Semifinal pairings

43 kg
Mona Ezaka (Japan) vs. Maria Louiza Gkika (Greece)
Nilufar Nurmukhammadova (Uzbekistan) vs. Morgan Turner (United States)

49 kg
Sviatlana Katenka (Individual Neutral Athlete) vs. Heather Crull (United States)
Rinka Ogawa (Japan) vs. Tana Tiuliush (Individual Neutral Athlete)

57 kg
Yeojin Min (Korea) vs. Sowaka Uchida (Japan)
Aziza Keldibekova (Kyrgyzstan) vs. Eylem Engin (Turkey)

65 kg
Duygu Gen (Turkey) vs. Maryia Makarchanka (Individual Neutral Athlete)
Chisato Yoshida (Japan) vs. Margarita Salnazarian (Individual Neutral Athlete)

73 kg
Lotta Englich (Germany) vs. Asaloy Amangeldieva (Uzbekistan)
Aliaksandra Kazlova (Individual Neutral Athlete) vs. Piper Fowler (United States)

Quarterfinal results

43 kg
Mona Ezaka (Japan) pin Parveen Parveen (India), 0:19
Maria Louiza Gkika (Greece) dec. Medina Kuanyshbek (Kazakhstan), 3-1
Nilufar Nurmukhammadova (Uzbekistan) pin Yagmur Karabacak (Turkey), 3:28
Morgan Turner (United States) tech fall Alina Mazharouskaya (Individual Neutral Athlete), 10-0 0:49

49 kg
Sviatlana Katenka (Individual Neutral Athlete) pin Lonisa Reka (Kosovo), 2:58
Heather Crull (United States) dec. Lucja Dorota Korcz (Poland), 13-8
Rinka Ogawa (Japan) tech fall Drishti Drishti (India), 10-0 2:30
Tana Tiuliush (Individual Neutral Athlete) dec. Anna Koeblo (Hungary), 8-1

57 kg
Yeojin Min (Korea) dec. Mirijam Lindaas hansen (Norway), 7-0
Sowaka Uchida (Japan) dec. Neha (India), 8-4
Aziza Keldibekova (Kyrgyzstan) dec. Alina Kozhyna (Individual Neutral Athlete), 8-0
Eylem Engin (Turkey) dec. Durdona Saidova (Uzbekistan), 8-4

65 kg
Duygu Gen (Turkey) pin Mouda Badawi Hamdoun (Egypt), 1:10
Maryia Makarchanka (Individual Neutral Athlete) dec. Viktoria Foeldesiova (Slovakia), 9-4
Chisato Yoshida (Japan) dec. Mukhayyo Rakhimjonova (Uzbekistan), 2-0
Margarita Salnazarian (Individual Neutral Athlets) dec. Shiksha (India), 3-2

73 kg
Lotta Englich (Germany) dec. Elmira Yasin (Turkey), 4-2
Asaloy Amangeldieva (Uzbekistan) dec. Ionela Georgiana cojocaru (Romania), 3-1
Aliaksandra Kazlova (Individual Neutral Athlete) tech fall Akylai Abdrakhmanova (Kyrgyzstan), 10-0 3:42
Piper Fowler (United States) tech fall Laia Horta Gallardo (Spain), 13-0 1:38

U.S. Women's Freestyle Group One results

43 kg: Morgan Turner, Lockport, Illinois (Sunkist Kids), in semifinals
WIN Saadat Guliyeva (Azerbaijan), tech. fall 10-0
WIN Alina Mazharouskaya (Individual Neutral Athlete), tech fall 10-0.
Semifinals – Nilufar Nurmukhammadova (Uzbekistan)

49 kg: Heather Crull, Richmond, Indiana (Northeastern WC), in semifinals
WIN Nil Aktas (Turkey), tech fall 10-0
WIN Lucja Korcz (Poland), 13-8
Semifinals – Svitlana Katenka (Individual Neutral Athlete)

57 kg: Everest Leydecker, Phoenix, Arizona (Thorobred WC), eliminated
LOSS Neha (India), 5-0

65 kg: May Prado , Marietta, Georgia (Level Up Wrestling Center), eliminated
LOSS Mukhayyo Rakhimjonova (Uzbekistan), 8-0

73 kg: Piper Fowler, Cleveland, Tenn. (Higher Calling WC), in semifinals
WIN Ako Uchiyama (Japan), 6-0
WIN Laia Horta Gallardo (Spain), tech fall, 13-0
Semifinals – Alikaksandra Kazlova (Individual Neutral Athlete)