News
USA Wrestling
International
Women
USAW
U.S. receives women's freestyle draws for Budapest Ranking Series event
by Richard Immel, USA Wrestling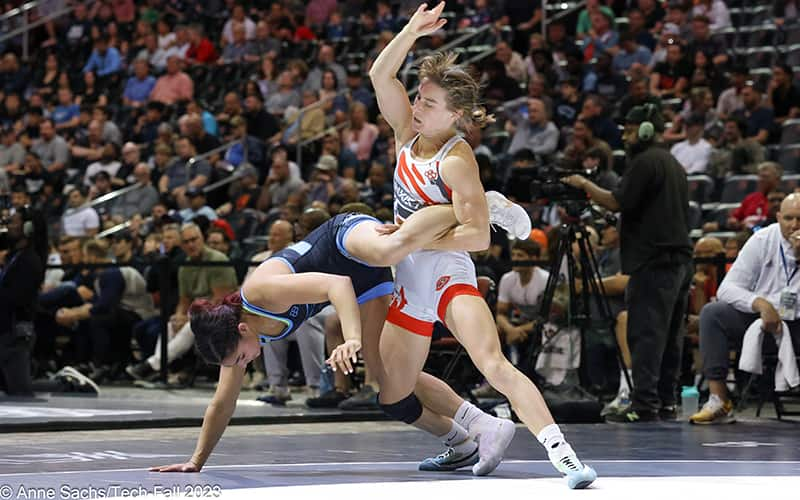 Photo: World champion Dominique Parrish, pictured at Final X in Newark, N.J., is among the U.S. women competing in Budapest. (Anne Sachs, tech-fall.com)
The U.S. has received its draw for the 10 women's freestyle brackets at the Polyák Imre & Varga János Memorial in Budapest, Hungary. The women's freestyle competition will be held on Friday and Saturday, with five weight classes running per day.
Five U.S. World Team members and 17 total American women are set to compete at the all-important UWW Senior Ranking Series event being held in Budapest's BOK Sport Hall. With seeding points for the World Championships up for grabs, each bracket is loaded with top international talent.
2020 Olympic bronze medalist Sarah Hildebrandt has drawn two-time World medalist Otgonjargal Dolgorjav of Mongolia in the first round at 50 kg. Dolgorjav got the better of Hildebrandt in the World semifinals last year, 6-2.
Fellow Tokyo Olympian and two-time World finalist Kayla Miracle is set to face Turkey's Selvi Ilyasoglu, who was a bronze medalist at the U20 European Championships this year, at 62 kg.
A pair of past World champions, Dominique Parrish and Jacarra Winchester, are in the mix in Budapest. Parrish will see eight-time Pan-American medalist Thalia Mallqui Peche of Peru at 53 kg. Winchester awaits the winner of Hungary's Erika Bognar, the European silver medalist, and American Alisha Howk, who won a bronze at last year's U23 World Championships and was Final X runner-up to Winchester this year, at 55 kg.
First-time U.S. World Team member Jennifer Page has been grouped into a round robin at 59 kg where she is guaranteed two matches. Her first opponent is 2018 Asian bronze medalist Sangeeta Sangeeta of India. American teammate Brenda Reyna, a two-time U20 World Team member for the U.S., is the third wrestler in the pool.
World bronze medalist Forrest Molinari and U.S. World Team hopeful Xochitl Mota-Pettis each face seasoned competitors to open the tournament. Molinari stands opposite two-time World bronze medalist and 2016 Olympian Buse Cavusoglu Tosun of Turkey at 68 kg. Mota-Pettis has drawn Hungary's Ramona Galambos at 57 kg. Galambos owns World medals at the University, U20 and U17 age levels.
The complete list of draws for all 17 U.S. athletes, as well as a daily event schedule for women's freestyle, can be found below.
The Polyák Imre & Varga János Memorial action will begin at 10:30 a.m. local time each day with medal matches set for 5 p.m. Budapest, Hungary, is located six hours ahead of U.S. Eastern Time.
A live stream of the event is available to the U.S. market on FloWrestling.com. Brackets and real-time results will be provided by United World Wrestling at UWW.org.
UWW Senior Ranking Series: Polyák Imre & Varga János Memorial
At Budapest, Hungary, July 13-16
U.S. women's freestyle draws
50 kg – Sarah Hildebrandt (Colorado Springs, Colo./USOPTC/New York AC)
VS Otgonjargal Dolgorjav (Mongolia), 2022 World silver medalist, 2021 World bronze medalist
50 kg – Erin Golston (Lake In The Hills, Ill./New York AC)
VS Gabija Dilyte (Lithuania), 2023 Klippan Lady Open bronze medalist, 2022 U23 European bronze medalist
53 kg – Dominique Parrish (Tempe, Ariz./Sunkist Kids WC)
VS Thalia Mallqui Peche (Peru), 2019 Pan-American Games bronze medalist, Eight-time Pan-American medalist
55 kg – Jacarra Winchester (Colorado Springs, Colo./USOPTC/Titan Mercury WC)
VS Erika Bognar (Hungary), 2023 European silver medalist, 2017 U17 World bronze medalist or Alisha Howk (United States), 2022 U23 World bronze medalist
55 kg – Alisha Howk (River Falls, Wis./Sunkist Kids WC)
VS Erika Bognar (Hungary), 2023 European silver medalist, 2017 U17 World bronze medalist
55 kg – Areana Villaescusa (Fountain, Colo./Army WCAP)
VS Vinesh Vinesh (India), Two-time World bronze medalist, Two-time Olympian
57 kg – Xochitl Mota-Pettis (Humble, Texas/Rise RTC)
VS Ramona Galambos (Hungary), 2018 World University champion, 2016 U20 World bronze medalist, 2015 U20 World silver medalist, 2013 U17 World champion
57 kg – Alex Hedrick (Fair Oaks, Calif./USOPTC/Titan Mercury WC)
VS Betzabeth Sarco Colmenarez (Venezuela), Three-time Pan-American bronze medalist
57 kg – Amanda Martinez (Riverside, Ill./Cardinal WC/Titan Mercury WC)
VS Elena Brugger (Germany), Two-time European bronze medalist, 2018 U23 World bronze medalist, 2018 World University champion, 2016 U20 World bronze medalist, 2014 U17 World bronze medalist
59 kg – Jennifer Page (State College, Pa./Titan Mercury WC/Nittany Lion WC)
VS Sangeeta Sangeeta (India), 2018 Asian bronze medalist
VS Brenda Reyna (United States), Two-time U.S. U20 World Team member
59 kg – Brenda Reyna (Mount Vernon, Wash./Army WCAP)
VS Sangeeta Sangeeta (India), 2018 Asian bronze medalist
VS Jennifer Page (United States), 2023 U.S. World Team member
62 kg – Kayla Miracle (Tempe, Ariz./Sunkist Kids WC)
VS Selvi Ilyasoglu (Turkey), 2023 U20 European bronze medalist, 2021 U17 World champion
62 kg – Bridgette Duty (Needville, Texas/Army WCAP)
VS Alina Kasabieva (AIN), 2021 U20World champion, 2019 U17 World bronze medalist
68 kg – Forrest Molinari (Mesa, Ariz./Sunkist Kids WC)
VS Buse Cavusoglu Tosun (Turkey), 2016 Olympian, Two-time World bronze medalist, 2023 European silver medalist, 2018 U23 World champion, 2016 World University champion, 2013 U20 World silver medalist
68 kg – Alexandria Glaude (Philomath/Ore./Beaver Dam RTC/Titan Mercury WC)
VS Nesrin Bas (Turkey), 2023 European bronze medalist, 2022 U23 World champion, two-time U20 World bronze medalist
76 kg – Yelena Makoyed (Orangevale, Calif./Cardinal WC/Titan Mercury WC)
VS Kamile Gaucaite (Lithuania), Two-time U23 European silver medalist, 2016 U17 World bronze medalist
76 kg – Dymond Guilford (Lancaster, Calif./USOPTC/Titan Mercury WC)
VS Juan Wang (China), 2023 Asian bronze medalist, 2019 World Military Games silver medalist, 2018 World Military champion
Event schedule
Friday, July 14
10:30 a.m. – Women's freestyle (50 kg, 53 kg, 57 kg, 62 kg, 68 kg) qualification rounds and repechage
5 p.m. – Women's freestyle (50 kg, 53 kg, 57 kg, 62 kg, 68 kg) finals and award ceremonies
Saturday, July 15
10:30 a.m. – Women's freestyle (55 kg, 59 kg, 65 kg, 72 kg, 76 kg) qualification rounds and repechage
5 p.m. – Women's freestyle (55 kg, 59 kg, 65 kg, 72 kg, 76 kg) finals and award ceremonies
*All times local for Budapest, Hungary (GMT +2), which is six hours ahead of U.S. Eastern Time