News
USA Wrestling
International
College
Women
USAW
Final X women's freestyle preview: Olympic medalists Maroulis, Gray, Hildebrandt, three other World champs headline field
by Gary Abbott, USA Wrestling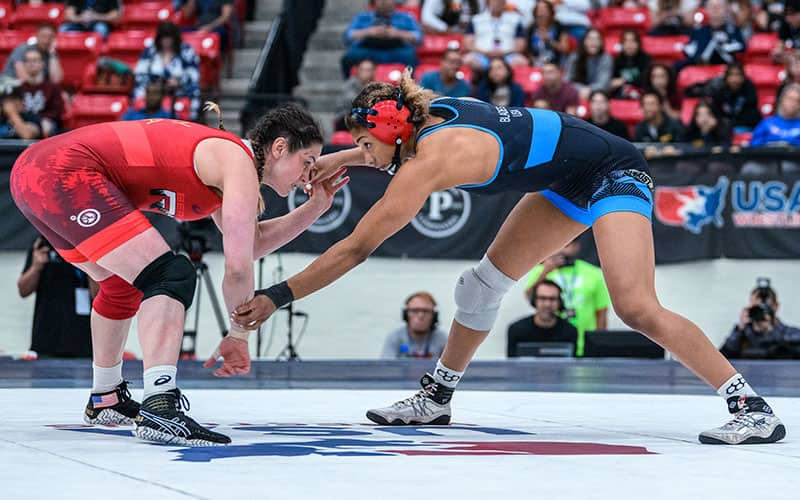 Adeline Gray and Kennedy Blades square off in the 2023 U.S. Open finals at 76 kg. Photo by Tony Rotundo, Wrestlers Are Warriors
.
The women's freeestyle portion of Final X in Newark, N.J. on June 10 will be an interesting mix of experienced veterans with outstanding resumes and a number of young talents breaking through at the Senior level. One of the big themes for these matchups will be whether the newcomers are ready to topple the proven performers. With the U.S. Olympic Team Trials only 10 months later, this year's Final X will truly set the stage for an exciting Olympic year.
We will summarize each pairing in weight order, which is how the matches will be conducted in Final X.
50 kg – Sarah Hildebrandt (Colorado Springs, Colo./USOPTC/New York AC) vs. Audrey Jimenez (Tucson, Ariz./Sunkist Kids WC)
This may be the best example of the clash between U.S. women's wrestling present and its future. Sarah Hildebrandt, an Olympic bronze medalist and multiple Senior World medalist is at the top of her game. Audrey Jimenez, who is still in high school in Arizona, made a huge leap in 2023 by winning the U.S. Senior Open title. These two wrestlers have not met in the past, but if Jimenez continues her steep advancement, this could emerge as a matchup that will be repeated for years to come.
When Hildebrandt made the move to 50 kg a few years ago, her career skyrocketed. She developed a lethal ankle lace from par terre, and has used her height as an advantage in many positions on the mat. When she gets a takedown, she is capable of getting multiple turns to end a match quickly. She is fresh off a Pan American title, something she has done eight times. What Hildebrandt has still not achieved is either a World title or an Olympic title, something that is a powerful motivation. Jimenez, who has been the Pound-For-Pound best high school wrestler for two years, has already shown World-class skills, with a U17 bronze and a U20 silver in her trophy case. Jimenez earned a repeat trip to the U20 Worlds for this summer. When Jimenez had an inspiring comeback to defeat two-time World bronze medalist Alyssa Lampe in the U.S. Open finals, she quickly emerged as somebody to take very seriously on the Senior level. Will Jimenez be ready when Hildebrandt gets on a roll? This should be a fun series.
Most recent match
: No previous meetings.
53 kg – Dominique Parrish (Tempe, Ariz./Sunkist Kids WC) vs. Katie Gomez (Van Nuys, Calif./Sunkist Kids WC)
This battle is between a pair of athletes who are training with Sunkist Kids in Tempe, meaning that they should be very familiar with each other in spite of no previous matches. Dom Parrish had her biggest career performance last year, when she blasted her way onto the Senior scene by winning the 53 kg World title in her first Senior Worlds appearance. Gomez is an accomplished age-group star who has quickly emerged on the Senior level. Parrish has a considerable edge in experience, so it will be interesting how Gomez approaches her strategy and tactics in the series.
Parrish has shown great progress since her days as a high school star in California and a college champion for Simon Fraser. She made three U23 World Teams and qualified for the Senior National Team early in her Senior-level journey. Last year, when she won a World title at an Olympic weight class, she set herself up as a force going into the Olympic year. Her most recent effort was a fifth-place finish at the Pan American Championships, not a peak performance. Gomez, also a California prep star, was a 2021 U17 World champion and 2022 U20 World bronze medalist. Instead of going to a college program, she chose to compete for the Sunkist Kids RTC at Arizona State. In her first year at the Senior U.S. Open, she beat National Team member Felicity Taylor in the semifinals, and college star Samara Chavez in the finals. Again, how will the young star Gomez do against the proven star Parrish?
Most recent match
: No previous meetings.
55 kg – Alisha Howk (River Falls, Wis./Sunkist Kids WC) vs. Jacarra Winchester (Colorado Springs, Colo./Titan Mercury WC/USOPTC)
This weight class, which the USA did not win a Senior World medal last year, took an interesting twist in the qualifying process when 2019 World champion and 2022 World Team member Jacarra Winchester chose to skip the U.S. Open, which was the first qualifying event for Final X. In her absence, 2022 U23 World bronze medalist Alisha Howk had her best Senior-level performance to claim the U.S. Open and become the first to reach Final X. Last weekend, at the World Team Trials Challenge Tournament, Winchester took care of getting another Final X berth with a dominant win. In this weight class, the World Team Trials Challenge Tournament champion will be favored over the U.S. Open champion.
Winchester continues to put herself in medal matches at the World and Olympic level, including her World title, plus fifth-place finishes at the 2020 Olympics and the 2018 and 2022 Worlds. She has an explosive offense with the ability to finish off matches with either a technical fall or a pin. Winchester has beaten Howk three straight times, all by technical fall. While Howk has been competitive at the Senior level for a number of years, she has recently shown the ability to win close matches, in some cases getting key points in the closing seconds. At the U.S. Open, she stopped National Team member Lauren Mason in the finals and college national champion Marissa Gallegos in the semifinals. Howk's most recent effort was a silver medal at the 2023 Pan American Championships. For Howk to win, she will need to keep Winchester from getting points in bunches and continue to wrestle well late in each match.
Most recent match
: 2022 World Team Trials Challenge Tournament – Winchester tech fall Howk, 11-0
57 kg – Helen Maroulis (Tempe, Ariz./Sunkist Kids WC) vs. Xochitl Mota-Pettis (Humble, Texas/Rise RTC)
What more can you say about Helen Maroulis, already an international wrestling legend who continues to build upon her legacy. The first U.S. woman to win an Olympic gold medal in wrestling, with her amazing triumph over three-time Olympic champion Saori Yoshida of Japan at the 2016 Olympics, she also became the first U.S. woman to win two Olympic medals with a bronze-medal run at the 2020 Tokyo Games. Add in three World titles, and her amazing comeback from concussion and injuries. There is a new documentary film about Helen's life and achievements. To make another Senior World Team, Maroulis will need to beat another rising young talent, 2023 U.S. Open champion Xochitl Mota-Pettis, who has taken her own unique journey to this opportunity.
Maroulis has one of deepest resumes in USA Wrestling history, an international career which began in 2008 with a U20 World bronze medal and an appearance at the Senior World Championships. Mota-Pettis came through the USA Wrestling age-group programs as a major talent from Texas, winning state titles and a Junior Nationals title along the way. Instead of signing with a college, Mota-Pettis has chosen to remain in Texas to train. She immediately started competing at the Senior level, placing second at the 2020 Senior Nationals, then again in 2022. She moved up to become U.S. Open champion this year. Most recently, Maroulis and Mota-Pettis wrestled at the 2023 Pan American Championships. Maroulis was ninth at 57 kg, while Mota-Pettis moved up to 59 kg and won the title. Final X will be their first time competing against each other. Will Mota-Pettis be able to challenge the legend for the team berth?
Most recent match
: No previous meetings.
59 kg – Michaela Beck (New York, N.Y./Sunkist Kids WC) vs. Jennifer Page (State College, Pa./Titan Mercury WC/Nittany Lion WC)
One of the most intriguing battles in Final X among the women's freestylers will be the 59 kg battle between U.S. Open champion Michaela Beck and World Team Trials Challenge Tournament champion Jennifer Page. The winner of this series will be competing in their first Senior World Championships. Both of these wrestlers have been on the Senior scene for a number of years, and both have had some ups and downs along the way. The other big factor is that Page moved down to this weight class after placing second at the U.S. Open at 62 kg, which has been her traditional weight in recent seasons. Page looked strong and comfortable at the World Team Trials Challenge Tournament at this new weight class.
Both of these athletes have been U.S. Open champions and National Team members and have considerable international experience. Page won a U20 World bronze medal back in 2013, and since then has won two Pan American Championships. Throughout her career, Page has had several battles with injuries, which have hampered her efforts to take the next step forward in her wrestling. She has been healthy of late, and has been competing with a calm confidence. Beck has competed on U20 and U23 World Teams and has been a consistent Senior-level contender. At the U.S. Open, Beck beat a pair of Senior World Team members, knocking off Abigail Nette in the semifinals and Maya Nelson in the finals. These two met in the 2019 Senior Nationals, with Page winning by technical fall, but both athletes are competing at a higher level at this point of their career. Winning that first match of the series will be key.
Most recent match
: 2019 Senior Nationals – Page tech fall Beck, 11-0
62 kg – Kayla Miracle (Tempe, Ariz./Sunkist Kids WC) vs. Adaugo Nwachukwu (San Jose, Calif./Titan Mercury WC)
As a two-time World silver medalist and 2020 Olympian, Kayla Miracle enters Final X as one of the top stars among U.S. women's wrestlers. Miracle grew up in USA Wrestling's age-group programs, winning national titles and making age-group World Teams going back to her teenage years. Miracle also dominated at the college level with four WCWA national titles. She brings vast experience at the highest level to the mat every time she wrestles. Nwachukwu did not follow that path to Final X. She started wrestling later in her life in California and had some missed opportunities due to the pandemic. Nwachukwu's career jumped quickly at the college level, where she won NAIA National titles and claimed a U20 World medal last summer, displaying rapid improvement in all phases of her game.
By winning her second World silver medal last summer, Miracle advanced directly to Final X, and has not had to face Nwachukwu this season. They have one previous meeting, when Miracle beat Nwachukwu by technical fall in the 2022 U.S. Open semifinals. Since repeating as NAIA champion this year for Iowa Wesleyan, Nwachukwu has done well on the national scene, winning U20 and U23 National titles, then claiming her first U.S. Open title. Her victories over past college champions Ashlynn Ortega, Bridgette Duty and Jen Page at the U.S. Open were impressive. Nwachukwu and Miracle could be an interesting style matchup. This series will hinge upon just how much Nwachukwu has improved since they met last season.
Most recent match
: 2022 U.S. Open semifinals: Miracle tech fall Nwachukwu, 10-0
65 kg – Mallory Velte (Corvallis, Ore./Beaver Dam RTC/Titan Mercury WC) vs. Macey Kilty (Colorado Springs, Colo./Sunkist Kids WC)
Mallory Velte boasts a pair of Senior World bronze medals, and has thrived since moving up to 65 kg in recent seasons. Velte has shown some clutch wrestling at the World Championships level, combining a strong skill set with great conditioning and tenacity. Kilty was a superstar in USA Wrestling's developmental program, winning five age-group World medals including a U17 gold medal in 2018. She has qualified for the Senior National Team in recent seasons. An injury in 2022 halted her quest to make her first Senior World Team, but Kilty has returned this season and looks to be back in top form.
Velte went the college route after a winning two California state titles, going on to win three WCWA titles for Simon Fraser. She trained in Canada for awhile after graduation, but returned to the USA during the pandemic and has thrived since training with the Beaver Dam RTC. Kilty was a state high school runner-up against boys in Wisconsin. She did not wrestle on a women's college team, although she did train with the Tarheel WC at North Carolina. Although Velte has a big edge on success on the Senior level, Kilty has won two recent matches against Velte. This could be one of the most competitive of the Final X series, as both wrestlers are capable of competing at a very high level.
Most recent match
: 2021 Captains Cup – Kilty tech fall Velte, 11-0
68 kg – Forrest Molinari (Mesa, Ariz./Sunkist Kids WC) vs. Emma Bruntil (Colorado Springs, Colo./Titan Mercury WC/USOPTC)
Expect some fireworks at 68 kg, as Forrest Molinari and Emma Bruntil have established a little rivalry in recent seasons. Molinari was a 2021 Senior World medalist, and has placed fifth at the Senior World Championships on two occasions. Although she has competed at 65 kg in previous years, Molinari made the move up to 68 kg for the 2020 Olympic Trials and has returned to this weight class for 2023. Bruntil competed at 65 kg at the 2023 U.S. Open, and after placing second, decided to move up to 68 kg for the World Team Trials Challenge Tournament. Bruntil looked strong in winning her Final X spot at the new weight class, setting up another battle with Molinari.
Since 2018, these two wrestlers have competed five times, with Molinari taking four of the bouts. In 2022, Bruntil beat Molinari 4-2 on the way to winning a gold medal at the Ivan Yarygin Grand Prix. Their last meeting went to Molinari by pin at the 2022 Yasar Dogu in Turkey. Molinari has an aggressive style where she uses power and pressure to grind down opponents and open up scoring opportunities. Bruntil has shown a very balanced attack and effective technique, while also displaying a toughness needed for success. Since Bruntil left her college career after winning two NCWWC titles for McKendree to focus on the international level, she has seen improvement. Fans can expect spirited matches between these two warriors.
Most recent match
: 2022 Yasar Dogu, Molinari pin Bruntil
72 kg – Amit Elor (Walnut Creek, Calif./New York City RTC/Titan Mercury WC) vs. Joye Levendusky (Avon, N.Y./Southern Oregon RTC)
Amit Elor had one of the greatest USA Wrestling seasons ever last year, as she won World titles on three different age levels during the same year (U20, U23, Senior). She became the youngest U.S. wrestler to claim a Senior World title at the age of 18 last year. She has already qualified to repeat at the U20 level with a victory at the 2023 Women's Nationals. If she wins Final X again, she will be able to repeat at the U23 and Senior Worlds as well. Elor has won six UWW World titles at all levels, five in freestyle and one in Beach wrestling. It is fair to say this California native is one of the brightest young stars in international wrestling.
Joye Levendusky had her best performance to date by winning the U.S. Open and qualifying for Final X. A New York native, she started her college career with McKendree, where she was an NCWWC runner-up competing against NCAA schools. This past year, she followed McKendree assistant coach Gabrielle Weyhrich to Southern Oregon, where she was second in the NAIA Championships. She made the finals at the 2023 U23 Nationals as well, claiming silver. Her gold medal performance at the U.S. Open included a finals win over another rising star, high school senior Rose Cassioppi. Levendusky comes to Final X as a big underdog, but has extensive experience and a new level of confidence
Most recent match
: No previous meetings..
76 kg – Kennedy Blades (Chicago, Ill./Sunkist Kids WC) vs. Adeline Gray (Colorado Springs, Colo./New York AC)
This is perhaps the best example of a proven superstar facing a young talent with a bright, bright future. Adeline Gray is a clinch for the National Wrestling Hall of Fame after her career has ended. Six Senior World titles, an Olympic silver medal, age-group World titles, and success at every major event on the wrestling scene mark her dominance, which began when she was in high school. This past year, she took time away from the mat to have twin children. Gray was recently cleared to compete and, as she said in a recent interview, is still shaking off the rust from her time away. When competing at her best, she is the most powerful wrestler at this weight class and can end a match instantly with a killer ankle lace and/or gut wrench.
Kennedy Blades has also been dominant. As a youth wrestler, she won a 14U state title in Illinois competing against boys, something never previously achieved. She immediately began winning age-group girls national titles and competing at the international level. Blades went to high school at Wyoming Seminary to concentrate full time on freestyle. Blades already has amazing achievements. She won a U20 World title in 2021, and reached the finals of the U.S. Olympic Team Trials while still in high school. In her first full season since then, she won the 2023 U.S. Open, beating Gray by technical fall. (Gray was one of her coaches at Wyoming Seminary). Gray made some big progress between the U.S. Open and the World Team Trials Challenge Tournament in her wrestling, making her showdown in June with Blades one of the most anticipated Final X matchups. Will Blades be able to dominate Gray again in Newark, or has Gray gotten back to the level that made her unstoppable at the World level? It will be fun to find out.
Most recent match
: Blades tech fall Gray, 12-2
ABOUT FINAL X/BEAT THE STREETS BENEFIT
It is the second straight year Final X will serve as the Beat the Streets New York Annual Benefit. This year's event will be the 13th BTSNY Annual Benefit. These unique and electrifying annual events help BTSNY raise more than $1 million each year to support local youth wrestling programs which empower young people in New York City. The BTSNY Annual Benefit after-party will follow the conclusion of Final X.
Benefit tickets and sponsorship packages (Final X plus exclusive after-party celebration access), that also provide the best wrestling-event seats, are available at
give.btsny.org/beatthestreetsbenefit2023
. For more information on ticket packages, email Katrin Pokalyukhin at katrin@btsny.org.
Proceeds from Benefit tickets and sponsorship packages will directly help BTSNY, which provides a safe, positive atmosphere for student-athletes to learn the essential life lessons of discipline, perseverance, self-reliance, humility and a strong work ethic through wrestling.
Event-only tickets for Final X without access to the BTSNY after-party celebration are available on
Ticketmaster
FloWrestling
will serve as the host broadcasting partner for Final X, presented by Tezos.