News
USA Wrestling
International
Women
USAW
Snyder and Moore going for gold at Zagreb Open Ranking Event; Aiello, Marsteller, Golston in bronze-medal bouts
by Koral Sugiyama, Special to TheMat.com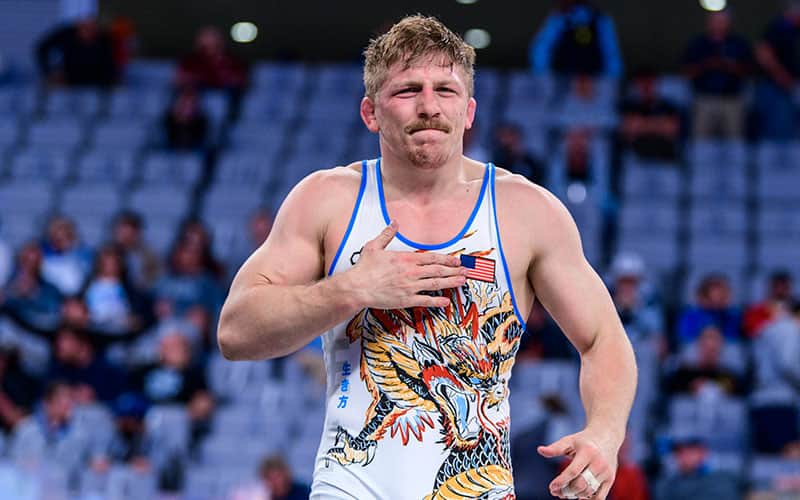 Kollin Moore (USA) competition portrait image by Tony Rotundo, Wrestlers Are Warriors
ZAGREB, Croatia — Day two of the
Zagreb Open Ranking Event
picked up this morning with the remaining four men's freestyle weights while the women's freestyle started out their tournament with two weight classes. The men and women at these weights wrestled through the semifinal bouts to determine this afternoon's medal-bout matchups.
Going for gold is Olympic and three-time World champion
Kyle Snyder
(TMWC/NLWC) at 97 kg. He opened up the day with a win over Azerbaijan World Bronze medalist Magomedkhan Magomedov, 7-4 followed by two technical falls in the quarterfinals and semifinals. Snyder will wrestle Iranian U23 World champion Amirali Azarpira in the finals.
Also in the finals is
Kollin Moore
(TMWC/ORTC) at 92 kg. Moore also opened up the day by defeating a World Bronze medalist. Moore defeated Osman Nurmagomedov (AZE), 8-3 before moving onto the semifinals where he wrestled fellow U.S. National team member
Jay Aiello
(TMWC/CWC).
Moore defeated Aiello in a close 6-6 criteria match. Aiello controlled the first period with a 2-0 lead at the break and picked up four more points from exposures in the second from Moore's shot. Moore landed on top and earned himself two points before the athletes were brought to their feet with the score 6-2.. Moore earned two more takedowns with only 30 seconds left in the match.
Moore moves onto the gold-medal bout while Aiello drops down to bronze. Moore will wrestle U23 World Bronze medalist Miriani Maisuradze of Georgia in the finals and Aiella will wrestle Senior World bronze medalist Osman Nurmagomedov of Azerbaijan.
Alongside Aiello in the bronze-medal matches will be men's freestyler
Chance Marsteller
(TMWC/NYCRTC) at 79 kg. Marsteller picked up a 6-4 win over Ramazan Sari of Turkey in the quarterfinals. Marsteller then lost to Avtandil Kentchadze of Georgia, 4-1 to drop down for a bronze match where he will wrestle Csaba Vida of Hungary
Erin Golston
(NYAC) is one of two of the U.S. women competing today. At 50 kg, she dominated in her first two matches with a technical fall in the quarterfinals and a 4-0 decision over U23 Silver medalist, Shivani Pawar of India.
However, Golston couldn't finish off her attacks against China's Jiang Zhu and lost 9-0 in the semifinals. Zhu hasn't been on the international scene much since 2018, but USA did see her during the 2022 World Cup. Golston will wrestle Ziqi Fang of China for bronze.
Lauren Mason
(Brunson UVRTC) is making her way through the 55 kg round robin. She picked up the pin in her first match, then lost to Japan's U20 and U23 World champion, Moe Kiyooka, in the next round 10-0. She got pinned by Mariana Dragutan of Moldova next, She is still eligible for a medal, and the final round of the round robin will be wrestled during the final bouts. Mason will wrestle Erika Bognar of Hungary
One potential match-up that was highly anticipated was Kyle Snyder against J'den Cox. Cox revealed in an interview that he unfortunately sustained an injury while in France and decided to prioritize his health and sit this tournament out. The Olympic bronze medalist still made the trip to Croatia and is there helping and supporting his team in any way he can.
The finals are set to begin at 6 p.m. local time (12 ET). Fans can live stream the event on FloWrestling.
ZAGREB OPEN RANKING EVENT

At Zagreb, Croatia, Feb 2, 2023


U.S. GOLD MEDAL MATCHUPS
MFS 92 kg - Kollin Moore v Miriani Maisuradze (GEO)
MFS 97 kg - Kyle Snyder v Amirali Azarpira (IRI)
U.S. BRONZE MEDAL MATCHUPS
WFS 50 kg - Erin Golston v Ziqi Fang (CHN)
MFS 92 kg - Jay Aiello v Osman Nurmagomedov (AZE)
MFS 79 kg - Chance Marsteller v Csaba Vida (HUN)
U.S. ROUND ROBIN MATCHUP
WFS 55 kg - Lauren Mason v Erika Bognar (HUN)
USA MEN'S FREESTYLE SESSION 1 PERFORMANCE
79 kg: Chance Marsteller (TMWC/NYCRTC)
WIN Ramazan Sari (TUR), 6-4
LOSS Avtandil Kentchadze (GEO), 4-1
92 kg: Kollin Moore (TMWC/ORTC)
WIN Osman Nurmagomedov (AZE), 8-3
WIN Jay Aiello (TMWC/CWC), 6-6
92 kg: Jay Aiello (TMWC/CWC)
WIN Adlan Viskhanov (FRA), 10-0
LOSS Kollin Moore (TMWC/ORTC), 6-6
97 kg: Kyle Snyder (TMWC/NLWC)
WIN Magomedkhan Magomedov (AZE), 7-4
WIN Takashi Ishiguro (JPN), 12-1
WIN Radoslaw Baran (POL), 10-0
97 kg: Morgan Smith (TMWC/ORTC)
LOSS Awusayiman Habila (CHN), 10-0
125 kg: Hayden Zillmer (Minn. Storm)
LOSS Giorgi Meshvildishvili (AZE), 5-4
LOSS Robert Baran (POL), injury default
125 kg: Ceron Francisco (TMWC/NLWC)
WIN Jordan Wood (NYAC), 13-9
LOSS Georgi Ivanov (BUL), 3-3
125 kg: Jordan Wood (NYAC)
LOSS Ceron Francisco (TMWC/NLWC), 13-9
USA WOMEN'S FREESTYLE SESSION 1 PERFORMANCE
55 kg: Lauren Mason (Brunson UVRTC)
WIN Laura Standlyte (LTU), 1:42
LOSS Moe Kiyooka (JPN), 10-0
LOSS Mariana Dragutan (MDA), 0:51
50 kg: Erin Golston (NYAC)
WIN Szimonetta Szeker (HUN), 10-0
WIN Shivani Pawar (IND), 4-0
LOSS Jiang Zhu (CHN), 9-0