News
USA Wrestling
International
Women
High School & Youth
USAW
Draws announced for U20 Pan-American Championships in Santiago, Chile
by Richard Immel, USA Wrestling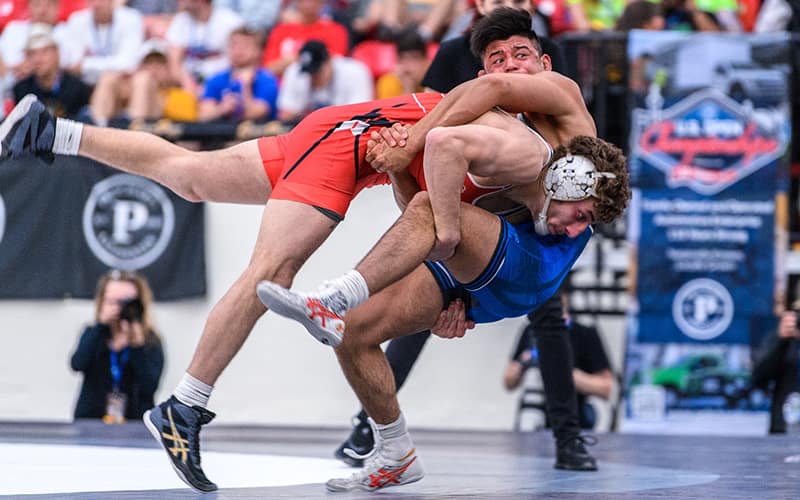 Photo: U20 World silver medalist Mitchell Mesenbrink, pictured at the U20 Nationals in Las Vegas, is among the U.S. wrestlers entered at the U20 Pan-American Championships. (Tony Rotundo, wrestlersarewarriors.com)
SANTIAGO, Chile – The bracket draws for all three Olympic styles have been set in advance of this week's U20 Pan-American Championships.
A talented cast of American wrestlers are gearing up to compete at Centro Nacional de Entrenamiento Olímpico in Santiago, Chile, July 6-8. Five past age-group World medalists and 13 current age-group World Team members are among the 30-athlete delegation representing the U.S. across the three-day event.
Complete draws for the U.S. team in all three styles are provided below. There are a combination of round-robin brackets and traditional line brackets depending on the number of athletes entered in each weight class.
Greco-Roman will be up first for the U.S., taking the mats on Thursday. The women's freestyle team will follow with its tournament on Friday. The men's freestyle bunch rounds out the action on Saturday.
The action will start at 10 a.m. (ET) each day with the preliminary rounds of competition. The medal matches are scheduled for 5 p.m. (ET).
A live stream of the tournament, complete brackets and up-to-date results will be provided by United World Wrestling at uww.org.
2023 U20 Pan-American Championships
At Santiago, Chile, July 6-8
U.S. Greco-Roman draws
55 kg – Roberto Estrada (Keenesburg, Colo./Western Colorado WC)
VS Abel Sanchez Juarez (Peru)
60 kg – Zan Fugitt (Nixa, Mo./Nixa High School Wrestling)
VS Diego Terriquez Ibarra (Mexico)
VS Andres Matamala Escobar (Chile)
VS Eli Kirk (Puerto Rico)
63 kg – Landon Drury (Colorado Springs, Colo./Betterman Elite Wrestling)
VS Jefferson Carrasco Torres (Peru)
VS Patrick Rodriguez Quinto (Ecuador)
67 kg – Jadon Skellenger (Meridian, Id./Team Idaho)
VS Marco Fernandez Cubas (Peru)
VS Luciano Fiabane Diaz (Chile)
72 kg – Arvin Khosravy, (Woodland Hills, Calif./Team California)
VS Oscar Barrios Rochez (Honduras)
77 kg – Derek Matthews (Burley, Id./Northern Colorado WC)
VS Kauan Ferreira Gomes (Brazil)
82 kg – Michael Altomer (Stuyvesant, N.Y./Curby 3-Style WC)
VS Samir Cabeza Vacilio (Ecuador)
VS Christian Medina Nunez (Mexico)
87 kg – Wyatt Voelker (Manchester, Iowa/Big Game WC)
VS Dieter Von Helms Valenzuela (Chile)
VS Max Franca Magalhaes De Almeida (Brazil)
VS Carlos Salazar Gomez (Mexico)
VS Brian Ruiz Marin (Venezuela)
97 kg – Sawyer Bartelt (Coral Gables, Fla./Gladiator Wrestling)
VS Ricardo Gomez (Argentina)
VS Juan Diaz Blanco (Venezuela)
VS Kyle Santana Oliveira (Brazil)
130 kg – Aden Attao (Boise, Id./Suples WC)
VS Wesley Barros Das Dores (Brazil)
VS Juan Calderon Molina (Ecuador)
VS Jose Ureta Valdivia (Mexico)
U.S. women's freestyle draws
50 kg – Mia Palumbo (Oak Lawn, Ill./ Team Illinois)
VS Serena Di Benedetto (Canada) or Alexa Alvarez Valenzuela (Venezuela)
53 kg – Alexandra Szkotnicki (Riva, Md./ Belvidere Bandits WC)
VS Emilly Dos Santos Ferreira (Brazil)
VS Shammilka Miranda Diaz (Puerto Rico)
VS Andrea Avelino Barrientos (Mexico)
VS Ivy Threatful (Canada)
55 kg – Virginia Foard (Reva, Va./Wyoming Seminary WC/New York AC)
VS Angie Zea Alvarado (Peru)
VS Sophia Bechard (Canada)
VS Angelica Vicente Gonzalez (Puerto Rico)
VS Pamela Banda Gomez (Mexico)
57 kg – Shelby Moore (Buckley, Wash./White River Hornets WC)
VS Thaina Anibal Ribeiro (Brazil)
VS Bertha Rojas Chavez (Mexico)
59 kg – Sarah Savidge (Colorado Springs, Colo./Betterman Elite Wrestling)
VS Alexa Cuero Cuadrado (Colombia)
VS Caitlin Clatney (Canada)
62 kg – SaVannah Cosme (Tempe, Ariz./Sunkist Kids WC)
VS Melanie Jimenez Villalba (Mexico)
65 kg –Ella Schmit (Bettendorf, Iowa/Iowa Women's WC)
VS Evelyn Orta Gonzalez (Mexico)
VS Jaeell Llontop Vasquez (Chile)
VS Natalie Vecchio (Canada)
VS Gleymaris Beria Diaz (Venezuela)
68 kg – London Houston (Federal Way, Wash./Cardinal WC)
VS Leticia De Oliveira Gaion Piazza (Brazil)
VS Naomi Romo Macias (Mexico)
VS Nataly Ovando Rojas (Chile)
VS Nicoll Parrado Osorio (Colombia)
72 kg – Haley Ward (Buckner, Mo./Iowa Women's WC)
VS Karla Castillo Garcia (Venezuela)
VS Nubia Lorenzana Ballesteros (Mexico)
76 kg – Kylie Welker (Franksville, Wis./Iowa Women's WC)
VS Maria De Almeida Dos Santos (Brazil)
VS Karime Cortes Resendiz (Mexico)
VS Myah Phillips (Canada)
VS Aomi Riques Morales (Peru)
U.S. men's freestyle draws
57 kg – Luke Lilledahl (St. Charles, Mo./X-Calibur Athletics WC)
VS Roger Dos Santos Ramalhete (Brazil)
61 kg – Nic Bouzakis (Dallas, Pa./ X-Calibur Athletics WC)
VS Blaynel Helou (Canada)
VS Eli Sebastian Kirk (Puerto Rico)
VS Enrique Herrera Huacre (Peru)
65 kg – Kannon Webster (Washington, Ill./Super Soldiers WC)
VS Esteban Alfaro Bravo (Chile)
70 kg – Antrell Taylor (Omaha, Neb./MWC Wrestling Academy)
VS Joao Maldonado Romero (Paraguay)
74 kg – Mitchell Mesenbrink (Hartland, Wis./Askren Wrestling Academy)
VS Johan Torres Casallas (Colombia) or Buddy Delgado Caceres (Chile)
79 kg – Gabriel Arnold (Iowa City, Iowa/Sebolt Wrestling Academy)
VS Kevin De Leon Trevino (Mexico) or Darfel Parada Camacaro (Venezuela)
86 kg – Bennett Berge (Mantorville, Minn./Jackrabbit WC)
VS Zaurbek Arsagov (Canada)
92 kg – Jack Darrah (Washington, Mo./California RTC)
VS Brian Ruiz Marin (Venezuela)
VS Ricardo Gomez (Argentina)
VS Samuel Pereira (Canada)
VS Angel Encinas Mundo (Mexico)
97 kg – Camden McDanel (Circleville, Ohio/Team Ohio)
VS Alek Ortiz Roman (Puerto Rico)
VS Kleydder Vasquez Quispe (Peru)
125 kg – Bradley Hill (Bettendorf, Iowa/Hawkeye WC)
VS Luis De La Rosa Arteaga (Mexico)
VS Karanveer Mahil (Canada)
VS Wesley Barros Das Dores (Brazil)