News
USA Wrestling
Women
International
College
USAW
World champs Gray, Parrish, Winchester, Elor among nine Final X women's freestyle champions
by Gary Abbott, USA Wrestling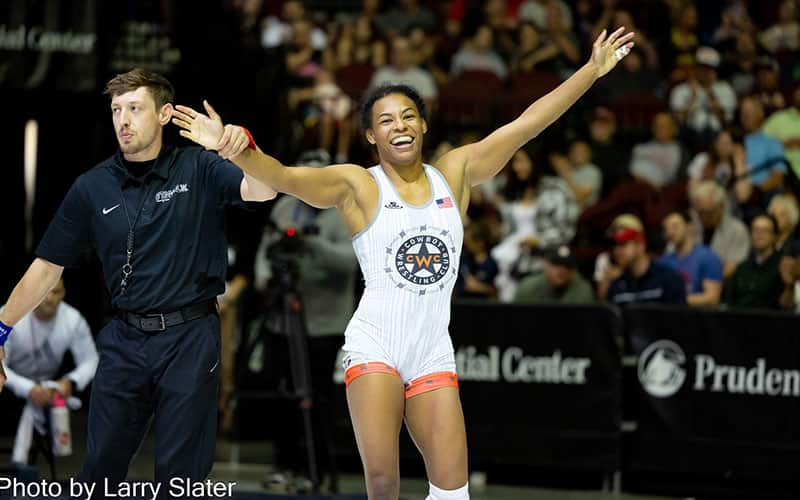 Jacarra Winchester celebrates her 2023 Final X victory. Photo by Larry Slater
NEWARK, N.J. – Nine of the 10 Senior World Team berths in women's freestyle were determined in an exciting Final X at Prudential Center on Saturday night.
Among the women's freestyle Final X winners were four World champions, six-time World champion Adeline Gray at 76 kg, 2019 World champion Jacarra Winchester at 55 kg and 2022 World champions Dominique Parrish at 53 kg and Amit Elor at 72 kg.
Gray swept her finals series over young star Kennedy Blades, avenging a loss to her in the 2023 U.S. Open finals. Gray won the first match 7-5 on a last-second takedown, then broke open a close second match by turning and pinning Blades at the 4:38 mark. Gray gave birth to twins less than a year ago and has made great progress since returning to competition in April
Winchester defeated 2023 U.S. Open champion Alisha Howk in two straight matches, both by technical fall. Winchester won 10-0 in bout one and 11-0 in bout two, opening up her explosive offense. Winchester was also a 2020 Olympian and will compete on her fourth World Championship team.
Parrish won two straight matches against young talent Katie Gomez, scoring a pin in 1:54 in the first match, then scoring a 5-0 shutout in the second match.
Elor, who won three UWW World titles in 2022 (U20, U23 and Senior) will return to the Senior Worlds after a dominating two-match sweep of Joye Levendusky, winning both matches by 10-0 technical falls. Elor was the youngest U.S. Senior World champion last year at the age of 19.
Olympic and World medalist Sarah Hildebrandt (50 kg) and two-time World silver medalist Kayla Miracle (62 kg) were among the other talented veterans to win Final X.
Hildebrandt blitzed high school sensation Audrey Jimenez in two straight bouts, with an 8-0 shutout in the opening round, then an 11-0 technical fall in session two.
Miracle showed her experience advantage against U20 World medalist and two-time NAIA champion Adaugo Nwachukwu, Miracle won the first match 6-1, then got her offense rolling in a 10-3 victory in the second match.
The other three winners will be competing in their first Senior World Championships, Jennifer Page at 59 kg, Macey Kilty at 65 kg and Emma Bruntil at 68 kg.
Page was dominant in a two-match sweep over 2023 U.S. Open champion Michaela Beck, scoring a pair of 11-0 technical falls. Page was able to turn Beck with gut wrenches and tilts from par terre in both bouts. Page competed at 62 kg in the 2023 U.S. Open, then moved down to 59 kg to pursue the World Team berth.
Kilty, a multiple age-group World medalist, defeated two-time World bronze medalist Mallory Velte in two straight matches. Kilty scored a pin over Velte with just 10 seconds left in the first bout, then edged Velte is a tough 6-5 scrap in the second match. Kilty was injured last year, but came back strong this season.
Bruntil competed at 65 kg at the U.S. Open, then moved up to 68 kg, where she defeated 2021 World bronze medalist Forrest Molinari in three rugged battles. Bruntil was sharp in a 6-3 win in bout one, but Molinari grinded out a 3-2 win in the second match. Trailing 2-0, Bruntil scored a takedown then forced a stepout, the key exchange in her 3-2 win in bout three.
The final U.S. World Team berth will be determined at a later site and date, as 2022 World silver medalist Helen Maroulis received an extension on her finals series against Xochitl Mota-Pettis due to injury. Maroulis, an Olympic champion and three-time World champion, was eligible for the extension as a 2022 World medalist.
FINAL X

At Newark, N.J.


Women's freestyle results
50 kg – Sarah Hildebrandt (New York AC/USOPTC) vs. Audrey Jimenez (Sunkist Kids WC)
Bout One: Hildebrandt dec. Jimenez, 8-0
Bout Two: Hildebrandt tech fall Jimenez, 11-0
Hildebrandt wins series 2 matches to 0 and makes World Team
53 kg – Dominique Parrish (Sunkist Kids WC) vs. Katie Gomez (Sunkist Kids WC)
Bout One – Parrish pin Gomez, 1:54
Bout Two: Parrish dec. Gomez, 5-0
Parrish wins series 2 matches to 0 and makes World Team
55 kg –Jacarra Winchester (Titan Mercury WC/USOPTC) vs. Alisha Howk (Sunkist Kids WC)
Bout One: Winchester tech fall Howk, 10-0
Bout Two: Winchester tech fall Howk, 11-0
Winchester wins series, 2 matches to 0 and makes World Team
59 kg –Jennifer Page (Titan Mercury WC/Nittany Lion WC) vs. Michaela Beck (Sunkist Kids WC)
Bout One: Page tech fall Beck, 11-0
Bout Two: Page tech fall Beck, 11-0
Page wins series, 2 matches to 9, and makes World Team
62 kg – Kayla Miracle (Sunkist Kids WC) vs. Adaugo Nwachukwu (Titan Mercury WC)
Bout One: Miracle dec. Nwachukwu, 6-1
Bout Two: Miracle dec. Nwachukwu,, 10-3
Miracle wins series, 2 matches to 0 and makes World Team
65 kg – Macey Kilty (Sunkist Kids WC) vs. Mallory Velte (Beaver Dam RTC/Titan Mercury WC)
Bout One: Kilty pin Velte, 5:50
Bout Two: Kilty dec. Velte, 6-5
Kilty wins series, 2 matches to 0 and makes World Team
68 kg – Emma Bruntil (Titan Mercury WC/USOPTC) vs. Forrest Molinari (Sunkist Kids WC)
Bout One: Bruntil dec. Molinari, 6-3
Bout Two: Molinari dec. Bruntil, 3-2
Bout Three: Bruntil dec. Molinari, 3-2
Bruntil wins series, 2 matches to 1, and makes World Team
72 kg – Amit Elor (New York City RTC/Titan Mercury WC) vs. Joye Levendusky (Southern Oregon RTC)
Bout One: Elor tech. fall Levendusky, 10-0
Bout Two: Elor tech fall Levendusky, 10-0
Elor wins series 2 matches to 0 and makes World Team
76 kg –Adeline Gray (New York AC) vs. Kennedy Blades (Sunkist Kids WC)
Bout One: Gray dec. Blades, 7-5
Bout Two: Gray pin Blades, 4:38
Gray wins series 2 matches to 0 and makes World Team