News
USA Wrestling
International
Women
USAW
U.S. women's freestyle draws set at U20 World Championships
by Richard Immel, USA Wrestling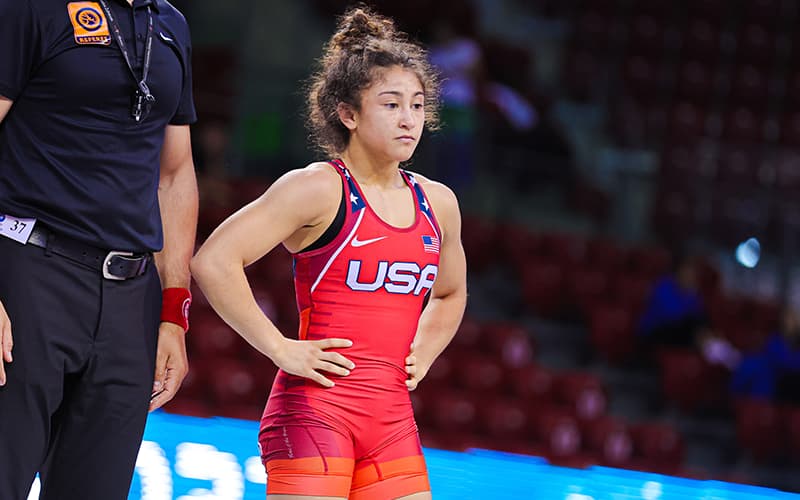 Photo: Audrey Jimenez at the 2022 U20 World Championships in Sophia, Bulgaria. (Kadir Caliskan, United World Wrestling)
The 10 U.S. women's freestyle athletes have received their draws for the 2023 U20 World Championships, as announced by United World Wrestling on Tuesday in Amman, Jordan.
Reigning Senior, U23 and U20 World champion Amit Elor starts her World Championships run against 2023 U20 Asian silver medalist Shamshiyabanu Tastanbek of Kazakhstan in the round-of-16 at 72 kg. She is the heavy favorite to take gold this week in Jordan.
Kennedy Blades will take another crack at the U20 Worlds, an event she won impressively in 2021 in Ufa, Russia. First up for the Illinois product is Mariia Senkina of Ukraine. A win in round one pits Blades against defending 76 kg U20 World champion Ayano Moro of Japan in the quarterfinals.
The stiffest draw on paper belongs to up-and-comer Isabella Mir at 68 kg. The Iowa Hawkeye opens her first World Championships against three-time U20 European champion and 2023 U23 World bronze medalist Manola Skobelska of Ukraine, a prime opportunity to make a statement early to her bracket.
Returning U20 World silver medalist Audrey Jimenez and World-level newcomer Maddie Kubicki are matchup against past U17 World medalists—Turkey's Zerda Demir for Jimenez at 57 kg and Individual Neutral Athlete Kseniya Tsiarenia for Kubicki at 65 kg.
Katie Gomez and Ndaugo Nwachukwu, both U20 World bronze medalists in 2022, have favorable openers against European foes, 2019 U17 World runner-up Cristelle Rodriguez is up against Individual Neutral Athlete Volha Hardzei, and NAIA runner-up Amani Jones gets a test from 2022 U17 European bronze medalist Lina Nita of Moldova.
Women's freestyle is the second style to hit the mats at Princess Sumaya Lounge in Amman's Sports City. Athletes in the first five women's freestyle weight classes (50-55-59-68-76 kg) begin their tournaments on Aug. 16, with the second wave of weights (53-57-62-65-72 kg) kicking off on Aug. 17. Each bracket will be contested over a two-day stretch, running through semifinals on day one, followed by repechage and medal matches on day two.
The U20 World Championships will be live streamed on FloWrestling.com to the U.S. market. Brackets and updated results will be provided by United World Wrestling on uww.org and the UWW mobile app.
Those seeking to follow along in real time can reference the complete event schedule below. Amman, Jordan, is in the GMT +3 time zone, which is seven hours ahead of U.S. Eastern Time. USA Wrestling will provide regular updates on TheMat.com and its social media platforms throughout the event.
2023 U20 World Championships
At Amman, Jordan, August 14-20
Quick Links
· U20 World Championships Special Section
· Live stream on FloWrestling.com
· U.S. women's freestyle athlete bios
Women's Freestyle Event Schedule
Wednesday, August 16
10 a.m. – Qualification Rounds (WFS 50-55-59-68-76 kg)
4:45 p.m. – Semifinals (WFS 50-55-59-68-76 kg)
Thursday, August 17
10 a.m. – Qualification Rounds (WFS 53-57-62-65-72 kg) and Repechage (WFS 50-55-59-68-76 kg)
4:45 p.m. – Semifinals (WFS 53-57-62-65-72 kg)
6 p.m. – Medal Matches and Awards (WFS 50-55-59-68-76 kg)
Friday, August 18
10 a.m. –Repechage (WFS 53-57-62-65-72 kg)
6 p.m. – Medal Matches and Awards (WFS 53-57-62-65-72 kg)
*Listed times reflect local time in Amman, Jordan, which is seven hours ahead of U.S. Eastern Time
U.S. Women's Freestyle Draws
50 kg – Audrey Jimenez (Tucson, Arizona/Sunkist Kids WC)
VS Zerda Demir (Turkey), 2023 U20 European silver medalist, 2019 U17 World bronze medalist
53 kg – Katie Gomez (Van Nuys, California/Sunkist Kids WC)
VS Ana Maria Rotaru (Romania), ninth in 2022 U17 World Championships, or Carla Jaume Soler (Spain)
55 kg – Amani Jones (Jonesboro, Georgia/Cardinal WC)
VS Lina Nita (Moldova), 2022 U17 European bronze medalist
57 kg – Cristelle Rodriguez (Fresno, California/Titan Mercury WC)
VS Volha Hardzei (Individual Neutral Athlete)
59 kg – Alexis Janiak (Plainfield, Illinois/SPAR Wrestling Academy)
VS Jovana Radivojevic (Serbia), fifth in 2023 U20 European championships
62 kg – Adaugo Nwachukwu (San Jose, California/Titan Mercury WC)
VS Ana Maria Cretu (Moldova), fifth in 2022 U17 World championships
65 kg – Maddie Kubicki (Kansas City, Missouri/Victory Wrestling)
VS Kseniya Tsiarenia (Individual Neutral Athlete), 2021 U17 World bronze medalist, 2021 U17 European silver medalist
68 kg – Isabella Mir (Las Vegas, Nevada/Iowa Women's WC)
VS Manola Skobelska (Ukraine), three-time U20 European champion, 2023 U23 World bronze medalist
72 kg – Amit Elor (Walnut Creek, California/Titan Mercury WC)
VS Shamshiyabanu Tastanbek (Kazakhstan), 2023 U20 Asian silver medalist
76 kg – Kennedy Blades (Chicago, Illinois/Sunkist Kids WC)
VS Mariia Senkina (Ukraine)