News
USA Wrestling
International
High School & Youth
USAW
Filipos, Botello grab gold, Bacon bags bronze at Flatz Austria Open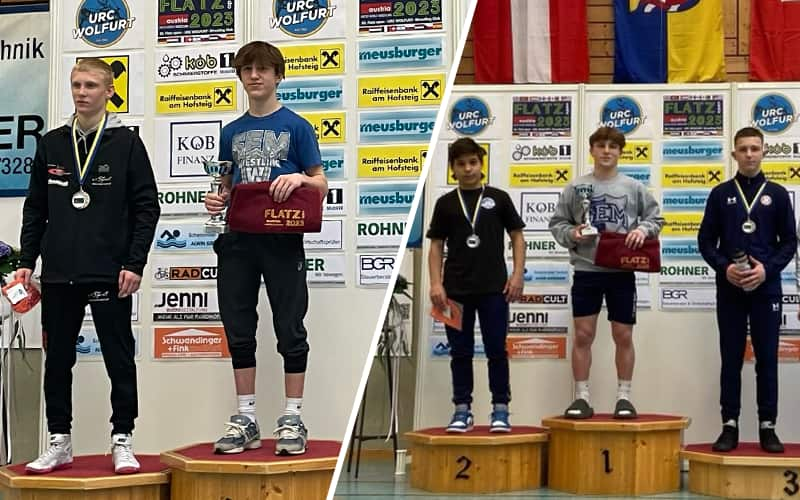 Photo: 2023 Flatz Austria Open champions Nikos Filipos (left) and Matthew Botello (right) atop the awards podium in Wolfurt, Austria. (James Green/USA Wrestling)

WOLFURT, Austria – The U.S. went three-for-three on medals in the U17 men's freestyle competition at the 2023 Flatz Austria Open held at Hofsteig Sporthalle on Sunday.
Collecting gold medals were
Nikos Filipos
(Allentown, Pa./Wyoming Seminary) at 51 kg and
Matthew Botello
(Hingham, Mass./Wyoming Seminary) at 60 kg.
Jake Bacon
(Dallas, Pa./Wyoming Seminary) was able to battle back for a bronze medal at 71 kg.
Botello posted the most dominant performance in the U17 division. He won his opener over Daniel Gurbovic of Czech Republic, 8-1, before recording back-to-back pins against Bator Gabor Mizsei of Hungary and Denis Luksemburg of Israel in the semis and finals to win his bracket. All three of Botello's opponents have represented their respective nations at an age group European Championship.
After bagging two wins in pool play to advance to a four-man championship bracket, Filipos cruised to the gold with a 13-5 semifinal victory over Gaspard Cheynoux of France, followed by a 14-8 decision over Kristian Cikel of Austria in the championship match. Cikel came in fifth place at last year's U15 European Championship.
Bacon went 2-2 overall on his way to the bronze medal. After a 1-1 start in pool play, he fell to Hungary's U15 European silver medalist Mark Laposa in the semifinals, 13-2. However, Bacon would get a taste of redemption in the bronze medal bout, avenging an earlier loss to Ondrej Kocmanek of Czech Republic to end his tournament.
Overall, the U.S. won a combined seven medals in men's freestyle at the Flatz Austria Open across the U20 and U17 divisions. All nine Americans who entered the tournament wrestled in a medal match at minimum.
U.S. medalists in Saturday's U20 division include champions Luke Lilledahl and Joe Sealey, plus bronze medalists Ramon Salazar and EJ Tecson.
Complete brackets and results from the Flatz Austria Open can be found at
urcw.at
.
Flatz Austria Open
At Wolfurt, Austria, April 15-16
U17 men's freestyle final results

45 kg
GOLD – Kevin Birchler (Switzerland)
SILVER – Arin Sekirden (Great Britain)
48 kg
GOLD – Barnabas Majer (Hungary)
SILVER – Sebastian Schachl (Austria)
51 kg
GOLD – Nikos Filipos (United States)
SILVER – Kristian Cikel (Austria)
BRONZE – Danoush Jowkar (Great Britain)
55 kg
GOLD – Oubayda Itaev (France)
SILVER – Ahmad Arszunkaev (Hungary)
BRONZE – Mthiys Sarrasin (Switzerland)
60 kg
GOLD – Matthew Botello (United States)
SILVER – Denis Luksemburg (Israel)
BRONZE – Marcell Tovolgyi Krump (Hungary)
BRONZE – Daniel Gurbovic (Czech Republic)
65 kg
GOLD – Justin Raffin (Switzerland)
SILVER – Aaron Zberg (Switzerland)
BRONZE – Georgi Tomkovich (Israel)
BRONZE – Oliver Stirrup (Great Britain)
71 kg
GOLD – Milan Mizsei (Hungary)
SILVER – Mark Laposa (Hungary)
BRONZE – Jake Bacon (United States)
80 kg
GOLD – Rakhman Magamadov (France)
SILVER – Adam Mizsei (Hungary)
BRONZE – Nick Sherrer (Switzerland)
BRONZE – Youssef Soliman (Hungary)
110 kg
GOLD – Ashab Dadaev (France)
SILVER – Balint Fabian (Hungary)
BRONZE – Dominik Kovacs (Hungary)
U.S. men's freestyle results

51 kg – Nikos Filipos (Allentown, Pa./Wyoming Seminary), Gold
WIN Kristian Cikel (Austria), 8-6
WIN Tim Schreiber (Switzerland), 11-0
WIN Gaspard Cheynoux (France), 13-5
WIN Kristian Cikel (Austria), 14-8
60 kg – Matthew Botello (Hingham, Mass./Wyoming Seminary), Gold
WIN Daniel Gurbovic (Czech Republic), 8-1
WIN Bator Gabor Mizsei (Hungary), Fall 0:25
WIN Denis Luksemburg (Israel), Fall 1:09
71 kg – Jake Bacon (Dallas, Pa./Wyoming Seminary), Bronze
LOSS Ondrej Kocmanek (Czech Republic), 14-9
WIN Marek Viskup (Slovakia), 10-0
LOSS Mark Laposa (Hungary), 13-2
WIN Ondrej Kocmanek (Czech Republic), 7-7