News
USA Wrestling
High School & Youth
Women
USAW
Wyoming Seminary, Young Guns, MGW Brawlers win their pools at Ultimate Club Spring Girls Duals
by Gary Abbott, USA Wrestling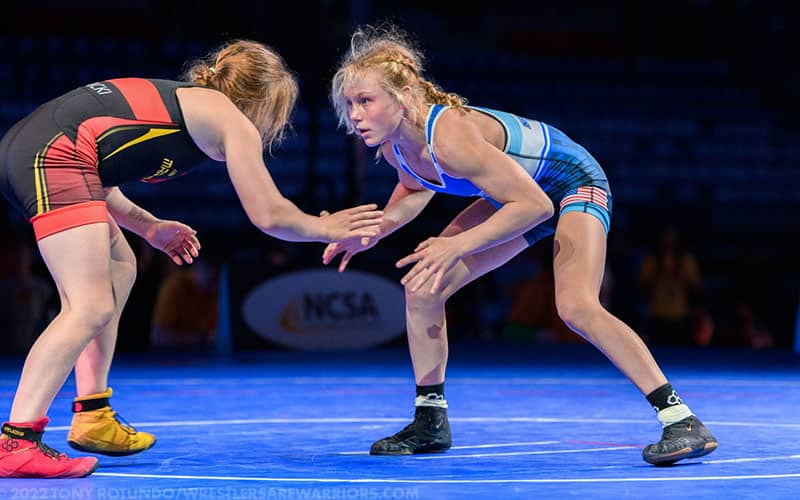 Fargo finalist Aubre Krazer (PA) is competing for Pool C champions MGW Brawlers at the Ultimate Club Spring Girls Duals. Photo by Tony Rotundo, Wrestlers Are Warriors
.
STATE COLLEGE, Pa. – The
Ultimate Club Spring Girls Duals
featured 16 girls teams from across the nation, with dozens of individual national ranked wrestlers on the mats in this respected freestyle club dual meet championships.
The champions of Saturday's pool competition were
Wyoming Seminary
(Pool A),
Young Guns
(Pool B) and
MGW Brawlers
(Pool C). All of these teams finished with perfect 5-0 records to claim their pools.
The top two teams in each pool advanced to the Gold Pool on Sunday (places 1-6). The third and fourth place teams in each pool advanced to the Silver Pool (placed 7-12). The fifth and sixth place team in each pool will wrestle in the Bronze Pool (places 13-18).
Wyoming Seminary, which placed second last year in this event to WOW North, was dominant in winning Pool A, outscoring its opponents in team points, 379-46. Wyoming Seminary has nine entries who are nationally ranked on the high school level.
Young Guns was strong in its Pool B matches, including a 64-18 win over pool runner-up Michigan Revolution Blue in their round robin. Young Guns has five nationally ranked individuals on its roster.
MGW Brawlers was also dominant in Pool C, including a 73-10 victory over pool runner-up Virginia Blue. The MGW Brawlers team features eight nationally ranked high school athletes.
A girls developmental clinic and tournament was held alongside the duals, offering wrestlers with less experience a chance to compete against others in freestyle.
The results of the competition can be found
on FloArena
.
ULTIMATE CLUB SPRING GIRLS DUALS
At State College, Pa., April 22

Gold Pool Quarterfinals (Places 1-6)
Wyoming Seminary, bye
Michigan Revolution Blue vs. Virginia Blue
MGW Brawlers vs. MGW Rebels
Young Guns, bye
Silver Pool Quarterfinals (Places 7-12)
Razor Red, bye
MGW Vanquishers vs. Team Rhode Island
Buckeye Girls National Team vs. Jersey United Purple
Jersey United Pink
Bronze Pool Quarterfinals (Places 13-18)
Round Robin between:
Maine Trappers
Razor Blue
Lebanon Die Hard WC
Virginia Red
MGW Jaw Breakers
NJ Select
Pool A results
1 Wyoming Seminary
2 MGW Rebels
3 Razor Red
4 Jersey United Purple
5 Lebanon Die Hard Wrestling
6 MGW Jaw Breakers
Wyoming Seminary 88, Lebanon Die Hard WC 1
MGW Rebels 83, MGW Jaw Breakers 6
Razor Red 51, Jersey United Purple 28
Wyoming Seminary 61, MGW Rebels 21
Razor Red 60, MGW Jaw Breakers 16
Jersey United Purple 83, Lebanon Die Hard WC 21
Wyoming Seminary 67, Razor Red 16
MGW Rebels 77, Lebanon Die Hard WC 6
Jersey United Purple 47, MGW Jaw Breakers 29
Wyoming Seminary 82, Jersey United Purple 2
MGW Rebels 52, Razor Red 29
Lebanon Die Hard WC 39, MGW Jaw Breakers 27
Wyoming Seminary 81, MGW Jaw Breakers 6
MGW Rebels 62, Jersey United Purple 22
Razor Red 58, Lebanon Die Hard WC 29
Pool B
1 Young Guns
2 Michigan Rev Blue
3 Jersey United Pink
4 MGW Vanquishers
5 Virginia Red
6 Maine Trappers
Michigan Revolution Blue 45, Jersey United Pink 39
MGW Vanquishers 55, Virginia Red 33
Young Guns 84, Maine Trappers 5
Michigan Revolution Blue 49, Virginia Red 33
MGW Vanquishers 46, Maine Trappers 38
Young Guns 58, Jersey United Pink 22
Michigan Revolution Blue 54, Maine Trappers 30
Jersey United Pink 42, Virginia Red 31
Young Guns 61, MGW Vanquishers 17
Young Guns 64, Michigan Revolution Blue 18
Virginia Red 49, Maine Trappers 34
Jersey United Pink 49, MGW Vanquishers 30
Michigan Revolution 47, MGW Vanquishers 31
Young Guns 66, Virginia Red 19
Jersey United Pink 47, Maine Trappers 40
Pool C
1 MGW Brawlers
2 Virginia Blue
3 Buckeye Girls National Team
4 Team Rhode Island
5 Razor Blue
6 NJ Select
MGW Brawlers 88, Team Rhode Island 1
Buckeye Girls National Team 56, NJ Select 27
Virginia Blue 78, Razor Blue 10
MGW Brawlers 80, NJ Select 4
Buckeye Girls National Team 44, Razor Blue 21
Virginia Blue 72, Team Rhode Island 11
MGW Brawlers 86, Razor Blue 0
Team Rhode Island 44, NJ Select 37
Virginia Blue 54, Buckeye Girls National Team 23
MGW Brawlers 73, Virginia Blue 10
Razor Blue 44, NJ Select 34
Buckeye Girls National Team 45, Team Rhode Island 36
MGW Brawlers 75, Buckeye Girls National Team 8
Virginia Blue 66, NJ Select 18
Team Rhode Island 49, Razor Blue 33