News
USA Wrestling
High School & Youth
Women
USAW
Hayden pins returning champion Henckel, as semifinals set at USMC 16U Women's Nationals in Fargo
by Gary Abbott, USA Wrestling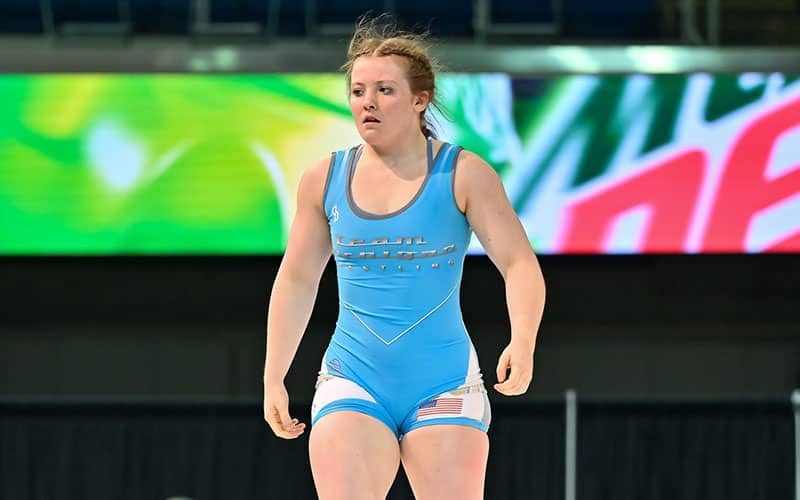 Maddie Hayden of Michigan after upsetting defending champion Sarah Henckel of Connecticut in the 152-pound quarterfinals. Photo by Jim Thrall, Mat Focus
FARGO, N.D. - The semifinals have been set in the
USMC 16U Women's Nationals
, after a power-packed quarterfinals round in the FargoDome on Friday night.
The biggest upset of the night occurred at 152 pounds, where
Maddie Hayden
of Michigan pinned returning 16U National champion Sarah Henckel of Connecticut in 2:52. Hayden, with a No. 10 national ranking, got past Henckel, who was at No. 5 in the most recent national rankings. Hayden will battle Brynn Shepardson of New York in the semifinals.
Four of the five 16U Nationals runners-up from 2022 in the quarterfinals were able to advance to the semifinals,
Mary Manis
of Florida (106),
Carley Ceshker
of Wisconsin (127),
Skylar Slade
of Iowa (144) ad
Piper Fowler
of Tennessee (164).
One of the other prominent quarterfinal upsets came at 117 pounds, where
Noelani Lutz
of Nevada, who is not currently nationally ranked, defeated returning 16U Nationals runner-up and No.3 ranked nationally Isabella Marie Gonzales of California, 7-6. Gonzales was No. 22 in the most recent national Pound-For-Pound rankings. Lutz advances to face Sierra Chiesa of Pennsylvania in the semifinals.
Jordyn Fouse
of Pennsylvania, a Junior runner-up and 16U All-American last year, continued her march through the 132-pound bracket. She stopped talented Emma Chacon of Arizona, 4-2 in the quarterfinals and will battle Madeline Haynes of Missouri in the semifinals.
Three National Girls High School Pound-For-Pound ranked wrestlers in the 16U draw reached the semifinal: No. 13 Fowler, No. 25 Ceshker plus No. 11
Morgan Turner
of Illinois.
Alexis Lazar
of Michigan, who holds a No. 11 national ranking, was one of just three girls who entered both the 16U and Junior divisions today, and the only one to reach a semifinal match. She will battle Raeann Craft of New York in the semifinals.
The team race is very tight and competitive. Michigan, Oklahoma and Pennsylvania all put five athletes into the semifinals and are tied in first place with 35 points. Of the three teams, Pennsylvania has the most in the consolation rounds with six, while Michigan has three on the back side and Oklahoma has two. Rounding out the top five are Arizona in fourth with 28 points and Indiana, Iowa, South Dakota, Washington and New York tied in fifth with 21 points.
The semifinals will begin at 9:00 a.m. on Sunday, with 3rd-8th place bouts at 12:00 noon and the gold-medal finals at 6:00 p.m.
Enjoy all of the action
live on FloWrestling


USMC 16U WOMEN'S NATIONALS
At Fargo, N.D., July 15, 2023

16U semifinal pairings
(with current national high school rankings)
94 pounds
No. 26 Kendall Moe (Indiana) vs. no. 15 Jaclyn Bouzakis (Pennsylvania)
Khyla Lipumano (Arizona) vs. no. 1 Morgan Turner (Illinois)
100
No. 3 Caley Graber (Minnesota) vs. no. 30 Addie Morse (Oklahoma)
No. 23 Elizabeth Valenzuela smith (Arizona) vs. No. 9 Madison Nieuwenhuis (Michigan)
106 pounds
No. 22 Reanah Utterback (Iowa) vs. No. 7 Kayla Batres (Connecticut)
No/ 10 Nakayla Dawson (Michigan) vs. No. 13 Mary Manis (Florida)
112 pounds
No. 11 Emma Bacon (Pennsylvania) vs. Raenah Smith (Washington)
Aneishka n. Santos baez (US Territory) vs. No. 15 Libby Roberts (Washington)
117 pounds
Noelani Lutz (Nevada) vs. No. 10 Sierra Chiesa (Pennsylvania)
No. 11 Alexis Lazar (Michigan) vs. Raeann Craft (New York)
122 pounds
No. 14 Kaylyn Harrill (Nebraska) vs. No. 13 Regina Stoeser (South Dakota)
No. 16 Evelyn Holmes-Smith (Alabama) vs. No. 6 Bella Williams (Oklahoma)
127 pounds
No. 3 Carley Ceshker (Wisconsin) vs. Britney Rueb (South Dakota)
No. 20 Lynn Horn (Oklahoma) vs. No. 18 Peyton Hellmann (South Dakota)
132 pounds
Madeline Haynes (Missouri) vs. No. 5 Jordyn Fouse (Pennsylvania)
No. 9 Isis France (Arizona) vs. No. 28 Timberly Martinez (Colorado)
138 pounds
Olivia Davis (California) vs. No. 20 Zoe Griffith (New York)
Jayda Fulp (Texas) vs. No. 25 Aleksandra Bastaic (Indiana)
144 pounds
No. 6 Skylar Slade (Iowa) vs. No. 17 Jayci Shelton (Missouri)
Rihanna Venegas (Michigan) vs. No. 9 Morgan Lucio (Arizona)
152 pounds
No. 10 Maddie Hayden (Michigan) vs. Brynn Shepardson (New York)
No. 20 Mya Bethel (Florida) vs. No. 10 Elly Janovsky (Indiana)
164 pounds
No. 1 Piper Fowler (Tennessee) vs. No. 13 Millie Azlin (Oklahoma)
No. 14 Alexandria Alli (Ohio) vs. Alexandria Ray (Oklahoma)
180 pounds
Ylyana Sandoval (Oregon) vs. Brooklyn Graham (Iowa)
Brooke Huffman (Wisconsin) vs. Alexandria Perez (California)
200 pounds
Irelynn Laurin (Tennessee) vs. No. 11 Keilikki Nau Rarick (Utah)
No. 18 Mia Cienega (Washington) vs. No. 8 Caroline Hattala (Pennsylvania)
16U quarterfinals results
94 pounds
Kendall Moe (Indiana) pin Katie Biscoglia (Iowa), 1:25
Jaclyn Bouzakis (Pennsylvania) tech fall Lilly Breeden (Missouri), 10-0 1:25
Khyla Lipumano (Arizona) tech fall Lyla Stafford (California), 10-0 1:12
Morgan Turner (Illinois) tech fall Samantha Bertini (Massachusetts), 10-0 1:13
100
Caley Graber (Minnesota) dec. Camryn Gresham (Ohio), 3-0
Addie Morse (Oklahoma) dec. Ella Kavanagh (Nevada), 6-0
Elizabeth Valenzuela smith (Arizona) tech fall Sandy Breeden (Missouri), 12-2 1:47
Madison Nieuwenhuis (Michigan) tech fall Lola Gonzales (Colorado), 10-0 1:23
106 pounds
Reanah Utterback (Iowa) pin Alexandra Sebek (Illinois), 4-0 0:34
Kayla Batres (Connecticut) dec. Charlie Wylie (New Jersey), 8-3
Nakayla Dawson (Michigan) dec. Teegan Sibble (New York), 6-2
Mary Manis (Florida) dec. Kaiya Maggini (California), 6-0
112 pounds
Emma Bacon (Pennsylvania) pin Jayden Keller (Missouri), 4-0 2:47
Raenah Smith (Washington) dec. Mariah Mills (Florida), 8-4
Aneishka n. Santos baez (US Territory) dec. Jade Brundige (Missouri), 8-1
Libby Roberts (Washington) dec. Abbi Cooper (California), 11-3
117 pounds
Noelani Lutz (Nevada) dec. Isabella Marie Gonzales (California), 7-6
Sierra Chiesa (Pennsylvania) tech fall Rianna Bernal (California), 10-0 0:43
Alexis Lazar (Michigan) pin Emjay Neumann (Wisconsin), 1:10
Raeann Craft (New York) pin Lauren Aguilar (California), 3:45
122 pounds
Kaylyn Harrill (Nebraska) tech fall Kaylan Hitchcock (Kansas), 12-2 2:51
Regina Stoeser (South Dakota) forfeit Danica Torres (Arizona),
Evelyn Holmes-Smith (Alabama) dec. Justice Anthony (West Virginia), 8-4
Bella Williams (Oklahoma) tech fall Mika Yoffee (Nevada), 13-0 2:23
127 pounds
Carley Ceshker (Wisconsin) pin Martynique Davis (Arizona), 1:27
Britney Rueb (South Dakota) dec. Lexy Pabon (Maryland), 6-6
Lynn Horn (Oklahoma) tech. fall Samantha Sachs (California), 14-2 3:26
Peyton Hellmann (South Dakota) dec. Riley Hanrahan (Wisconsin), 6-1
132 pounds
Madeline Haynes (Missouri) tech fall Lilliana Banks (Wisconsin), 10-0 1:32
Jordyn Fouse (Pennsylvania) dec. Emma Chacon (Arizona), 4-2
Isis France (Arizona) tech fall Lyniann Gusick (Iowa), 10-0 1:06
Timberly Martinez (Colorado) dec. Audrey Rogotzke (Minnesota), 6-4
138 pounds
Olivia Davis (California) dec. Elle Kaufmann (Georgia), 7-0
Zoe Griffith (New York) pin Taylin Silco (Texas), 3:05
Jayda Fulp (Texas) pin Josephine Dollman (Pennsylvania), 1:43
Aleksandra Bastaic (Indiana) dec. Ella Poalillo (New Jersey), 5-0
144 pounds
Skylar Slade (Iowa) pin Olivia Hofrichter (Wisconsin), 0:52
Jayci Shelton (Missouri) pin Lucia Ledezma (California), 8-2 3:43
Rihanna Venegas (Michigan) dec. Madison Westerberg (New York), 9-2
Morgan Lucio (Arizona) dec. Zoey Haines (Pennsylvania), 4-1
152 pounds
Maddie Hayden (Michigan) pin Sarah Henckel (Connecticut), 2:52
Brynn Shepardson (New York) dec. Jada Weiss (Ohio), 10-1
Mya Bethel (Florida) pin Shylee Tuzon (Colorado), 0:41
Elly Janovsky (Indiana) pin Cali Dupree (Missouri), 1:21
164 pounds
Piper Fowler (Tennessee) tech fall Elizabeth Madison (Ohio), 12-2 2:12
Millie Azlin (Oklahoma) pin Grace Leota (Florida), 3:57
Alexandria Alli (Ohio) dec. Kaylie Hall (West Virginia), 5-4
Alexandria Ray (Oklahoma) dec. Clarion Fager (Utah), 8-0
180 pounds
Ylyana Sandoval (Oregon) pin Rylie Smith (Utah), 9-0 3:15
Brooklyn Graham (Iowa) pin Laney Oliver (Ohio), 6-2 1:29
Brooke Huffman (Wisconsin) dec. Olivia Ruacho (California), 14-5
Alexandria Perez (California) dec. Autumn Elsbury (Iowa), 7-2
200 pounds
Irelynn Laurin (Tennessee) dec. Rebecca Oetken (Wyoming), 2-1
Keilikki Nau Rarick (Utah) inj. Phoenix Lindseth (North Dakota), 3:28
Mia Cienega (Washington) dec. Jasmine Rene (Illinois), 6-0
Caroline Hattala (Pennsylvania) pin Addison Neumann (Missouri), 1:37
16U Women's Nationals team standings after day one
1 (tie) Michigan, Oklahoma and Pennsylvania, 35 points
4. Arizona, 28 points
5. (tie) Indiana, Iowa, New York, South Dakota and Washington, 21
10. (tie) California, Florida, Missouri, Tennessee and Wisconsin, 14