News
USA Wrestling
High School & Youth
Women
USAW
Fernandez repeats as USMC 14U Nationals champions and wins OW, Engel, Delgado, Manual, Hruby also repeat
by Gary Abbott, USA Wrestling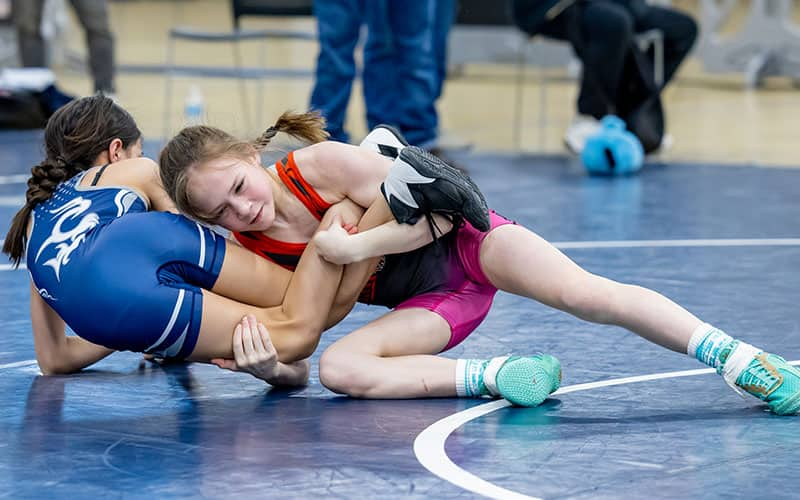 Maisie Elliott (WA), 2023 USMC Women's 14U Nationals champion at 72 pounds. Photo by AJ Grieves, Mat Focus
.
SPOKANE, Wash. –
Taina Fernandez
of Maryland repeated as the USMC Women's 14U Nationals champion at 127 pounds and was named Outstanding Wrestler for the tournament at The Podium on Friday.
Fernandez scored an 11-0 technical fall over Victoria Carbonaro of New Jersey in the championship finals. Fernandez won the 14U and U15 national titles last season, and also was a U15 Pan American Trials champion in 2022.
Other repeat champions were
Brynn Engel
of Wisconsin (79),
Haley Delgado
of Texas (92),
Kaili Manuel
of Michigan (145) and
Matilda Hruby
of Colorado (185). Last year, Engel won at 72 pounds and Delgado won at 79 pounds, while Manuel won at 119 pounds and Hruby won at 136 pounds.
Ava Guilmette
of Connecticut, a 12U national champion last year, won the 14U title this year at 119 pounds. Guilmette, who attends Wyoming Seminary, pinned all four of her opponents.
Guilmette and Hruby were among four wrestlers who scored pins in the finals. Others winning 14U national titles by pinning their finals opponents were
Hannah Naccarati-Cholo
of Arizona (105) and
Cadence Butts
of Michigan (136).
Other individual 14U champions were
Maisie Elliott
of Washington (72),
Gail Sullivan
of New York (85),
Marie Sharp
of New Jersey (97),
Epenesa Elison
of California (101) and
Olivia Bezdicek
of Idaho (110).
USMC WOMEN'S 14U NATIONAL CHAMPIONSHIPS
At Spokane, Wash., April 15
72
1st Place - Maisie Elliott of WA
2nd Place - Timmery Condit of CO
3rd Place - Kendra Ege of IL
4th Place - Shaylee Chavez of OR
Timmery Condit (CO) won by tech fall over Shaylee Chavez (OR) (TF 10-0)
Maisie Elliott (WA) won by tech fall over Kendra Ege (IL) (TF 10-0)
Timmery Condit (CO) won by fall over Kendra Ege (IL) (Fall 0:11)
Maisie Elliott (WA) won by tech fall over Shaylee Chavez (OR) (TF 10-0)
Maisie Elliott (WA) won by tech fall over Timmery Condit (CO) (TF 12-0)
Kendra Ege (IL) won by tech fall over Shaylee Chavez (OR) (TF 13-3)
79
1st Place - Brynn Engel of WI
2nd Place - Madyn Overman of AZ
3rd Place - Hayden Kumfer of AK
4th Place - Kaila Tatekawa-Maes of HI
Madyn Overman (AZ) won by tech fall over Kaila Tatekawa-Maes (HI) (TF 16-5)
Brynn Engel (WI) won by tech fall over Hayden Kumfer (AK) (TF 10-0)
Brynn Engel (WI) won by tech fall over Madyn Overman (AZ) (TF 14-4)
Hayden Kumfer (AK) won by fall over Kaila Tatekawa-Maes (HI) (Fall 1:05)
Madyn Overman (AZ) won by tech fall over Hayden Kumfer (AK) (TF 19-8)
Brynn Engel (WI) won by tech fall over Kaila Tatekawa-Maes (HI) (TF 14-3)
85
1st - Gail Sullivan (NY) won by tech fall over Zoe Roddis (OR) (TF 10-0)
3rd - Emma Grimes (PA) won by fall over Remy Whitney (OK) (Fall 1:22)
5th - Kadence Fogg (ME) won by fall over Natalie Lippstreu (GA) (Fall 0:51)
7th - Isabelle Goedl (WA) won by fall over Caitlyn Kendall (OR) (Fall 0:00)
92
1st - Hailey Delgado (TX) won by tech fall over Elle Changaris (NJ) (TF 15-5)
3rd - Remington Zimmerer (CO) won by tech fall over Alexa Thomas (WI) (TF 13-0)
5th - Bailee Wagner (WA) won by fall over Calliope Willman (IL) (Fall 2:51)
7th - Selena Batres (CT) won by decision over Brynlee Mooney (TX) (Dec 7-2)
97
1st - Marie Sharp (NJ) won by tech fall over Sophia Marie Gonzales (CA) (TF 10-0)
3rd - Erica Irvine (IA) won by fall over Katelynn Dockery (TX) (Fall 1:26)
5th - Angelica Serratos (CA) won by tech fall over Dilynn Albrecht (WI) (TF 10-0)
7th - River Cote (MT) won by decision over Raylynn Woods (NV) (Dec 14-9)
101
1st - Epenesa Elison (CA) won by tech fall over Ali Svancara (ID) (TF 10-0)
3rd - Leona Martinez (CA) won by decision over Saydee Lussenhop (CO) (Dec 8-1)
5th - Maya Alvarado (FL) won by tech fall over Peggy Susan Dean (NJ) (TF 12-0)
7th - Hayley Petersen (MT) won by tech fall over Hanna Givens (TX) (TF 10-0)
105
1st - Hannah Naccarati-Cholo (AZ) won by fall over Zoey Pulver (WA) (Fall 1:23)
3rd - Rilynn Younker (IL) won by fall over Teyah Cabinian (HI) (Fall 3:40)
5th - Anna Buurma (MI) won by forfeit over Mara Vanderpool (NE) (FF)
7th - Chevelle Boynton (OR) won by fall over Christabelle Minke (AK) (Fall 3:20)
110
1st - Olivia Bezdicek (ID) won by tech fall over Mia Anderson (NE) (TF 10-0)
3rd - Malia Ottow (WA) won by fall over Samantha Cornejo (CA) (Fall 1:06)
5th - Rossianna Gookin (MT) won by forfeit over Alana Tatekawa (HI) (FF)
7th - Sara Pauls (NY) won by fall over Noemi Cordero (CA) (Fall 1:29)
119
1st - Ava Guilmette (CT) won by fall over Brynlee Sorensen (CA) (Fall 2:46)
3rd - Chloe Zacherl (PA) won by tech fall over Elliotte Strange (TX) (TF 13-2)
5th - Tabitha Montez Montez (CA) won by fall over Kasia Wong (OK) (Fall 3:13)
7th - Reinalda Gonzalez (WA) won by fall over Zoe Chamberlin (CO) (Fall 1:27)
127
1st - Taina Fernandez (MD) won by tech fall over Victoria Carbonaro (NJ) (TF 11-0)
3rd - Landri VonGonten (TX) won by fall over Saige McCleery (WA) (Fall 1:34)
5th - Kai Pare (NV) won by tech fall over Kimberly Guzman (NV) (TF 11-0)
7th - Anastasia Rodnikova (IL) won by fall over Abigail Gamm (WA) (Fall 0:09)
136
1st - Cadence Butts (MI) won by fall over Sarai Cortez (CA) (Fall 0:50)
3rd - Gianna Munifo (CA) won by fall over Audrey Robinson (OR) (Fall 1:33)
5th - Amarie Medina (OR) won by tech fall over Honesty Christofferson (ID) (TF 10-0)
145
1st - Kaili Manuel (MI) won by decision over Remington LaFlamme (TX) (Dec 12-4)
3rd - Veronica Madrid (KS) won by fall over Kylee Wicklund (WA) (Fall 2:27)
5th - Karlee Brummett (WA) won by injury default over Kahli Brown (ID) (Inj. 0:00)
7th - Soraya Shirley (MT) won by decision over Bentley Foster (ID) (Dec 6-4)
185
1st - Matilda Hruby (CO) won by fall over Eva Garcia (CA) (Fall 1:13)
3rd - Sarah Pulk (MN) won by injury default over Queen Moniz (WA) (Inj. 2:37)
5th - Ryann Miller (IL) won by decision over Kara Jones (MT) (Dec 6-6)
7th - Lorelei Ybarra (NV) won by forfeit over Felicia MacLean (WA) (FF)