News
USA Wrestling
International
USAW
Gilman, Dake, Cox power into men's freestyle finals at World Championships in Belgrade
by Gary Abbott, USA Wrestling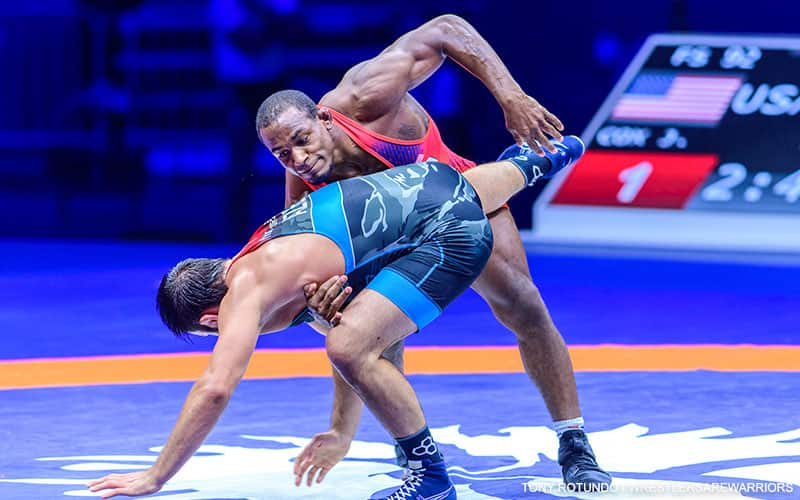 J'den Cox of the USA scores a takedown during World semifinals.Photo by Tony Rotundo, Wrestlers Are Warriors
BELGRADE, Serbia – Past World champions
Thomas Gilman
,
Kyle Dake
and
J'den Cox
of the United States all won semifinal matches on Friday night and have advanced to the finals on Saturday at the World Wrestling Championships in Stark Arena.
2021 World champion Gilman was in command in his 8-2 semifinal victory over 2018 U23 World bronze medalists Wanghao Zou of China at 57 kg. Gilman led 4-1 at the break, with a takedown, a point on the shot clock and a step out. In the second period, Gilman scored two more takedowns to lead 8-2. Zou could only add a step out in the closing seconds.
Gilman will battle 2022 Mediterranean Games champion Zelimkhan Abakarov of Albania, who began his career competing for Russia.
In addition to his World title, Gilman won a 2017 World silver medal and a 2020 Olympic bronze medal. Orignally from Omaha, Neb., Gilman was an All-American for the University of Iowa.
Three-time World champion Dake edged 2019 World bronze medalist Yones Emamichoghaei of Iran in a 2-2 criteria decision in the semifinals. Emamichoghaei led 2-0 at the break, after getting a point when Dake was put on the shot clock, then forcing a stepout. In the second period, Dake got behind Emamichoghaei and took him down out of bounds, getting four points from officials. Iran challenged, and the jury changed the score, giving Dake a point on a step out and another point on a fleeing call. Although the bout was tied 2-2, Dake had criteria, and when no other points were scored, he advanced.
Dake will battle 2021 World silver medalist Taimuraz Salkazanov of Slovakia in a rematch of last year's World finals, won by Dake 7-3.
Dake won a bronze medal at the 2020 Olympic Games. He won his World titles in 2018, 2019 and 2021. Originally from Lansing, N.Y., Dake was a four-time NCAA champion for Cornell.
Two-time World champion Cox was too much for 2021 U23 World champion and 2021 Senior World bronze medalist Osman Nurmagomedov of Azerbaijan in the semifinals, winning 7-0. Cox led 1-0 at the break after Nurmagomedov was put on the shot clock and did not score. In the second period, Cox was in command, getting two takedowns and an exposure for the final margin of victory.
Cox will battle 2021 World champion Kamran Ghasempour of Iran in the gold-medal match on Saturday.
Cox won his World titles in 2018 and 2019, and was an Olympic bronze medalist in 2016. He also won World bronze medals in 2017 and 2021. Originally from Columbia, Mo., he was a three-time NCAA champion for the University of Missouri.
The United States has now placed six wrestlers in the gold-medal finals, as
Zain Retherford
(70 kg),
Jordan Burroughs
(79 kg) and
David Taylor
(86 kg) compete for World titles later this evening. All of the action is live on FloWrestling.
WORLD WRESTLING CHAMPIONSHIPS

At Belgrade, Serbia, September 16
Finals pairings
57 kg - Thomas Gilman (USA) vs. Zelimkhan Abakarov (Albania)
74 kg - Kyle Dake (USA) vs. Taimuraz Salkazanov (Slovakia)
92 kg -. J'den Cox (USA) vs. Kamran Ghasempour (Iran)
Semifinal results
57 kg
Thomas Gilman (USA) dec. Wanghao Zou (China), 8-2
Zelimkhan Abakarov (Albania) dec. Stevan Micic (Serbia), 6-1
74 kg
Kyle Dake (USA) dec. Yones Emamichoghaei (Iran), 2-2
Taimuraz Salkazanov (Slovakia) dec. Frank Chamizo (Italy) 3-1
92 kg
Kamran Ghasempour (Iran) dec. Miriani Maisuradze (Georgia), 5-0
J'den Cox (USA) dec. Osman Nurmagomedov (Azerbaijan), 7-0
Men's freestyle Group 2 results
57 kg: Thomas Gilman (State College, Pa./Nittany Lion WC/Titan Mercury WC) - FINALIST
WIN Georgii Okorokov (Australia), 11-0
WIN Zanabazar Zandanbud (Mongolia), 5-1
WIN Wanhao Zhou (China), 8-2
Gold Medal Match – Vs. Zelimkhan Abakarov (Albania)
74 kg: Kyle Dake (Ithaca, N.Y./Spartan Combat RTC/Titan Mercury WC) – FINALIST
WIN Islambek Orozbekov (Kyrgyzstan), 10-0
WIN Suldkhuu Olonbayar (Mongolia), 12-2
WIN Sagar Jaglan (India), fall 0:44
WIN Yones Emamichoghaei (Iran), 2-2
Gold Medal Match - Taimuraz Salkazanov (Slovakia)
92 kg: J'den Cox (Ann Arbor, Mich./Michigan RTC/Titan Mercury WC) - FINALIST
WIN Yuxiang Bi (China), 10-0`
WIN Radoslaw Marcinkiewicz (Poland), 11-0
WIN Osman Nurmagomedov (Azerbaijan), 7-0
Gold Medal Match – Vs. Kamran Ghasempour (Iran)