News
USA Wrestling
International
High School & Youth
USAW
Cooley wins his first bout but falls in the quarterfinals, Aslikyan still possible for repechage at U17 Worlds in Greco-Roman
by Gary Abbott, USA Wrestling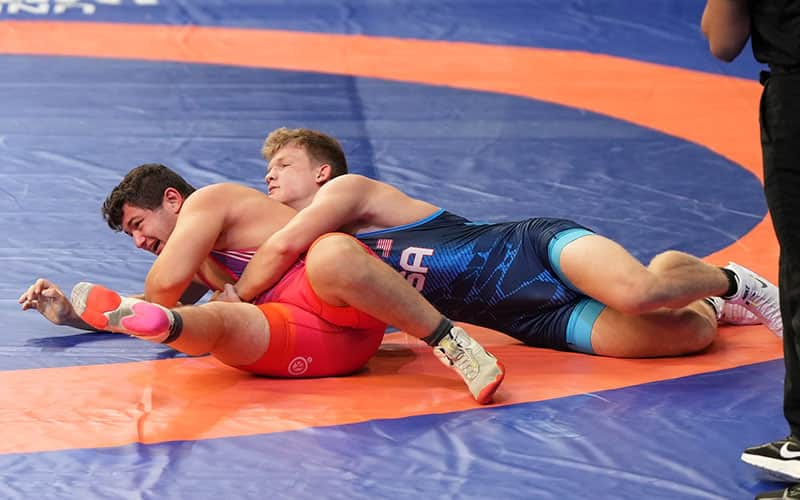 Aiden Cooley (USA) turns Stevan Kojic (Serbia) in their 92 kg match at the 2023 U17 World Championships. Photo by Gary Abbott.
ISTANBUL, Turkey – It was a challenging morning for the U.S. Greco-Roman wrestlers in Group Two of the
U17 World Championships
which hit the mat for the first time on Tuesday morning.
Winning the only match from this group of five athletes was
Aiden Cooley
, who scored a 9-0 technical fall over 2023 U17 European bronze medalist Stevan Kojic of Serbia in his first match at 92 kg. Cooley got his first point on a passivity against Kojic, then in par terre, turned Kojic four times with gut wrenches to end the match.
In the quarterfinals, 2022 European U17 champion Gabriel Stan of Romania defeated Cooley by a 9-0 technical fall. Cooley was hit for passivity and put down trailing 1-0. Stan hit two four-point throws to end the match.
If Stan wins his semifinal match on Tuesday evening against Independent Neutral Athlete Saipula Gadzhimagomedov, Cooley will get drawn back into Wednesday morning's repechage.
Cooley was second in the 2023 U17 Nationals in Greco-Roman to Dreshaun Ross of Iowa, who chose not to compete at the World Championships.
The other four U.S. wrestlers in Group B were defeated in their opening matches. Besides Cooley, only one remains a possibility to compete in Wednesday's repechage,
Henry Aslikyan
at 45 kg.
Aslikyan was beaten in his opening bout by Alireza Ahmad Amirighasroddashti of Iran, 11-0. Amirighasroddashti led 3-0 at the break, with a passivity point and a lift. In the second period, the Iranian got a takedown, then added a four-point throw. During the throw, Aslikyan was also hit with a caution and two penalty for a foul.
Amirighasroddashti has reached Tuesday night's semifinals, and if he wins, he draws Aslikyan back into Wednesday's repechage.
The other three Americans in Group B of Greco-Roman were eliminated on Tuesday morning.
Sam Herring was defeated in his opening bout at 60 kg by Yerdaulet Lassim of Kazakhstan, 6-3. Lassim held the edge throughout the match. Late in the bout, after getting a reversal and turning Herring, it appeared to be a technical fall. The USA challenged and Lassim was hit with a penalty for pulling on hair, losing the points and keeping the score at 6-3. Herring could not score in the final 30 seconds. Herring was eliminated when Lassim was beaten in the quarterfinals.
Hudson Loges fell 4-1 at 51 kg to Husniddin Ulugbekov of Turkmenistan, who was fifth at 2023 U17 Asian Championships. Ulugbekov got a passivity point in first period. Loges got one point on passivity in second period to tie it at 1-1. Ulugbekov reversed Loges to make it 2-1. Ulugbekov got a last-second takedown when Loges pushed the action to end the scoring. Loges was eliminated when Ulugbekov was beaten in his quarterfinal bout.
Arvin Khosravy, who placed fifth in the 2022 U17 World Championships, lost a tight 4-1 decision to Individual Neutral Athlete Ivan Ivan Bialiayeu, 4-1 at 70 kg. When Bialiayeu was penalized for passivity, Khosravy led 1-0, but Bialiayeu got a reversal to tie it at 1-1. In the second period, Khosravy was penalized for passivity, trailing 2-1, and put down. Bialiayeu threw him for two points to secure the margin of victory. Khosravy was eliminated when Bialiayeu, who is from Belarus, lost his next match.
The Group B semifinals will be held at 5:00 p.m. with no USA athletes competing. That is followed at 6:00 p.m. with the Championship finals, with
Jordyn Raney
going for a 55 kg gold and
Nicholas Sahakian
seeking a 110 kg bronze. Istanbul is seven hours ahead of U.S. Eastern time zone. All of the action is live on FloWrestling.
U17 WORLD CHAMPIONSHIPS

At Istanbul, Turkey, August 1


U.S. Group Two Greco-Roman performances
45 kg – Henry Aslikyan (Panorama City, California/Birmingham Community Charter School)
LOSS Alireza Ahmad Amirighasroddashti (Iran), tech fall, 11-0
51 kg – Hudson Loges (Blair, Nebraska/MWC Wrestling Academy)
LOSS Husniddin Ulugbekov (Turkmenistan), 4-1
60 kg – Sam Herring (Sidman, Pennsylvania/Bishop McCort High School)
LOSS Yerdaulet Lassim (Kazakhstan), 6-3
71 kg – Arvin Khosravy (Woodland Hills, Calif.), eliminated
LOSS Ivan Bialiayeu (Individual Neutral Athlete),4-1
92 kg – Aiden Cooley (Allen, Texas/Best Trained Wrestling)
WIN Stevan Kojic (Serbia), tech fall, 9-0
LOSS Gabriel Stan (Romania), tech fall, 9-0