News
USA Wrestling
International
High School & Youth
USAW
Lockett to go for gold, Villasenor to go for bronze, Castillo in repechage at U17 World Championships in men's freestyle
by Gary Abbott, USA Wrestling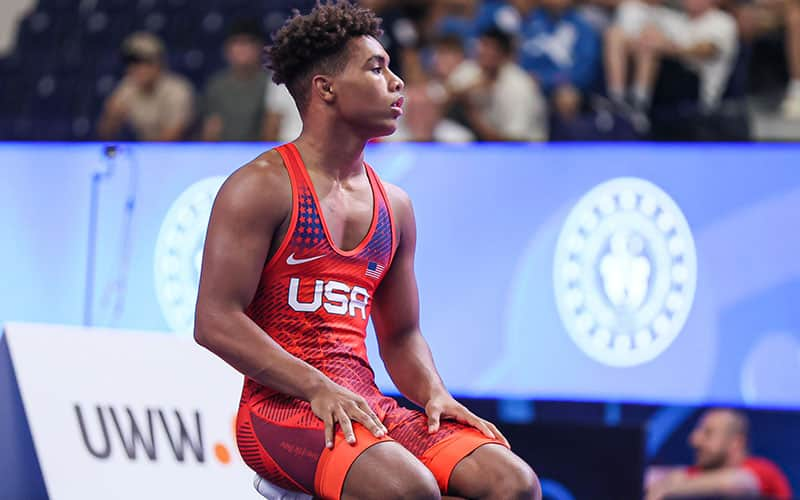 Ladarian Lockett (USA) competition portrait at the 2023 U17 World Championships. Photo by Ulug Bugra Han, United World Wrestling
ISTANBUL, Turkey –
Ladarion Lockett
of Oklahoma won his semifinals match on Saturday night and will compete in the 71 kg gold-medal finals in men's freestyle on Sunday night, the last day of the
2023 U17 World Championships.
Lockett quickly dispatched his semifinals rival, 2021 Asian U17 Championships runner-up Narender of India, in a 10-0 technical fall. Lockett got a spin behind takedown then locked up a trapped arm gut wrench, turning Narender four times to finish the match in the first period.
Lockett has shut out his three opponents with a combined 28-0 score, including two technical falls.
His finals opponent is Seyedabolfazl Hosseini of Iran, a 2023 Asian U17 champion.
Ignacio Villasenor
of Colorado (45 kg) dropped a semifinals match and will battle for a bronze medal on Sunday night.
Villasenor was defeated in the semifinals by 2023 Asian U17 silver medalist Ahora Khateri of Iran, 5-2. Khateri scored first when Villasenor was put on the shot clock and did not score, making it 1-0 at the break. In the second period, Villasenor got the first takedown of the match on the edge to lead 2-1. Khateri answered with a takedown with 53 seconds left, then added an insurance takedown in the closing moments of the match.
Villasenor.will face the winner of the repechage between Daniel Negru of Moldova and Daniel Negru (Moldova) or Agashirin Agasherinov, an Individual Neutral Athlete, in his bronze-medal match.
Earning a spot in Sunday afternoon's repechage is
Christian Castillo
of Arizona (51 kg).
Castillo was pulled back into repechage after Rohit of India, who defeated him in the opening round, won his semifinals match. Castillo was a 2022 U17 World silver medalist, and now has a chance to wrestle back to seek a bronze medal. He will face – Sadraddin Hasanov of Azerbaijan in Sunday afternoon's repechage. If he beats Hasanov, he will advance to a bronze-medal match against Usman Indirbaev, an Individual Neutral Athlete.
Ben Davino of Illinois was eliminated at 60 kg, after the opponent who beat him in the first round, Jamal Abbasov of Azerbaijan, was defeated in the semifinals. Only athletes who have lost to a finalist are eligible to wrestle back in the repechage. He became the second U.S. wrestler in Group Two to be eliminated, after Aeoden Sinclair of Wisconsin was knocked out at 92 kg with a 1-1 Irecord on Saturday morning.
The schedule has changed for Sunday, the final day of the event. There will be no morning session. Repechage for the Group Two men's freestyle weight classes will be set for 4:30 p.m. local time, with the championship finals set for 6:00 p.m. Istanbul is seven hours ahead of U.S. Eastern time zone.
All of the action is
live on FloWrestling
.
U17 WORLD CHAMPIONSHIPS

At Istanbul, Turkey


Group Two men's freestyle Finalist pairings
45 kg - Gor Buniatyan (Armenia) vs. Ahora Khateri (Iran)
51 kg - Yamato Ogawa (Japan) vs.Rohit (India)
60 kg - Sajad Pirdayeh (Iran) vs. Akito Maehara (Japan)
71 kg - Ladarion Lockett (United States) vs. Seyedabolfazl Hosseini (Iran)
92 kg - Eyyup Cetin (Turkey) vs. Sandro Kurashvili (Georgia)
Group Two men's freestyle semifinals results
45 kg
Gor Buniatyan (Armenia) dec. Ebubekir Gur (Turkey), 4-3
Ahora Khateri (Iran) dec. Ignacio Villasenor (United States), 5-2
51 kg
Yamato Ogawa (Japan) Amirmohammad Navazi (Iran), 4-1
Rohit (India) dec, Usman Indirbaev (Individual Neutral Athletes), 5-2
60 kg
Sajad Pirdayeh (Iran) dec. Jamal Abbasov (Azerbaijan), 3-2
Akito Maehara (Japan) tech. fall Zandanbat Batsaikhan (Mongolia), 11-0
71 kg
Ladarion Lockett (United States) tech fall Narender (India), 10-0
Seyedabolfazl Hosseini (Iran) tech fall Islam Kazharov (Individual Neutral Athletes), 11-1
92 kg
Eyyup Cetin (Turkey) tech fall Vinay (India),10-0
Sandro Kurashvili (Georgia) tech fall Genki Hoki (Japan), 10-0
U.S. Men's Freestyle Group Two results
45 kg: Ignacio Villasenor, Longmont, Colorado (Pomona Elite WC), in semifinals
WIN Fredrick Bachmann, Jr. (Puerto Rico), 6-0
WIN Danraj Shirke (India), tech fall 10-0
LOSS Ahora Khateri (Iran), 5-2
Bronze bout – Daniel Negru (Moldova) or Agashirin Agasherinov (Individual Neutral Athlete)
51 kg: Christian Castillo, Glendale, Arizona (Thorobred WC), in repechage
LOSS Rohit (India), 5-4
Repechage – Sadraddin Hasanov (Azerbaijan)
60 kg: Ben Davino, South Elgin, Illinois (St. Charles WC), eliminated
LOSS Jamal Abbasov (Azerbaijan), 5-0
71 kg: Ladarion Lockett, Stillwater, Oklahoma (Cowboy WC), in finals
WIN Victor Soto Rivera (Puerto Rico), tech. fall, 10-0
WIN Felix Schmitt (Germany), tech fall, 10-0
WIN Nurdaulet Seilbekov (Kazakhstan), 8-0
WIN Narender (India), tech fall 10-0
Gold Medal - Seyedabolfazl Hosseini (Iran)
92 kg: Aeoden Sinclair, Edgerton, Wisconsin (Askren Wrestling Academy), eliminated
WIN Bence Veress (Hungary), pin 1:02
LOSS Toohid Amirali Noory (Iran), 5-3