News
USA Wrestling
International
USAW
Lilledahl, Mendez and Shapiro advance to U20 World finals
by Richard Immel, USA Wrestling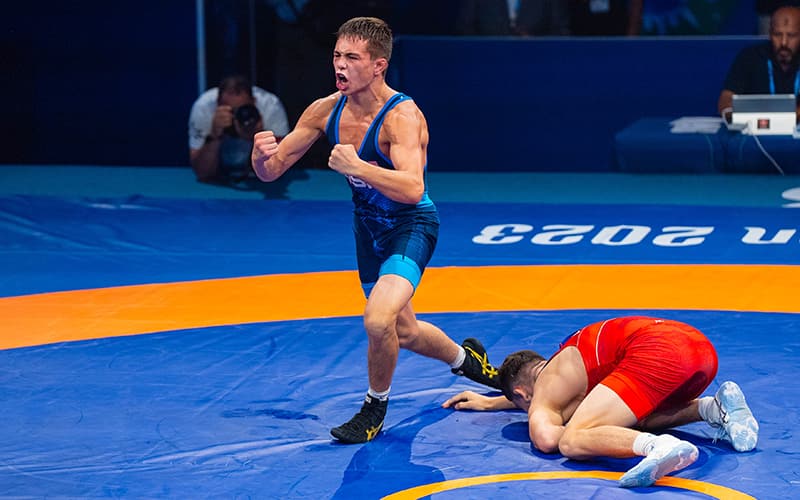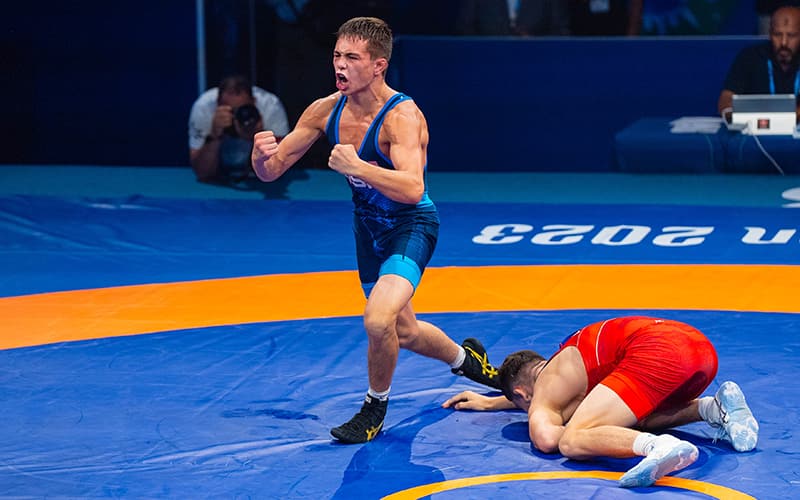 Photo: Luke Lilledahl celebrates his comeback win in the 57 kg semifinals at the U20 World Championships in Amman, Jordan. (Richard Immel, USA Wrestling)
Video: U.S. finalist interviews at U20 World Championships
AMMAN, JORDAN – After a scorching opening session that saw the U.S. men's freestyle team post a perfect 14-0 record and move all five of its athletes to the semifinal round, Luke Lilledahl, Jesse Mendez and Meyer Shapiro pushed on to U20 World finals and are one win away from a coveted gold medal.
The most-electric match of the day came in Lilledahl's 57 kg semifinal against reigning U20 European champion Ruslan Abdullayev of Azerbaijan. The duo traded knockout blows until the very end. Abdullayev snatched a multi-score leg lace to steal the momentum in the second period and seemingly put the match out of reach. However, Lilledahl maintained his poise and struck back with a crafty step over takedown to pin his Abdullayev with a mere seven seconds left on the clock.
Credit Lilledahl's calm demeanor and smooth takedown arsenal as the catalyst for his third straight World final appearance. His finals opponent is returning U20 World champion Yuto Nishiuchi of Japan, who has dropped down from 61 kg. Nishiuchi also earned a bronze medal at the 2019 U17 World Championships.
Lilledahl struck gold at the U17 World Championships last year in Rome, Italy, and finished as runner-up the year prior in Budapest, Hungary. He will be a Senior at Wyoming Seminary (Pennsylvania) this fall, where he has already won a National Prep title, and is committed to wrestle for Cael Sanderson's Penn State Nittany Lions thereafter.
Keeping the theme of poise afloat for the Americans was eventual finalist Mendez. After grinding through a rugged path to the 65 kg semifinals that included a last-second win over two-time U20 European champion Mykyta Zubal of Ukraine, Mendez outlasted Greco-Roman specialist Abdullah Toprak of Turkey in a tight 3-1 contest to qualify for the gold medal match.
Squaring off against Mendez in the championship bout is Mohammad Shakeri of Iran. Like Mendez, Shakeri has a pair of World Championship appearances to his name, but no medal win until this go-around in Jordan. He recently won the Yasar Dogu, a traditionally tough Senior-level tournament held annually in Istanbul.
Mendez was a true freshman All-American for Ohio State last season. He competed at the 2021 U20 World Championships in Ufa, Russia, and the 2019 U17 World Championships in Sofia, Bulgaria, placing in the top 10 on each occasion.
A U17 World champion two years ago, Shapiro is back atop the international ranks in his age group after a demoralizing 11-0 technical fall win over Puerto Rico's Julian George in the 70 kg semifinals. Anything George presented, Shapiro had the answer, and then some.
Up next for Cornell's incoming star freshman is 2021 U17 World bronze medalist Ali Rezaei Aghouzgeleh of Iran. Shapiro was among the most dominant athletes on Monday, pitching a shutout in three of his four contests and outscoring his foes by a combined tally of 36-4. Rezaei Aghouzgeleh managed a similar performance, setting the stage for a much-anticipated final.
Outstanding championship-side runs for Matthew Singleton and Camden McDanel came to an unfortunate halt in the semifinal round. Both men were presented perplexing strategies from their semifinal opponents that proved too much for the moment.
After converting a four-point single leg to the back, and nearly pinning India's Sagar Jaglan, Singleton gave way to Jaglan's relentless forward pressure and surrendered a 16-6 technical fall. He drops down to the bronze medal match at 79 kg where he awaits the repechage winner between athletes from Bulgaria, Jordan and Turkey.
In the first critical U.S. versus Iran contest of the event, McDanel was unable to mount any offense against Abolfazl Babaloo and fell 5-1 in the 97 kg semifinals. McDanel was in on several shot attempts but couldn't press through the heavy hip defense implemented by his Iranian counterpart.
The future Nebraska star won his first two bouts of the day by way of technical fall. He will take on either Tuxige Tuxige of China or Kamil Kurugliyev of Kazakhstan for the bronze medal.
The U.S. and Iran are neck-and-neck with three finalists apiece. The rival nations go head-to-head in two pivotal gold medal matches tomorrow. After day one, the U.S. holds a slight edge in the race for first place since all five of its athletes are guaranteed to wrestle for a medal, while Iran only has four in medal contention from Monday's group.
The U20 World Championships continues at 10 a.m. local time at Princess Sumaya Lounge with preliminary rounds for the second batch of men's freestyle weight classes (61-74-86-92-125 kg), followed by the repechage for today's contested weights. Amman, Jordan, is in the GMT +3 time zone, which is seven hours ahead of U.S. Eastern Time.
Those in the U.S. can watch all the action live on FloWrestling.com. Brackets and updated results will be provided by United World Wrestling on uww.org and the UWW mobile app.
2023 U20 World Championships
At Amman, Jordan, August 14-20
U.S. Men's Freestyle Results
57 kg – Luke Lilledahl (St. Charles, Missouri/X-Calibur Athletics WC)
WIN Lev Pavlov (Individual Neutral Athlete), 9-2
WIN Tolga Ozbek (Turkey), 6-1
WIN Edik Harutyunyan (Armenia), 8-3
WIN Ruslan Abdullayev (Azerbaijan), fall, 5:53
GOLD Yuto Nishiuchi (Japan)
65 kg – Jesse Mendez (Crown Point, Indiana/Titan Mercury WC/Ohio RTC)
WIN Mykyta Zubal (Ukraine), 2-1
WIN Aden Sakybaev (Kyrgyzstan), 7-2
WIN Ion Berghi (Moldova), 13-4
WIN Abdullah Toprak (Turkey), 3-1
GOLD Mohammad Shakeri (Iran)
70 kg – Meyer Shapiro (Woodbine, Maryland/Spartan Combat RTC)
WIN Yuma Tomiyama (Japan), tech. fall, 11-0
WIN Mirjavad Nabiyev (Azerbaijan), 6-4
WIN Magomed Baitukaev (Individual Neutral Athlete), 8-0
WIN Julian George (Puerto Rico), tech. fall, 11-0
GOLD Ali Rezaei Aghouzgeleh (Iran)
79 kg – Matthew Singleton (College Park, Georgia/Wolfpack WC)
WIN Denizbek Ulan Uulu (Kyrgyzstan), tech. fall, 12-2
WIN Nandor Hajduch (Hungary), tech. fall, 10-0
WIN Narek Grigoryan (Armenia), 10-6
LOSS Sagar Jaglan (India), tech. fall, 16-6
BRONZE Radomir Stoyanov (Bulgaria), Abdallah Makoon (Jordan) or Ahmet Yagan (Turkey)
97 kg – Camden McDanel (Circleville, Ohio)
WIN Toyoki Hamada (Japan), tech. fall, 12-1
WIN Taron Shahinyan (Poland), tech. fall, 12-2
LOSS Abolfazl Babaloo (Iran), 5-1
BRONZE Tuxige Tuxige (China) or Kamil Kurugliyev (Kazakhstan)