News
USA Wrestling
International
High School & Youth
USAW
Sahakian advances to bronze-medal bout in Greco-Roman at U17 Worlds in Istanbul, Greenwood loses in repechage
by Gary Abbott, USA Wrestling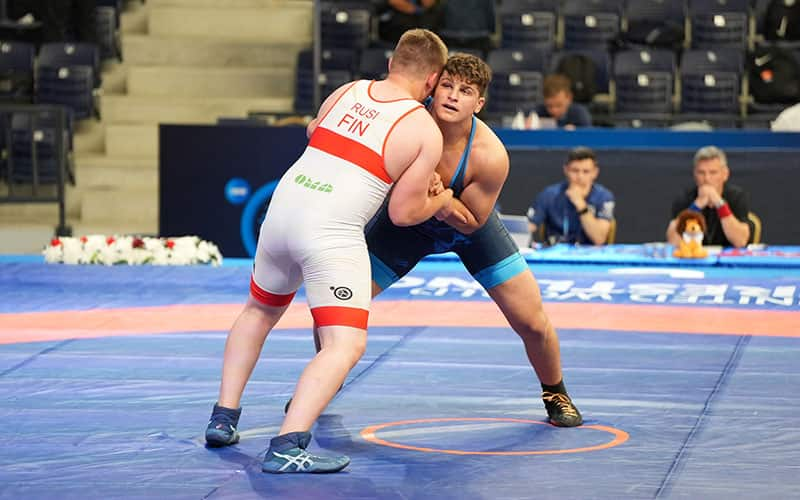 Nicholas Sahakian (USA) pummels for position against Tomas Rusi (Finland) in U17 Worlds repechage match. Photo by Gary Abbott
..
ISTANBUL, Turkey – The United States will have two wrestlers competing for medals during the Tuesday night Greco-Roman finals at the
U17 World Championships
.
Nicholas Sahakian
won his 110 kg repechage match, scoring a 5-1 decision over Tomas Rusi of Finland. The key was a pair of gut wrench turns by Sahakian in the first period, after he got on top in par terre after a passivity call on Rusi.
Sahakian, who reached the quarterfinals on Monday and was defeated, but pulled back into repechage, will face Eldar Emirov, an Individual Neutral Athlete, in his bronze-medal bout.
He joins
Jordyn Raney,
who will wrestle for the gold medal at 55 kg tonight, in the medal rounds in Group A of Greco-Roman.
Billy Greenwood also competed in repechage at 65 kg, losing a close battle to 2021 Balkans silver medalist Athanasios Efthymiadis of Greece, 9-6. Efthymiadis led most of the match, but Greenwood rallied to tie it up at 6-6 with criteria. However, Efthymiadis scored a reversal late in the bout to lead 7-6, then added a caution and two point penalty at the end for the 9-6 win. Greenwood finished the tournament with an 0-2 record.
U17 WORLD CHAMPIONSHIPS

At Istanbul, Turkey, August 1


U.S. Group One Greco-Roman performances
48 kg – Ezekiel Witt (Junction City, Kansas/Manhattan Wrestling), eliminated
LOSS Edgar Petrosyan (Armenia), tech fall 8-0
55 kg – Jordyn Raney (Sturgis, Kentucky/Union County High School), in finals.
WIN Ahmed Shaban (Egypt), tech fall 8-0
WIN Shu Wei Chung (Taipei), tech fall 8-0
WIN Aytjan Khalmakhanov (Uzbekistan), 9-7
WIN Mohammadreza Gholamreza Gholami (Iran), 8-7
Gold Medal – Vs. Suraj (India)
65 kg – William Greenwood (Livermore, Colo./GRIT Athletics WC), eliminated
LOSS Yusif Ahmadli (Azerbaijan), tech fall 8-0
LOSS Athanasios Efthymiadis (Greece), 9-7
80 kg – Adam Waters (Stowe, Pennsylvania/Steller Trained Wrestling), eliminated
WIN Miguel Angel Vega Salazar (Colombia), 6-1
WIN Aman (India), tech fall 9-0
LOSS Eleftherios Pappas (Greece), 8-1
110 kg – Nicholas Sahakian (Sherman Oaks, California/St. John Bosco High School), in bronze bout
WIN Daniel Szilagyi (Hungary), 3-1
LOSS Ronak (India), tech fall, 9-0
WIN Tomas Rusi (Finland), 5-1
Bronze Medal – Vs. Eldar Emirov (AIN)