News
USA Wrestling
International
USAW
Updated: Nowry places fifth in Greco-Roman at World Championships in Belgrade
by Gary Abbott, USA Wrestling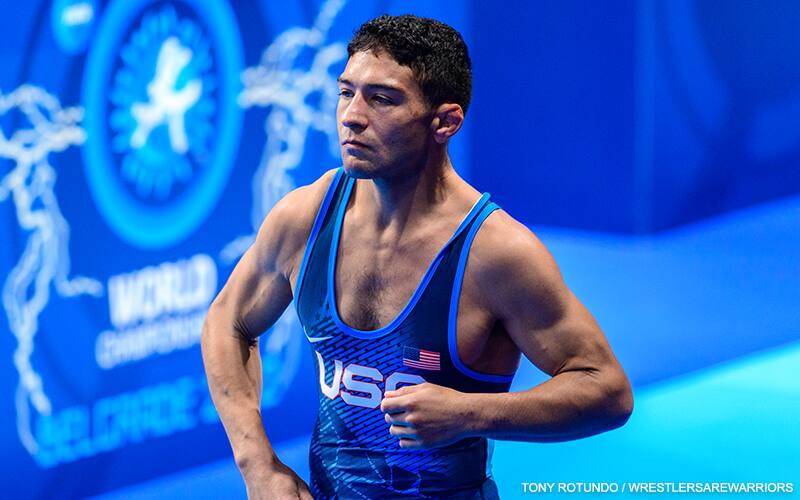 Max Nowry (USA) at the 2022 World Championships. Tony Rotundo photo
BELGRADE, Serbia –
Max Nowry
(Colorado Springs, Colo./Army WCAP) competed in the bronze-medal match at 55 kg at the World Championships in Greco-Roman on Sunday night, the first U.S. athlete to reach a medal match at this year's World Championships.
Nowry was defeated by two-time Asian champion Yu Shiotani of Japan, 7-0. Shiotani scored all of his points in the first period. Shiotani opened with a four-point arm throw, then forced a step out, and added a takedown late in the first period. In the second period, Nowry attempted three headlocks which ended up as miss throws, and Shiotani held his position well to close out the victory.
This was Nowry's third World Championships appearance. He placed fifth in the 2019 World Championships in Nur-Sultan, Kazakhstan, and was ninth at the 2021 World Championships in Oslo, Norway
Nowry won his first two matches on Saturday by pin, stopping Arjun Halakurki of India in 5:02 and Fabian Schmitt of Germany in 4:58. In the semifinals, he was defeated by 2018 World champion Eldaniz Azizli, 8-0. Azizli won his second career gold medal later in the session, scoring a technical fall over Nugzari Tsurtsumia of Georgia, 8-0.
The three other U.S. wrestlers in Group 1 did not place in the top 10 of their weight classes, after losing their first match Saturday and not qualifying for repechage.
Benji Peak
(Marquette, Mich./MNU-OTS/Sunkist Kids), was 22nd at 72 kg,
Kamal Bey
(Colorado Springs, Colo./Army WCAP) was 31st at 77 kg and
Alan Vera
(New York, N.Y./NYC RTC/New York AC) was 18th at 87 kg.
All four U.S. wrestlers in Group 2 were eliminated on Sunday morning, so the USA will not have any athletes competing in Group 2 sessions on Monday.
The final two U.S. Greco-Roman wrestlers in Group 3 will start their competition on Monday morning,
Ildar Hafizov
(Colorado Springs, Colo./Army WCAP) at 60 kg/132 lbs. and
Cohlton Schultz
(Parker, Colo./Sunkist Kids) at 130 kg.
The first two U.S. women's freestyle competitors also hit the mats on Monday, 2019 World champion
Jacarra Wincheste
r (Colorado Springs, Colo./USOPTC/Titan Mercury WC) at 55 kg and 2021 World silver medalist
Kayla Miracle
(Tempe, Ariz./Sunkist Kids) at 62 kg. Their first round draws are listed below.
The Monday morning session begins at 10:30 a.m. local time, with Group 1 women's freestyle through the quarterfinals. The Group 1 women's freestyle semifinals are at 4:30 p.m., followed by the Group 2 Greco-Roman finals. All of the action is live on
FloWrestling
.
WORLD WRESTLING CHAMPIONSHIPS
At Belgrade, Serbia, September 11

Greco-Roman results
55 kg
Gold - Eldaniz Azizli (Azerbaijan)
Silver - Nugzari Tsurtsumia (Georgia)
Bronze - Yu Shiotani (Japan)
Bronze -. Jasurbek Ortikboev (Uzbekistan)
5th - Max Nowry (USA)
5th - Amangali Bekbolatov (Kazakhstan)
7th - Rudik Mkrtchyan (Armenia)
8th - Poya Soulat Dad Marz (Iran)
9th - Fabian Schmitt (Germany)
10th - Ekrem Ozturk (Turkey)
Gold – Azizli tech. fall Tsurtsumia, 8-0
Bronze - Shiotani dec. Nowry, 7-0
Bronze - Ortikboev dec. Bekbolatov, 9-5
72 kg
Gold - Ali Arsalan (Serbia)
Silver - Ule Ganizade (Azerbaijan)
Bronze - Andrii Kulyk (Ukraine)
Bronze - Selcuk Can (Turkey)
5th - Ibrahim Ghanem (France)
5th - Ibraghim Magomadov (Kazakhstan)
7th - Samuel Bellscheidt (Germany)
8th - Robert Fritsch (Hungary)
9th - Jose Varela Garcia (Guatemala)
10th - Valentin Petic (Moldova)
Gold - Arsalan dec. Ganizade, 7-4
Bronze - Kulyk dec. Ghanem, 4-3
Bronze - Can dec. Magomadov, 3-3
77 kg
Gold - Azhol Magomedov (Kyrgyzstan)
Silver - Zoltan Levai (Hungary)
Bronze - Malkas Amoyan (Armenia)
Bronze - Yunus Basar (Turkey)
5th - Viktor Nemes (Serbia)
5th - Hyeonwoo Kim (Korea),
7th - Aram Vardanyan (Uzbekistan)
8th - Tamerlan Shadukayev (Kazakhstan)
9th - Rui Liu (China)
10th - Yasaf Zeinalov (Ukraine)
Gold - Magomedov tech. fall Levai, 8-0
Bronze - Amoyan dec. Nemes, 7-1
Bronze - Basar dec. Kim, 4-1
87 kg
Gold - Zurabi Datunashvili (Serbia)
Silver - Turpal Bisultanov (Denmark)
Bronze - David Losonczi (Hungary)
Bronze - Ali Cengiz (Turkey)
5th Alex Kessidis (Sweden)
5th - Naser Ghasem Alizadeh (Iran)
7 SUI Damian Von Euw (Switzerland)
8 KAZ Nursultan Tursynov (Kazakhstan)
9 KGZ A. Aziisbekov (Kyrgyzstan)
10 COD Barthelemy Tshosha (Dem. Rep. of Congo)
Gold - Datunashvili dec. Bisultanov, 6-2
Bronze - Losonczi dec. Kessidis, 6-2
Bronze - Ali Cengiz dec. Alizadeh , 7-1
U.S. Greco-Roman Group 1 performances
55 kg - Max Nowry (Colorado Springs, Colo./Army WCAP), 5th place
WIN Arjun Halakurki (India), pin 5:02
WIN Fabian Schmitt (Germany), 4:58
LOSS Eldaniz Azizli (Azerbaijan), tech. fall 9-0, 1:44
LOSS Yu Shiotani (Japan), 7-0
72 kg - Benji Peak (Marquette, Mich./MNU-OTS/Sunkist Kids), 22nd place
LOSS Robert Fritsch (Hungary), 3-1
77 kg - Kamal Bey (Colorado Springs, Colo./Army WCAP), 31st place
LOSS Viktor Nemes (Serbia), 4-0
87 kg - Alan Vera (New York, N.Y./NYC RTC/New York AC), 18th place
LOSS. Haitao Qian (China), 5-3
U.S. Greco-Roman Group 3 draw for Monday
60 kg: Ildar Hafizov (Colorado Springs, Colo./Army WCAP)
vs. Ditcher Toro Castaneda (Colombia), gold at 2021 Pan American Championships
130 kg: Cohlton Schultz (Parker, Colo./Sunkist Kids)
vs. David Ovasapyan (Armenia), silver at 2021 U23 World Championships, bronze at 2019 U23 World Championships, silver at 2018 U20 World Championships
U.S. women's freestyle Group 1 draw for Monday
55 kg: Jacarra Winchester (Colorado Springs, Colo./USOPTC/Titan Mercury WC)
Vs. Otgonjargal Ganbaatar (Mongolia) – Second in 2022 Asian Championships, 2017 U23 World bronze medalist,
62 kg: Kayla Miracle (Tempe, Ariz./Sunkist Kids)
Vs. winner of Tserenchimed Sukhee (Mongolia) and Xiaojuan Luo (China)
Sukhee – 2014 World champion, 2015 World silver medalist, 2018 U23 World bronze medalist, 2013 Junior World champion,
Luo – 2015 and 2019 Asian champion, Second in 2018 Asian Championships,