News
USA Wrestling
High School & Youth
Women
USAW
Abbott Blog: Six Who's Number One matches I really want to see
by Gary Abbott, USA Wrestling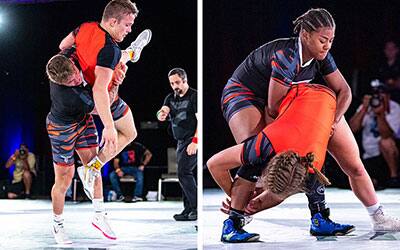 Rocco Welsh (left) and Janida Garcia (right) competing in 2021 Who's Number One. Photos by Sam Janicki
While waiting for the next flight taking me to the World Championships in Serbia, my mind wanders to an event I may not be able to see, Who's Number One in Ann Arbor, Michigan on Friday. Depending upon what I am doing when this goes live back in the States, I may or may not get to see this live.
However, whether it is live or as an archive, I am excited for all of the great matchups which FloWrestling has organized for this year's event. I want to see them all, but am identifying six matches, three in the girls card and three in the boys card, that have piqued my interest the most.
WATCH WHO'S NUMBER ONE LIVE FRIDAY
Women's matches I want to see117: Elena Ivaldi (CA) vs Persaeus Gomez (CO)
This battle includes two athletes who made big leaps this spring and summer, and have earned the right to compete at WNO. Ivaldi won the U17 World Team Trials, beating Gomez in two straight matches in the finals, with a fall and a 5-2 decision. Ivaldi went on to place ninth at the U17 World Championships this summer. Gomez had a great season as well, winning the 16U Nationals in Fargo, the U17 Pan American title as well as the National High School Recruiting Showcase. Both have been well respected, but have had other athletes from their states grab the spotlight in the past. This is a match which you could see a ton of offense, as both wrestlers can be explosive with their technique. Gomez is looking to show that she has made up ground since the U17 Trials, while Ivaldi is ready to take the next step in her career. Could be a barn-burner.
127: Shelby Moore (WA) vs Skylar Little Soldier (MN)
This match highlights two athletes who have been very consistent the last few years. Both have won most of the major USA Wrestling events on the age-group levels. They met in the finals of the U17 World Team Trials, with Moore winning in two straight, 5-0 and by an 11-0 technical fall. Moore reached a medal match at the U17 Worlds, and finished fifth. This summer, Little Soldier won the 16U Nationals in Fargo, then went up one weight class and placed second to another WNO competitor Janida Garcia in the Junior National finals. Little Soldier was also second at the U17 Pan American Championships. Moore is some very slick technique, and likes to push the pace when she can. Little Soldier seems to wrestle well on the big stage, also. This will be a great display of quality wrestling.
132: Janida Garcia (CO) vs Valerie Hamilton (IL)
Yes, that's right. California native Garcia has moved to Colorado this fall, so you are not confused. It was Hamilton who made the big news this summer with her silver medal at the U17 World Championships. Garcia was one of the stars at the Junior Nationals in Fargo, winning the title there, They have not met at any major USA Wrestling events. Hamilton won the U17 World Team Trials in Texas, while Garcia, who is older, competed in the U20 World Team Trials and placed third. Garcia also won the National High School Recruiting Showcase. Over the years, Garcia has been more consistently near the top of the big events, while Hamilton has shown streaks of greatness. This match could boil down to who takes over the pace of the match and gets the early lead. Garcia competed in WNO last year, which could be an advantage. Can the Junior National champion beat the U17 World finalist? That question alone makes this must-see.
Men's matches I want to see182: Brayden Thompson (IL) vs Zack Ryder (NY)
How can you not like a battle between two U.S. World Team members? Ryder won a bronze medal competing at the U17 World Championships this summer, while Thompson was ninth at the U20 World Championships later in the summer. Both were finalists in Fargo in 2021, with Thompson placing second at the Junior Nationals while Ryder won the U17 Nationals. When you can match two guys in one of the higher weight classes with this level of skill, the match should be very interesting. In folkstyle, Thompson won the 2021 National High School Recruiting Showcase, and that will be the style at WNO. Don't miss this one.
120: Jax Forrest (PA) vs Nate Jesuroga (IA)
Got to love a rematch. In the Championship Series of the U17 World Team Trials in Las Vegas last year, Jax Forrest and Nathanael Jesuroga had an epic battle for the title at 55 kg. Bout one went to Jesuroga by a 12-2 technical fall. Bout two went to Forrest in a 4-4 criteria. The deciding third match lit up the scoreboard, as Forrest edged Jesuroga 11-10 to secure his first World Team berth. Forrest went on to win a silver medal at the U17 World Championships. Jesuroga went to Fargo and brought home a Junior Nationals stop sign. This is a match between a pair of World medalists, as Jesuroga won a bronze medal at the 2021 U17 World Championships. Jesuroga wrestled in Who's Number One last year. If this year's showdown is anything like match three of their U17 Trials series, it could be the most exciting match of the night.
170: Josh Barr (MI) vs Rocco Welsh (PA)
This is another rematch from a major event, as Barr scored a stunning come-from-behind 8-5 victory over Welsh in the 2022 Junior Nationals finals in Fargo at 170 pounds. Welsh jumped to the early lead, and it looked as if Barr would not be able to repeat as Junior Nationals champion. With his second Junior Nationals stop sign now in the trophy case, Barr is going to have to beat Welsh again to retain his No. 1 spot. Both of these wrestlers set high goals for themselves, with Barr second and Welsh third at the 2022 U10 World Team Trials. FloWrestling has made this the last match of the boys card, and for those able to watch it live, it will surely be worth the weight.
The entire Who's Number One Cards
Girls card, starting at 4:00 p.m. ET
106: Clare Booe and Gigi Bragg
152: Jasmine Robinson vs #3 Mishell Rebisch
138: Sarah Henckel vs Zaynah McBryde
122: Cadence Diduch vs Everest Leydecker
144: Lizzie Shunn vs Sydney Perry
117: Elena Ivaldi vs Persaeus Gomez
127: Shelby Moore vs Skylar Little Soldier
94: Erica Pastoriza vs Morgan Turner
132: Janida Garcia vs Valerie Hamilton
100: Gabriella Gomez vs Valarie Solorio
112: Alex Szkotnicki vs Ava Ward


Boys card, starting at 7:00 p.m. ET
160: Angelo Ferrari vs Braeden Scoles
160: Nicco Ruiz vs Joe Sealey
132: Kannon Webster vs Sergio Lemley
113: Anthony Knox vs Christian Castillo
138: Ryder Block vs Nasir Bailey
145: Tyler Kasak vs Beau Mantanona
126: Marc-Anthony McGowan vs Ben Davino
152: Meyer Shapiro vs LaDarion Lockett
182: Brayden Thompson vs Zack Ryder
120: Jax Forrest vs Nate Jesuroga
160: winner of match 1 vs winner of match 2
170: Josh Barr vs Rocco Welsh